Is your cider stash running low? As we enter the second month of social distancing, it's more than possible that you're in need of a re-up of adult beverages. Perhaps you've already delved into the world of online cider shopping, but if your orders are still making their way to you but you want cider, like, now, there is another option out there: curbside pick-up.
Lots of cideries (as well as breweries, bottle shops, markets, and so on) are offering contact-less pick-up of products. This can be a great way to support independent and artisan businesses in your community, and on the face of it, it seems like a total win-win: The cideries get some much-needed cash flow, and you get some much-needed cider.
But, here's the catch: curbside pick-up is only a viable solution if the parties on both sides of the transaction are doing their part to keep the interaction as safe as possible. Anytime you leave your house to run errands, you are technically putting yourself at some level of risk, just as employees of essential businesses are putting themselves at risk to go do their jobs and provide goods and services to their neighbors. We believe there is a way to minimize this risk, and at the same time, continue to support each other and the cider community through this crisis. But this requires accepting that there are new rules that we all have to abide by. The rules aren't complicated, but we need to learn them, memorize them and vigilantly follow them.
The cider makers and employees at the cideries who are still making, packaging, shipping and selling cider are doing their part by maintaining uncompromisingly stringent sanitation practices, following social distancing guidelines as best they can, and staying away from work if they feel sick. As consumers, we must hold up our end of the deal so that we can keep this system going safely for as long as possible.
We believe in you and know that you want to do this right! So, are you ready to learn the rules? Here's how to safely buy cider via curbside pick-up:
Do Your Homework
The first rule is to do a bit of research. Nearly every cidery that's offering curbside pick-up has information on their website or Instagram page about how it works. As everyone's figuring this out as they go, each cidery will likely have its own system, and that system may even evolve or change from week to week.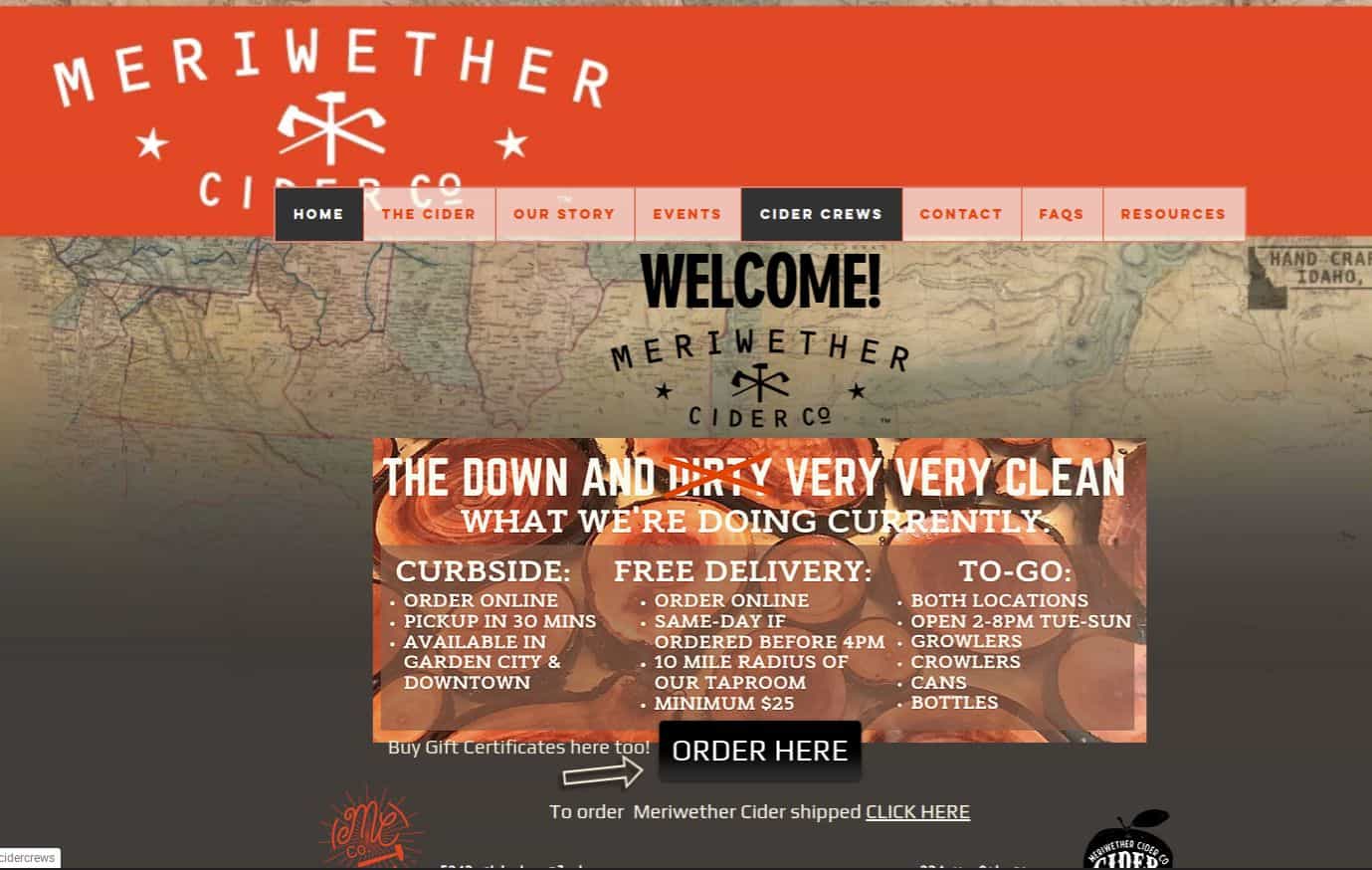 You'll first want to confirm that the cidery you want to support is, in fact, offering curbside pick-up. If it is, the hours that the service is offered are likely different than its old regular hours of operation. There may be only a select number of items that you're able to order; some cideries are offering just growler/crowler fills, some are offering only packages (bottles and cans), and some are offering both. The method of ordering may also differ from place to place. At some cideries, you can place an order online or via email, and some you must call a specific phone number (which might be different from the cidery's main phone line). Your job is to be as prepared as possible to help reduce confusion or miscommunication at the time of pick-up.
If you're not clear on how a cidery's pick-up system works, don't guess or try to just wing it! Call them to get all the info you need to proceed with confidence.
If Possible, Stay in Your Car
Many cideries are encouraging customers who order curbside pick-up to stay in their cars, where the orders will be brought out.
Liz Cioffi of Courthouse Creek Cider, with a farm in Maidens, Virginia and a tasting room in Richmond, has been running the company's curbside pick-up since mid-March. For their system, Liz says it works best when her team can have all orders prepaid, packaged and ready to go before the customer arrives. They are able to carefully sanitize everything before and after virtually every pick-up order, and all orders are packaged with the employees wearing protective gloves and masks.
"The best, most effective way to get our cider into your hands is to purchase online or contact us via email. Prepay. Provide the make and model of your car with your order. Drive up, and remain in your car. We'll come out with your order and place it in your car, and off you go!" she explains.
If You Go Inside, Pay Attention
Meriwether Cider Co., with two locations in Idaho, one in downtown Boise and the other in a suburb, Garden City, on the edge of town. The Garden City location has a parking lot, and co-owner Molly Leadbetter says she and her crew have done a lot of curbside pick-up, too, where, much like at Courthouse Creek, the customers share their car's make and model with their order. They have a "Honk at the Door" sign posted so customers can let them know when they've arrived.
But at the Boise location, Meriwether's tasting room is still open to go inside for pick-up. Molly says that, in addition to rigorous sanitation, she and her staff have done all they can to make the logistics and the process as clear as possible.
"Our team talks a lot about flow, and that means that we don't want to have to tell people what to do, we want to try to make it more intuitive. That's what we're shooting for," she says.
To that end, they've cleared away all of the tables and chairs in the tasting room so there is a direct path from the door to the counter where the cider is picked up. This also creates plenty of space, so even if there are a few customers in at once, maintaining six feet of distance is no problem. They also put a sign up reminding people to maintain a "love buffer" between each other.
If you, as the customer, are on your phone, or otherwise distracted, you aren't helping to keep the flow smooth, and the transaction as quick as possible. Please chill on looking at those Instagram stories so you can stay as alert as possible, and follow the visual guides and cues the cidery has put in place for you.
Give People Space, For Real
If there are other people in the space, make sure you're standing six feet away from them. Not 4, not 5 — 6.
When it doubt, back up. Yes, it feels weird and awkward, but it's even more awkward for someone working in a cidery to have to ask you to step further away. Need a visual for what six feet really looks like? Think: 15 cans of cider placed end to end. Or, if you're between 5 and 6 feet tall, imagine laying down with your hands stretched over your head. If you see people you know, keep the conversations brief, or plan to video chat later. The idea is to get in and get out.
If You're Wearing a Mask, Bring a Sign
More and more people are wearing masks these days, which we believe is a good thing, but can complicate curbside pick up orders. Masks can muffle your voice, making it harder for people to hear you, especially at the required six-foot distance. If you wear a mask to pick up your order, bring a pad and pen to write down your name, your order and any other info that might help the person working figure out who you are. You can also write a note or a smiley face or anything that can't be conveyed when half your face is covered!
Can You Just Show Up? Maybe … Maybe Not.
Spontaneity isn't really such a great idea right now when it comes to shopping and running errands. As mentioned above, being a customer with a plan is the best way to go forth into the world. For some cideries doing curbside pick-ups, customers just showing up on their doorstep without pre-ordering adds to the stress.
"One thing that throws a monkey wrench in things is when we have people randomly show up to the farm without a preorder," Liz from Courthouse Creek says. "We do our best to minimize contact by putting menus of what is available on a table outside the tasting room. The paper menus are single-use, meaning we throw them out once they have been handled by anyone. We encourage them to return to their car to place an order. But it is difficult sometimes to explain why this is so important," she says. "We even still get people who want to come in and do a tasting."
However, Molly at Meriwether sees walk-ins a bit differently.
"For me, as a part of the community, I think it's nice that we can offer a place where people can come. People don't stay and hang out, but if they do need to do something that feels familiar, they can come here and see familiar faces," Molly explains.
While she says most people at this point know to order ahead online, if customers do just show up at either of Meriwether's locations, a staff member will bring out laminated menus and card readers to their car, or they can come inside to see the bottles available on the countertop display.
"To have those smaller interactions with people in our community, for us and for them, I think it's valuable. The more cider we can get out there, the better," Molly says.
We hope this information is helpful to you as you figure out how to get more cider into your fridge at home. However you choose to do it, please keep supporting your local cideries through this tumultuous, unpredictable time. Every can or bottle of cider you buy means the world to them, both in terms of monetary and moral support. If you're a cidery running a curbside pick-up operation, or a customer who's been through the process a few times, and have any other tips to add, please chime in!