Right now, cider makers are struggling. This is a clear and unfortunate truth in the wake of the rapidly escalating COVID-19 crisis across the world. There is another truth that we bet you're feeling: the need for a drink. Perhaps more than one. We feel you (big time)!
Over the past week, more and more cideries have hustled to set up online stores to allow for sales of not just merch (which you should also consider buying!), but for actual cider delivery. Some of these efforts have been aided by state governments loosening regulations around shipping alcohol, while others have simply been spurred by this new urgent necessity. There are also cideries who have been selling online for awhile now — if you've never been part of a cider club or experienced the thrill of a package of ciders being dropped on your doorstep, now is the time!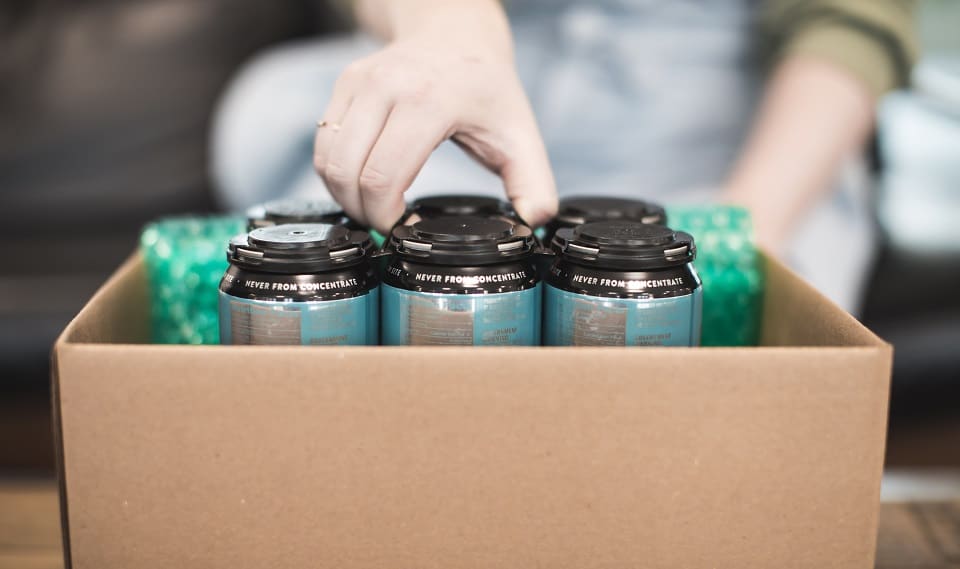 Here are a few ways to start exploring the wonderful — and now completely essential — world of online cider shopping:
Go to the (Online) Source
The first place to begin is a simple one: Visit your favorite cidery's website and see if it offers online sales! As we mentioned, lots of cideries are adding this feature, so even if a brand you love hasn't done online sales in the past, it's likely that it does now. As of just the past few days, we've heard of Nine Pin Cider (New York State only), Ploughman Cider and Ash & Elm Cider Co. adding this functionality to their websites.
Others that have already long been in the cider-shipping game, like Castle Hill, Eve's Cidery and Eden Cider, are currently stocked and ready to go, and some are even offering special codes for discounted shipping, and other deals to promote online cider sales!
If you want to keep your search local, we've got the perfect tool for you. Over the past five years, we've been compiling a detailed list of active cideries across the United States, organized by state. Head to the Cider Culture directory, and then look under your state (they're all there, from Alabama to Wyoming!) to see the list. Pick any cidery that catches your eye and head to its website to see if shipping is an option.
Side note: Some cideries are also offering curbside pick up and local delivery, which may be a good option for you. However, as more cities and states enact stricter shelter-in-place mandates, shipping might soon become your best, and only, bet. We cannot help but join in the chorus saying: Please stay at home whenever possible!
Shop from Local Bottle Shops
Not all independently-owned bottle shops are set up for online shopping and shipping, but quite a few are. Kingston Wine Shop in Kingston, New York, always has a cool selection of natural ciders, and ships all over the country. Best Damn Beer Shop in San Diego, California, offers online shopping and usually has a number of ciders in stock (many are sold-out at the moment, but we imagine they'll re-up soon). Mission Liquor, also in SoCal, ships as well, but only within California, and K&L Wine Merchants (also in Cali) will ship cider across the county. Made in Oregon stocks ciders, you guessed it, made in Oregon, and ships only within Oregon. There are surely others that we are not aware of, and please feel free to let us know!
ShopCiders.com
ShopCiders.com is the retail arm of a big alcohol shipping logistics company called Vino Shipper. Vino Shipper is the platform you'll often see when you go to buy cider from a specific cider maker's website. Shopping this way is more like a virtual bottle shop, where you can sort your search by varietal (apple, pear and "other"), region, price and where items are able to be shipped. The site has a robust selection, with a handful of notes about each of the products listed. We have heard from cider makers that the percentage that Vino Shipper takes is reasonable, and helps make the process of receiving and sending orders streamlined and convenient.
No matter how you choose to do it, the time is upon us to support the cider makers we love. Buying cider from a supermarket might be the path of least resistance — we cannot deny that. But if you can take a few more minutes and try to buy direct from cider makers or through a website that supports them directly, you're doing so much more to help keep our community afloat.