In doing your own research into ciders, perhaps you've seen little icons or medals alongside a cider's description, letting you know that it's been awarded or medaled at a cider competition. If you work in the industry or have been a cider fan for awhile, you're likely aware of some of the bigger named cider competitions, like the Great Lakes International Cider and Perry Competition (better known as GLINTCAP) or the popular Awards held every year by Cidercraft Magazine.
The judges at cider competitions are usually a mix of cider professionals, cidermakers (those whose ciders aren't in the mix) and sometimes other industry folks. There are a number of certifications that judges can receive — the Beer Judge Certification Program is a big one — but you don't necessarily have to be certified to be a judge. For instance, I've now judged the Pennsylvania Farm Show Cider Competition three times, and once at The Big E, and besides being a cider fan and the editor of Cider Culture, I don't have any formal certifications!
Judging a cider competition is a specific and kind of intense experience. I recently traveled to Harrisburg to judge at the PA Farm Show once again, and I thought I'd share a little behind the scenes of the process. Please keep in mind that this is only my experience at this one competition, and at others, things may work differently!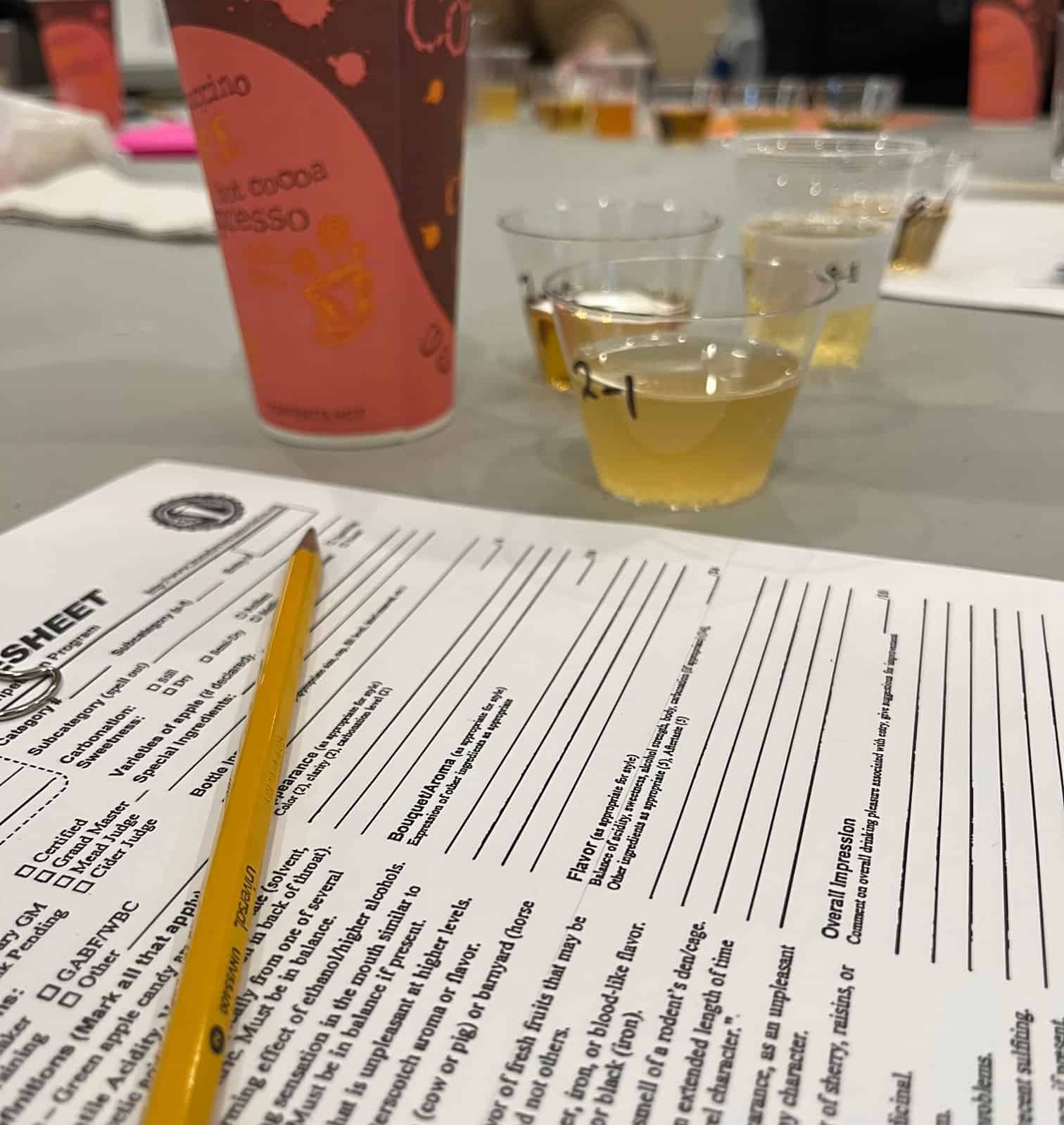 I received a letter over the summer asking if I'd commit to the competition in early December. Travel assistance and lodgings were offered, as well as a modest honorarium. As the date drew closer, instructions were sent by the organizers about when and where to go on the day of the competition. On the day of, I drove from Philly to Harrisburg and arrived at the massive Pennsylvania Farm Show complex, which will soon host hundreds of thousands of people for the farm show in January. I wound my way through the huge, empty building to a banquet hall tucked into a second-floor corridor. The other judges included cider celebs, like Meredith Collins of Along Came a Cider, Ron Sansone of Spoke + Spy Ciderworks and Eleanor Leger, owner of Eden Ciders and current president of the American Cider Association Board. Along with a few Farm Show staff and volunteers, the logistics of the competition were headed up by Ben Wenk of Ploughman Cider, who is the current president of the PA Cider Guild.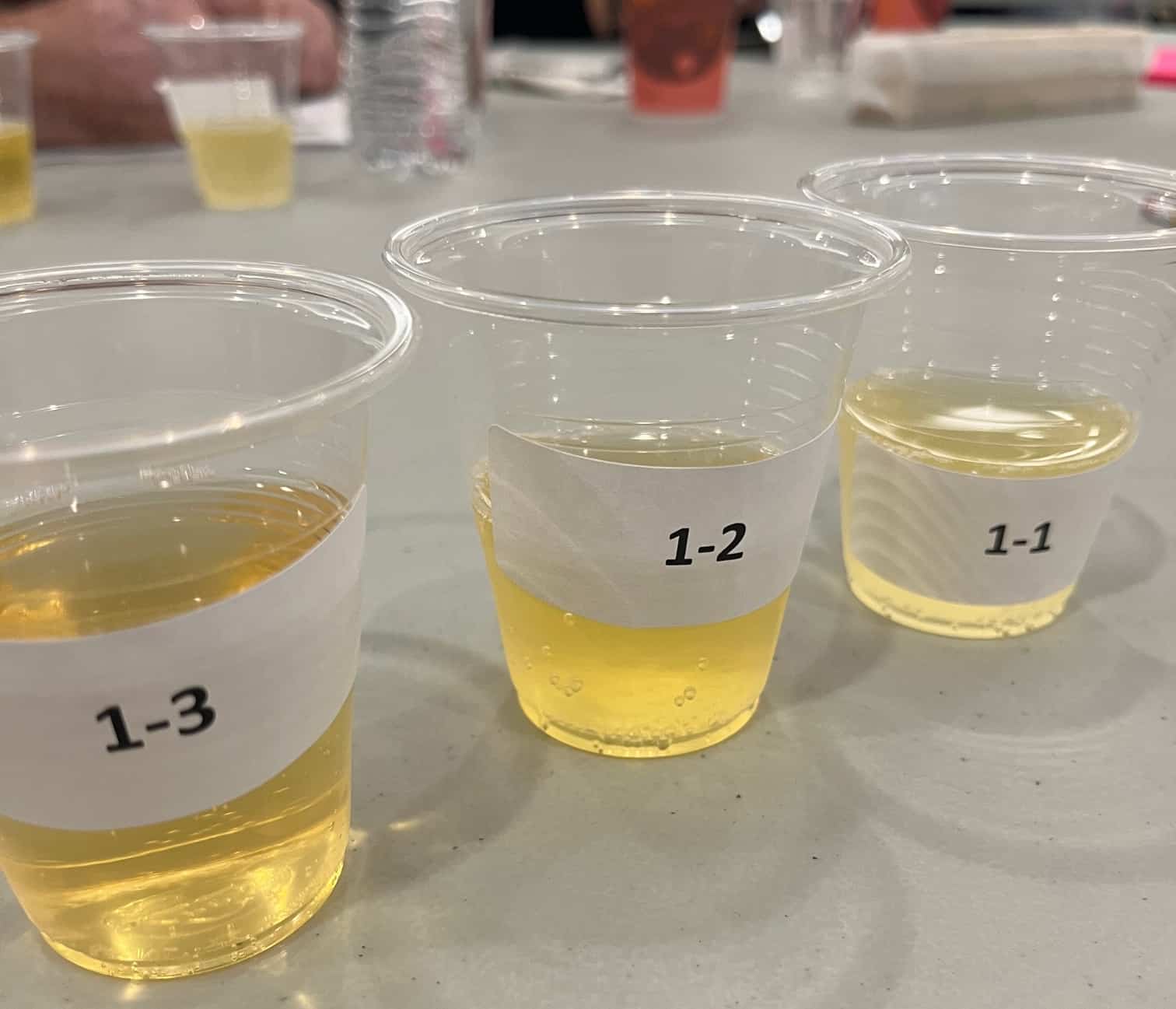 The judges were divided into groups and assigned different cider categories, such as modern dry, hopped and dessert ciders. The ciders were brought to us in small flights, poured into clear plastic cups, labeled with the category and entry number. Pretty much all competitions are judged blind, so you're assessing each cider devoid of any preconceived notions or expectations.
There is a detailed form that the judges use for each entry, which includes your own contact info (so the cidermakers can follow up if they have questions about your feedback), descriptor definitions (where you can check off any notable flavors or potential flaws), and then lines to fill in your remarks about various factors of the cider, including appearance, aroma and flavor. Each of those sections are scored accordingly.
I usually start by observing the cider's color, clarity and carbonation levels. Then, I give the cup the best swirl I can and smell for the aromas, making notes along the way. After that, I take an exploratory sip, and hold it in my mouth without swallowing (then spit it out into a spit cup). I try to do this a few times, looking for potential faults and flaws (like any off aromas, metallic tastes, volatile acidity, etc.) and trying to gauge how well it fits the parameters of the category. After all, as a judge in this situation, it's not so much about how much you personally like the cider, but if it is a strong showing of the traits and characteristics you would expect from the category its entered in.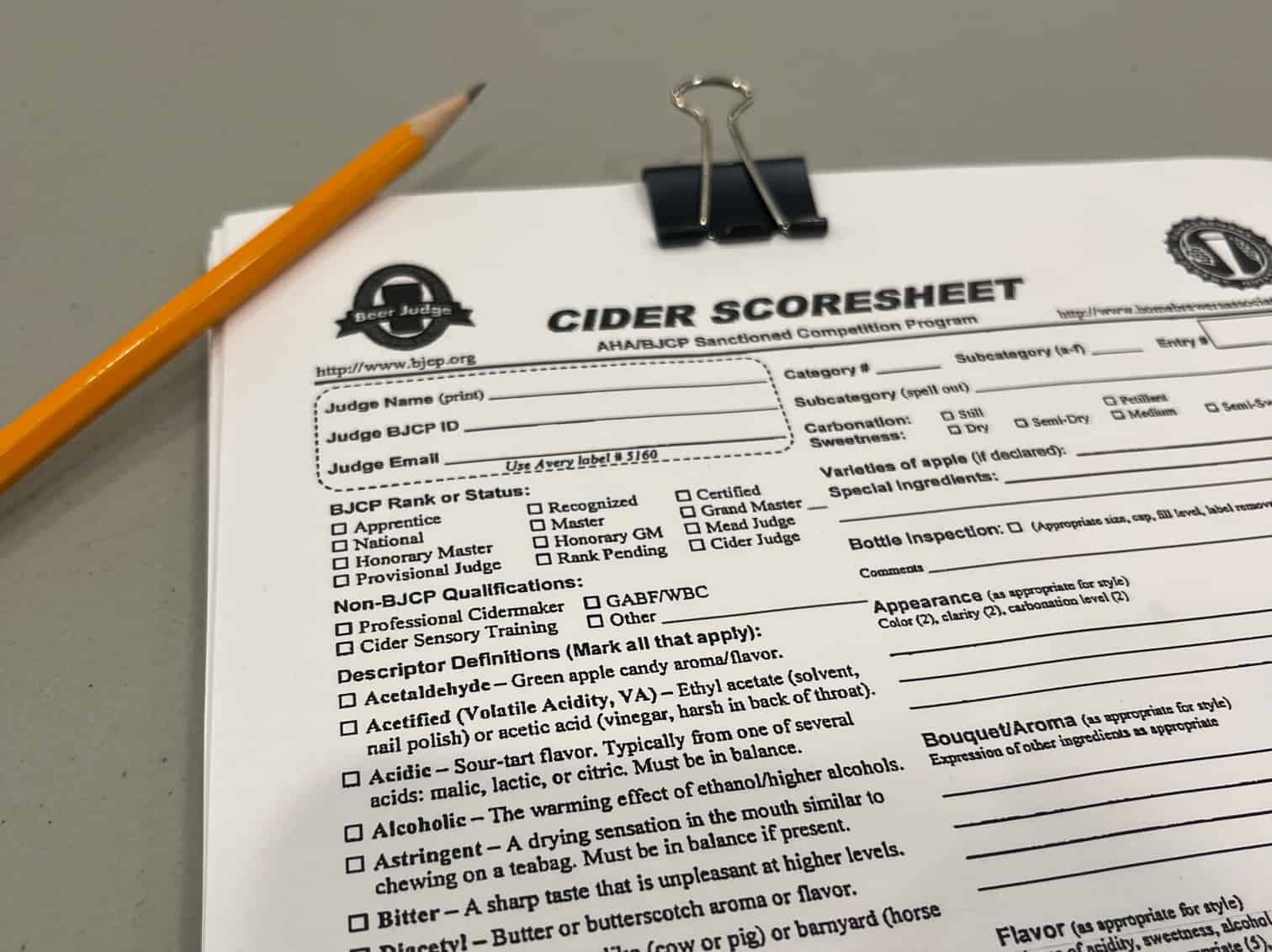 At the bottom of the page, you add up the points and that is the cider's overall score. We started the day off with a calibration cider to warm up our palates and to compare notes and make sure that all of the judges were in somewhat of a close range to each other. Then, over the course of the next four hours, with a break for lunch, the group tasted our way through the 50+ entries. My judging cohort tasted around twenty ciders spanning three categories. It can be very tricky to put all of your focus on the cider you're tasting and to be truly present with it, and in addition to great palate training, it's a pretty powerful mindfulness practice. Everyone spits the cider so that you don't become intoxicated, and there are packets of saltine crackers on the table to help reset your palate between ciders.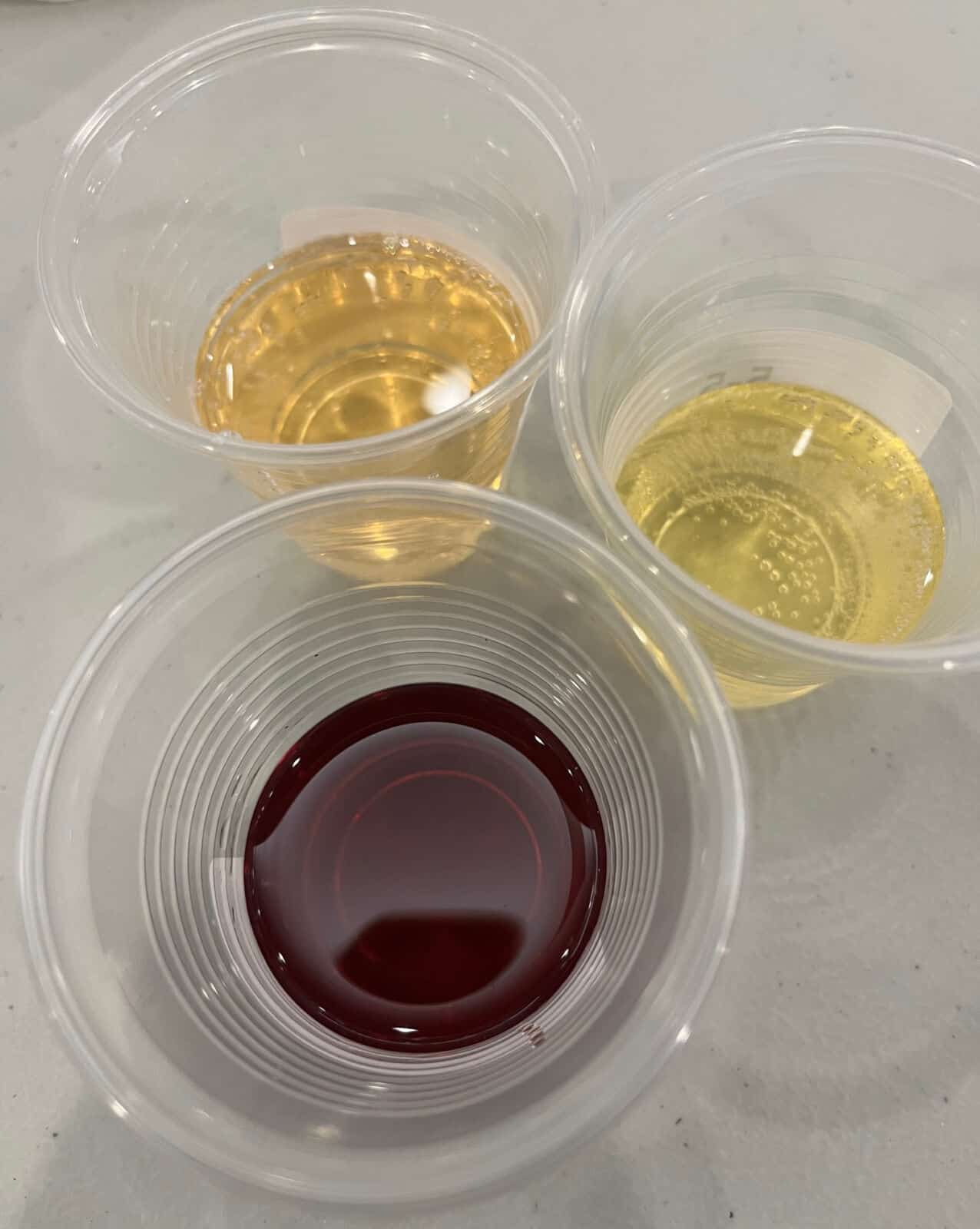 Toward the end of the day, all of the judges put forth their nominations for Best in Show. These are ciders that stood out or scored particularly high from the individual categories. Then, as a group, we tasted, re-tasted and whittled down those ciders until there were two ciders remaining. We took a final vote, and the winner was deemed Best in Show. Our group had a respectful, open-minded discussion during the Best in Show proceedings, though I've heard it can get heated in other judging situations, with lots of strong opinions and feelings!
Afterwards, we all hung out for awhile, chatting about the ciders and making plans for later that evening, or discussing our CiderCon itineraries. All in all, it was a positive experience and a challenging exercise — when you see ciders that have received awards, just know that they aren't given out lightly! There is a lot of effort that goes into cider competitions, from the organizational logistics to the actual tasting and scoring.
Whether large international competitions or smaller regional or state-based ones, there are a number of reasons why competitions are important in the industry. They can help newer cider brands or home cidermakers get feedback on products, or confirm that they're on the right track. If awards are received, cidermakers can use that as a marketing tool to garner press or attention to their ciders. And, for consumers, it can give legitimacy to a cider brand you've never heard of, or help you confidently pick something off a crowded shelf!
Have you ever judged a cider competition? Cidermakers: Why is entering ciders into these competitions important to you? Let us know!