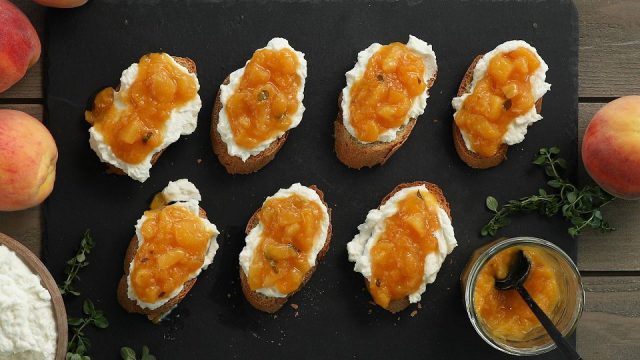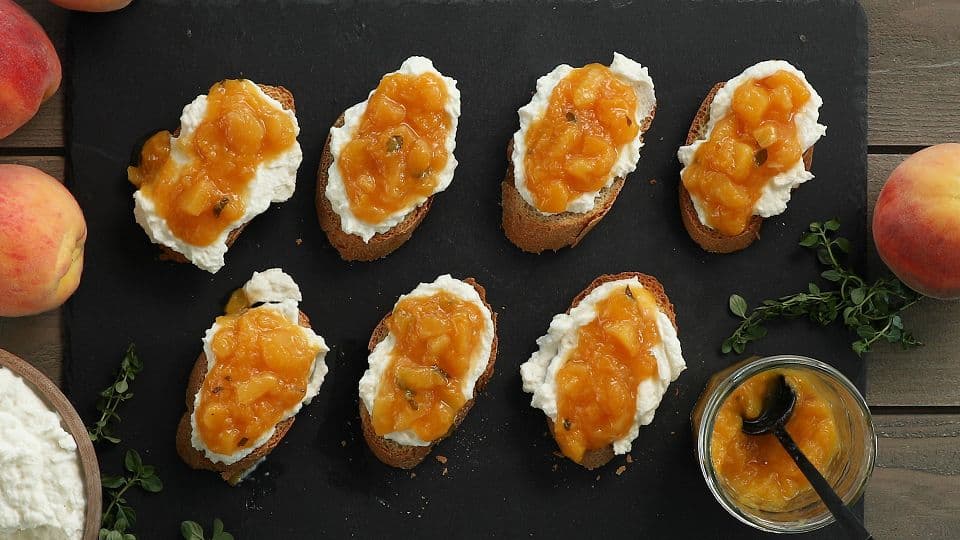 Cider Recipe: Cider Peach Preserves
All hail summer peaches: fuzzy, sweet, juicy, addictive. We wait all year for these beautiful fruits to hit the farmers market, and when they finally do, we scoop them up with reckless abandon. Enjoy the brilliance of peaches' flavor in a different way: jammy preserves, made with hard cider, honey, lemon and a touch of salt and fresh herbs. This isn't one of those uber-complicated preserves recipes where you have to use a candy thermometer or boil your jars. The naturally occurring pectin in the fruit acts as a thickening agent, and a simple simmer will give it a wonderful, spreadable quality. Keep it in a jar in the fridge, and use as a topping for oatmeal, toast, yogurt and ice cream, or with pork or chicken for a savory option. For the easiest happy-hour snack, spread some whipped ricotta on toasted baguette and top with cider peach preserves. Any way you use it, enjoy the harmonious union of peak-season peaches and crisp, tart hard cider.
Cider Peach Preserves
Ready in: 1 hour, 40 minutes
Makes about 4 cups
Ingredients
3 pounds ripe peaches, peeled and chopped
1 cup honey
Juice of 1 lemon
1/2 cup hard cider
1 tablespoon fresh thyme leaves
1/2 teaspoon kosher salt
Method
Combine peaches, honey, lemon juice, hard cider, thyme, and salt in a large heavy-bottomed pot over medium heat. Bring to boil, reduce heat to low and simmer, stirring occasionally, for 70 to 80 minutes, until peaches break down and liquid has reduced and thickened. Remove from heat and let cool to room temperature.
Transfer cooled preserves to resealable glass jars, cover and refrigerate up to 1 week.
Video, photo and recipe by Dish Works.