We are so excited to announce an expansion of our Cider School series, the weekly educational hang-out that we developed during the first few weeks of the COVID-19 lockdown. Through a partnership with Ekos, the game-changing cider management software, we're taking Cider School to the next level with a four-part series that we're calling Cider Business School.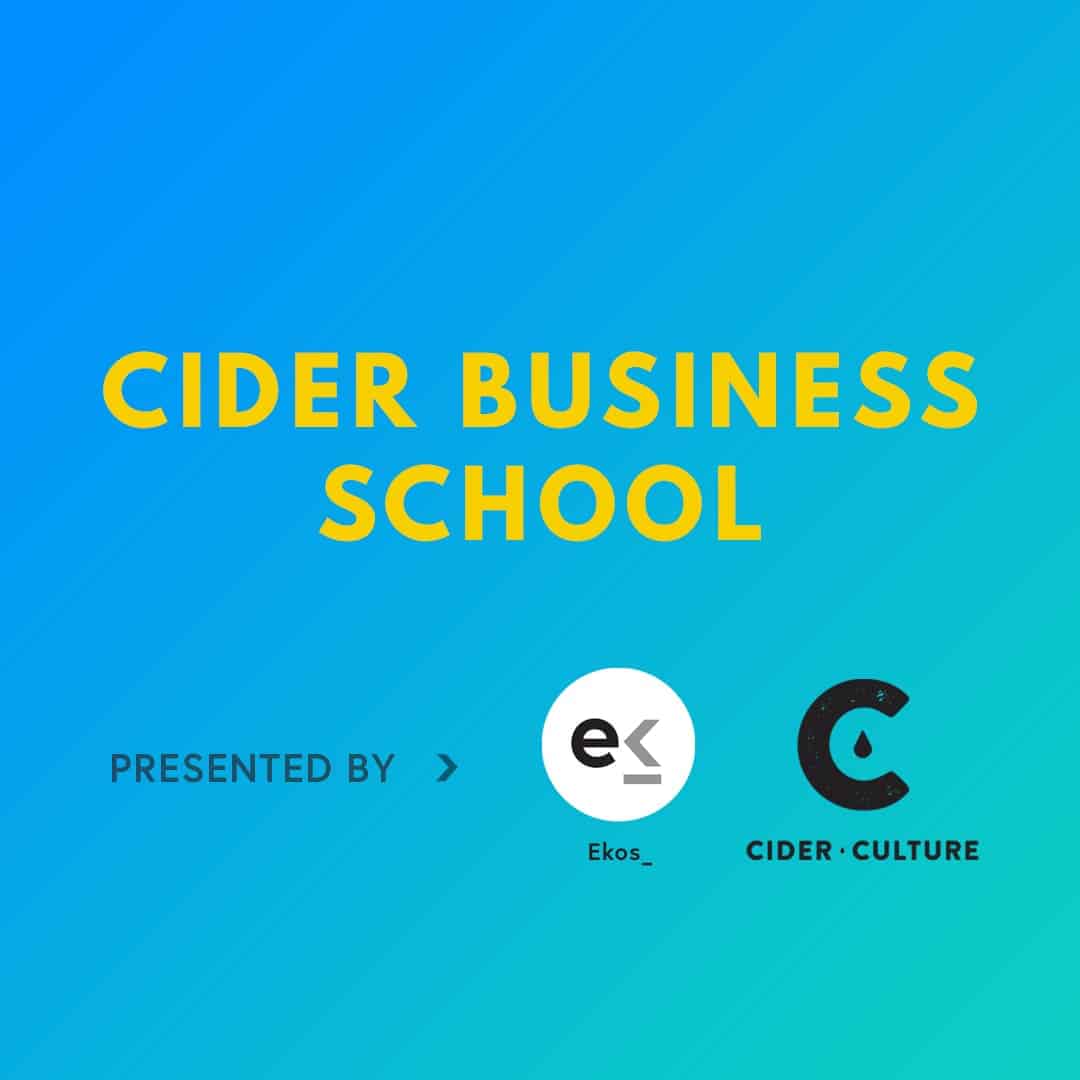 This free class will be meeting on Zoom every Thursday at 4 p.m. Eastern Time from July 16 through August 6, to help cider makers big and small brush up on business basics. We'll be bringing together leaders from across the industry to talk about four topics that every cidermaker should have an understanding of: Operations, Production, Sales and Accounting.
We are in conversation with cider makers and cider brands all the time. It's such a tough business, and we know how real the challenges can be — especially right now, while everything feels so unstable and up in the air. You are not alone! It is our hope that these classes can help to provide a functional tool kit to help the cider pros we admire so much. So, Cider Business School is offered at no cost and is open to all cider makers, whether you're just starting out in the planning stages, recently launched and are pursuing growth, or are a well-established brand hoping to hone your business skills.
Thurs., July 16, 4 p.m. EST: Operations and Business Management: Leveraging technology for your cider business

Running a craft beverage business requires more than skill and a passion for cider making. In this webinar, Ekos co-founder and CEO Josh McKinney will provide an overview of effective business management and a look at top technology trends for craft businesses. He'll touch on the shift to e-commerce sales, what technology craft producers use and find most valuable, and tips for growing and scaling your business.
Thurs., July 23, 4 p.m. EST: Production: Maintaining high standards & quality product

There's a lot to keep track of during production to create a high-quality cider that your customers will enjoy. It starts with sourcing great ingredients and continues throughout the production process. How do you manage your recipes to ensure consistency across batches? Do you have a system for lot tracking for record-keeping and risk mitigation in case of a recall? In this webinar, we'll share tips for tracking production (spoiler: a spreadsheet just won't cut it!) so your cider is the best, every time you make it.

Thurs., July 30, 4 p.m. EST: Sales: The future of selling cider

Cider sales are on the rise and cider makers are exploring new ways to reach customers – e-commerce, social media, delivery, local and national distribution, and of course, the taproom. In this panel discussion, we're bringing together cider producers Stem Ciders and Bull City Ciderworks, Half Pint Ciders Distro and Square to talk about the latest sales trends and provide key takeaways for reaching new customers and growing your business.

Thurs, August 6, 4 p.m. EST: Accounting: Developing Key Performance Indicators

In the final installment of Cider Business School, Lou Catalano of M.U.N. CPAs will share the importance of developing and tracking Key Performance Indicators (KPIs). The webinar will cover the importance of KPIs across your business, how to create them, and how to measure your success. Whether you're just starting out or looking to take your cider business to the next level, this session will help you better understand your business metrics.
You don't need to have an MBA to run a successful cidery, but there are some key areas to have an understanding of, and we're going to cover them one week at a time. We invite you to join us on this journey, which will strengthen your knowledge of business basics and help position your brand and your team for success, no matter what the future holds!
Ready for Cider Business School? Register here.