My first impression of Citizen Cider's The Lake Hopper was how much it tasted like a crisp sparkling wine. It's fruity, sure, but not particularly apple-y, and the flavor is bold and bright, without being sweet or syrupy. It's also not particularly hoppy, despite being dry-hopped with Cascade hops grown in the Champlain Valley region — the same area where the apples are grown and the cider is made.
Rather, the juiciness provided by the hops rounds out the flavor for a cider that's crisp and dry with a citrusy, floral note — and something about that combination just tastes a little fancier than this humble tallboy might seem from the can. It would be a particularly perfect pour for a New Year's Eve celebration; friendlier on the wallet than Champagne, but just as lovely for a midnight toast.
For my last meal of the year, I want to pair my last can of The Lake Hopper (leftover from a trip to Vermont) with a dish that also strikes a balance between high and low — something accessible, recognizable and delicious that's made with quality ingredients that show up with tons of flavor. It isn't burger season — and the cider deserves something a little more creative than that, anyway — and a hearty, wintry dish like a stew just doesn't feel special enough.
I remembered that my grassfed-meat subscription included a pack of bavette steak, a cut of flap meat that's flavorful and tender when hit with a quick blast of high heat. Finally, I knew just what to do for the pairing: a steak sandwich, a recipe you can dress down (slice up some leftovers, melt some cheese on a roll, and eat) or up (prep the steak to order, caramelize onions till they're soft and deep brown, make a cheesy bechamel, serve on artisan bread).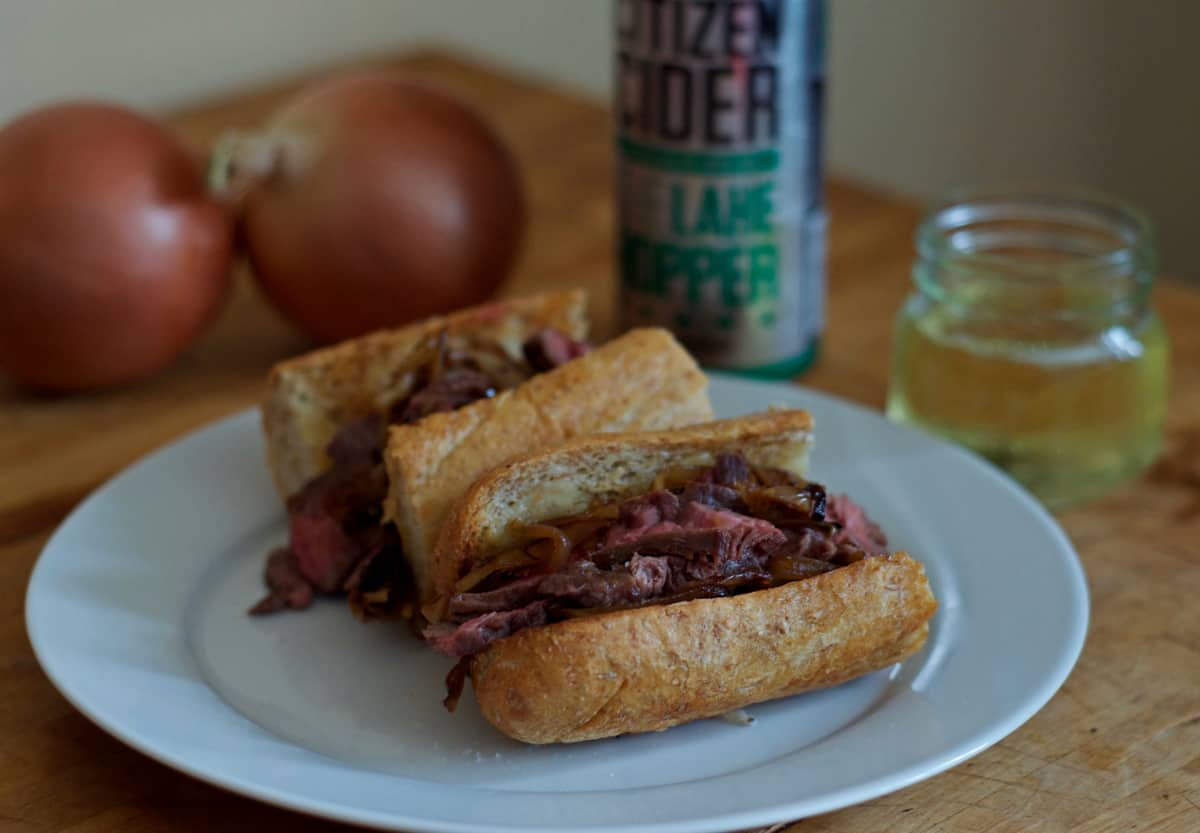 As long as you give a bavette a brief, high-heat sear on both sides and cut it thinly across the grain, it's delightfully tender. This will be a perfect match for The Lake Hopper — right down to its status as a much more affordable "bistro cut" versus sexier, more expensive loin steaks.
Most likely, I'll end up making a hybrid of these two recipes, spending time building layers of flavor into a long-cooked batch of caramelized onions and eschewing the bechamel for slices of extra-sharp cheddar broiled till bubbly over a wheat baguette in the toaster oven. For the finishing touch, if you're cooking the steak to order, be sure to save the juices from the steak, then drizzle them over the sandwich with a hit of Maldon salt just before you take your first bite.
The sandwich feels special and next-level dressed up for dinner with a homemade Caesar or wedge salad with blue cheese on the side. But it's also unfussy enough for a weeknight dinner. If you've got other plans for NYE, pick another cold winter day and whip one up for a leisurely weekend midday meal.
Enjoy the steak sandwich with a can of The Lake Hopper, and enjoy how the crisp, tangy flavor and fine bubbles cut through the richness of the cheese and beef while bringing out the sweetness of the onions — and know that, with this pairing, you did a little something special for yourself.