Running a bar isn't easy: There are so many components to think about that are mostly invisible to the customer. How often do you clean the draft lines? Who's the best company to wash your linens? How much citrus do you need on hand for garnishing cocktails? Every detail, big and small, adds up to the guest experience, and it's those little things that can affect whether a bar runs smoothly (or not).
For many cideries, setting up a taproom is the furthest thing from second nature. Just because a team can make great cider, doesn't necessarily mean they're going to be adept at the hospitality side of things. While a cidery tasting room isn't usually quite the same thing as a neighborhood bar, some of the same factors are still important to the enjoyment of the guests there: a comfortable space, an interesting selection of items and a knowledgeable, friendly staff. This third component is perhaps the most important part: education and guest experience are a crucial component of growing the category, especially in craft cider.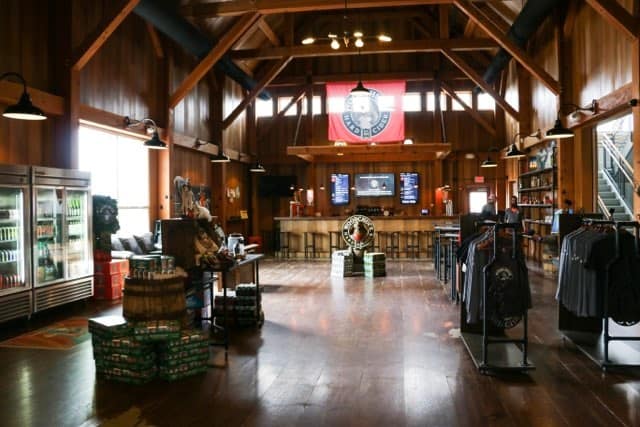 The team at the Woodchuck Cider House in bucolic Middlebury, Vermont, is a prime example of how to do it right. (We would honestly expect nothing less from these industry leaders who are always pushing at the forefront of innovation!) The beautiful, high-ceilinged space is run by a separate team from production, all of whom have deep roots in the hospitality industry.
Together, they have cultivated a space that not only connects visitors with Woodchuck products, but also connects people to each other, fostering a sense of community among the locals who are weekly regulars, and the cider fans from around the world for whom a visit is a once-in-a-lifetime opportunity.   
Zach Taylor started at the Woodchuck Cider House in 2015 as a newly minted college graduate.
"I actually came here straight out of college at the University of Vermont, so the majority of my adult life has been here in the cider industry," he says. "It's been a lot of fun!"
He is a wearer of many hats, ranging from fan engagement, helping out at festivals and events, fielding requests, coordinating donations and sponsorships, and working behind the bar. Taylor says that, even though he's pouring drinks and chatting up visitors, the Cider House is so much more than just a bar.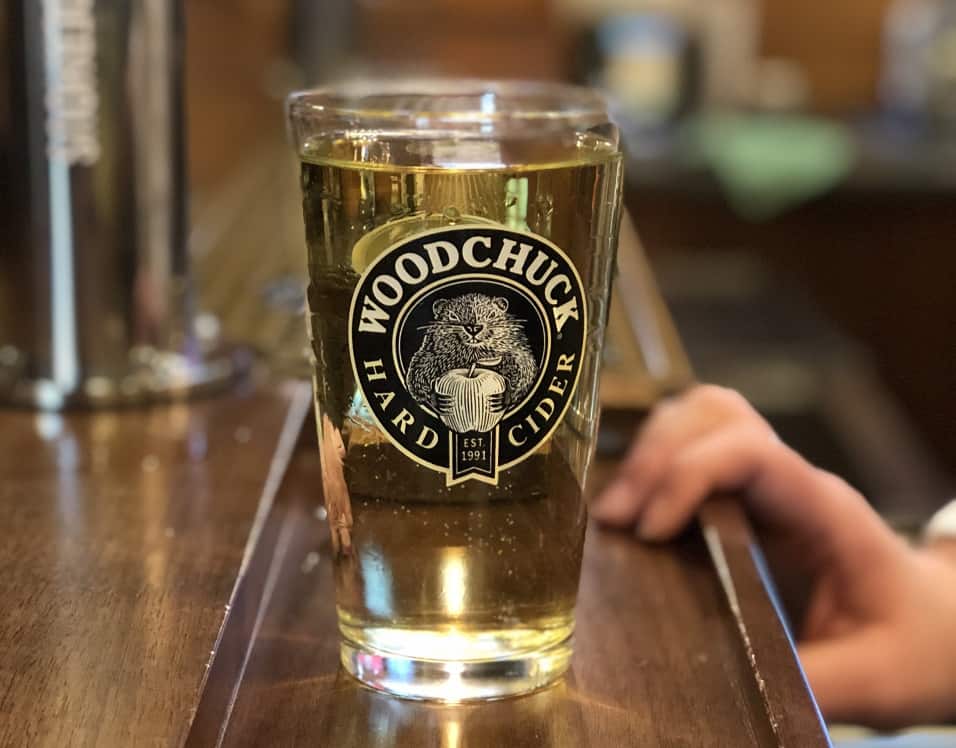 "When people come to Woodchuck, they want to connect with the brand … folks come from near or far — the brand has such a wide range, I had someone specifically here who said they had Amber cans in Japan!" he says. "You're not a bartender, you're there to make sure that the brand experience is exactly what they want it to be."
For Taylor, a perfect day in the cider house is a full bar.
"I love it when we open at 11 a.m. and have a full house all the way until we close," he says. "I'm the kind of person who likes to go, go, go!"
Another integral person involved with Cider House operations is JC Dugan, who started his career in the restaurant world, working behind the scenes as a chef. After a few years, he decided to pursue customer-facing roles within the industry, and began bartending. Before long, he began working in the tasting room of a Vermont distillery that specializes in gin and whiskey.  
When we caught up with Dugan, he'd just begun working at the Woodchuck Cider House.
"Part of what drew me here was Zach himself! We became friends through the industry," Dugan says. "I was really looking for something with some more brand engagement, the cider house really has great community engagement, and a lot of my regulars at the distillery are regulars here, too."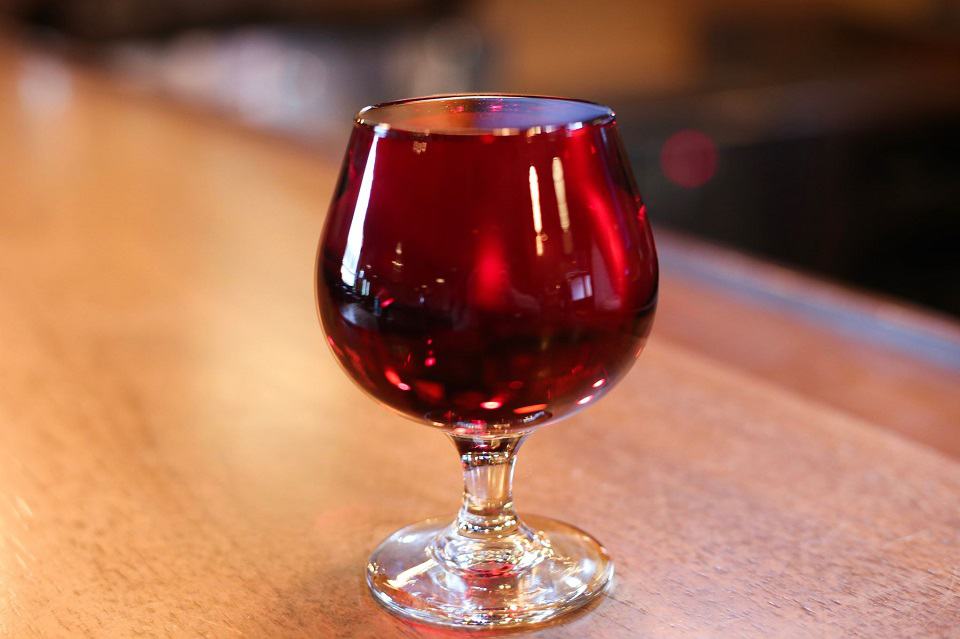 Dugan has been learning the ins and outs of Woodchuck, and notes that the team there has been great with offering plenty of education. Though, having grown up just 15 minutes away in Vergennes, Vermont, he says the brand itself needs no introduction — he's been aware of Woodchuck since he was a kid.
Riffing on his extensive knowledge of craft spirits and bartending skills, JC will offer his expertise to the Woodchuck Cider House by helping to develop a new line of cocktails in the coming months. He's especially excited for Bubbly Pearsecco and Bubbly Rosé, cider cocktails that will emerge during the warmer months.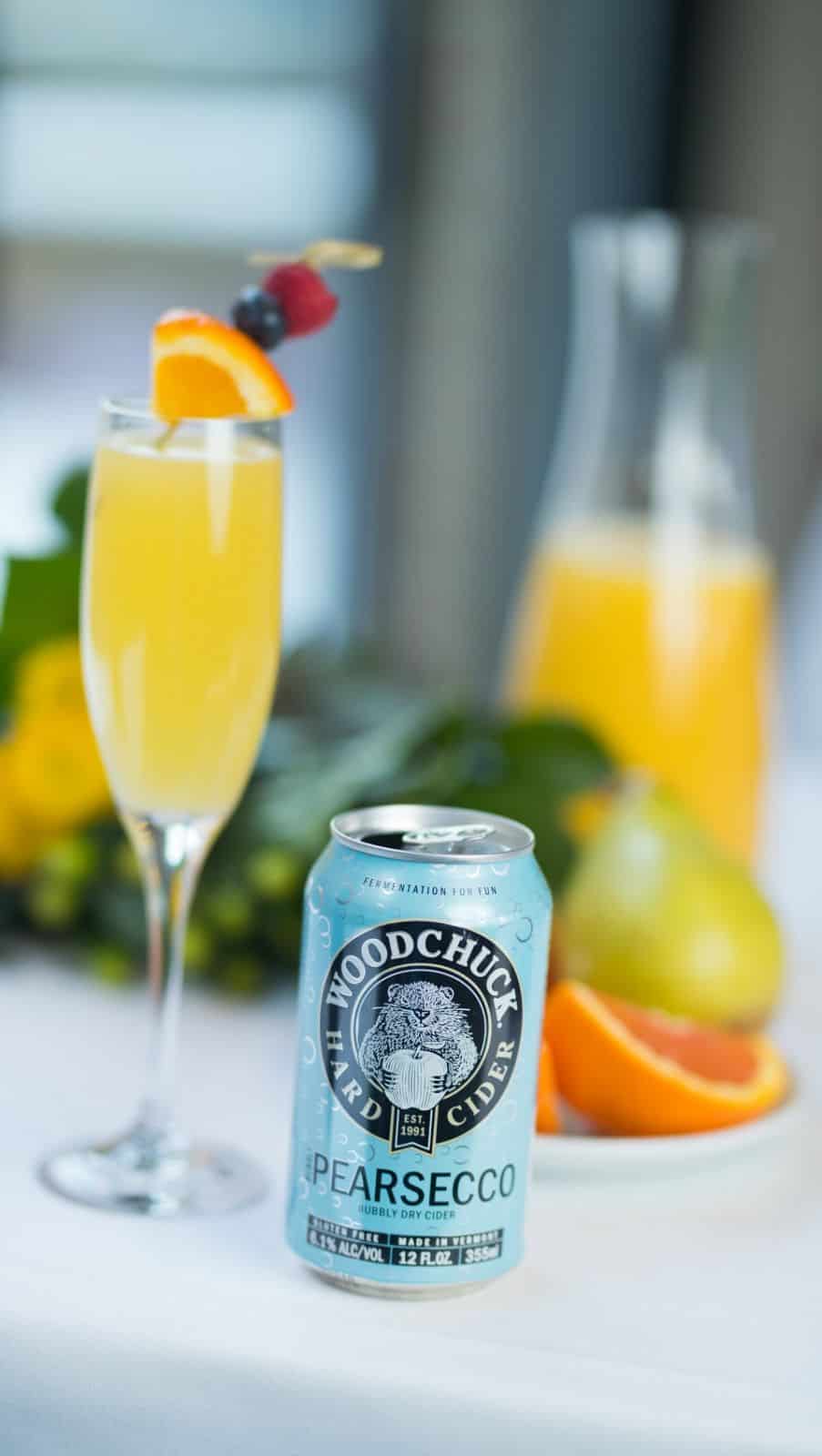 The third person who is part of the daily Woodchuck Cider House team is Alisa Bunin, the brand's marketing manager, who is also relatively new to the Woodchuck family.
"So far, I'm absolutely loving it," she says. "The attitude here is infectious, and people are extremely motivated and happy to be here."
Bunin's background is in craft beer, and the company she previously worked for invested heavily in education; one of her main goals at Woodchuck is to revamp the cider education program. One of her ideas is to offer a tasting to all new employees, no matter their position, where she'll guide them through the 20 different taps in the Cider House. Each employee will have the chance to learn about how every type of cider is made, as well as the story behind the liquid.
"I love working for brands that create products for which the stream of knowledge is endless," Bunin says. "You can keep learning more as you go."
She also wants to keep working to educate the visitors to the Cider House and to share the stories behind the liquid.
"As a consumer, it's powerful to understand what it is you're consuming, and at the end of the day that's going to lead you to arguably a better choice," she says.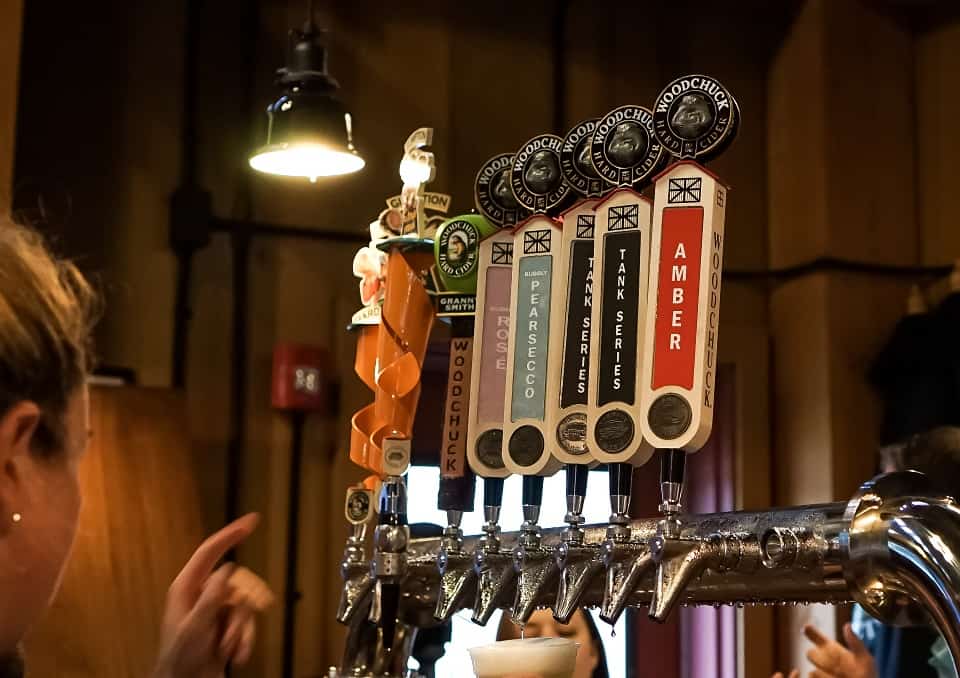 Of the 20 taps at the Cider House, of course some are dedicated to Woodchuck's core lineup, like Amber, Semi-Dry and Granny Smith, but others are open to limited- or test-run batches that can really open visitors' eyes up to the incredible versatility and possibilities of cider.
A few special ciders on tap include Ingrained, made from Vermont juice from Woodchuck's orchard partner, Sunrise Orchard, that's been aged in rye whiskey barrels. The cider has picked up some of the classic, oaky, vanilla whiskey notes.
"That has been a hit with folks who roll through with family who aren't as familiar with cider," she notes. "It's a great segue for folks who might be whiskey or spirits drinkers."
Another example is Rather Wild, one of Woodchuck's Research & Development one-offs, created using wild yeast fermentation and also uses juice from Sunrise Orchard, just 10 minutes from the Cider House. The results are tart and extremely dry.
"A lot of people expect sweet ciders, but we want to show that we're making ciders all across the spectrum," Bunin says.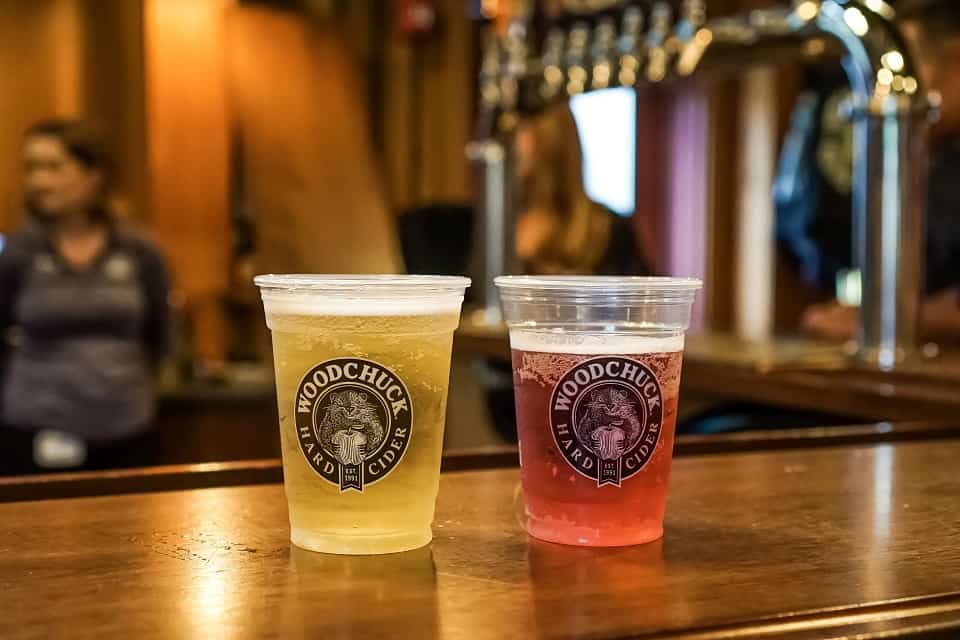 To draw in people from the bustling next-town-over of Burlington, Woodchuck is a stop on the Middlebury Tasting Trail, which is comprised of seven craft-beverage producers within a few miles of one another. Other stops include Stonecutter Spirits and Otter Creek Brewery.
There are also great weekly events in the Woodchuck Cider House, happening from Wednesday through Sunday:
Wednesday: Gump Day Hump Day; from 11 a.m. to 6 p.m., enjoy $3 16-ounce cans of

Gumption

.

Thursday: Pizza & Pints; from 4 to 6 p.m., enjoy Woodchuck cider and local pizza.

Friday: Mixables Night: From 11 a.m. to 6 p.m., enjoy cider cocktails with a different cider used each week!

Saturday: English Premier League Football; from 11 a.m. to 5 p.m., catch English Football Premier League games all day long on the big screen TV.

Sunday: Sunday Funday; from 11 a.m. to 5 p.m., enjoy $4 16-ounce cans (select styles) all day!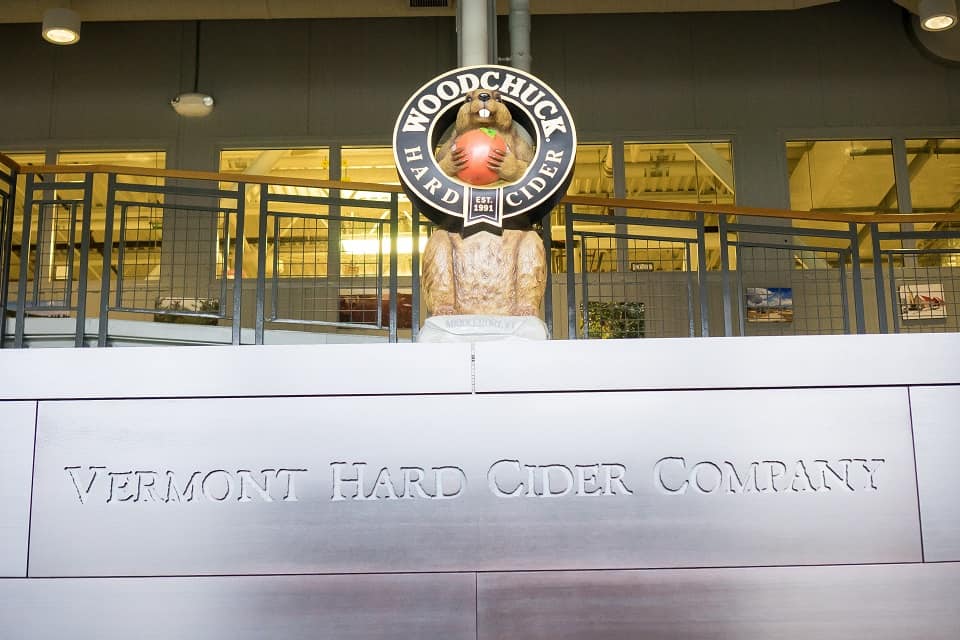 For more info on Woodchuck Cider's history and products, check out its website, and follow along on Facebook and Instagram. And, whether you live hours away or just down the road, start planning your trip to the cidery! There are so many reasons to visit Woodchuck, and the top-notch Cider House staff is high among them!
Find the Woodchuck Cider House at 1321 Exchange St. in Middlebury, Vermont; phone: (802) 385-3656.