I feel like so much vegetarian and vegan food gets a completely unfair rap that simultaneously hearkens back to crunchy potlucks and/or futuristic lab-based sci-fi food. Neither of these is true, and so many plant-based foods are wonderful!
Much of my family became either vegetarian or vegan back in the 90s, so I've been making and eating veggie food for most of my life. And our options for delicious, flavorful, satisfying meals have gotten so good over the past few years. To celebrate that progress, I want to share some plant-based meal ideas along with cider accompaniments. Even if you sometimes eat meat, I encourage you to try these delicious pairings!
My favorite way to make Veggie Sloppy Joes is to use lots of finely minced veggies with plenty of TVP (Textured Vegetable Protein). Yes, that's an old-school technique compared to the new wave of plant-based proteins, but it totally works. So much flavor comes from onions, peppers, ketchup and a veg-version of Worcestershire sauce.
As the name and that list of ingredients implies, Sloppy Joe's are not a delicate dish — meat or no meat. I find the biggest, boldest, barrel-aged ciders I can, and pair them with this nostalgic sandwich. Even when I want big body and tannic oomph, I still need to taste apples, and Stoic Cider's Meditations or Lost Boy Cider Barrel Aged both fit the bill perfectly.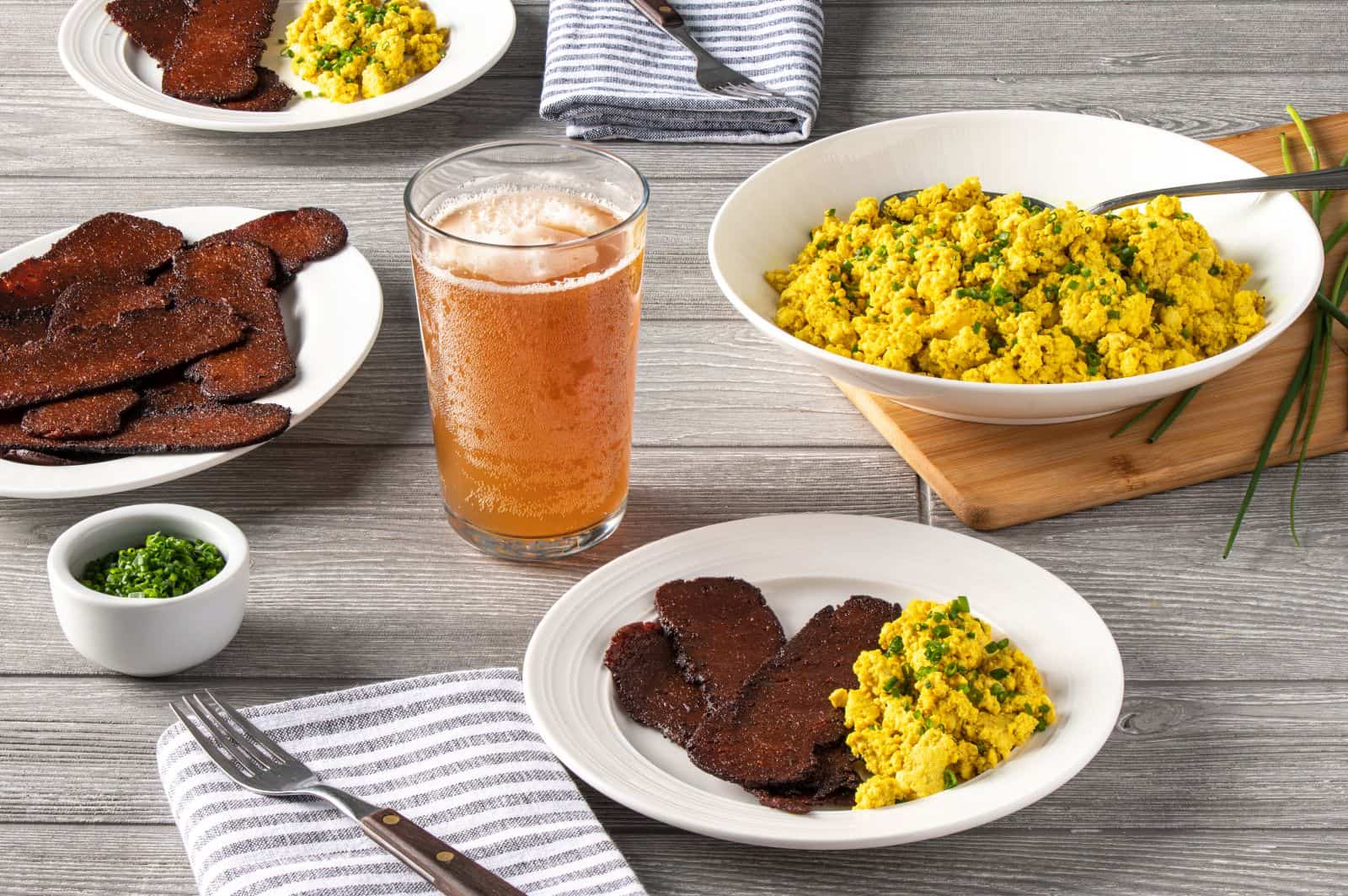 When my household needs a pick-me-up, a sure bet is a surprise night of breakfast-for-dinner. It's so satisfying to make a tofu scramble with tomatoes, peppers and broccoli served with seitan bacon. Ideally, this meal also includes home fries and a fruity, citrusy cider. Because it's dinner, I don't have to make a mimosa or coffee — a citrusy or juicy cider will bring plenty of tartness and just enough sweetness as a pairing. 
I was charmed by the strawberry and pineapple in 12 Bridge Ciderworks Summer Daze, and I think it would be perfect for a breakfast-for-dinner night. Similarly, 2 Towns Ciderhouse Easy Squeezy also brings a high-sweetness, high-acid combination that rockets the flavor intensity into the stratosphere. Both of those ciders double down on zippy juicy flavors, so they make total sense next to veg-ified breakfast classics.
I learned to make a few UK-inspired foods when I studied in Norwich, England as an undergrad. (I am only an American imitator, so please feel free to share suggestions!). I buy a packaged product, A Very British Banger, from Very Good Butchers, a plant-based butchery based in Canada. 
I love that these veggie sausages incorporate apples and leeks: two of my favorite things! This meal tends to be a bit rich and salty, so the cider pairing needs to be strongly flavorful and bubbly. I like a sparkling semi-dry cider with tannins: Dunkertons Black Fox Organic Cider or South Hill Cider's Patina. Both of these ciders are beautifully balanced in and of themselves, and they do a great job cutting through the umami of a mushroom gravy, lifting up all the savory flavors.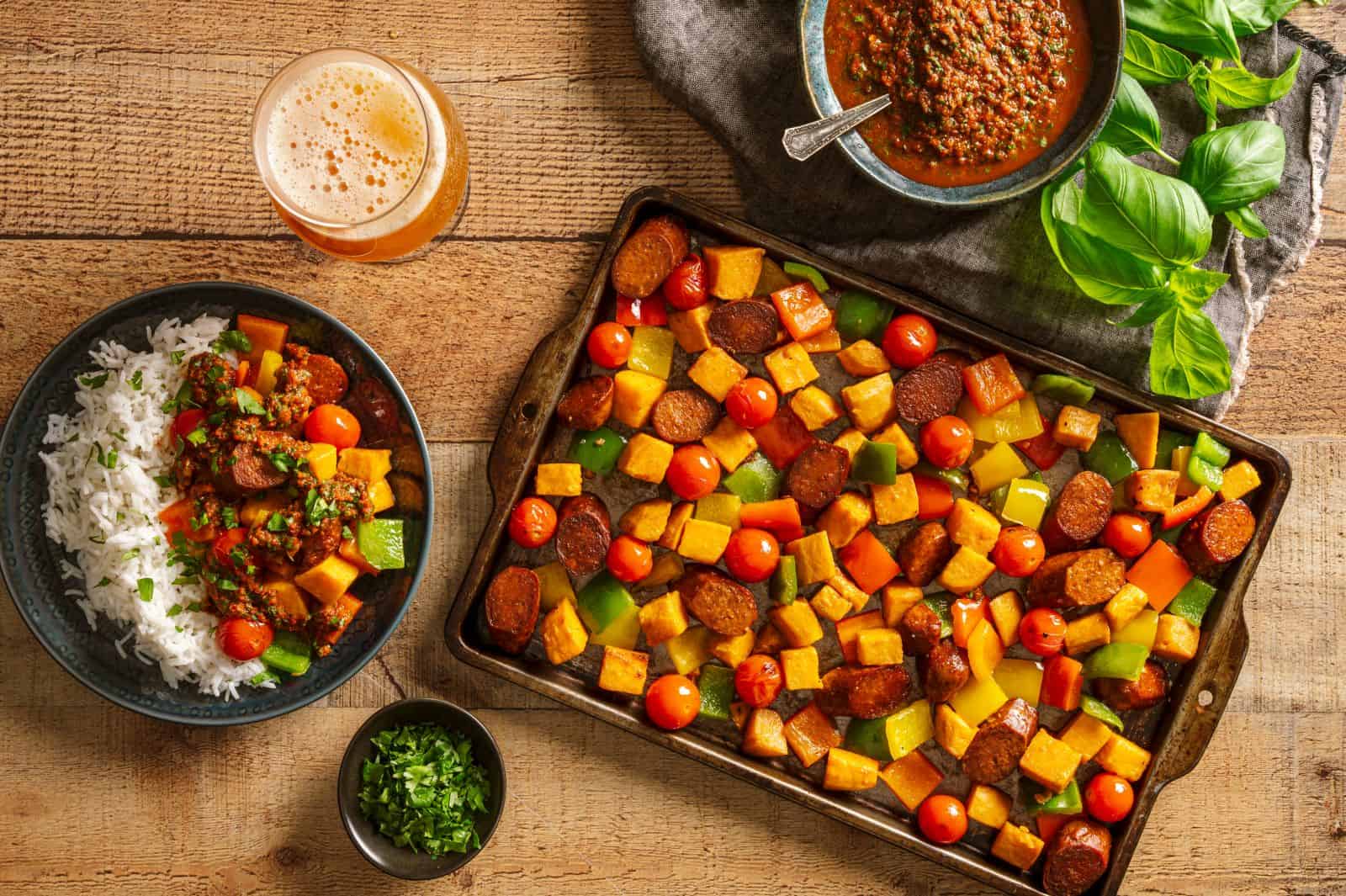 A rainbow colored sheet pan dinner with a homemade sauce brings plenty of excitement with plant-based chorizo sausage. This Vegan Piri-piri Chorizo Bake brings some serious spice, so it's another great time to pair with a still cider. I suggest something a bit sweet, unless you are truly committed to tongue-scorching heat. I love my chorizo bake with a still UK-style cider, like Worley's Red Hen. But if you're less interested in balancing spicy with sweet — and I know you're out there — try Farnum Hill Extra Dry Still. Even if you are a spice fiend, I do recommend pairing your hot dishes with still ciders. The effect of effervesce on spiciness is intense!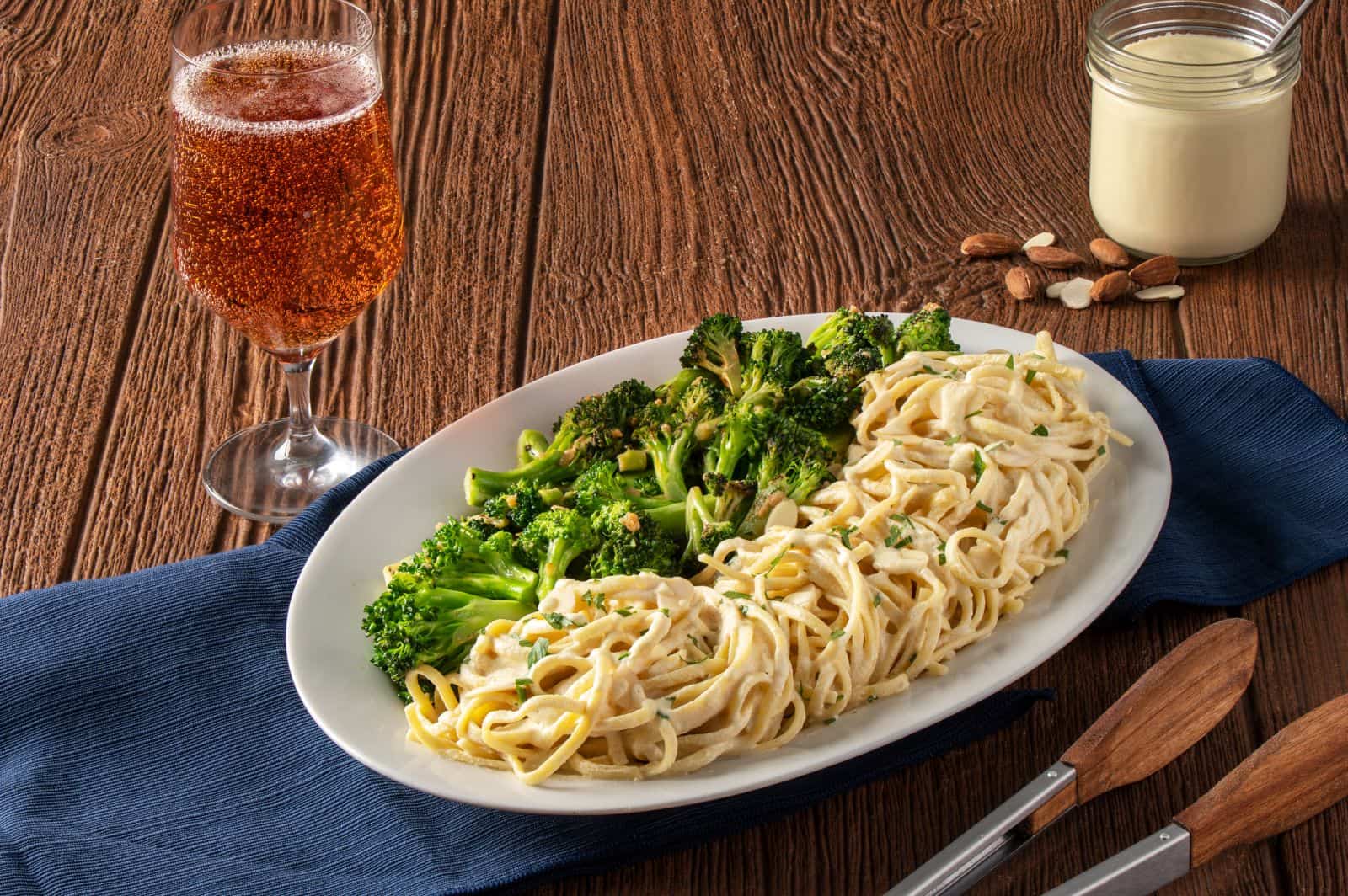 A decadent pasta dish with a creamy sauce suggests a cozy date night at home with someone special. This recipe creates a rich alfredo sauce with almonds, and it's' completely delicious! Add to the mode with a bubbly tart rosé cider. It's not just that rosé ciders look lovely, but a choice like Bauman Cider Mountain Rose Single Varietal or Double Mountain Rose Cider brings sophistication and nuance to the glass. Neither cider is notably sweet, but both are richly evocative of mouth-watering fruit. The apple varieties bring  just the right blend of tannic structure and tart freshness.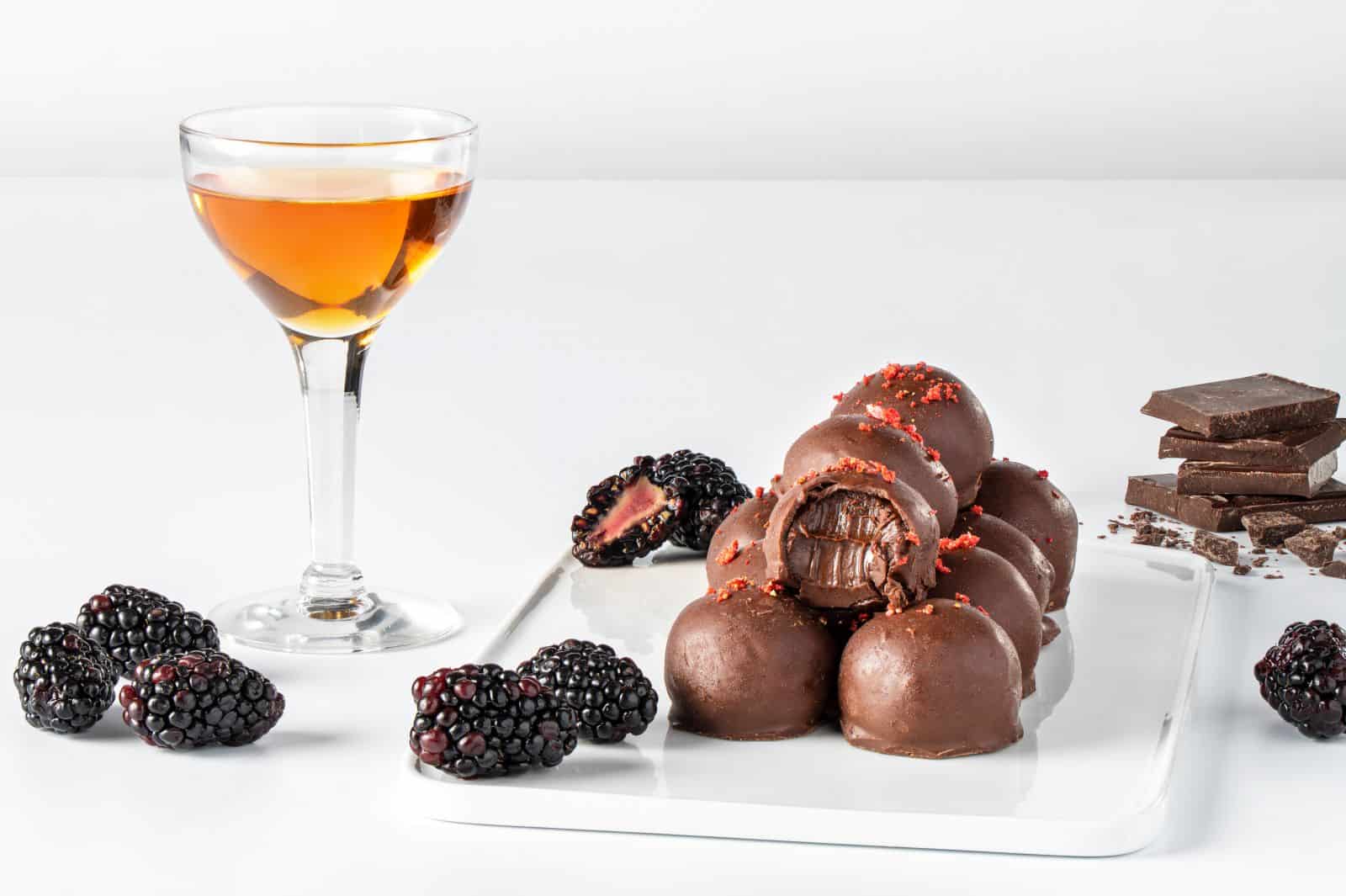 Perhaps it's cheating to buy dessert, but these vegan truffles are incredible! If you want to make your own vegan truffles, I'm sure they'll be wonderful. I just happen to have a super soft spot for these made with a magical olive oil and barely sweet blackberry gelée. And since this dessert isn't too sweet, I can break out a lovely pommeau like Rootstock Ciderwork's Pommeau or Tandem Ciders' Pomona. Pommeaux have a mouthfeel and intensity like nothing else. Though they are not always easy to find; they are more than worthwhile. A few sips of pommeau and a dark chocolate truffle will be the crowning moment of nearly any culinary journey.
None of these dishes will leave you hungry or feeling deprived. Instead, these plant-based dishes and their cider pairings should be completely satisfying. Hopefully, these indulgences help showcase the amazing variety and awesome flavors available in modern vegan food!