Something is afoot in the craft cider world, and it's got us all aflutter. Lately, we've been seeing a number of cider makers, brewers and winemakers creating beverages that push and expand the boundaries of what we typically expect from cider, beer and wine. By melding the divisions between these usually separated categories, these innovators are giving birth to hybrids that offer wild new taste experiences. The outcomes of these co-fermentations and blends are experimental and a little bit futuristic, as if makers are starting to snip their tethers to convention and ask more freely: What happens if we just try?
Here are five hybrids we've got our eyes on:
CO Cellars is a new project from Shacksbury and ZAFA Wines in Burlington, Vermont: It's both a tasting room in the Soda Plant, and a collaborative effort focused on co-fermentations. The duo released their first "CO"-llaboration when the taproom opened in late November of 2018, a kegged condition co-ferment of three grape varietals and a cider base. ZAFA's founder Krista Scruggs has been fermenting grapes and foraged apples together for awhile now, and we're so excited to see what is possible now that she's teamed up with the cider masters at Shacksbury.
This Canadian company makes its line of modern ciders with fresh-pressed Ontario apples. It stands to reason that it would play around with the combination of apples and grapes — Shiny Apple Cider's sister company is Small Talk Vineyards, a small vineyard in Niagra-on-the-Lake. The Apples & Pinot Noir cans are a blend of 10% pinot noir and 90% apple cider, and weigh in at 6.5% ABV.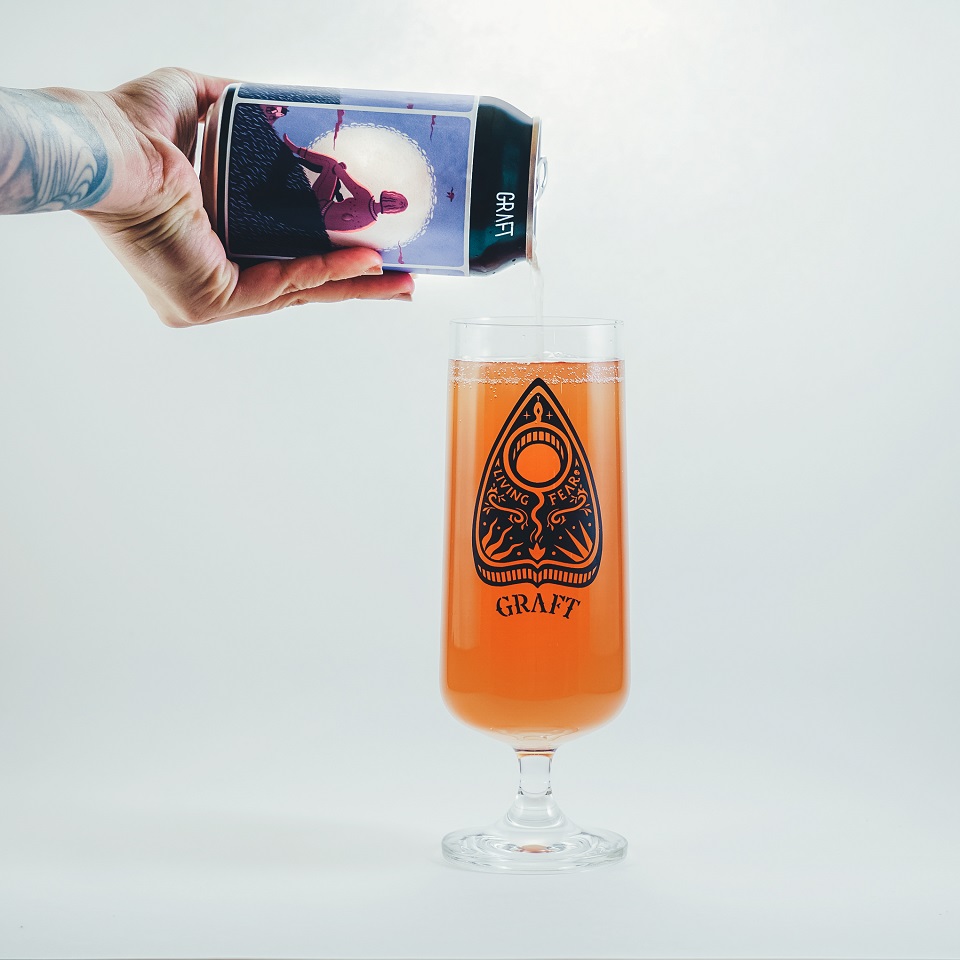 Graft Cider's Worlds Apart is the first of a two-part collaboration with Ontario-based Revel Cider Co., meant to challenge both modern and traditional cider making methods. This cider/wine hybrid encompasses both brands' passions for wild-ferments and for bridging the gap into these cross-categories.
Funky, but approachable, the white wine element adds full-bodied jammy and floral characteristics, with a touch of bright acidity.
"We worked with Brotherhood Winery [in Washingtonville, New York] to source the Gewürztraminer wine skins, then did a fresh apple juice fermentation (skin contact) in an open-vat for one week," explains Graft co-owner, Sara Sherrer. "It was then aged in white wine barrels for several months before blending the barrels together."
In the spring of 2018, Pennsylvania's Tired Hands Brewing Company — always a good brewery to look to for boundary-smashing — launched its Frequency Illusion series. These rotating bottles combine elements of beer, wine and cider. The first trio that it released included an Heirloom Cider (that sold out very quickly, but we have the good word that it will be back in the rotation soon enough). This 100% apple cider was made from an assortment of heirloom apples from the 2017 harvest, which were minimally processed and fermented with a blend of Tired Hand's house microflora. Tasting notes include: "slightly Brettanomyces-forward, with refreshing notes of fresh hay, ripe apples, semi-sweet Cava, and a Trappist-esque brett presence." Other Frequency Illusion iterations include beer/wine hybrids that are mind- and taste-bud-bending (in a good way).
Graf — a beer/cider hybrid — isn't brand-new to the world of craft beverages, but it's a product we just don't see very often out there in the world. Hawke's, a U.K-based modern cidery (that reminds us a lot of Graft, to be honest) is trying to take the concept more mainstream with Graff, its co-fermented apple pale ale. A blend of Braeburn and Bramley apples are fermented with a caramelized and malty beer wort, to which American Ale and Sauvignon Blanc-style yeasts are added. It's then hopped with Amarillo and Cascade. Curious about the flavor? Hawke's reports these tasting notes: "The blend of hops gently opens the nose to the aroma of crusty bread. Combining the maltiness of grains with the sharpness of fruit, it delivers an intense mouthfeel evoking memories of continental beer, against the subtle sweetness of pure apple juice."