For LGBTQIA+ Pride Month, we're sharing stories of queer-identified cidermakers from across the country. In this Cider Culture feature, meet Scott Katsma of Seattle Cider Co.
Most cider lovers have an "aha" moment with one specific cider, a special pour that offers an eye-opening, mind-expanding experience into how exciting cider can be. For Scott Katsma of Seattle Cider Co., that was Sea Cider's Prohibition, which he tried while working one summer after college at The Noble Fir, a bar in Seattle. Before that, Katsma had been more into craft beer, and was about to embark on a career in special education.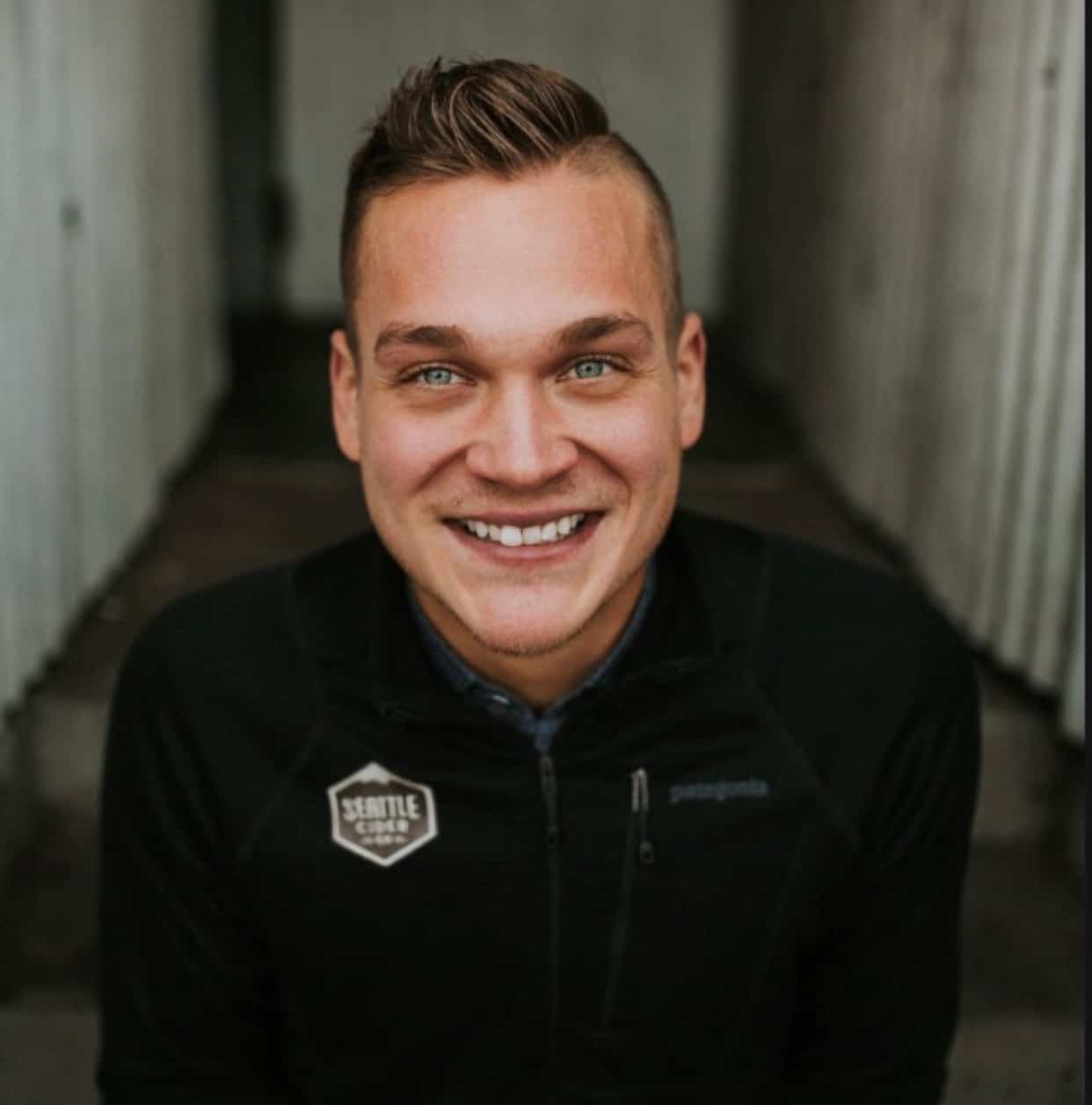 However, the magic of cider stayed with him, and a decade later, feeling burnt out from teaching, he jumped at the chance to get in on the ground floor of a brand-new cidery, Seattle Cider Co. That was fully 10 years ago, and in that time, Katsma has worn so many hats in the growing company. Currently, his title is Quality/R&D Manager, and his responsibilities are many!
We had a chance to chat with Katsma about his experiences working at Seattle Cider Co., and to learn a bit more about some of the products, including Seattle Cider Co.'s Love & Light Pride campaign.
Cider Culture: What were those early days at Seattle Cider like? Being part of a company at its start can be a wild ride…
Scott Katsma: Moving at breakneck speed rarely allows for proper planning or sustainability, which is unfortunate. Early on, it was all adaptation and problem-solving. You learn big lessons on the fly, and hope to implement changes as you go. We learned a lot of hard lessons quickly, but that just continued to allow us to improve, innovate and grow fast.

At the core of it, what we excelled at was pretty simple – making dry cider that we knew we wanted to drink that didn't exist yet on the grocery store shelf. And we were unwavering in that vision. Not having a ton of craft cider options on the shelf also meant we were extremely free to innovate with other ingredients. From the very beginning, we just experimented with trying to co-ferment things, like fresh herbs, other fruits and teas, with apple juice – a technique that is now having a moment – and that gave us a lot of freedom to play. Ten years later, and with the rapid growth in both the RTD and the functional CPG space, there aren't a ton of flavor or ingredient combinations that haven't been explored, so it makes the task of coming up with something entirely new and fresh a thousand times more arduous. The early days weren't too different from the past three years, however, it's still just as wild a ride as ever. Yeehaw! 

How did you learn to make cider? What were some early victories and/or learning moments you discovered along the way?
More often than not, we became experts by trial-and-error. We learned to make cider, on a large scale, by applying what we knew about commercial brewing, and figuring out rather quickly that a lot of those things absolutely do not translate to wine fermentation. For example, harvesting and re-pitching yeast is a complete fool's errand. After quickly switching to a dry wine yeast, we went through a couple years of massive growth and were largely stuck with using this yeast as our house yeast. People came to love this flavor profile and it became synonymous with Seattle Cider, despite the yeast not being exactly ideal from a nutrient or temperature standpoint. Knowing what we know now, it's even hard to say that if we could go back and select a different yeast from the beginning that we would, because the one we choose also got us to where we are today.

I've also learned through community and collaboration. The cider industry is unlike any other and thrives on people who are generously open to sharing insights, experiences, and education. In addition to making some bad cider, I also have a group of peers, now close friends, to thank for a lot of my learning along the way.
What's the first product you made for Seattle Cider Co. that made you feel like, "Hell, yes!"?
There have definitely been memorable batches along the way, but I feel like that feeling has existed from my very first day. My very first juice truck, my very first canning run, my very first time purchasing my cider out in the world and sharing it with friends and family filled me with pride and excitement. I feel very lucky to have been a part of something that we knew was exciting from the very beginning. Oh, and the Light Cider that we launched last year is extremely glug-able, and every can I drink is still a "hell, yes!" moment for me.

As the company grew, how did your role shift or grow?
My first official title was "cider monkey" because I was the only production/cellar employee, but that quickly progressed into becoming our Head Cidermaker in 2015. And then when we started building a hard seltzer brand in 2017, I took on all of the product creation and innovation roles that came with that and became the Director of Fermentation and Innovation for all our brands. Despite making quite a bit of cider, we're still a super-small company with just over 30 employees, so out of necessity we are constantly shifting and growing to meet the needs of the moment.
What have been some of the most rewarding and/or challenging parts of the journey?
The most rewarding part has been the mentorship that has come with building and working for an industry-leading brand. Throughout the years, providing education and training to friends and co-workers in order to help them grow is super-fulfilling to me, and something I hope to continue to be able to do. Seeing someone start on our packaging line, giving them the opportunity to step into leadership and grow their skills as a fermenter, and to then become a head cidermaker, or start their own brand, is actually really fun and vastly outweighs the grind of finding someone new to start on the packaging line. Helping increase the quality and quantity of cider in the world only helps to elevate cider's overall perception as a category. The more better cider in the world, the better for everyone!
What does being in a more R&D-focused position look like? You also mentioned that you're responsible for innovating new products. How does that component work?
Quality for us means never-ending training and education. Constant empowerment and growth. It's something that feels like we never have enough time for, but it is essential in our growth and evolution.

Developing new products these days takes so much alignment across all aspects of our business that it necessitates someone able to translate sales, marketing and budgeting inputs, and have it mean something on a product level. There are also larger questions of brand strategy to consider, and so most of my job involves applying these filters, while simultaneously overlaying production and operational constraints, with the ultimate goal of maintaining a playground for our brewers and cidermakers to be creative. For me, I'm always trying to make the one thing that me and my friends would want to drink, but a lot of that is also inspired by travel, other cultures and other industries. I'm a huge CPG [consumer packaged goods] nerd and am obsessed with trying every new drink or snack on the shelf.
Even though the cider industry has changed a lot over the past decade, there's still not a ton of diversity, especially in production. It seems like Seattle Cider is working to center different voices and promote inclusion; can you talk a bit more about that?
When I started at Seattle Cider, our company was just a bunch of white 20-something-year-old boys, and I wasn't even out to my family yet. So yeah, a bit different! Growing up, I was hyper-aware that I was different from others and hid that difference to avoid being targeted. And unfortunately, that was true, too, when I entered the craft beverage world in 2013. While both the beverage industry and I have made progress, it's not enough, and the demographics of industry insiders do not match the demographics of our customers or the world we live in, and many groups are underrepresented or invisible.

I believe that by being more open about myself, I can also create more space for others who are different from the norm. I can welcome them, amplify their voices and empower them to be themselves in places where they have been shut out. My personal mission is to create spaces that my younger self deserved: to invite and encourage diverse perspectives and build a welcoming culture. At one point, our cidermaking team was 2/3 women and 2/3 queer. That felt good, or at least remarkably better; it was a positive change, but still not enough. It's never a box you check one time, and we have a long way to go, especially in terms of racial equity. We as a company are actively working to represent all cider drinkers: developing our marketing assets, improving our hiring practices, amending our employee policies, etc. Getting it right is multi-faceted and a team effort, and we know that this requires listening, learning and doing better.


Let's talk about the Seattle Cider's Love & Light Pride campaign? Were you involved with this? If so, how and what was that process like?
When we were building the initial campaign for the launch of Light Cider last year, we really wanted to reprise some classic light beer tropes with a more inclusive lens. We envisioned a "lawn-mower beer" commercial that didn't feature a white middle-aged man. We knew we wanted it to be lifestyle focused, but to also reflect the diversity of our customer base, such that everyone could see themselves enjoying this cider at the end of a day or hike. This was the vision for Light Cider from day one, to be as inclusive in our marketing as possible. So this year's Love & Light campaign is a natural progression of the spirit of Light Cider and a very exciting encapsulation of how we hoped to represent the brand.

For the past 8 years, we've released different iterations of pride-themed packaging in the month of June to highlight the important work of our community partners, including the GSBA, Pride Foundation, Center on Halsted, Trail Mixed Collective; and this year's partnership with the Queer Mountaineers for Love & Light felt like a natural fit in order to help support the work they tirelessly do to make our community more accessible to all.
Thanks so much to Scott for sharing his story and insights on the industry with us! For more about Seattle Cider, including info about its tasting room, The Woods, visit its website and follow along on Instagram and Facebook.