We're not going to turn down a bright, refreshing spritz in the winter, but these flirty, low-ABV cocktails are really meant for wearm-weather sipping. We're talking sun-drenched brunches, rowdy pool parties, and rambling chats with your BFF on a porch swing. We're talking book-and-a-hammock afternoons, lakeside picnics, and impromptu post-work happy hours. We're talking summertime, y'all!
The cider spritz method is literally as easy as 1-2-3:
Fill up a wine glass or tumbler with ice, and fill about 2/3 of the way with cider.
Add about an ounce each of the other ingredients listed, and a healthy splash of seltzer or soda.
Stir with a cocktail spoon or a straw, add on a cute garnish, and there you go!
There are endless flavor combinations to play with, and a good place to start is with one of our five favorites, explained below. Each one uses a fruity cider (except for the Bicicletta, but we'll get to that) to ramp up the flavor and maximize the refreshment. If you can't find the brand we suggest, no worries! Have fun experimenting with fruited ciders from your local cidery, or whatever you can dig up at your favorite bottle shop or market.
Blueberry Sage Cider Spritz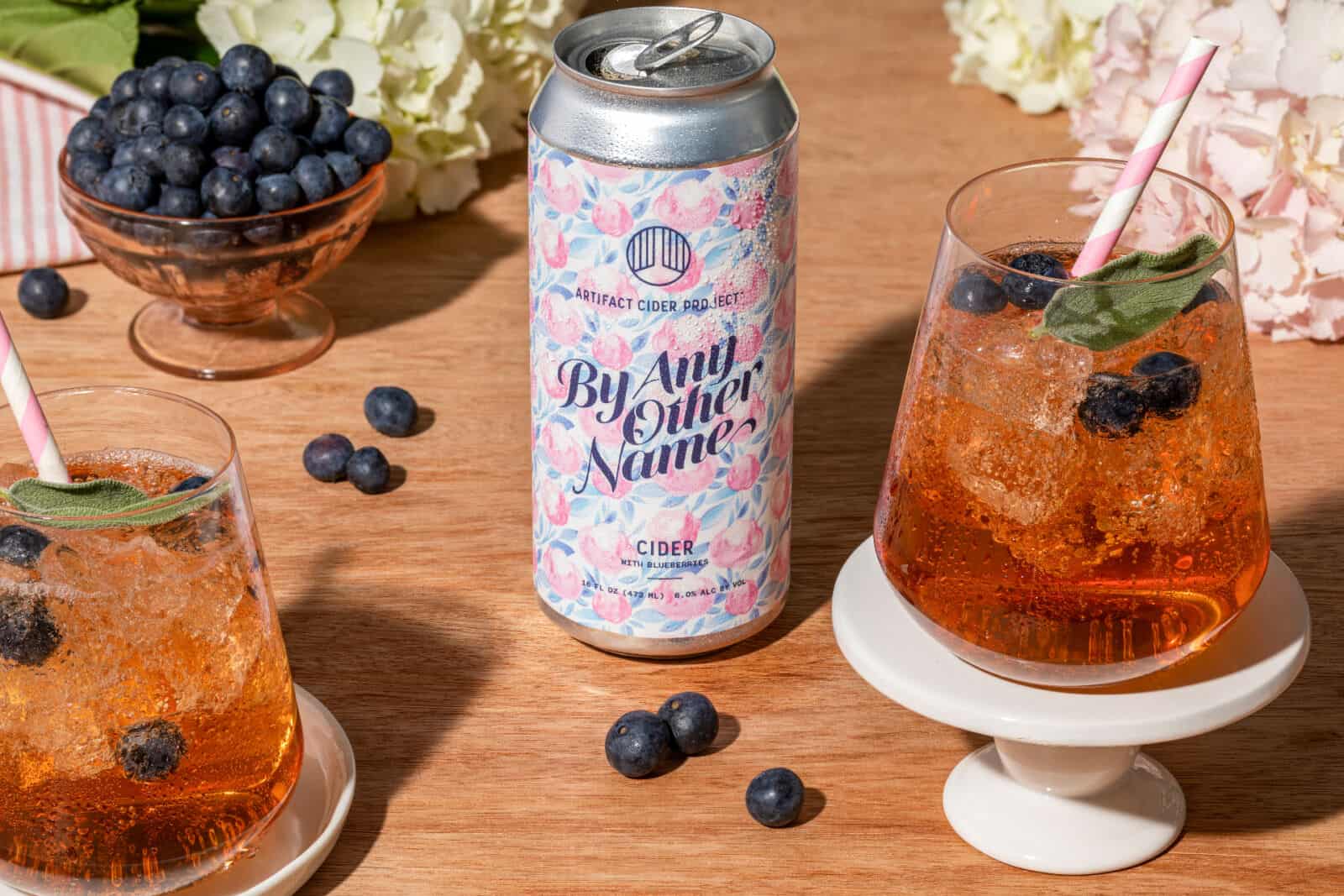 The tart sweetness of blueberry and mellow herbaceous of sage are a match made in heaven!
First whip up a batch of sage simple syrup: Combine half a cup of sugar and half a cup of water in a saucepan and bring to a boil. Stir until the sugar dissolves, then take off the heat. Add in a few fresh sage leaves or 1/2 teaspoon of dried sage, and allow the syrup to steep and cool. Once it's cooled down, strain it and use in the recipe.
To make: Fill a glass with ice and pour in Artifact By Any Other Name blueberry cider. Stir in about 1 ounce of sage simple and top with club soda. Stir, and garnish with a few fresh blueberries and a sage leaf.
Amaro Cider Spritz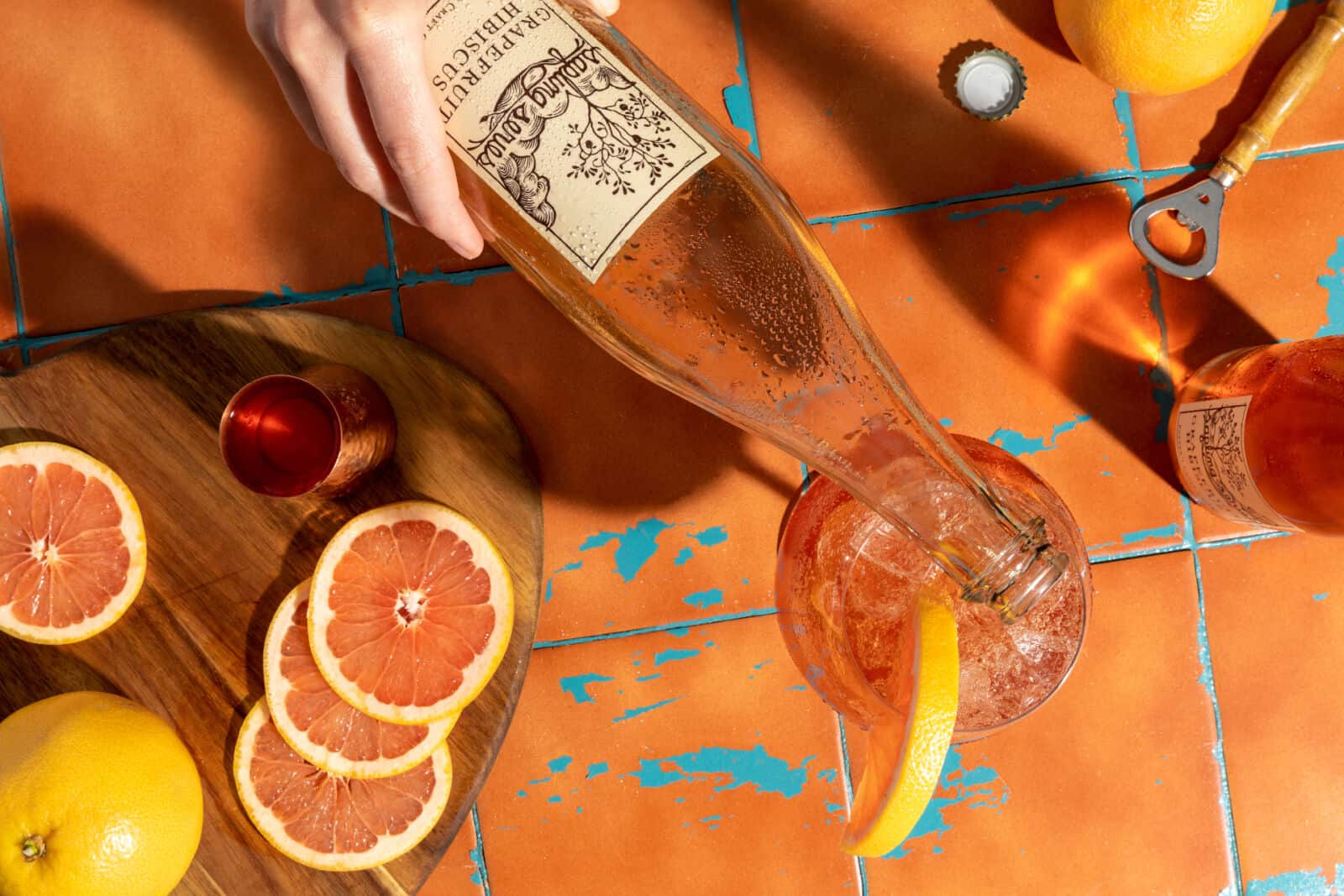 There are so many kind of amaro out there — this bitter-sweet spritz works best with a light, fruity amaro, like Lo-Fi Aperitifs Gentian Amaro, Amaro Angeleno or Eda Rhyne Amaro Flora.
To make: Fill a glass with ice and pour about 2/3 full with Potter's Craft Grapefruit Hibiscus Cider. Add about an ounce of amaro and top with grapefruit juice. Stir, and garnish with a slice of fresh grapefruit.
Strawberry Lemon Cider Spritz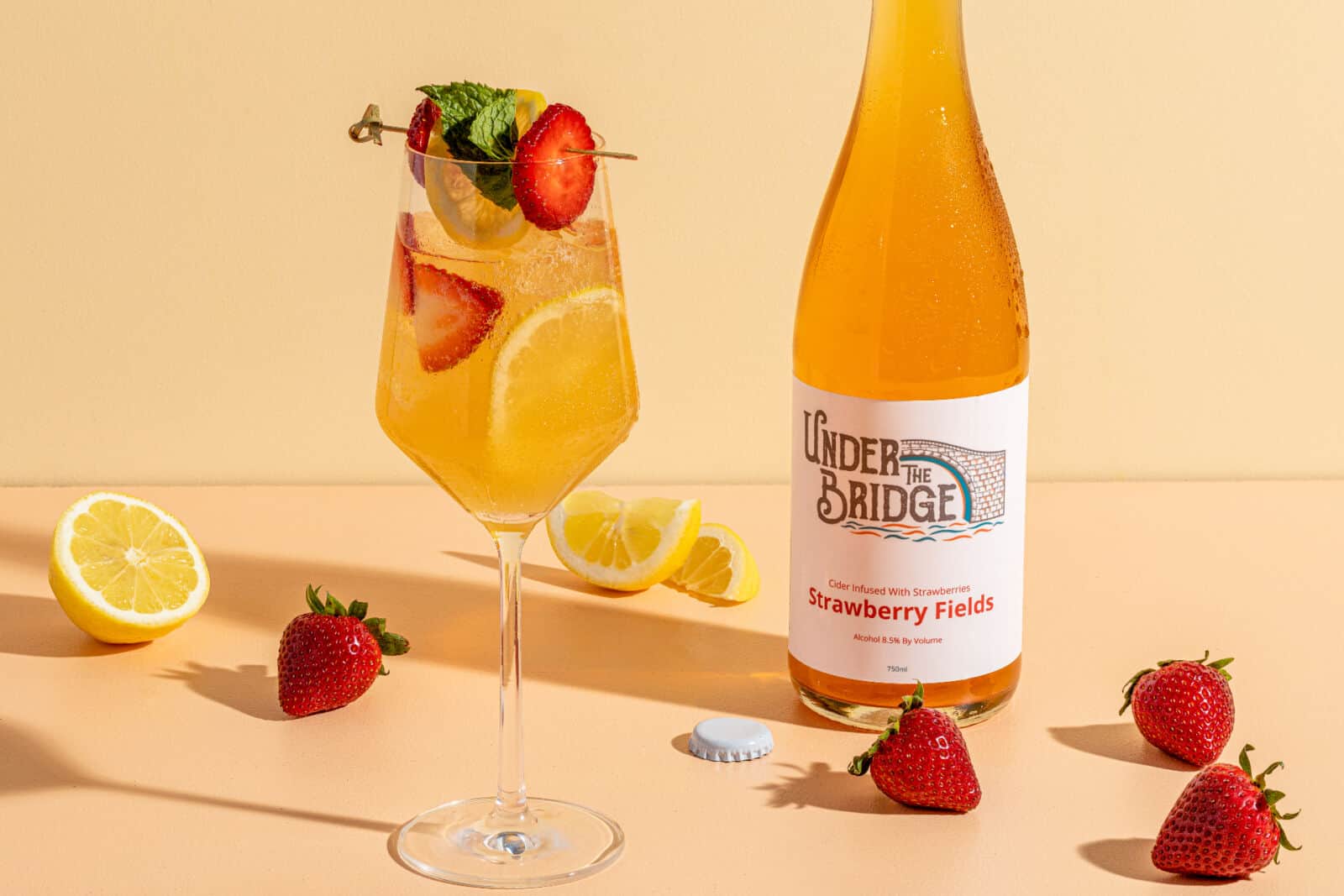 If you crave a sip of sunshine, this pretty spritz is the one for you! Channeling major strawberry lemonade vibes, this juicy sipper has brunch written all over it!
To make: Fill a glass with ice and pour about 2/3 full with Under the Bridge Cider Strawberry Fields. Add 1 ounce fresh lemon juice and top with Italian lemon soda. Stir, and garnish with a sprig of mint, a lemon wheel and a few slices of fresh strawberry. For a stronger drink, add 1 ounce of plain, lemon or strawberry vodka or the gin of your choice.
Cherry Lime Cider Spritz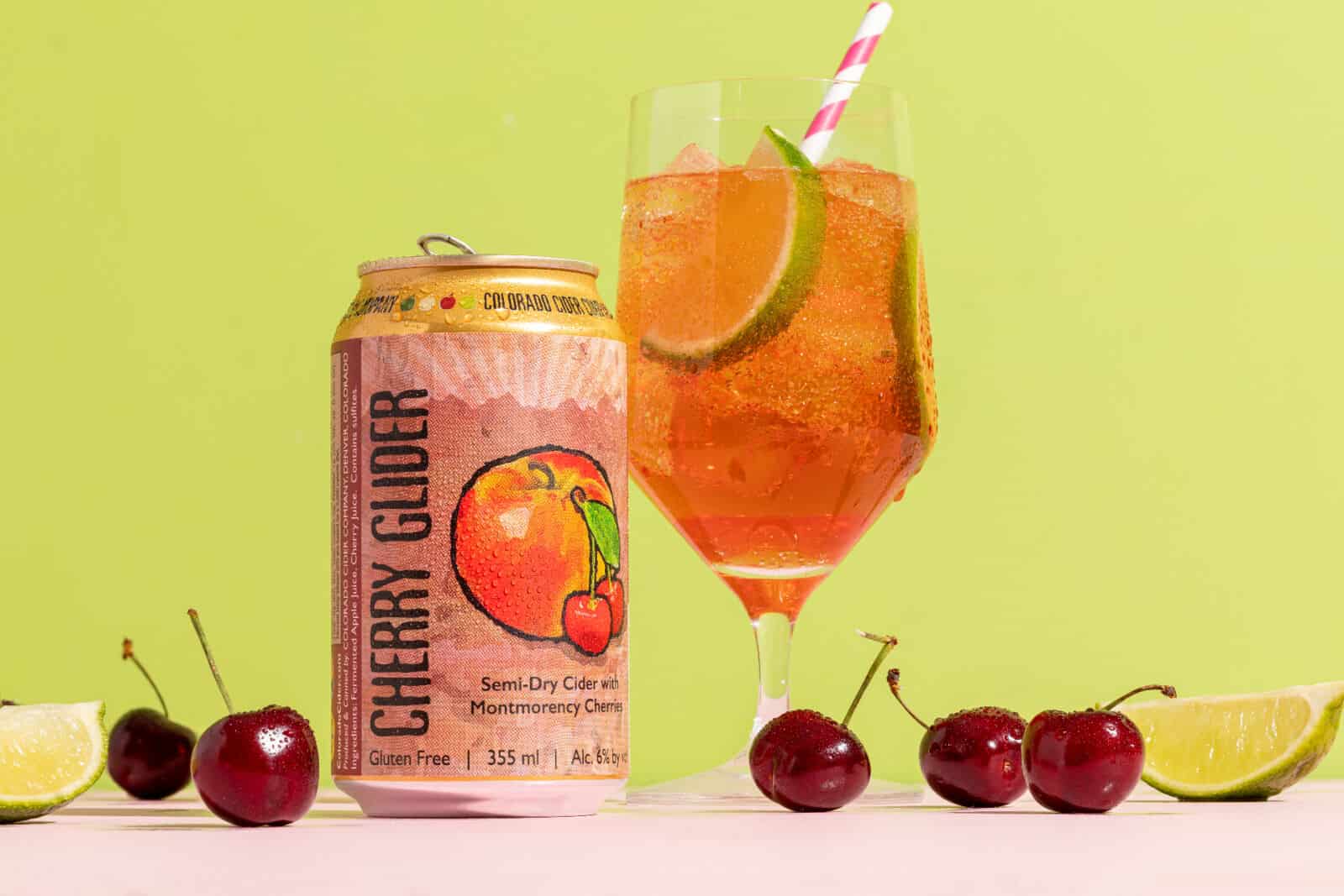 The round sweetness of summer cherries are wonderfully balanced with the puckery zip of lime juice. Together, they make a bright, thirst-quenching spritz to sip alongside BBQ fare or Mexican food.
To make: Fill a glass with ice and pour about 2/3 of the way full with Colorado Cider Co. Cherry Glider Cider. Add 0.5 ounce fresh lime juice or sweetened lime cordial (depending on how dry or sweet you like your beverages), and top with lime seltzer. Stir and garnish with a wedge or two of lime.
Cider Bicicletta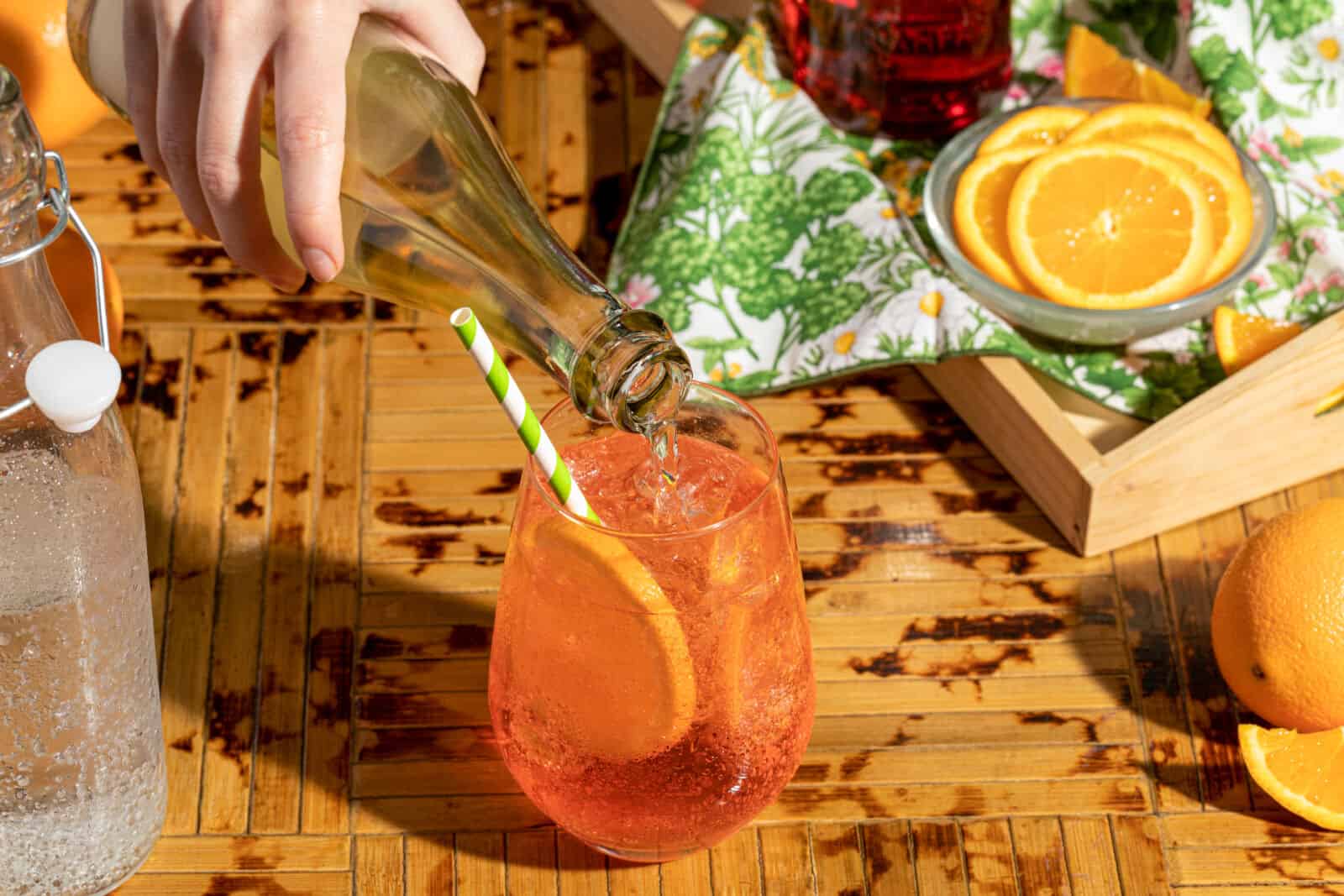 This is the only cider spritz on deck that doesn't include a fruited cider. A standard Italian Bicicletta is a spritz made with still white wine, Campari and soda water. We're swapping in a dry, still cider, like Dressler Estate Modern Still or Farnum Hill Extra Dry Still. The effect is similar to the classic Bicicletta, with a touch more earthy, funky fruitiness.
To make: Fill a glass with ice and pour about 2/3 full with a still cider. Add 1.5 ounces Campari or another aperitivo, like Forthave Red or St. Agrestis Inferno Bitter Aperitivo, and top with sparkling water. Stir, and add a slice of orange as a garnish.