Is there anything as satisfying as two brands you love coming together on a collaboration like some kind of mega-awesome Transformer robot? Thankfully, the cider world is all about collabos (like the Graft and Whole Foods cider we recently wrote about), and this new one has got us stoked.
Shacksbury, who has been killing it this year with great events, the opening of its tasting room in Vergennes, Vermont and the continued production of its creative ciders, has teamed up with Brooklyn-based Threes Brewing, a remarkably cool operation that's totally worth a visit if you're ever in Gowanus. Together, these two craft beverage buds have created Mixed Metaphor, a table beer made with Vermont apples. Isn't it nice to have a reminder that cider people and beer people can get along?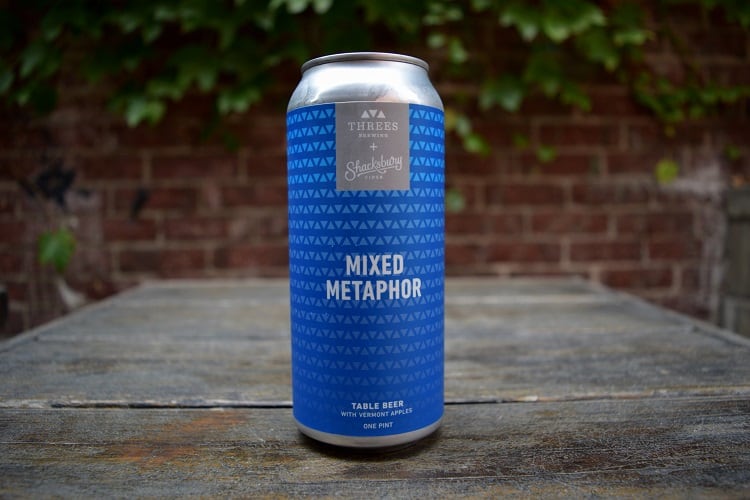 Luke Schmuecker, a partner at Shacksbury, gave us the lowdown on how this hip collaboration came about:
We always try and stop in to see Greg at Threes when we are in the city. Last spring, when we stopped by (to drink all of their pils) we brought a bunch of tank samples. We started with our wild apple tanks with Threes Wandering Bine, but the blend we kept drinking was their table beer with fruit from Sunrise Orchard in Vermont. Instead of stacking as layers of flavors, they actually blended together.

I think it all goes back to one of the main reasons I like Threes so much. It's a lot harder to make something delicate and balanced, you don't have anything to hide behind. Threes makes well-executed beers that you can drink and enjoy.
While it may technically fit the category, the team chose not to use the term "graf" on the label or in the description.
Luke says, "While I'm a Stephen King fan, I think we can come up with a better name than that. Maybe we should have a contest to come up with a better name? We have more and more co-fermentations between beer, wine and cider, and it would be great to have some more formal, uniform and palatable terms."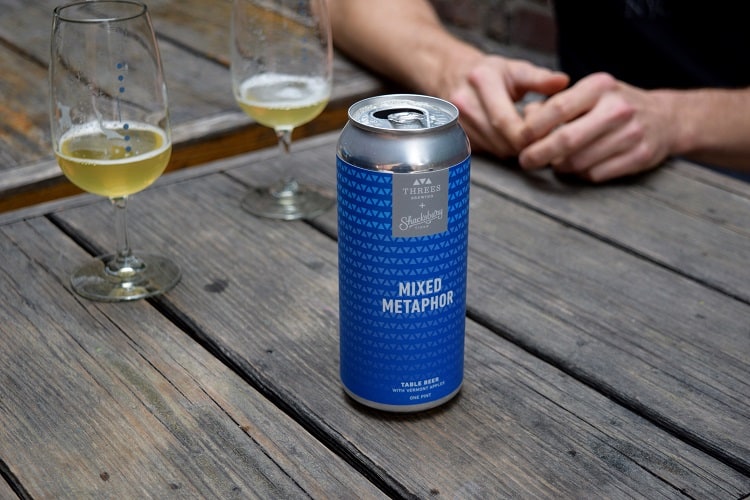 Readers, if you have suggestions for what to call co-fermentations, let us know! No matter what you call it, the Shacksbury + Threes Brewing collaboration is tasty as hell, and both parties are super-pleased with how it came out.
To get a hold of your own tall boys of Mixed Metaphor, you'll have to turn out to Shacksbury's holiday party this Saturday, December 16.
We did get word that a few cases have also been shipped to retailers in the NYC area, like Beer Street NYC and Brouwerij Lane. So, keep your eyes peeled at your favorite bottle shops and beer stops! If you see Mixed Metaphor 4-packs in the wild, don't sleep — it's selling out fast!
Find the Shacksbury Cider Tasting Room at 11 Main St. in Vergennes, Vermont.