Collaborations are one of our very favorite things about the growing cider industry. Of course, we get the warm and fuzzies to see cider makers working together, though there's something extra special about cider makers and brewers "crossing the aisle," if you will, and putting their creative minds to work. There is, as you probably are aware, a bit of an "us vs. them" vibe between a lot of cider fans and beer enthusiasts. So, it's refreshing and exciting when brands push past those rather irrelevant divisions and see what cool things can happen when it becomes "us and them" together.
A recent example of this is Shacksbury and Modern Times Beer's recent joint effort: Ping Pong Cider.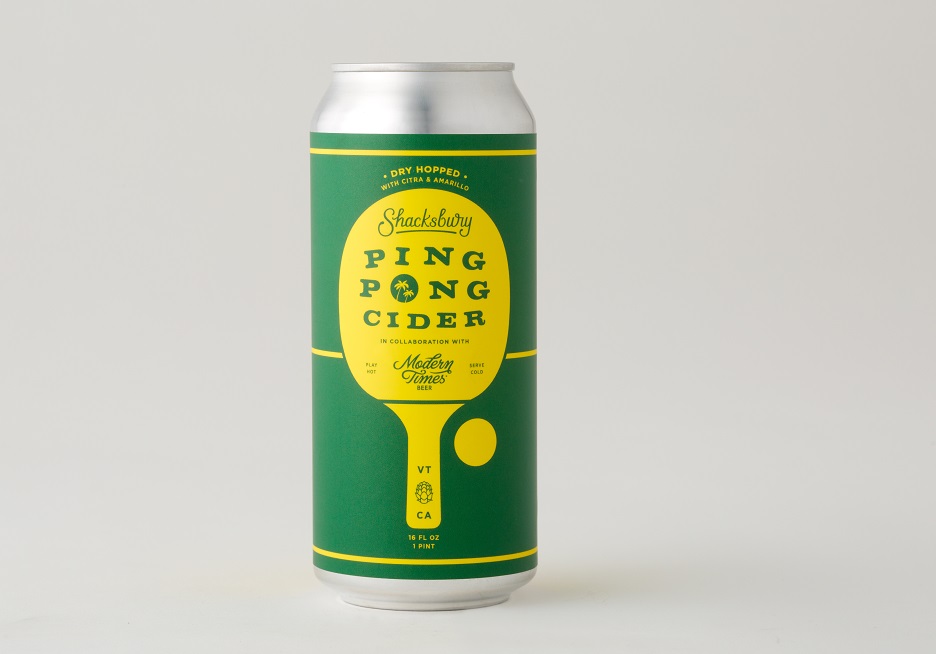 This lil' beauty came about in January 2018, when Shacksbury sent Modern Times different cider samples to dry hop. Shacksbury's co-founder, Colin Davis, and partner and resident Cicerone, Luke Schmuecker, visited Modern Times in San Diego, California, and tasted through different options with the brewery's team. Ultimately, they agreed on using Citra and Amarillo, which are the same hops that Modern Times uses in its Fortunate Islands pale ale.
The hopped cider's name "Ping Pong" was actually inspired by a wine. Schmuecker tells the story:
"It was low alcohol light red from AmByth Winery that was unlabeled and unnamed because it wasn't something that was commercially sold, but something that was made to be consumed late night, during harvest, while playing Ping Pong in the cellar," he says. "There still was a lot of care and effort that went into making the wine, but it was made to be a fun wine you can just drink."
When Shacksbury gave a bottle of the wine to the Modern Times team, they wrote the name "Ping Pong" on the clear glass bottle in permanent marker because it was the wine they drank while playing ping pong.
"Turns out that MT special projects team plays a solid amount of ping pong, and liked the name so much they made a house beer for their team called ping pong," Schmuecker says. "When it came time to make the hopped cider, the name Ping Pong was a natural choice."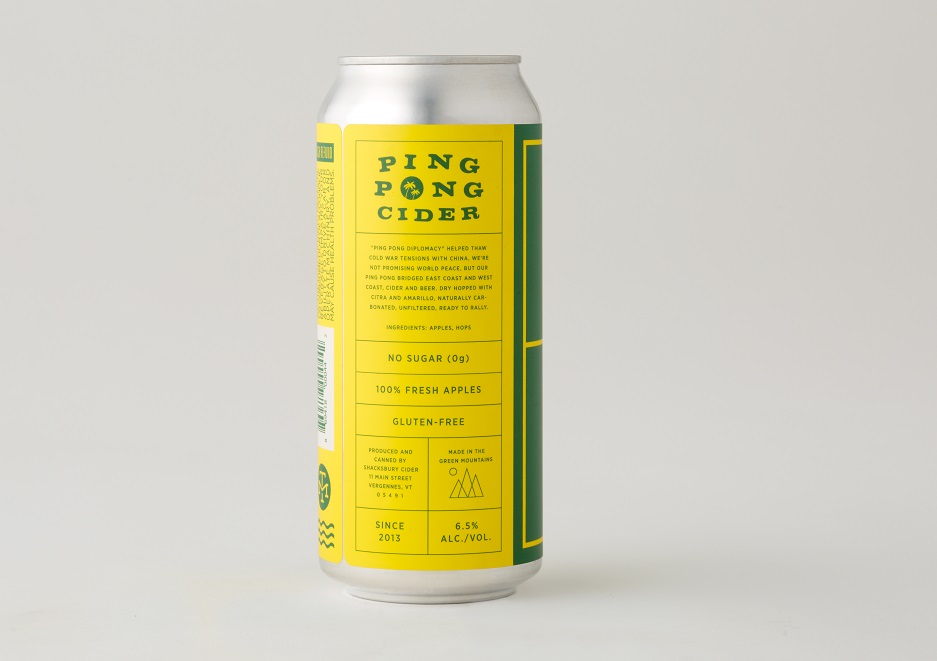 Because Ping Pong isn't back-sweetened, it's bone dry and effervescent, with bright and citrusy notes from the Citra and the earthiness from the Amarillo providing some backbone. At 6.5% ABV, Ping Pong will get the party started, while still leaving everyone lucid enough to crush some ping pong, or whatever other activities you've got on deck.
Schmuecker notes that Ping Pong is currently being released into "a couple markets," and will be available soon at its tasting room in Vergennes, Vermont, as well as in Shacksbury's online shop. Have you tried Ping Pong? If so, let us know what you think of it!
Find the Shacksbury Tasting Room at 11 Main St. in Vergennes, Vermont; phone: (802) 458-0530.