For 30 years, Lori Leitzel Rice and her husband, Eric Rice, have been growing fruit at Country Pleasures Farm, the oldest organic farm in the state of Maryland. Inspired by the complex, dry ciders he'd tasted during travels in Europe during his grad school days, Eric had always hoped to make cider from some of the 20-odd varieties of American Heritage cider apples the couple had been cultivating on their property.
Lori Leitzel Rice
Eric Rice
Finally, after Rob Miller of neighboring Distillery Lane Cider Works started his cidery, preceded by a relentless campaign by the Maryland State Winery Association, the Rices were able to also obtain a winery license, and founded Willow Oaks Craft Cider. Since 2013, the couple has been making beautiful, terroir-driven ciders, which speak to the land and the fruit grown up on it. Their production is tiny, just about 2,500 gallons per year, and most of the ciders are only available on site at their charming tasting room in Middletown, Maryland, which is open to the public on the weekends.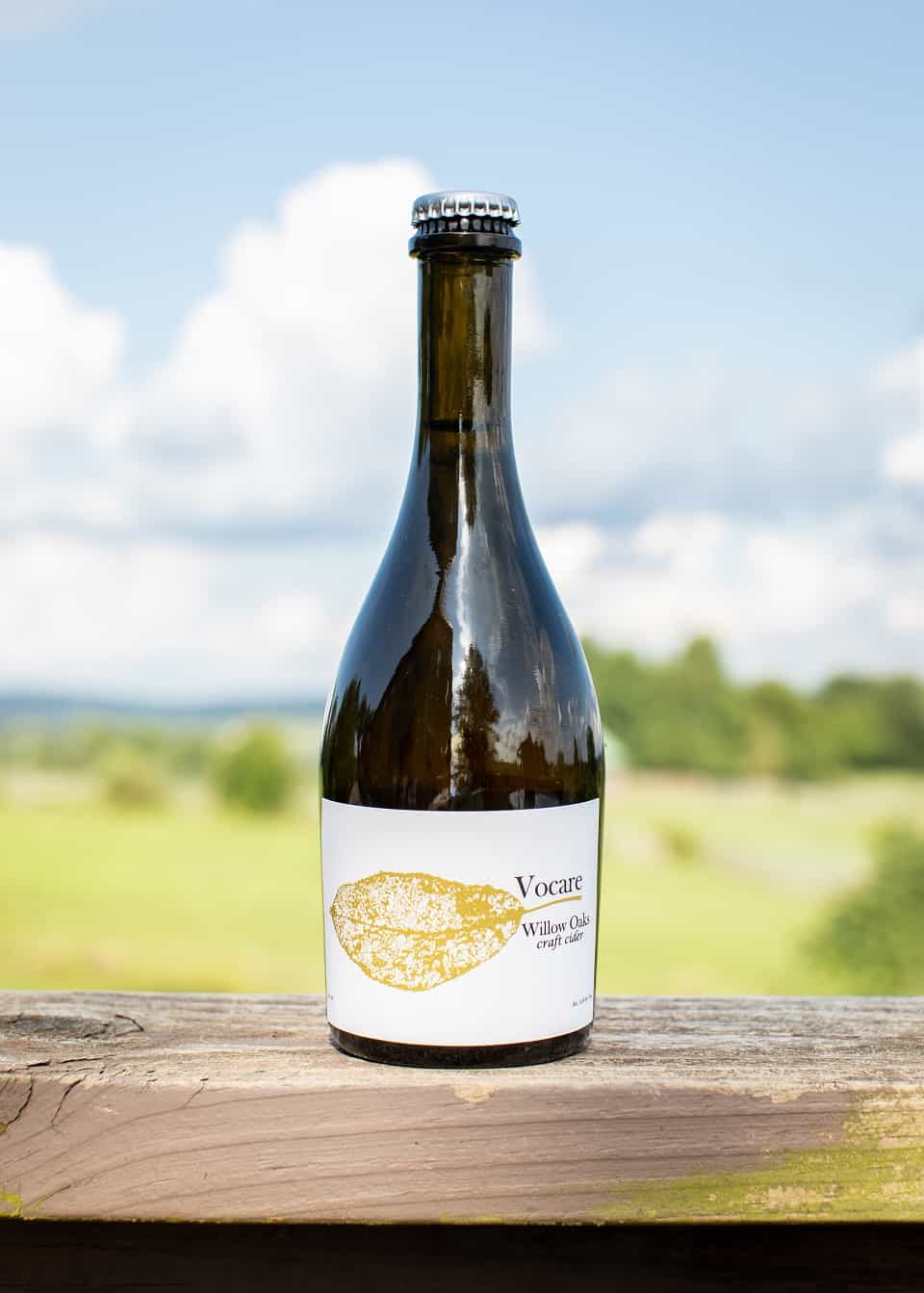 The Rices approach cider making along the lines of wine making, unlike cideries who take a bit more of a craft beer approach.
"Technically, you can make cider in three or four weeks," says Lori. "Ours take about two years: We do between an eight and ten-month cool ferment, everything in American and French neutral oak barrels, and then let the cider age for an additional year."
They don't sulfite the juice — preferring to let it stabilize itself — and don't sulfite to kill the native yeasts. All Willow Oaks ciders are at least started on their native yeasts (versus commercial yeast), and there are a few ciders that they have allowed to finish with a wild ferment.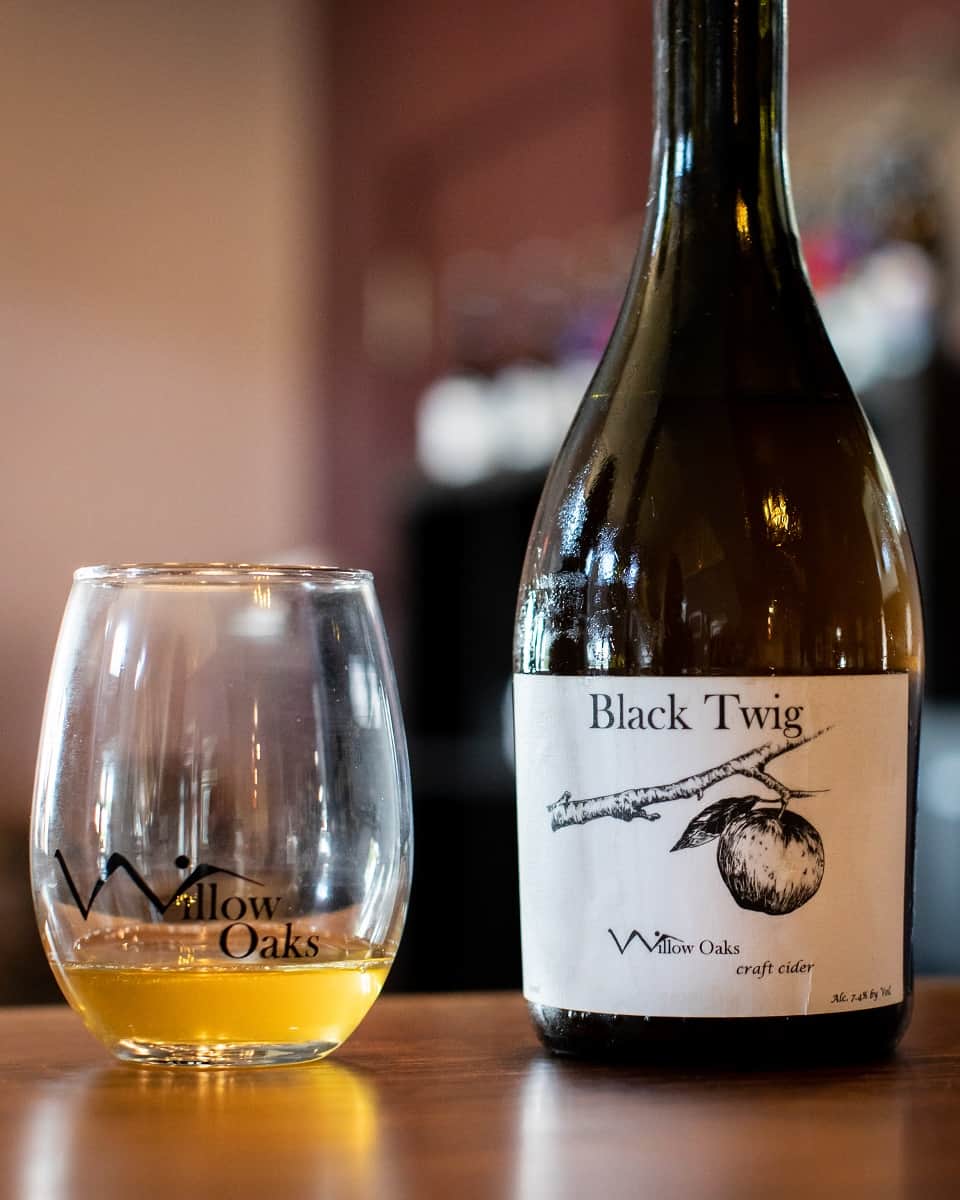 "Both Black Twig and the Appearition, our perry, are finished on native yeasts. They're the best things we've ever made, and we interfered with them the least!" Lori says, laughing.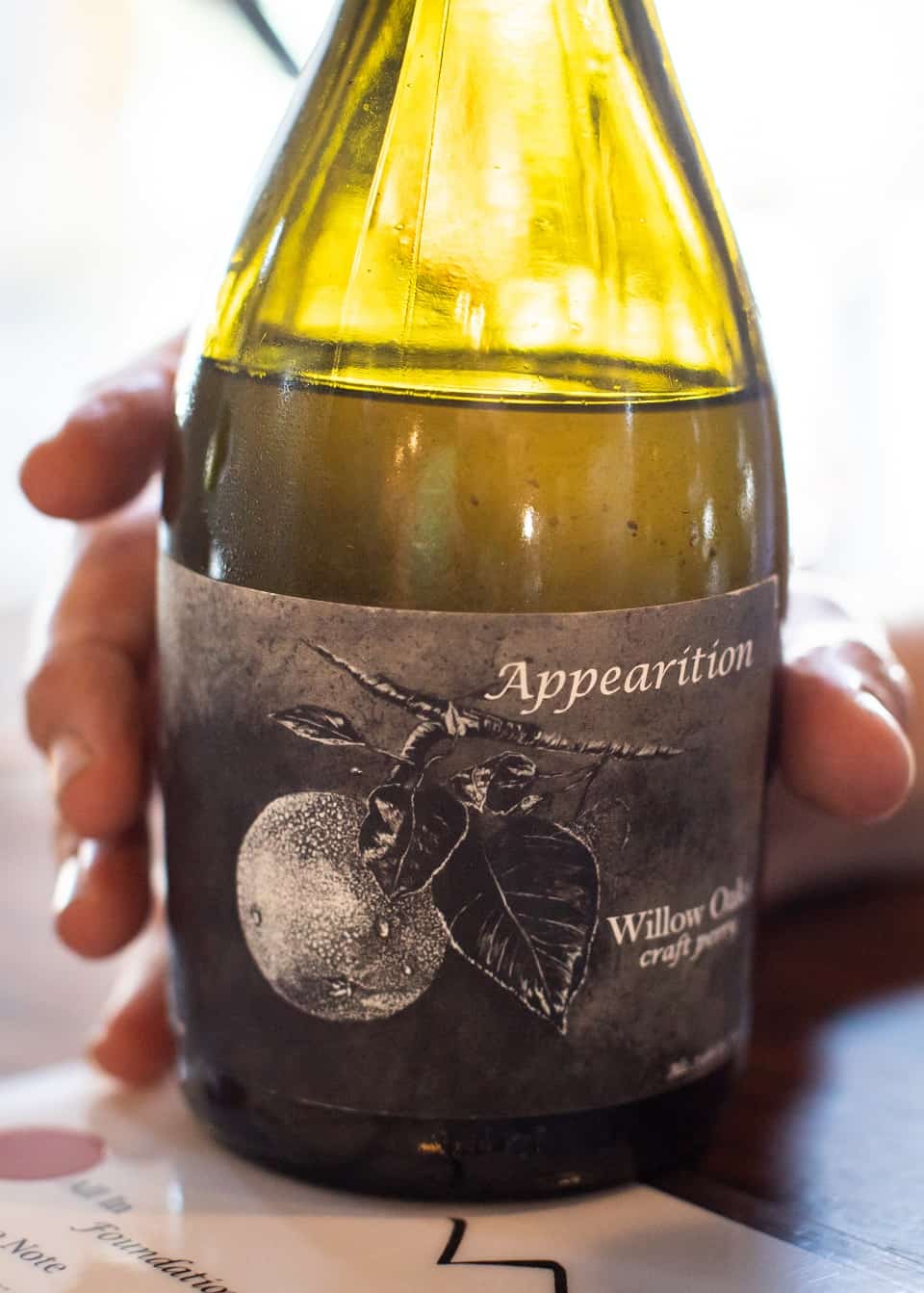 The Rices are both self-taught and operate via instinct and taste, using their keen senses of smell and taste (Lori says she can taste in the liquid when cideries use sulfur to halt fermentation or as a fungicide in the orchard). She remembers a visit to Oliver's Cider in the UK that helped her to validate this "by-feel" methodology.
"We had a private tasting with Tom Oliver, and at some point he put his finger up to his lips and tapped them and said, 'Everything that happens here, happens right here,'" she recalls. "That made me feel better, because we'd just been tasting, blending and experimenting, and I felt sort of relieved that that's an okay thing to do."
What the Rices are tasting for, as they ferment, age and blend their ciders, is a powerful expression of the land that they've been tending and getting to know for decades. Their farm property is partially along a limestone ridge, with fruit trees planted on contour around the slope of the hill.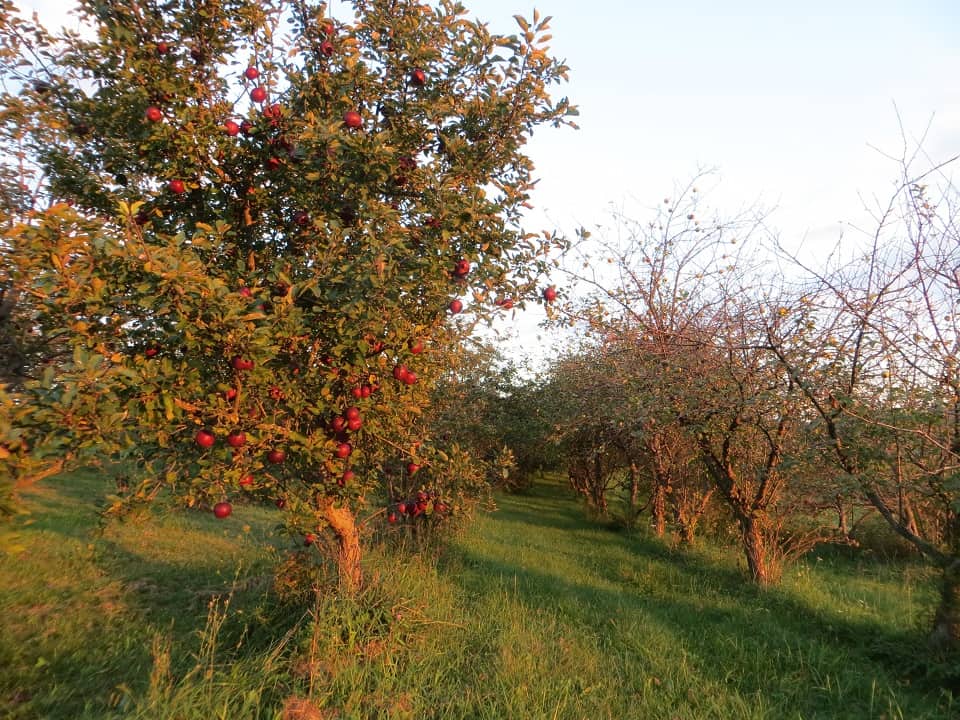 "Fruit, like all plants, build their flavor profile from its relationship to its environment, its terroir," she says. "It has to do with the soil being alive, and all of these microorganisms in the soil that are in cooperation with the plant, and that's what builds its flavor."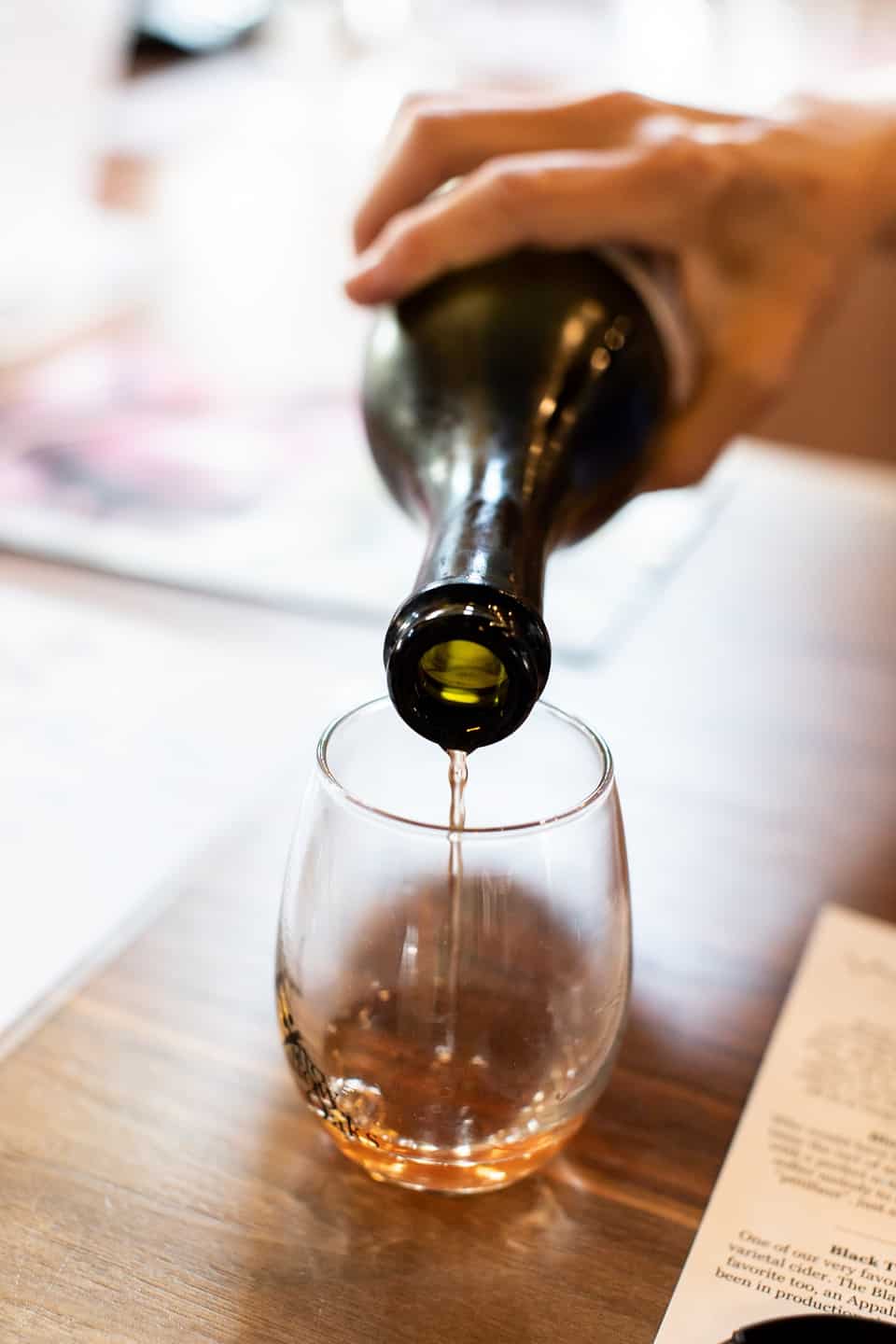 She says she was so pleased when the Willow Oaks ciders showed themselves in the glass as lively and complex, with a fragrant nose, and a long ride of flavor, from the front palate to the finish.
"It's what I like about nice wine, and I had not experienced that in cider before … Our ciders can be a little challenging if you've only ever had commercial cider!" Lori notes.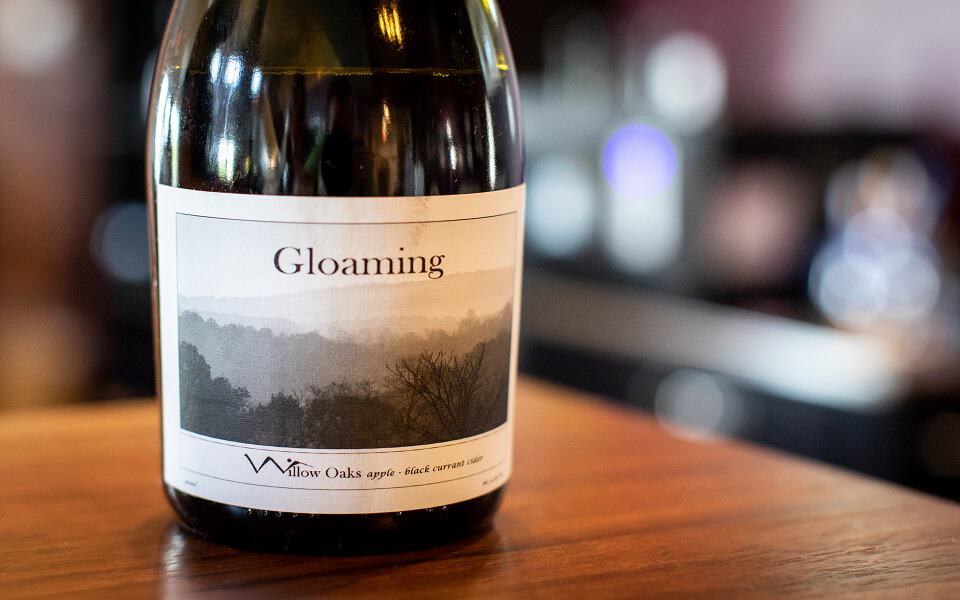 If she has to choose, Lori says her favorite Willow Oaks cider is Gloaming, a blend of all of their apples plus organic black currants. It pours a rich, vibrant purple in the glass, and Lori says she believes it has the richness and complexity to stand up to "any wine out there."
Her favorite apple varietal is the Black Twig, which offers more fermentable sugar than even sweet dessert apples, which is balanced by a high amount of tannin and acid.
"It just makes the best varietal cider I've ever had!" Lori says. "That we were able to let it express itself with its native yeasts is amazing … wild ferments can be unreliable: We often let them start on the wild yeast, and when they start to slow down, we'll pitch some white wine yeast. But as we kept an eye on this one, it just kept going and it finished all the way dry, zero percent residual sugar, with full apple aromas, a rich color, lovely richness, and a long lingering tannic finish."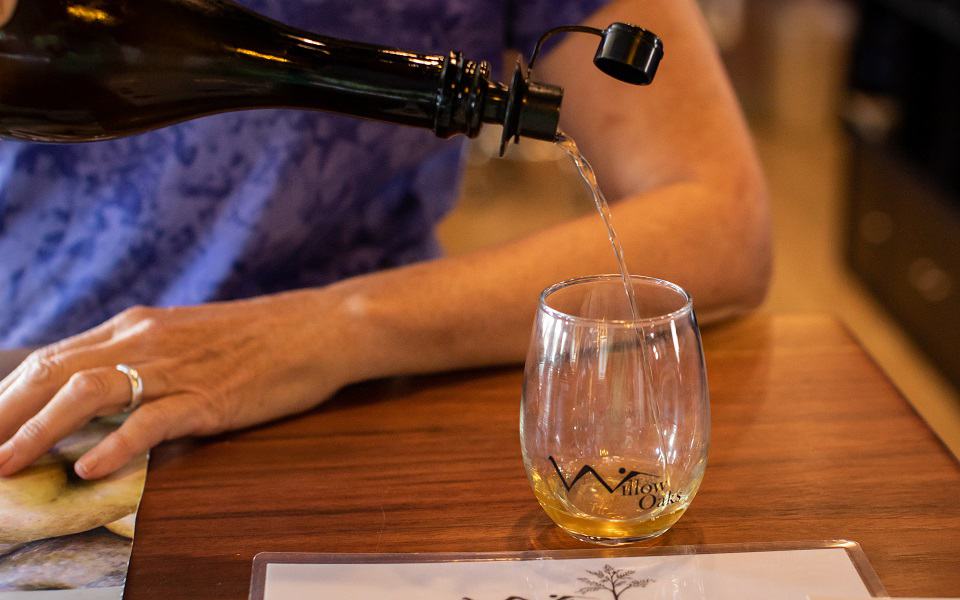 While she maintains that Willow Oaks' production is still too small to consider even regional distribution, they do pop up from time to time, like at a recent Women's Month event at ANXO Cider in Washington DC. But, it's worth considering visiting the tasting room if you live on, or are visiting, the Eastern Seaboard. Lori jokes that they are "an hour from everywhere," and indeed, it is about an hour's drive from popular destinations like Baltimore, DC, and Gettysburg, PA. The tasting room, which also features art and a small farm market, is anchored by a hand-hewn walnut slab, live edge bar and a large outdoor deck with sweeping views. Lori says she and Eric aren't always fans of tasting rooms that are just one big, noisy room, and endeavored to create several places for guests to "tuck themselves in" to visit with friends.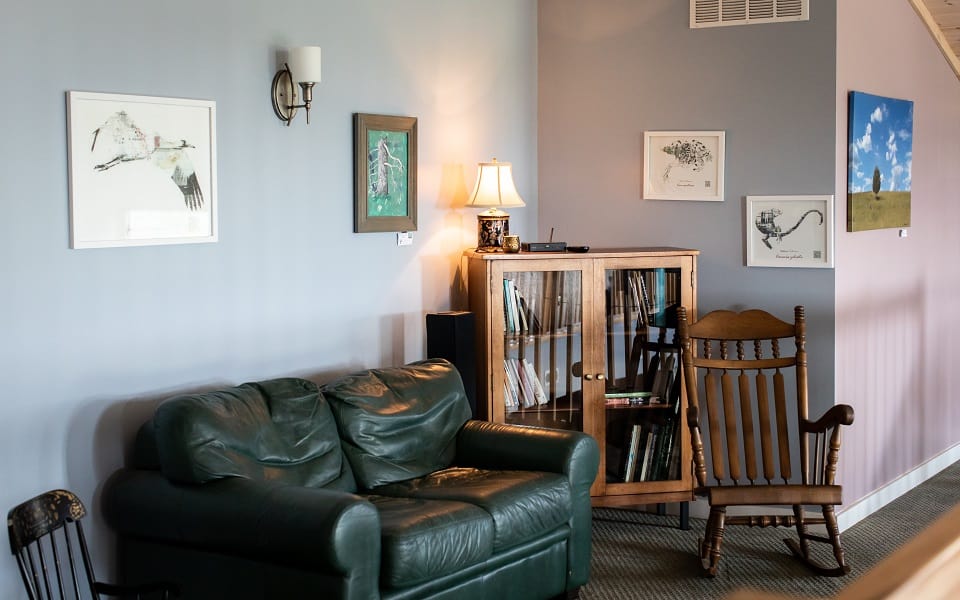 The Rices love that the Willow Oaks tasting room is a place that people from their own area, and those visiting from elsewhere, can come have a casual, comfortable hangout while enjoying cider.
"That's part of our contribution of our little neighborhood eco-system: caring for the land, having it care for us and sharing a space to build community."
Find Willow Oaks Craft Cider at 6219 Harley Rd. in Middletown Maryland; phone: (301) 371-4814.
All other photos: Richard Ashenfelder