Pop open your favorite bubbly cider and raise a toast to our partners, the American Cider Association (ACA) — it's celebrating its 10-year anniversary! Indeed, it's been a decade since its incorporation, and in that time, this grassroots organization has been able to accomplish so much in service of the growth and connectedness of the cider industry. The ACA's motto is "Cider is Stronger Together," and the association has put those words into practice in so many ways throughout the last 10 years.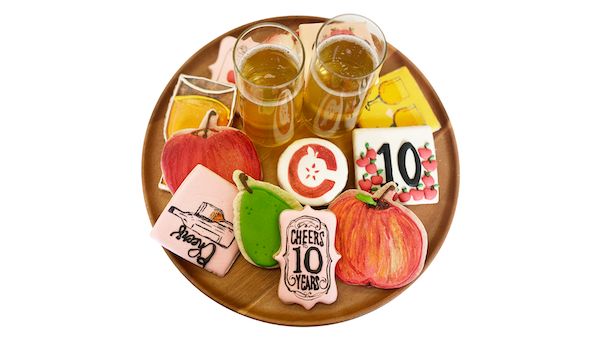 In an email sent to members, the ACA says, "On this anniversary, we want to express our gratitude to the growers, the harvesters, the makers, the go-getters, and the storytellers. Without the contributions of members like you, the ACA doesn't work. Thank you for sharing your time, showing up, and pouring your passion into our industry."
Here are just some of impacts and strides that the ACA (including its board, staff and members) has made since its founding:
Changed the definition of hard cider for federal excise taxes to include all ciders less than 8.5% ABV, less than 6.4 g/L CO2, and made from apples or pears.
Ushered in the permanent passage of the Craft Beverage Modernization and Tax Reform Act, which saved the industry millions of dollars by expanding the Small Producer Tax Credit, and allowed sparkling cider producers to receive the credit for the first time.
Advocated successfully for three new standards of fill for wine and cider: 355 ml (12 oz), 250 ml, and 200 ml. Without ACA's work behind the scenes, 355 ml and 200 ml would not have been included in this 2020 update.
Educated thousands of beverage pros across the country and the world about the diversity of U.S. cider's flavor, apples and styles. It's also helped over 2,100 professionals to level up by certifying them as Cider Professionals and Certified Pommeliers™.
Nurtured relationships with food-and-beverage media to champion three core messages: (1) cider has a wide range of flavor possibilities; (2) cider pairs better with food than beer, wine, or spirits; and (3) cider is fundamentally about apples.
Invested in gathering market data, surveys and research to highlight the nuances and segments of the cider category, so that wholesalers, retailers, and media could see the industry as more than a single number. Cider is a category, not a beverage!
Initiated the work to understand the demographics of cider professionals and cider consumers and ensure that cider is a safe and welcoming community for all.
Collaborated with regional cider guilds to promote cider to beverage consumers from coast to coast, through sponsorships, grants and strategic initiatives.
Brought the industry together each year for CiderCon®, the world's premier professional cider conference and trade show, to network, learn and celebrate the greatness of the industry.
Grew the industry and the association to band together for a long, sustainable future as a thriving, collaborative cider community.
The ACA is just getting started — get ready for more big things to come about in its 11th year and beyond, such as:
Creating TTB-approved language to include harvest years on labels with COLAs.
Adding 16-oz. and 19.2-oz. to wine and cider's standards of fill.
Eliminating the bubble tax for all cider and wine under 8.5% ABV.
Creating marketable and consumer-recognized cider regions.
Introducing additional data resources and benefits to its membership package.
Launching a new member portal that adds resources for cideries each quarter, making critical information, such as rules and regulation compliance, accessible and clearly stated.
Advocating for cider's place in emerging market trends like plant-based food pairings, natural wine, climate-friendly goods, better-for-you products, ready-to-drink canned beverages and more.
For more on the ACA's mission and work, visit its website and follow the association on Instagram. And don't forget to get your CiderCon2023 tickets if you haven't already!