In our column, "Cider Loves Food," contributor Meredith Collins (blogger extraordinaire at Along Came a Cider) suggests the perfect ciders to help take your meals to the next level.
We are quickly approaching the season of winter holidays. Between now and mid-January, we'll pass through many celebrations and observations. Whether your favorite tradition consists of a marathon rewatch of Lord of the Rings or baking enough to give everyone on your gift list a sugar coma, there's room for cider. 
My holidays are going to be low-key this year; it's time to tackle a big house project during my time off. Though I have plans to scrape more wallpaper than wrap gifts, and I won't be crossing state lines for big family gatherings, I still want to do something to honor the longest night of the year. Here's my plan for a family solstice dinner with cider pairings. Perhaps it can give you some ideas for a tasty time with your loved ones. 
Cider and Sides
I learned the term "Sidesgiving" this year, and honestly I love it. The veggies that adorn my holiday table are among my favorite things to eat all year long. This is also a wonderful chance to bring out the most complex ciders you want for elegant pairings. For all of these, I want cider with enough acid to shine against the sauces, caramelization, and richness, but I need tannins, too. Pop open your wine-inspired ciders made with heirloom and cider-specific apples here! 
One of my favorite parts of adulthood has to be improving my relationship with Brussels sprouts. This recipe is a simple way to up the textural wow-factor and avoid the unpleasant bitterness of overcooking.

A special meal needs potatoes if you ask me. I'm pretty flexible about the form they take. I love potato pancakes and mashed potatoes, but there's also something wonderfully simple about just roasting new potatoes with salt, pepper, garlic and rosemary. It makes them a wonderful canvas for a vegetarian mushroom gravy. I couldn't find a recipe that's exactly what we do at my house, but if you add a semi-dry cider to this one, it's very close.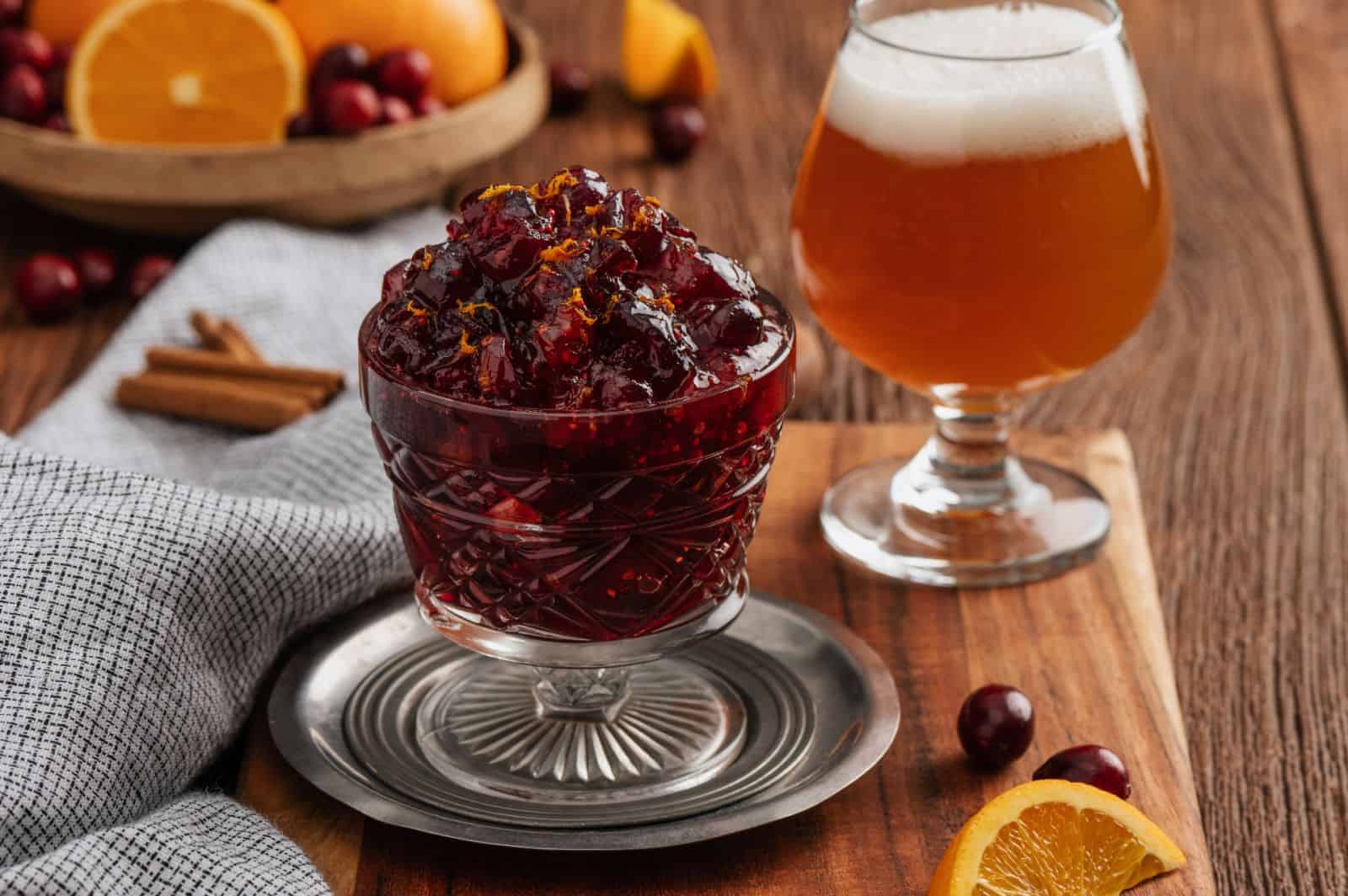 This is a family tradition that I remember from my childhood, although this recipe doesn't have all the substitutions we've created over the years. Skip the sugar and celery, sub in candied almond slivers, and if it does need additional sweetness, use a bit of maple syrup.
I love baked squash in any number of iterations, but the addition of citrus and spice makes it feel special! My personal recommendation is making this with delicata squash, though the recipe can accommodate a wide range of base veggies. 
As examples, I recommend pairing any combination of these vegetable sides with Redbyrd Orchard Cider 2020 Biodynamic Sunset, Sea Cider Bramble Bubbly or West County Cider Cidre De Garde. They all have the features that are necessary here: strong acid, plentiful bubbles, tannins, complexity and mature confident fermentations. 
The Main Dish and Cider
I want rich flavorful fish as a main dish option for every important meal. When I'm hosting something special in my own house, there will be fish!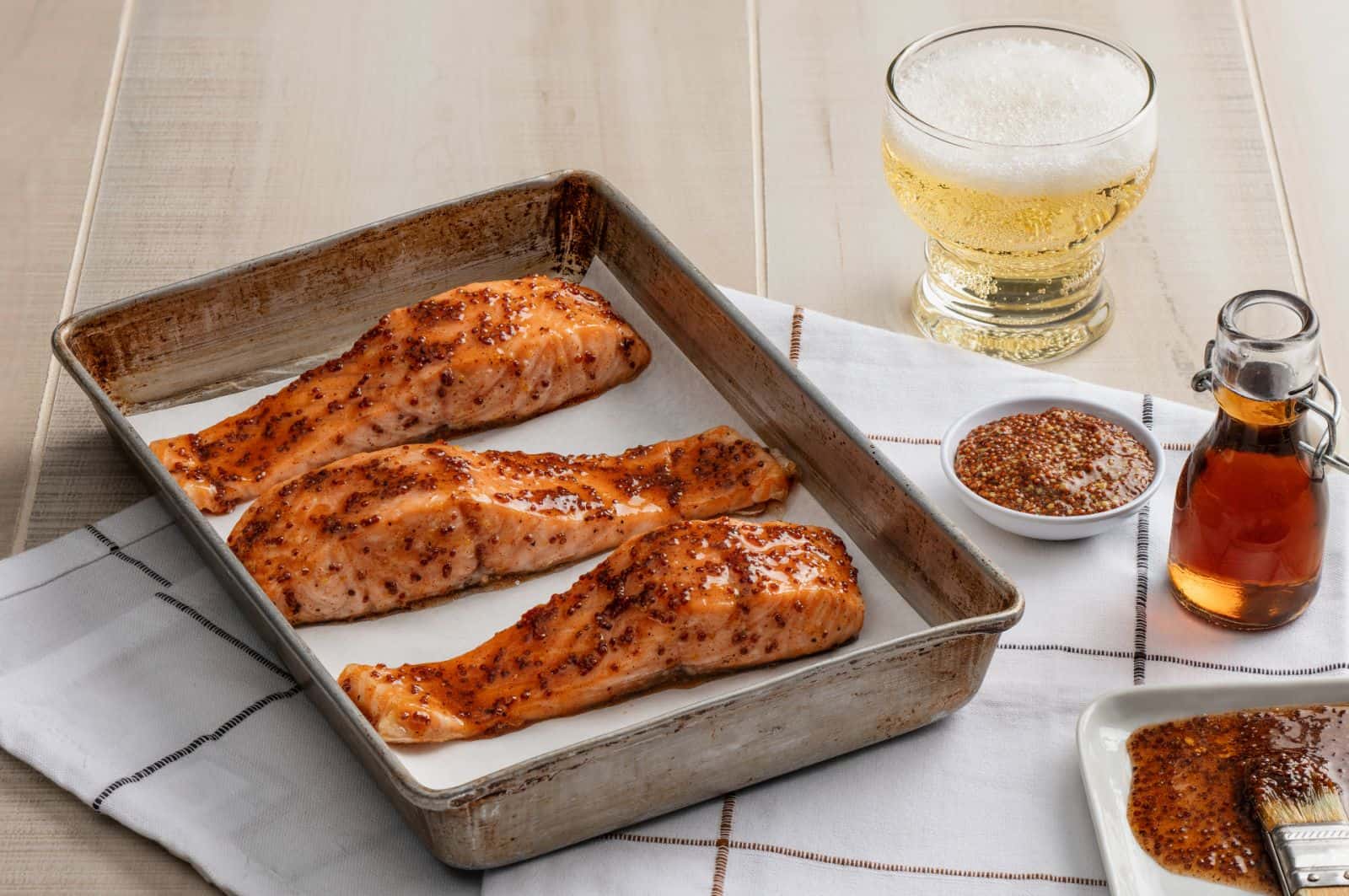 I chose this recipe for two reasons. First, it's simple to make. On a day when we might be cooking up to seven or eight distinct dishes, every easy choice helps. Second, I love the seasonal boost of maple syrup. I'm not about to get into a turf war about New York versus Vermont versus Pennsylvania or Michigan. There's a lot of excellent maple syrup out there and it belongs on this salmon at the center of the holiday table.
My recommendation is to pair this salmon with Champlain Orchards Ashmead's Kernel or Art + Science Wickson Cider. Salmon is a decadent fish, and that calls for a strongly flavored and highly acidic cider for counterpoint. Both of these choices highlight really special apples and make zingy sparkling flavor as the perfect way to lift up the layers of flavor in this entree.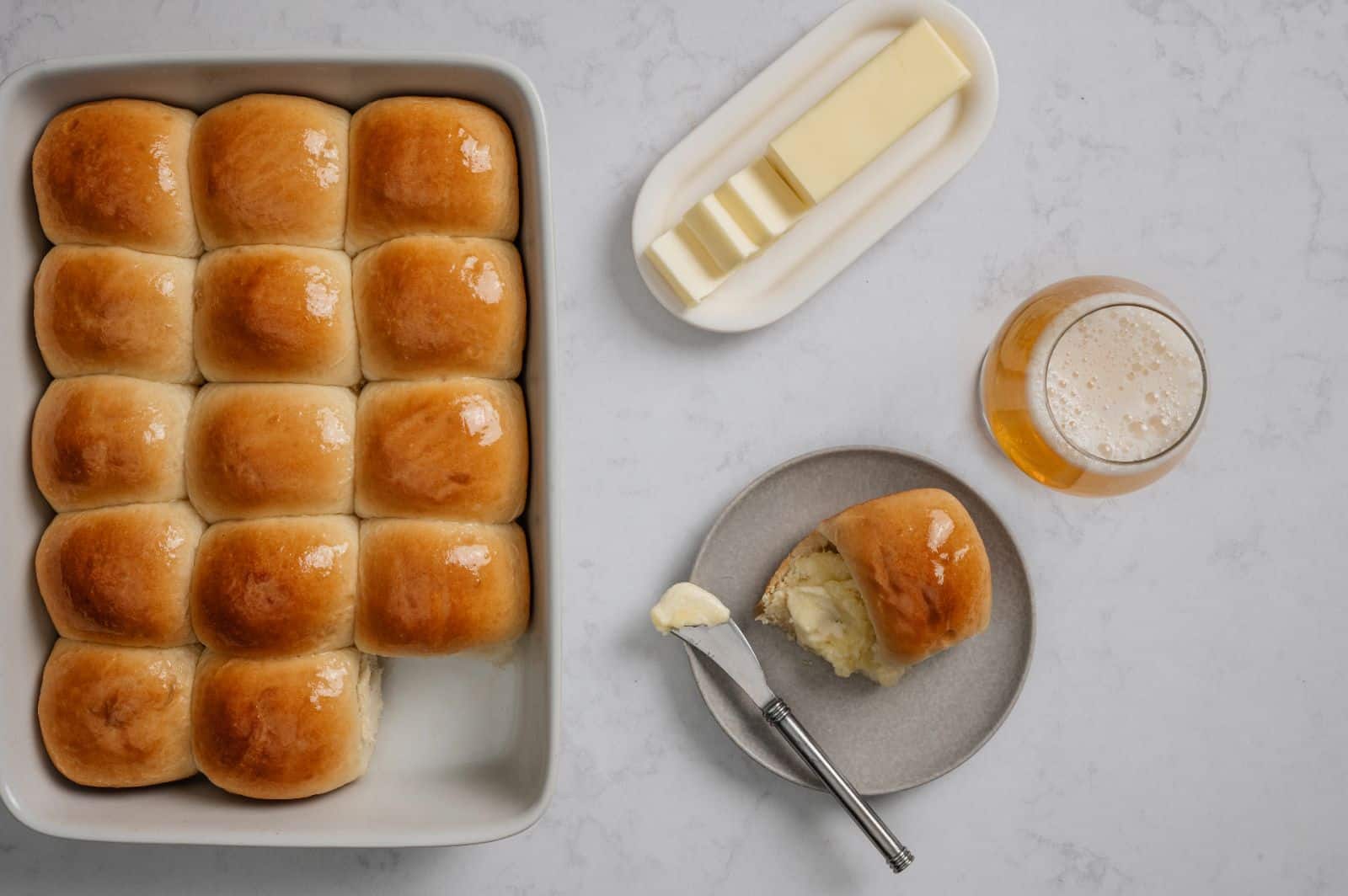 My tall companion doesn't believe in serving bread at feast meals. He finds it to be a waste of space for the stomach and the table. As someone whose favorite part of holiday dinners throughout most of childhood was the rolls, I disrespectfully disagree. Bread is life. 
These sourdough rolls are delicious and aren't that difficult to make if you're already in the habit of working with a sourdough starter regularly. I was truly intimidated for months, but now I'm a big fan. Just don't try the recipe for the first time in a high-pressure situation. Practice now, so you can feel great on the big feast day.
Pair this with All Times Sparkling Cider in honor of every kid whose favorite holiday food is a roll. Plus, it's necessary to have something delicious and special to offer to everyone who's not imbibing alcohol!
Dessert
For some celebrants, this is the first moment when the meal gets serious. Everything up to dessert is simply preamble. I'm not there, but I respect that position. Of course, dessert is important. This is the part of the meal when we've slowed down and relaxed. It's often a golden peaceful moment after a hectic day of preparation. There are only two rules for dessert choices: there must be a chocolate option; and there must be something with apples.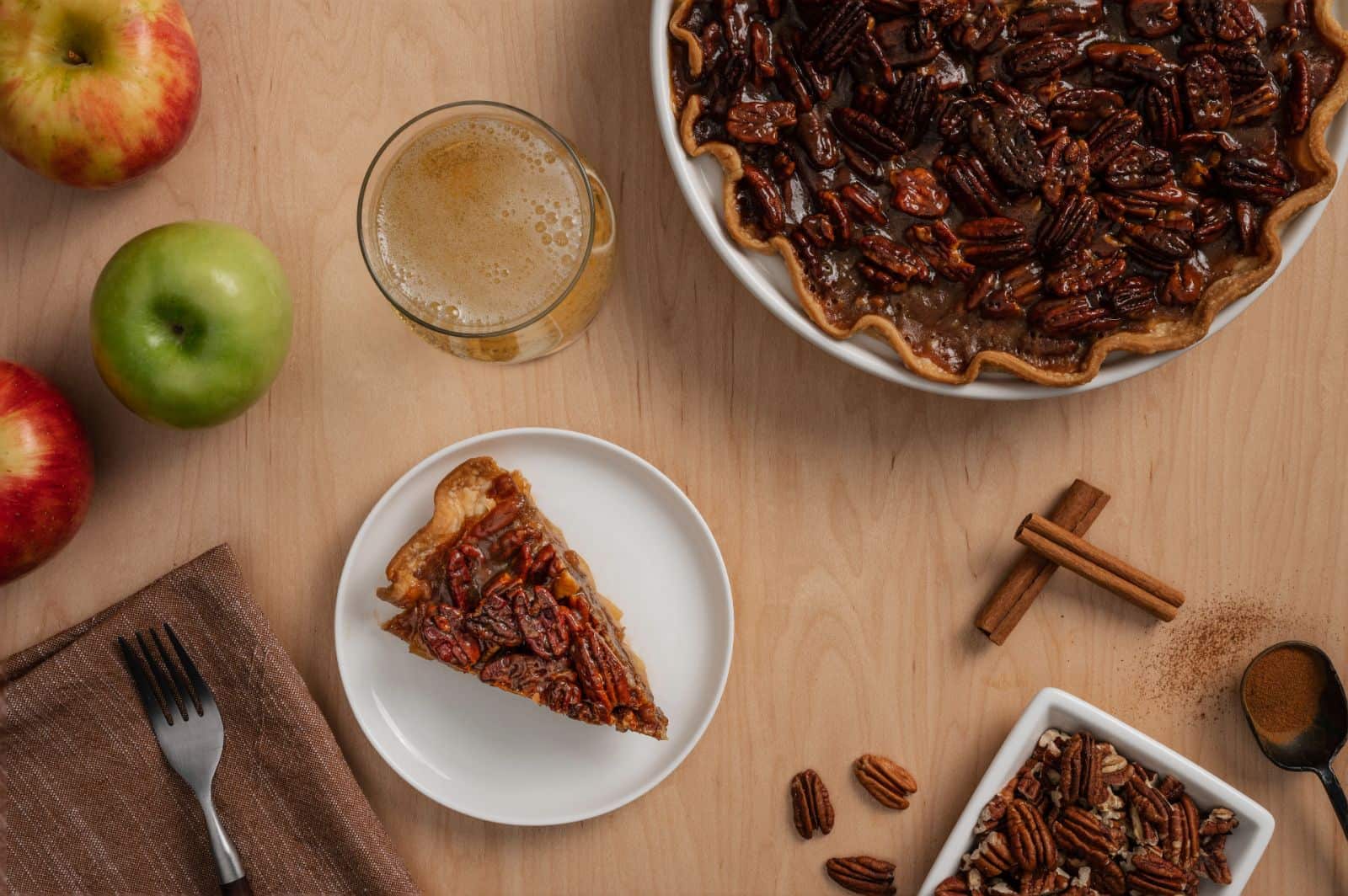 It's impossible to resist this pie. It has everything: salty, sweet, crunchy, chewy, fruity, boozy … perfect. Since this isn't the easiest recipe on the list, I recommend making this one ahead of time.
There's just something about mint and chocolate that signifies a fully satisfying end to a meal. Perhaps it's the association with little candies, like Andes Mints or After Eight Thin Mints or even the classic Thin Mint Girl Scout cookie. To me, this is a lovely send-off after a leisurely feast. 
For either of these ridiculously indulgent desserts, I recommend pairing with something equally rich and full-bodied. Now isn't the time for a light ethereal suggestion of flavor. We need a cider that has heft enough to speak alongside other big bold flavors. I recommend Alma Wood Aged, particularly for the pie. The cider spent six months in bourbon barrels, upping the body and flavor-intensity. For the grasshopper brownies, choose a well-balanced fortified cider, like Finger Lakes Cider House Royal Cider '18. Flavor notes of golden raisins, vanilla, and barrel will beautifully pair with the deep chocolate of grasshopper brownies.
Whatever you choose to do with your holiday season, I hope you enjoy it and make time to do the things that make you feel restored and ready for a new year!