Name something more iconic to Vermont than maple syrup — just try! Okay, actually, we've got one: craft cider. Thanks to a new collaboration between Citizen Cider and Runamok Maple, you can get both of these delicious Vermont-y things together in the form of Tree Tapper Maple Cider, part of Citizen Cider's Origin Series.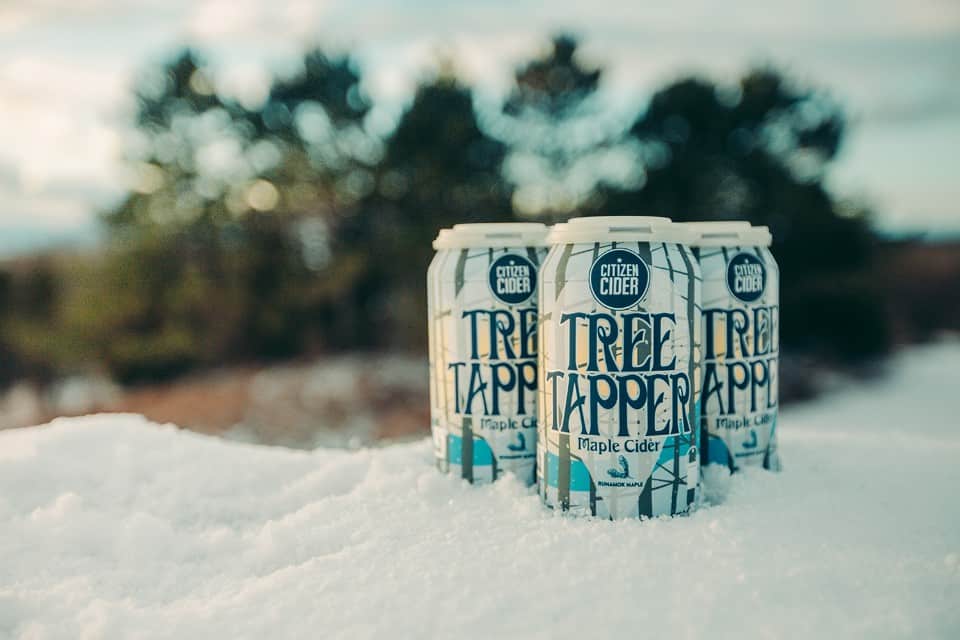 Runamok, based in Fairfax, VT, is an artisan producer of infused, smoked, barrel-aged and pure maple syrups. Citizen Cider, which we've known and loved since its founding in 2010, is a leading producer of crushable craft cider, including Lake Hopper, one of our favorite hopped ciders on the planet! Citizen's dedicated team focuses on every aspect of their supply chain, sourcing all fruit directly from local farmers and looking to regional producers for adjunct ingredients. Case in point: Tree Tapper, a limited-edition seasonal release now in its third year, a celebration of the early spring when the sap begins to flow from the Vermont maple trees, and when Vermonters, who were all cooped up from the long winter, gather in sugarhouses.
Tree Tapper is a combo of  juice from local Northeast apples, like Mac, Ida Red and Northern Spy, fermented with maple syrup, red wine yeast, aged on un-toasted oak and infused with dark Belgian candi syrup. The flavor of this cider changes a little bit each year, as the maple syrup, itself, varies due to temperature, moisture and mysterious forces of nature that even maple experts can't fully explain. Rich and hearty, this special cider is a winner, like literally: It earned a bronze medal in the "Wood Aged Specialty Cider" category at the 2019 GLINTCAP Awards.
Tree Tapper is making its way to market shelves now! Look for special displays of Runamok Maple's signature Sugarmaker's Cut maple syrup and 12-ounce cans of Citizen Cider's Tree Tapper together at specialty grocers and retailers throughout the New England region and tri-state area. Tree Tapper will also be available on draft at select bars and restaurants, and of course, at Citizen Cider's tasting room in Burlington, VT.
Find Citizen Cider at 316 Pine St. in Burlington, Vermont; phone: (802) 497-1987.