Like any creative endeavor, making a cider requires a lot of decision-making. Every choice that the maker lands on is a proverbial fork in the road: what fruit to use, which yeast to pitch (or, choosing to let wild yeast do its thing), what vessels to ferment in, whether to filter or not … the list goes on and on. When you pop a bottle or crack a can, you're experiencing the results of hundreds of choices that someone made, both in the orchard and in the cellar.
When we first perused the Summer Sipper boxes from the Northwest Cider Club, we couldn't help but notice that a bunch of the ciders perfectly demonstrate just how much of a cider's profile is determined in the cellar. Of course, farming and fruit are inherently at the heart of every cider, but what the cidermaker decides to do with the fruit or juice they're working with can take a cider in so many different directions.
We chatted with three cidermakers with ciders in the NW Cider Club boxes about their unique adventures in the production process: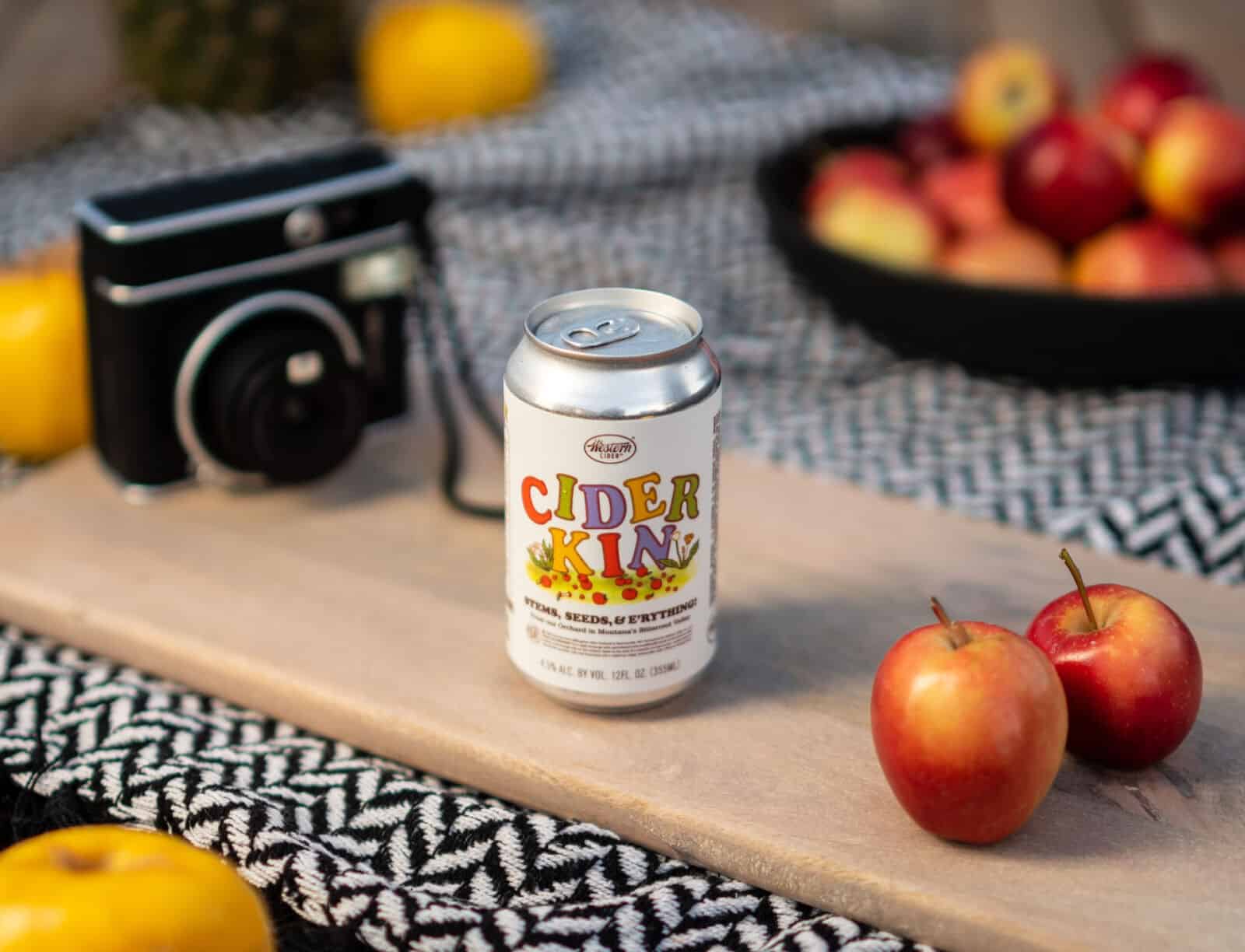 Michael Billingsley, the co-owner of Western Cider (out of Missoula, Montana), has always taken an interest in the history of US cider. It was through his casual research that he first encountered the concept of a ciderkin.
"If you're looking at the history of cider and why people used to drink it, it was often people being afraid of drinking water," he says. "Ciderkin was first used as a lower-alcohol safe alternative for farm workers."
Ciderkin, which is essentially cider piquette, is a beverage made from spent apple pomace that's rehydrated and fermented. The result is a light, refreshing, lower-ABV sipper that's akin to a light cider or cider seltzer.
The first time Billingsley experimented with ciderkin was in 2022. After a disappointing low-yield harvest, including a spring frost that nipped a number of cultivars in Western's orchard, he wanted to maximize as much as possible on the estate fruit that they did get. Ciderkin basically allows a cidermaker to make two products from one batch of fruit: a cider with the juice and a ciderkin with the pomace.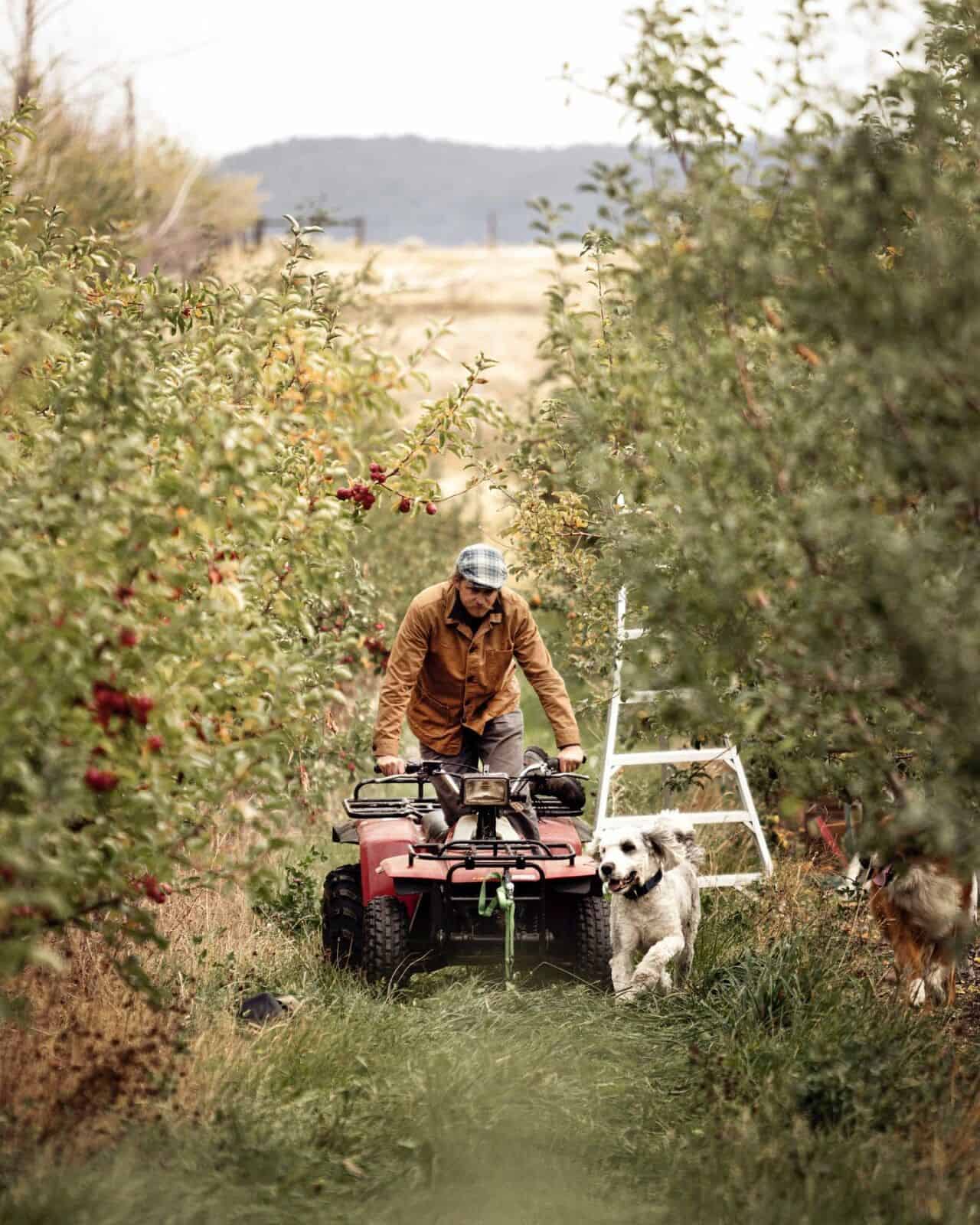 Though this was a new process for Western, Billingsley says there actually wasn't much trial and error to arrive at a great product.
"We didn't really know how much water to add, how long to let it sit, or what we were going to end up with, pH and brix wise, it was all kind of an unknown," he says. "We kind of lucked out and our first batch turned out really well!"
Billingsley attributes most of the success to the use of cider apples in this application. 
"Most of what I grow is a lot of high-tannin fruit, and that's really important with a ciderkin, because the tannins help protect the cider and, unlike dessert apples, the pomace from it is really dry and spongy and it rehydrates well and presses more easily," he explains. 
Western actually made two ciderkins, one with early-season fruit and the other with later-season fruit. Each had its strengths, but the Western cidermaking team agreed that a blend of the two was the strongest product.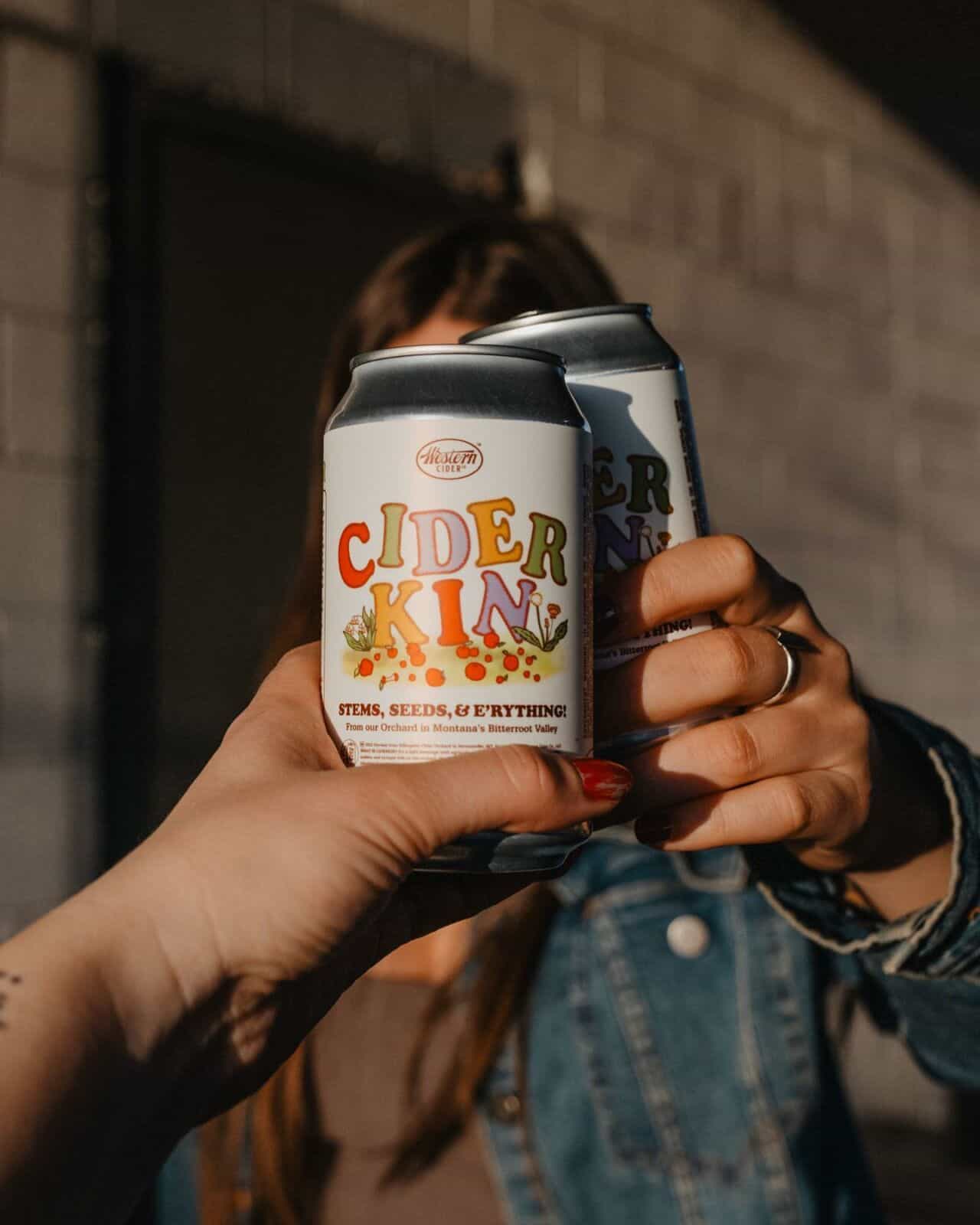 "The early season one didn't have a lot of acid and was like a really high pH, mostly from bittersweets, while the later season one had more of our sharps and bittersharps, and was much more acid-driven," he says. "Blending the two together balanced them out."
To actually make the ciderkin, Western takes all the pomace after pressing and piles it into a fruit bin. Once the bin is full, they add water until all the pomace is back to a similar consistency to what it was like before they pressed it. The water is left on the pomace for 24 hours, and then the whole thing is shoveled back into the press and for a second pressing. The juicy water gets fermented: They pitched yeast in the early season ciderkin, and allowed a wild ferment to the late season one. 
Though it is a labor-intensive process, Billingsley says it's this kind of experimental project that keeps both his team and Western's fans engaged.
"We like to do things to keep things interesting in the tasting room for customers," he says. "And our own sanity and love of doing this! As cidermakers, we like to taste different things and would get bored just making the same things all the time."
Western Cider's Ciderkin is part of the NW Cider Club Discover Summer Sippers Box.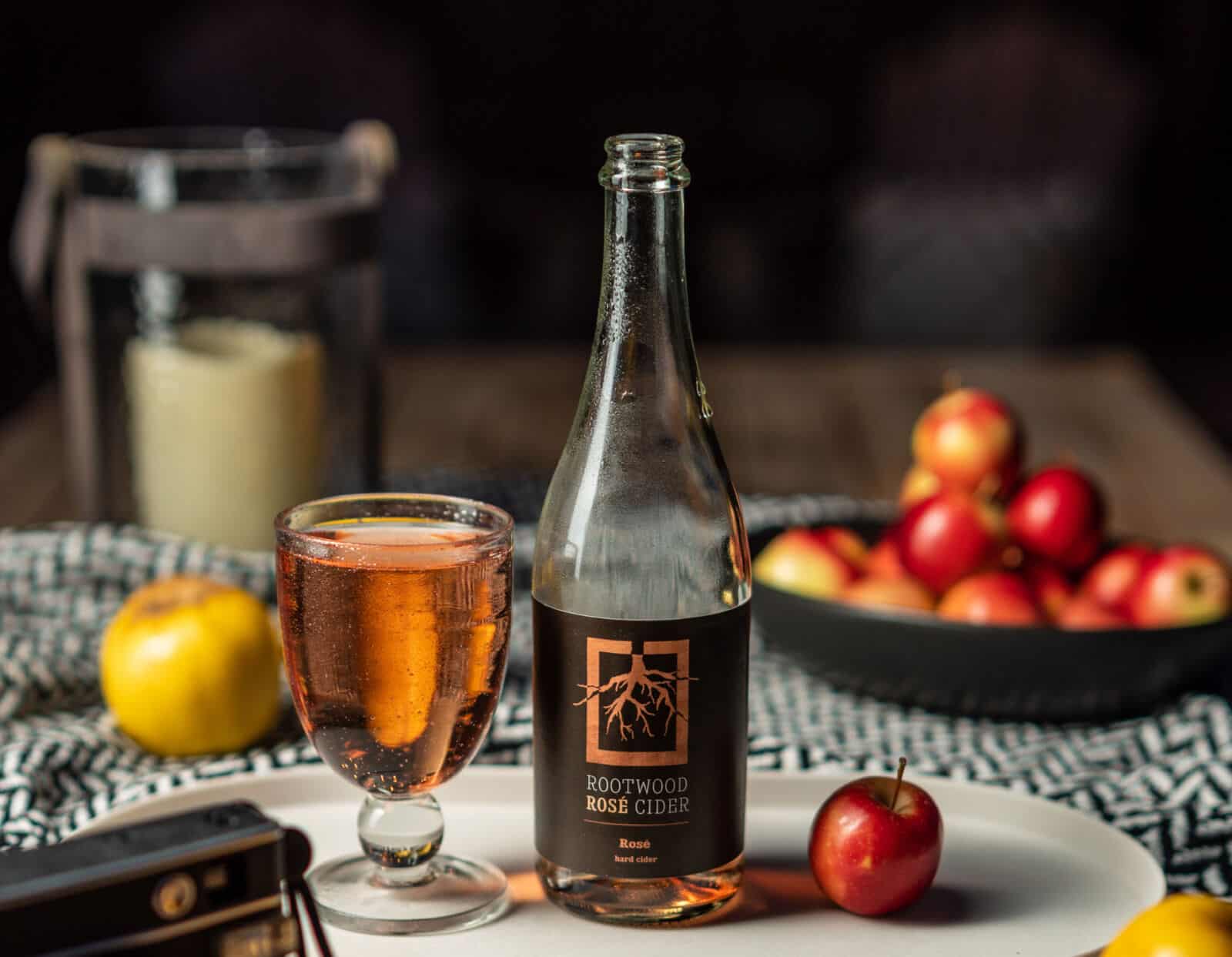 The gorgeous Chelan Valley in Washington State, the place that Rootwood Cider calls home, is wine country. There are well over a dozen wineries clustered around the southern basin of Lake Chelan, and wine grapes are abundantly farmed along the surrounding hillsides.
When Kate Koenig Howard and her sisters, Emily and Anna, the co-owners of Rootwood, wanted to make a rosé cider, including local grapes in the process seemed like an obvious move.
"We have lots of friends in the wine industry, and they explained how the spent grape skins are usually tossed once they're done with them," Koenig Howard says."We wanted to experiment with them to see if we could include some of the wine flavor in the cider, as a fun way to bridge the gap between wine and cider a bit."
Because they were aiming for a clean, crisp profile, the Koenigs decided against a co-ferment, and to simply allow cider to rest on spent grape skins, which are dry and kind of raisin-y.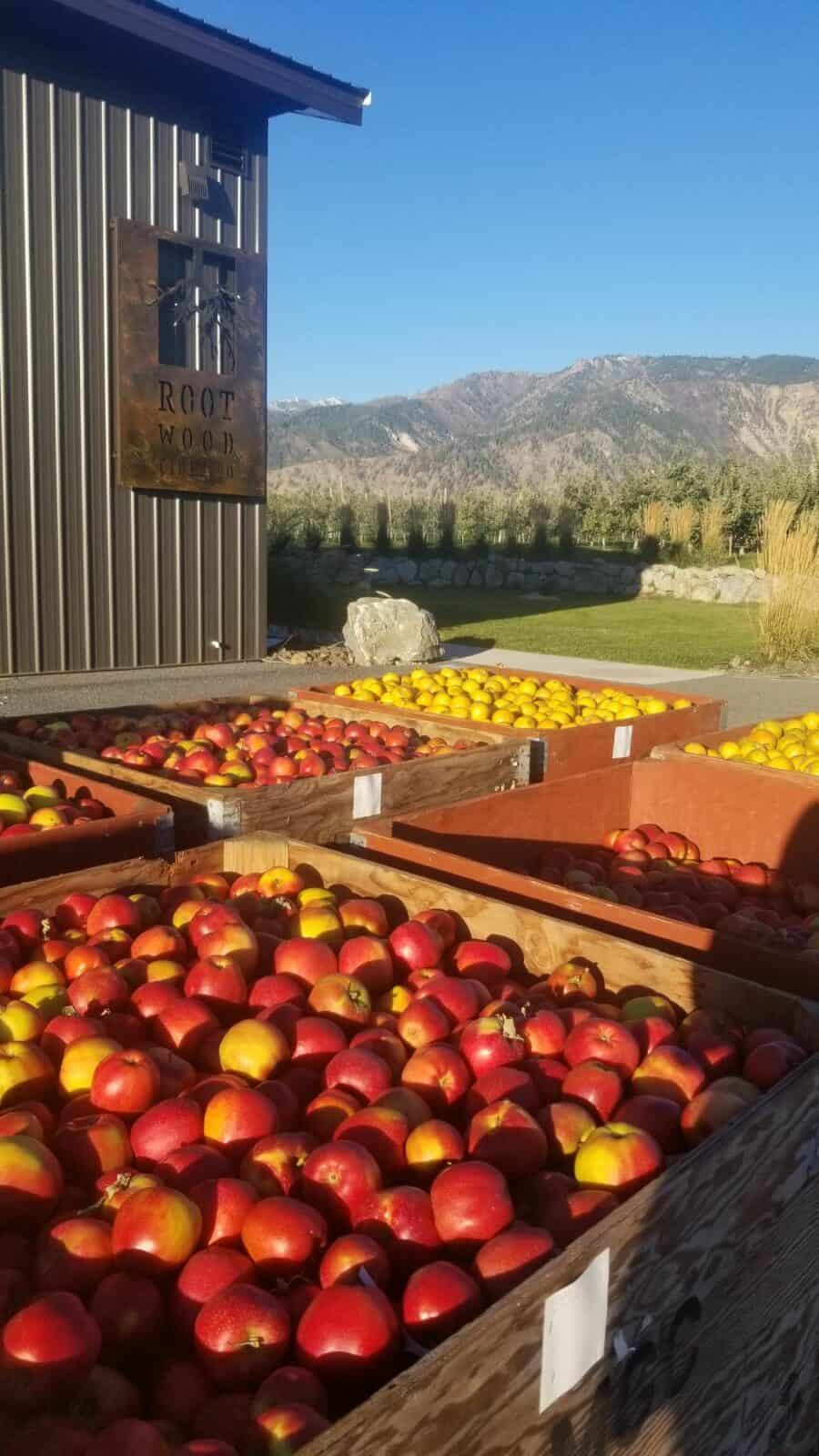 Usually, they start with a cider made from Spitzenburg and a very small amount of Yarlington Mill apples, which Koenig Howard notes strikes a balance of lightness with a bit of depth. The cider is made to completion, and then sits on a combination of the spent grape skins from local estate Syrah for about a week. It takes about 20 liters of grape skins per 1,000 liters of cider. 
Once the skins have imparted flavor and color, Koenig Howard adds a homemade concentrate made from a mixture of grape skins, cider and sugar that's boiled down to intensify the flavor and backsweeten. Then the cider is filtered and sent to brite tanks for carbonation. 
Because of this year's rosé cider's ABV (over 7%), Rootwood did run across a bit of trouble with how to label the bottle per the Alcohol and Tobacco Tax and Trade Bureau's restrictions. 
"They have their definition of cider versus wine, and if it's over 7%, they will not let you just call it cider. They asked us to call it 'carbonated apple wine with natural flavors'," Koenig Howard says. "From a marketing perspective that's not very helpful." 
Issues like this make Koenig Howard wish for more standardization across the cider and wine industries. 
"It's frustrating: We're in the wine category, but also don't have the benefits of the wine category," she notes. "We are in an AVA but can't even use that or vintage or estate info on our ciders." 
Nevertheless, Koenig Howard says that Rootwood's Rosé Cider does serve to pique the interest of wine tourists who happen to stop by their tasting room, which is located on her family's 5-acre orchard — they are a longtime apple farming family, though Rootwood's first cider release wasn't until 2017. Products like this one also help to spark conversations with visitors about the importance of agriculture in the Chelan Valley, which is under increasing threat from residential development.
"Our cidery is one way we can keep our little corner in agriculture, and our family's farm is a cool story that people like to hear about," she says. "Farmland preservation is important, and connecting people to the land through stories might help people think twice about where their food comes from." 
Find Rootwood's Rosé Cider in the NW Cider Club Elevated Summer Sippers Box.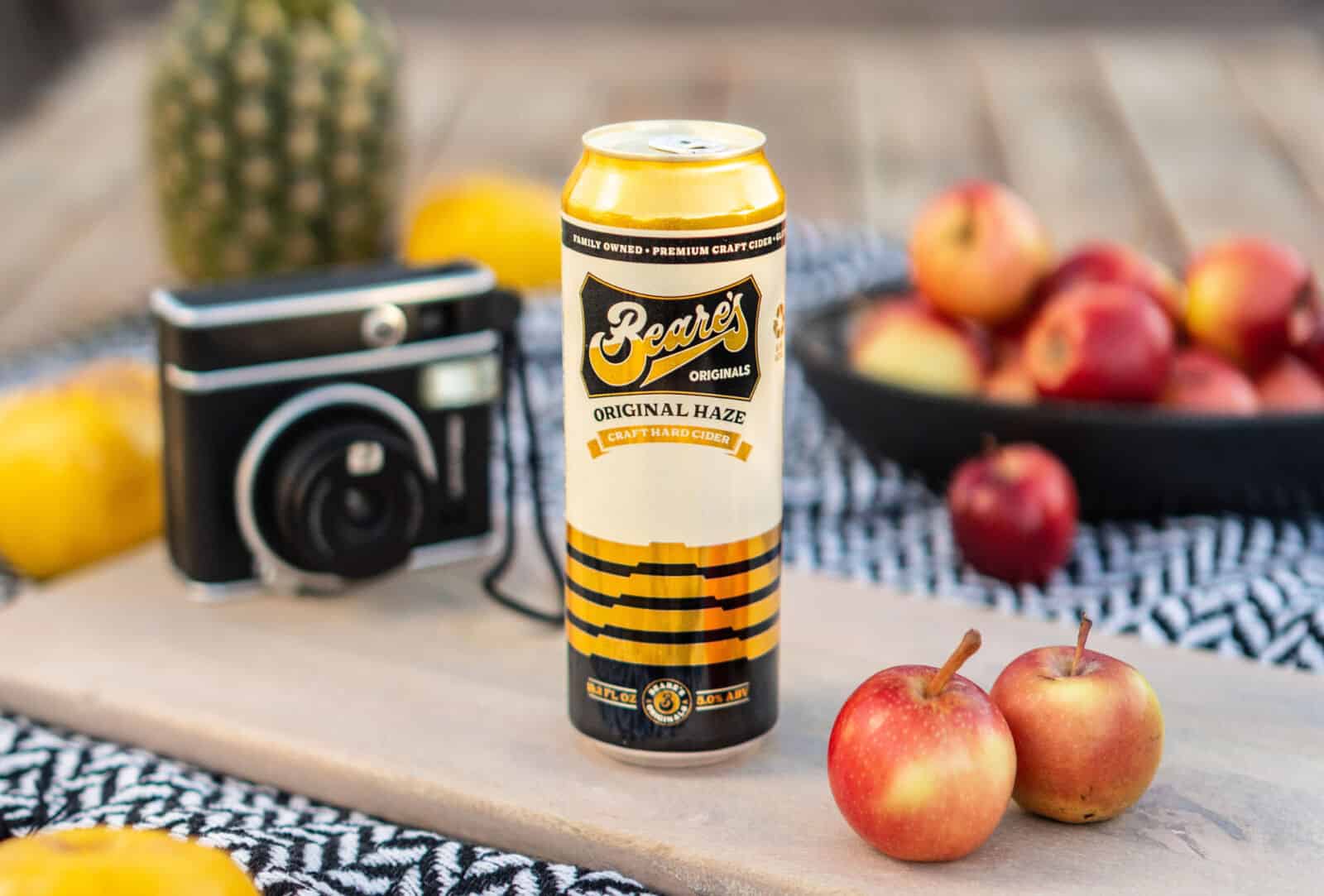 When you're already an established cider brand, how and when do you choose to release a new product that kicks off its own sub-brand?
That's the question that Jordan Zehner, co-founder of Incline Cider, faced when he struck upon the concept of Beare's Original Haze. He'd long been searching for a way to launch a lower-ABV cider, lower-price-point cider that would appeal to craft beer drinkers, unique from the lineup of 12 core ciders in the Incline roster.
"Beare's felt like it needed to be its own thing … we thought, 'Let's take everything we've learned and do something different,'" he says. "We didn't want to detract from Incline, so opted to give Beare's its own home, something we developed from scratch."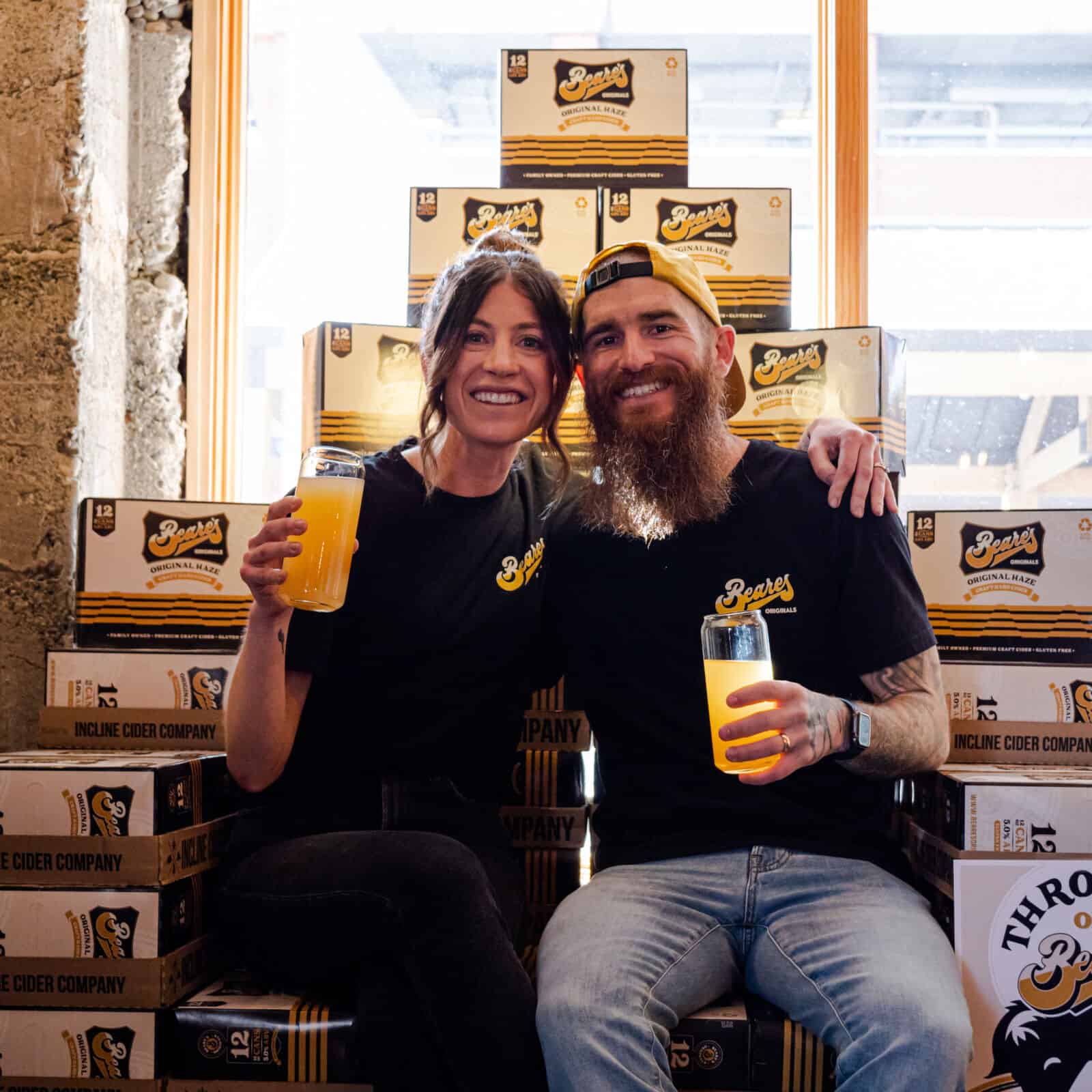 The objective was clear: a sessionable, value-driven cider that could be sold on draft, in 12-oz. cans and 19-oz. cans. Incline's original business model was based around selling cider to large retailers, like grocery stores, and Zehner felt strongly that there was a big opportunity for a crowd-pleasing, inexpensive cider like Beare's to buyers in those retailers.
"Beare's is just an apple cider, it's part of the back-to-basics trend of people gravitating to apple-forward ciders," he notes. "On-premise accounts are looking for that." 
Part of Beare's presentation appeal is that it's a hazy cider, which Zehner notes has been a huge buzzword in the beer world for a while.
"There's so much room in cider for finding things people can relate to from some of the other industries to help make it more inviting," he says. "We figured with Beare's that the haziness gives it that even more old-school, apple-forward vibe, and it feels and looks comforting because it's not as polished."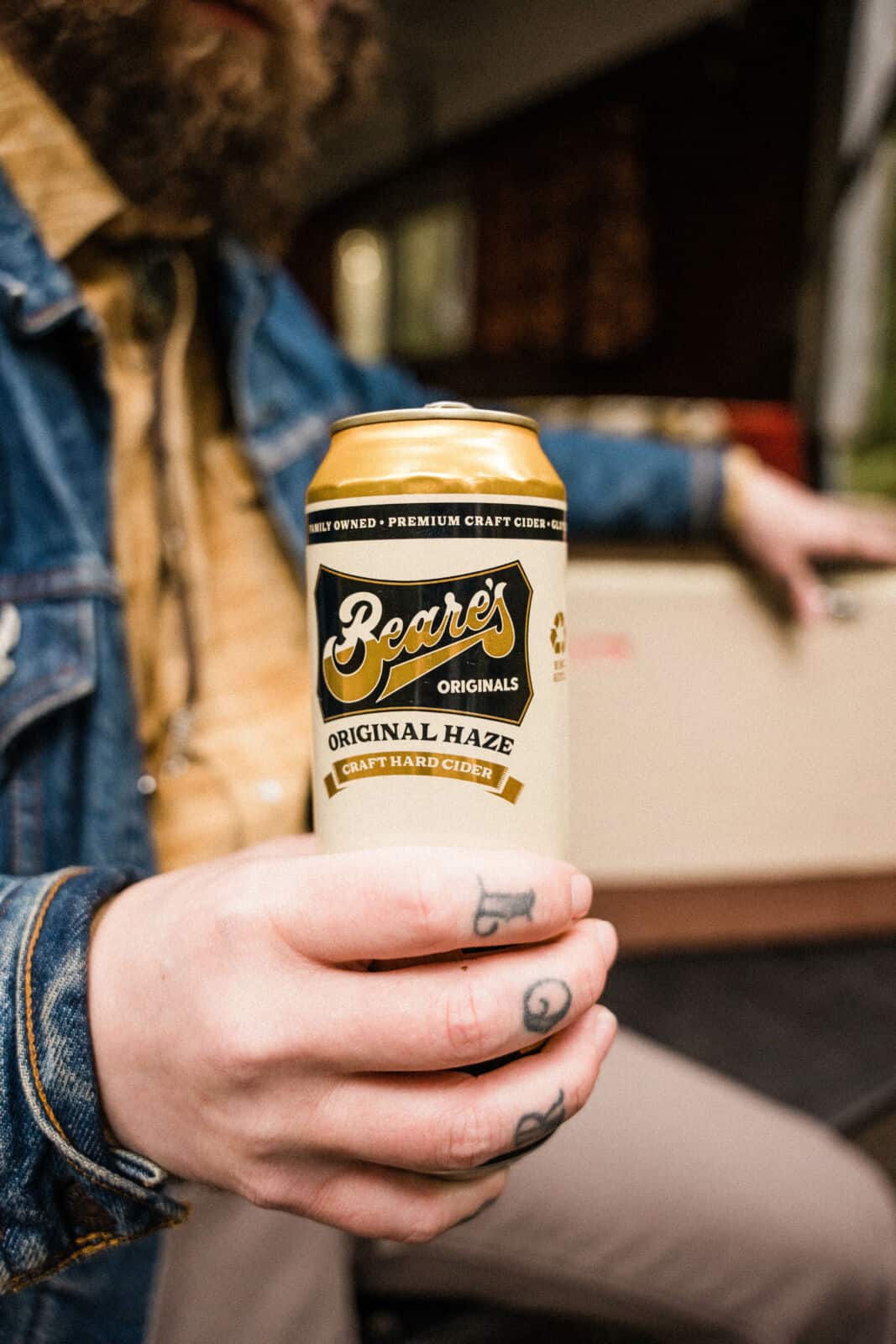 The vintage, throwback look of the can is meant to evoke old-school beer, like the Pabst cans Zehner drank when he was younger. The name Beare's is Zehner's mom's maiden name, and is a tribute to that side of his family, which has a long legacy of working in the beer and spirits industry. 
For the cidermaking, Zehner and his team start with fresh-pressed culinary apples for the base for the cider, a rotating blend that often includes Fuji, Gala and Red Delicious apples from the Yakima Valley (Incline Cider is in Tacoma, Washington). 
"It's nice to have the apple capital of the world in our backyard!" he says. 
They make the cider, which is filtered. To create the 5% ABV, the finished cider has to be watered down a bit, which can present a bit of a dilemma.
"How do you water something down and still maintain a full body and full flavor?" Zehner muses. 
Their solution is to add in unfiltered honeycrisp juice after the cider is finished, which adds the hazy factor and lends body and a punchy flavor. The cider is also gently hopped with Citra hops, which curiously aren't featured on the label. 
"We don't lead with the fact that there are hops in the cider, but we love the flavors they give," Zehner says. "You get a ton of citrus on the nose, which complements the apple-forward notes that the honeycrisp has." 
The result is a bright, juicy cider that, while hazy, is not thick or pulpy. And because it's a lower-ABV, lower-calorie cider, it has broad appeal, though Zehner prefers not to market or categorize Beare's as a light cider.
"I don't like to talk about it like it's a light cider," he says. "It's a bold unique cider that happens to be light."
Find Beare's Original Haze in the NW Cider Club Discover Summer Sippers Box.
To learn more about the incredible selection of ciders in the NW Cider Club's summer boxes, or to purchase or become a subscriber, visit its website. The Northwest Cider Club is a generous sponsor of Cider Culture!