If you're a frequent shopper at your local bottle shop, we're betting you've seen a cider piquette or two starting to pop up. Perhaps you've scooped one up, curious to see what awaited you inside the pretty crown-capped bottle. If you did open it, you probably encountered an almost uncanny experience of a beverage that's reminiscent of cider, so very close to cider, and yet something all its own.
That's piquette for you. This fizzy, tart, low-ABV beverage is sort of cider- (or wine-) adjacent, so while it shares some characteristics with cider, it veers off in its own directions. Think of piquette as the wacky younger cousin of cider: colorful, fun and pretty weird.
So, what is cider piquette anyway?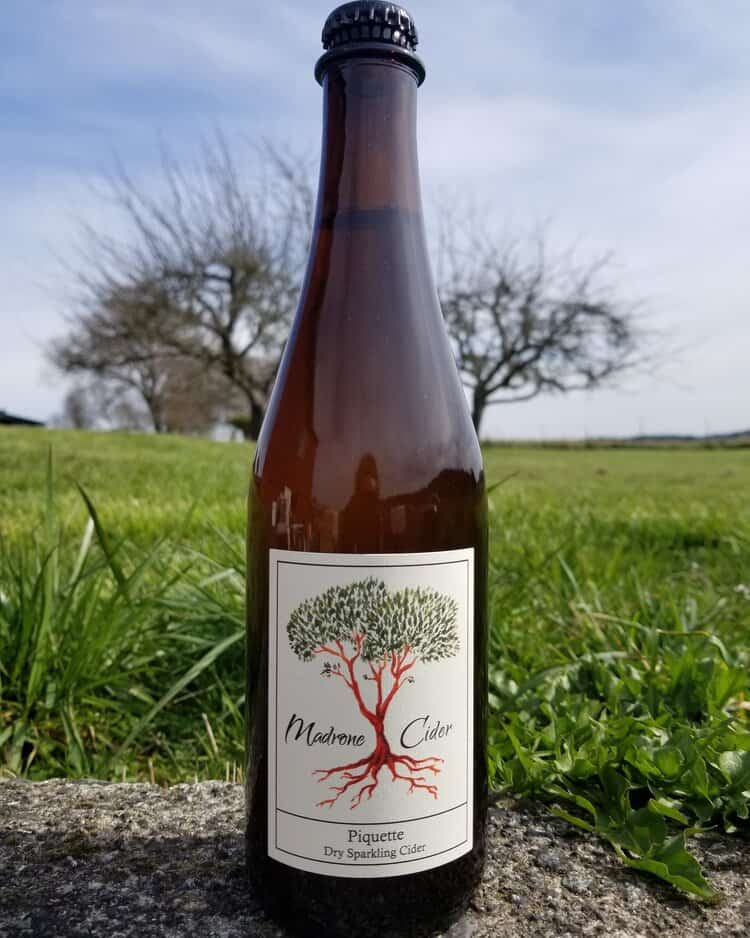 For the basic definition, we'll start with wine. Piquette is primarily a wine term given to the category of beverage that's made differently from traditional wine. Wine is made from fermented grape juice; piquette is made from all of the sludgy stuff (called pomace) that's leftover after the grapes are pressed. Pomace includes grape skins, seeds, stems and tiny bits of fruit, and this whole mess is rehydrated with water, spiked with some kind of sweetener, like honey, and then allowed to ferment.
The result is a bit like nature's wine spritzer — yes, it's technically watered-down, but in a way, that's its greatest attribute. It means lower alcohol for a more sessionable bevvie, and a light, spritzy flavor that's equally as refreshing as a hard seltzer. Piquette has been around for centuries, btw, mostly as a cheap or free ferment that farmhands would make with the pomace that would otherwise be thrown away or fed to animals. It's only in the last five years that it's become a sought-after product in niche natural wine spaces.
When it comes to cider, there are a few ways to go. There is cider piquette made with rehydrated apple pomace, which is technically called ciderkin. Then, there are blends of cider and grape-based piquette, and blends of cider piquette and wine, all of which open up a whole world of flavor possibilities. Cidermakers have been playing with ciderkins and piquettes for a little while now, but it's only in the past year that we've started to really see them more regularly available.
To seek more info and answers, we reached out to two cidermakers known for their experimental ciders. The first is Lyndon Smith from North Carolina-based cidery/winery, Botanist and Barrel. These folks, who are also way on top of the pét-nat cider trend, have released a handful of cider piquettes, including Piq n Pom, a cider/wine piquette collaboration with Red Clay Ciderworks from Charlotte, NC, and Question the Convention, a blend of Traminette piquette and feral apple ciderkin.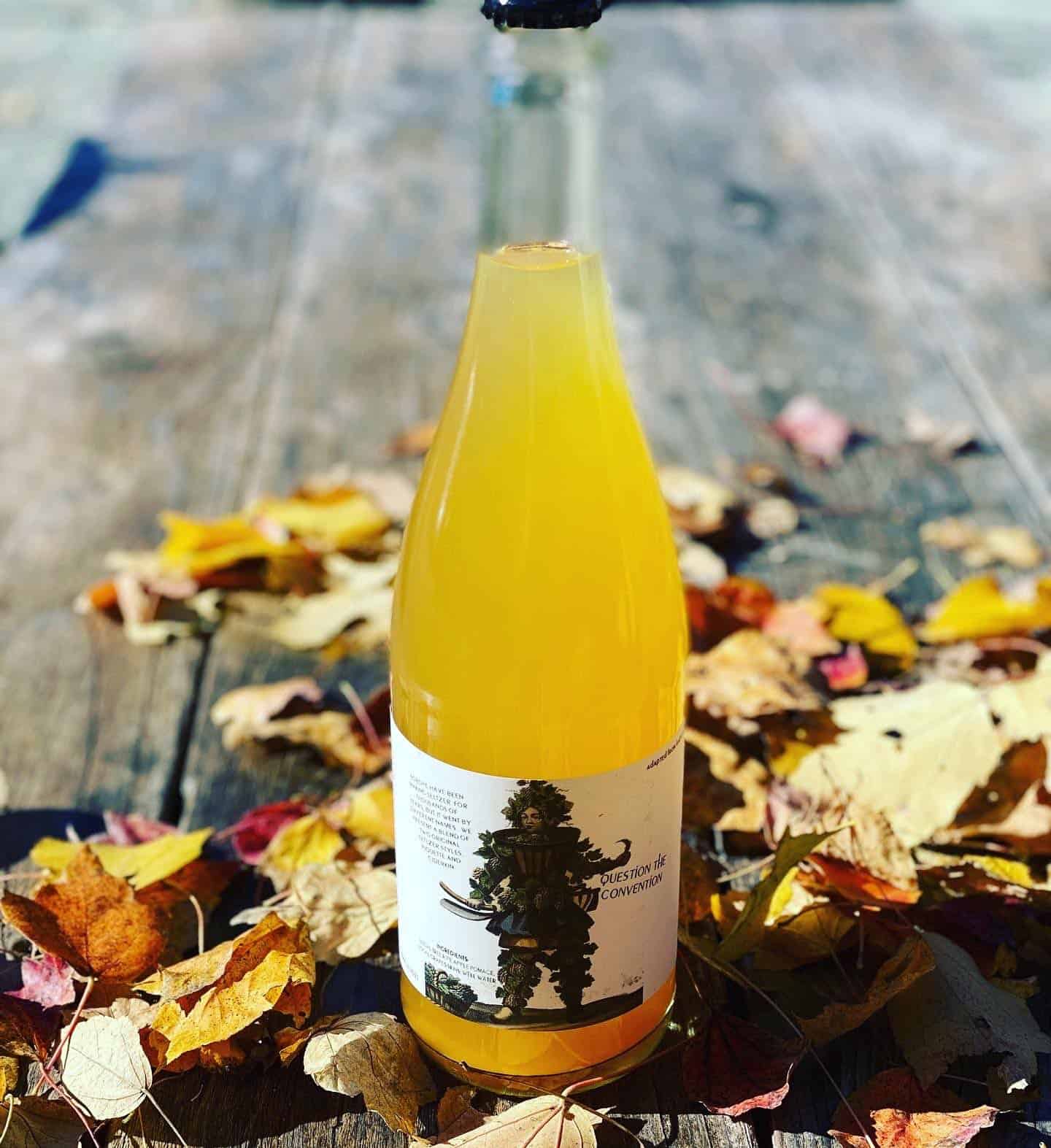 We asked Lyndon what about cider piquette was appealing, and he said:
"We love piquette and ciderkin so much because they are what we call 'tractor wines.'  Or all-day drinkers. They are light and crushable with low ABV, but are still full of flavor as a result of all the skin contact and maceration times (creating depth of flavor and tannins)."
While there are a handful of ciderkins (all-apple piquettes) out there, we were curious why we tend to see so many more blends of regular cider and wine piquette.
"Ciderkins and piquettes can be out of balance on their own sometimes, so sometimes blending is the best way to create a balanced delicious beverage," Lyndon says. " With Question the Convention, we had an amazing feral apple ciderkin we had been working on but it was heavy on the tannins and lacking acidity. At the same time we were making a traminette piquette that was pretty and floral but a little too high acid. We blended them together and we made magic."
The other cidermakers we checked in with were Susanna and James Forbes of Little Pomona Cider in Bromyard, England. They've made a number of ciderkins, which are the brand's Hard Rain series. They chose to avoid the term "piquette" because it's protected by French wine authorities. They also explained that, ironically, you're not likely to find French piquette on the market, because in France, growers and producers are allowed to make and consume piquette on their own farms for personal consumption or distillation, but not legally able to sell it!
"We made our first Hard Rain using 2019 fruit," Susanna explains. "We began with Hard Rain Quince, and Hard Rain Hopped, and these proved popular, so we created several more from the 2020 fruit. From 2021, there are a number in progress, including Hot Pink 2021, which contains blackcurrants with added Chinook hops, grown on the farms."
They've also made some apple piquettes, which are blends of apple and grape piquette.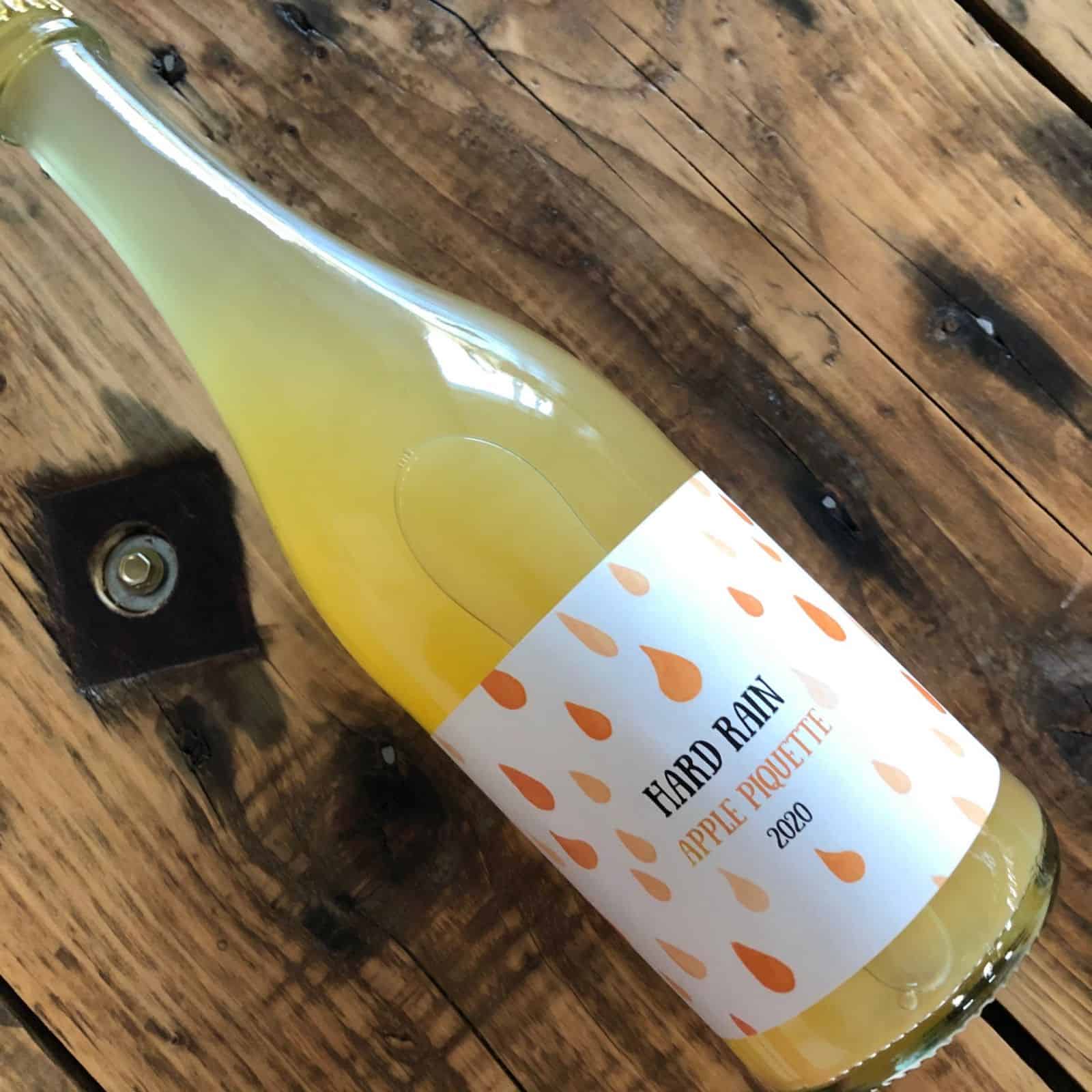 This one was made with Seyval Blanc and Solaris grapes grown at a vineyard nearby and pomace from Ellis Bitter apples. Heavy on tropical fruits like lychee, guava, mango, pineapple and banana, this piquette weighs in at just 3.2% ABV! The tech sheet for this bottle says that it was the "Piquette making at the extremes of madness!" — a cheeky nod to how labor-intensive it is to make piquette.
But, Susanna notes, despite the challenges of the process, the Hard Rains releases are popular with visitors, and, "Yes it's very time-consuming, but we ARE likely to craft these again."
Looking for some other cider piquette situations out there? Here are some to try:
Madrone Cellars Piquette (San Juan Islands, Washington): At the end of harvest, the Madrone folks saved the apple pomace from the San Juan Island Heritage Apples used for their ciders, then re-hydrated it and started a new fermentation. The result is a delightfully sparkling, light-bodied and low-alcohol beverage.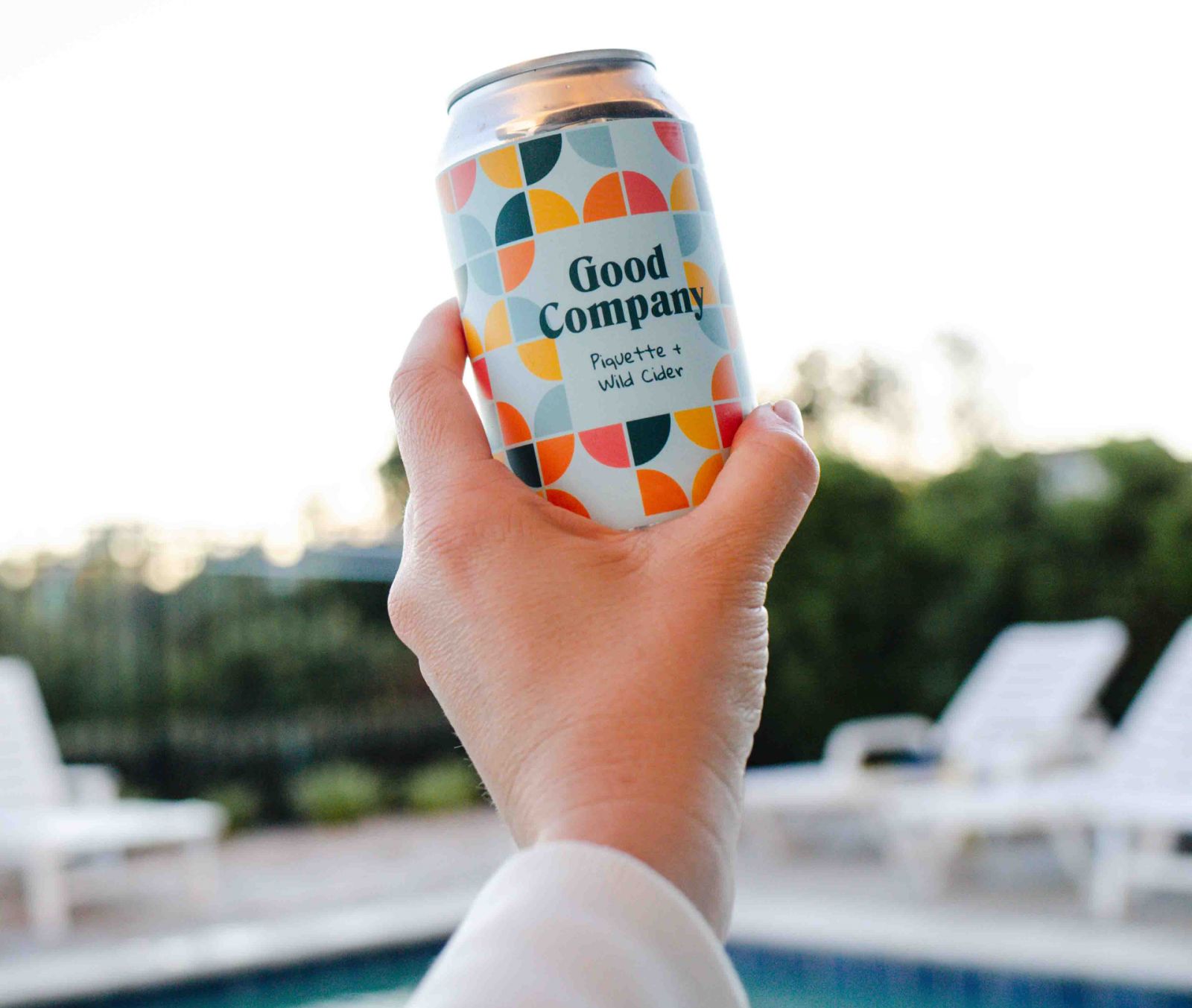 Old Westminster Good Company (Westminster, Maryland): This East Coast winery is well-known for its series of wine piquettes (they make a mean cider, too), and other tasty natural wines. In Good Company, they've blended 85% Maryland heirloom cider fermented in stainless steel with 15% red wine piquette. The pretty pink liquid offers unripe strawberry and gooseberry aromas with a slightly salty lemon apple moment thing on the palate. Bonus: This is packaged in cans for prime tote-ability!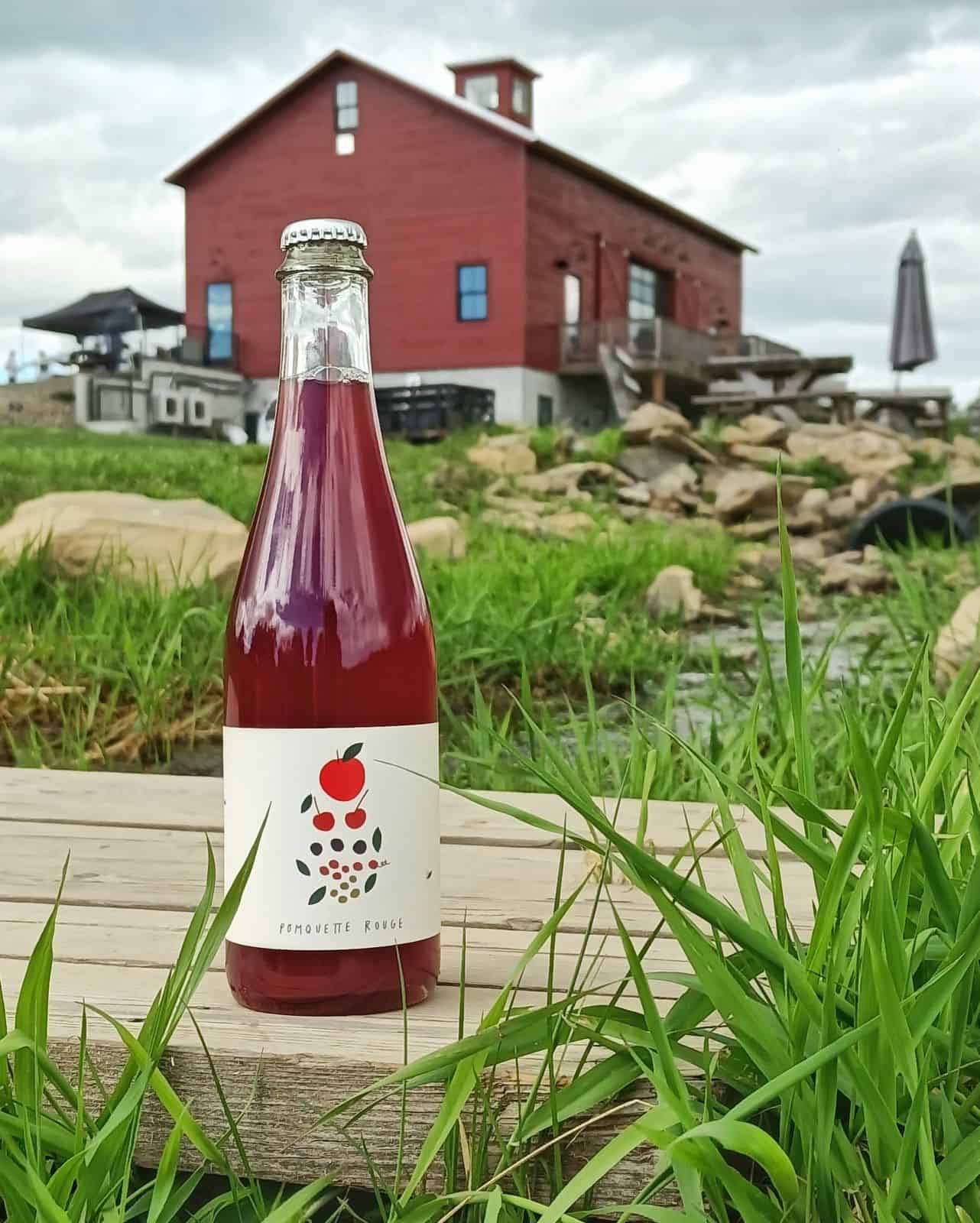 Rose Hill Ferments Pomquette Rouge 2020 (Red Hook, NY): This wild fermented sparkling fruit wine is a blend of apple water (the byproduct of ice cider) soaked with pressed berries and grape skins and stems. It's then aged in oak and bottle-conditioned.
Sourwood Cider Kisabell Piquette 2020 (Halifax, Nova Scotia): This is made from single varietal red-fleshed apples! Water was added to the pomace after racking the cider off that became their Kissabel Pet-Nat, for a low-alcohol, refreshing cider piquette!
Archetype12 Wines V. 2020 Dirksen Drops Sparkling Hard Piquette (Portland, Oregon): This limited-edition, site-specific hard apple cider piquette comes from two heritage wild apple trees in Dirksen Nature Park in Tigard, Oregon. It's made from a secondary pressing from the rehydrated pomace from the base ferment of Archetype12's V. 2020 Dirksen Drops Sparkling Floral Hard Cider. At 3.5% ABV, it's light, effervescent and low-alcohol.
Have you tried any ciderkins or cider/wine piquette blends? We'd love to hear what you think, or if there are any producers out there making them that we should check out, please let us know in the comments!
Hard Rain photo: Little Pomona Cider
Pompette Rouge photo: Rose Hill Ferments
Good Company photo: Old Westminster Winery