Think the whole rosé cider thing is winding down? Think again! In addition to familiar brands getting new looks (like Citizen Cider's bRosé in cans) and new fermentation experimentations (like Shacksbury's Pét-Nat rosé ciders), cideries everywhere are adding perky pink ciders to their lineups.
Another new one on the scene is Hail Mary, a rosé cider from Windfall Cider, an urban cidery in Vancouver, Canada. British Columbian apples and ripe berries blend in this crushable cider that offers notes of apple, rose petals and green melon.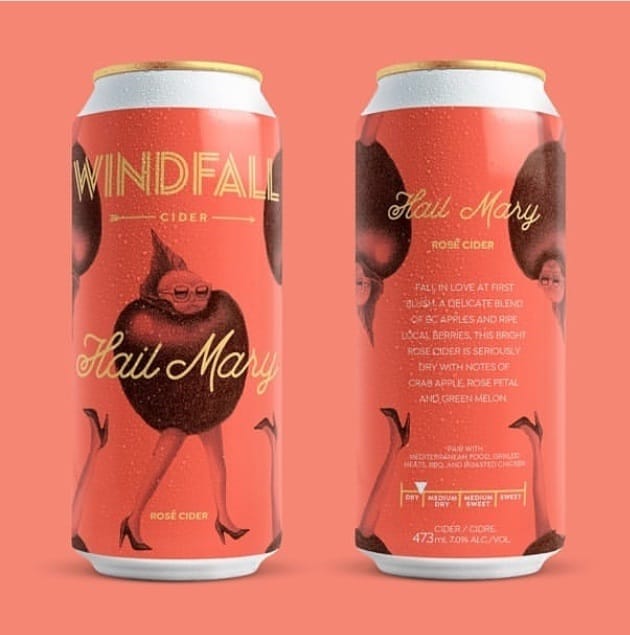 Windfall, which launched in 2018 with one core cider, Jackpot, is adding Hail Mary as its second flagship offering.
"With our inaugural release last year, Jackpot, we wanted to go classic with a dry cider that hit all the right notes of crispness, and that paired well with food," explains Nathaly Nairn, co-founder of Windfall Cider with her husband Jeff Nairn. "Since then, we have continued to experiment with new flavors and wanted to create something that still used old-world cider-making techniques with a modern approach. Rosé wine is an extremely popular drink category, and we thought, why not a modern rosé cider? That's how Windfall Hail Mary was born."
The Nairns work with community farmers to source apples for their ciders, and for Hail Mary, specifically, they fermented a blend of McIntosh, Granny Smith, Red Delicious, Spartan and eight other varietals along, with Western Canadian Saskatoon berries, which lend color, tartness and tannins. This blush-colored cider, which clocks in at 7% ABV, pairs well with Mediterranean food, grilled meats, BBQ and roasted chicken. The playful can design and illustration is by Philadelphia-based illustrator Armando Veve, under the creative direction of Vancouver's 123 West Communications.
Find Hail Mary and Windfall's other ciders at various bars, restaurants and shops around Vancouver.