There's something so luxurious about champagne cocktails, often served in sleek glassware and redolent of citrus, flowers or herbal spirits. These sparkling bevs can lend a air of "partying on a boat" or "date with a hot Frenchman" or "cheers, darling" to one's night.
Despite their glamorous vibes, champagne cocktails are no biggie to throw together, and are actually usually easier to make than more spirit-forward concoctions. And the best part is that in nearly all champagne cocktails, you can swap out the sparkling wine for sparkling cider, which lends even more complexity and brightness to the glass!
Want to take these chic cocktails for a spin? We've got five classic champagne cocktails where cider effortlessly steps in to make things more delicious and interesting.
Mimosa & Bellini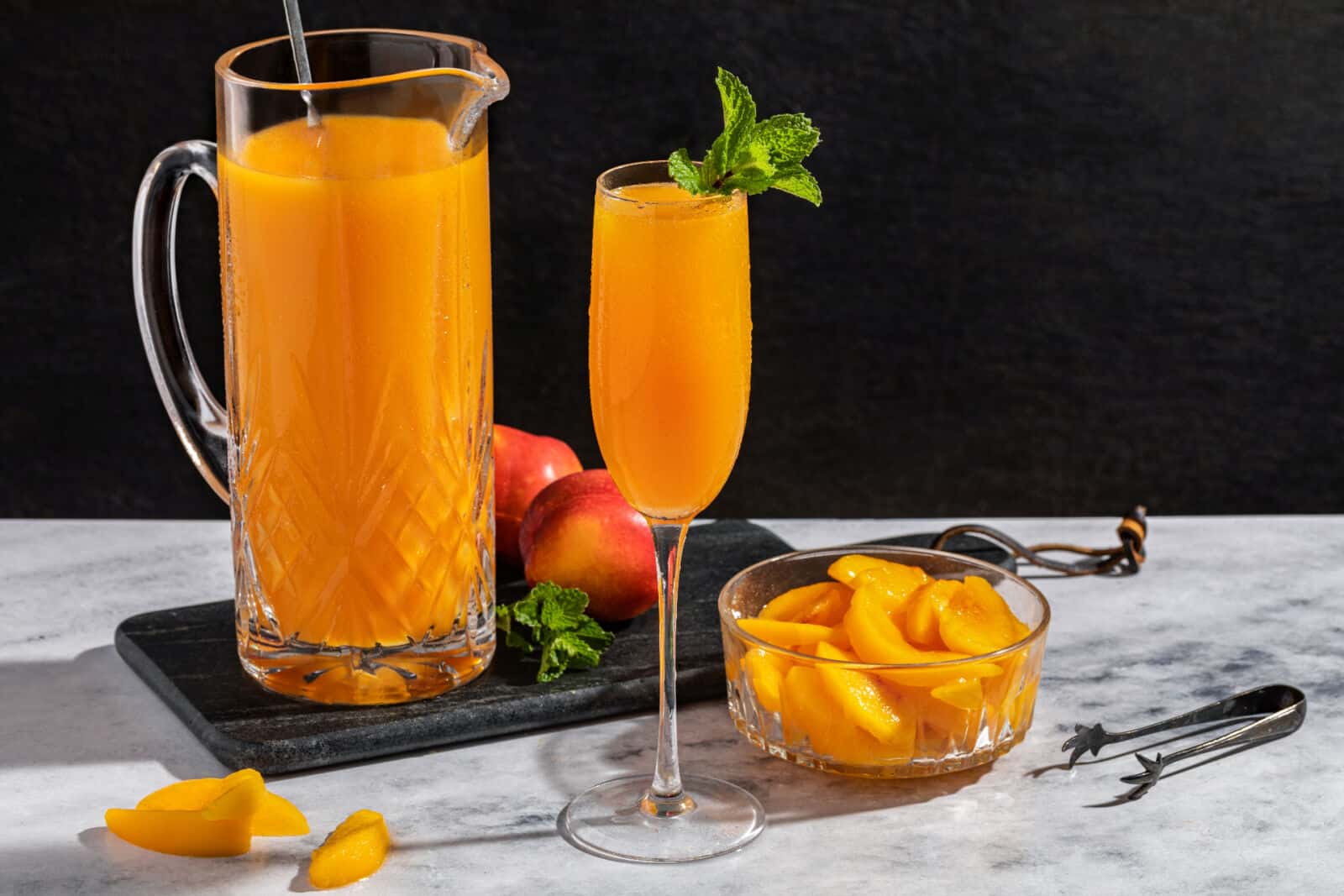 Famously a breezy hair-of-the-dog drink at brunch, mimosas (sparkling wine + orange juice) and bellinis (sparkling wine + peach nectar) can truly be enjoyed any time of the day. Instead of using sub-par Prosecco, reach for your favorite citrus or peach cider to craft these sunny, bright orange cocktails. Some good ones include Jack's Hard Cider Peach, Bauman's Cider Peach Bellini, Starcut Ciders Mosa and ACE SpACE Blood Orange Cider. A crisp, dryish all-apple cider of your choice can also work beautifully!
Cider Mimosa or Cider Bellini
Makes 2 cocktails
Ingredients
 8-10 ounces hard cider of your choice, chilled
4 ounces orange juice or peach nectar, chilled
Method
Fill 2 chilled champagne flutes with 4 or 5 ounces of craft cider.
Top each glass with 2 ounces each of juice or nectar.
Aperol Spritz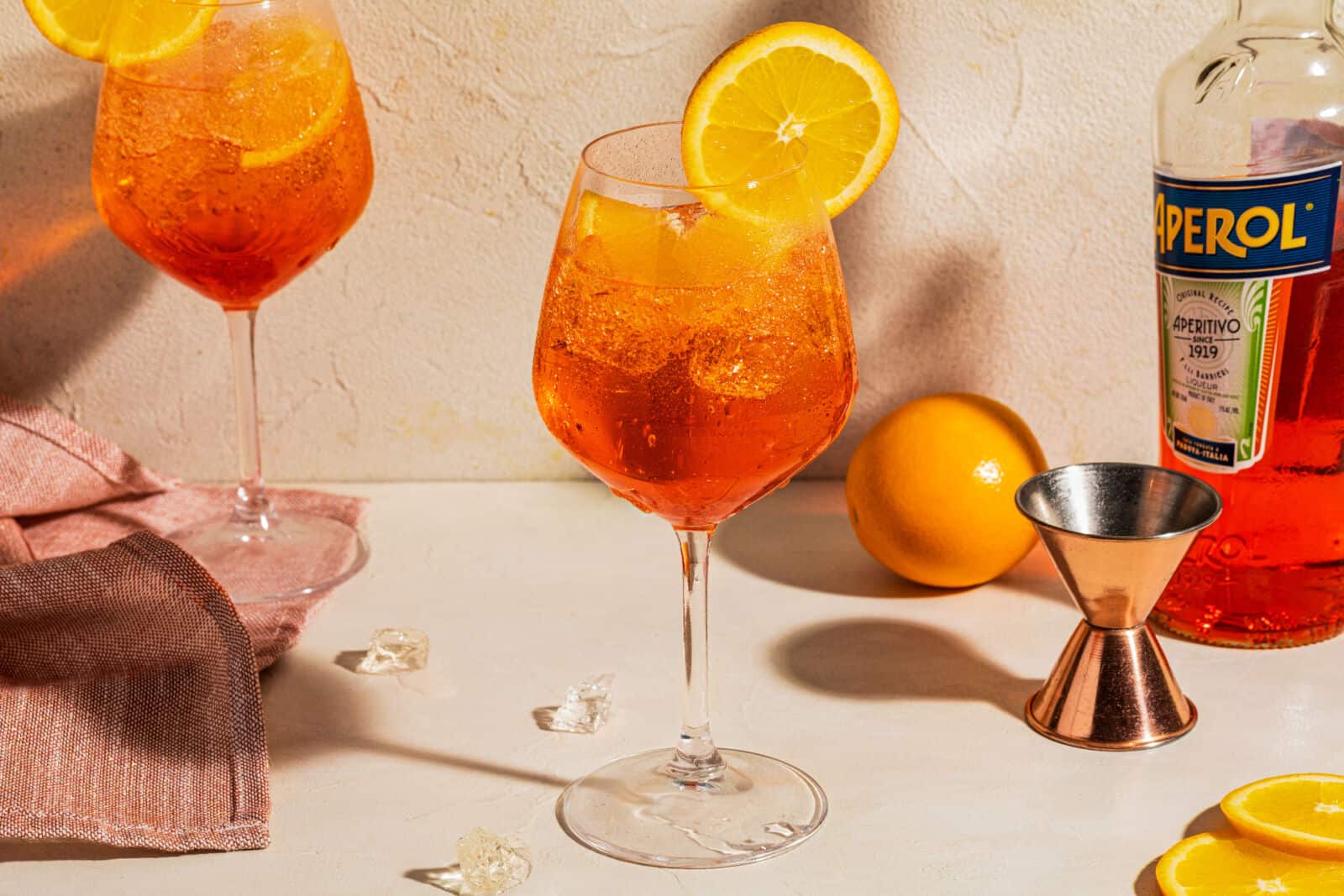 The Aperol Spritz is literally the perfect drink for happy hour (or aperitivo, if you want to be fancy about it). It's fruity, bitter, pleasantly fizzy and not too boozy, and it can go toe-to-toe with all the salty snacks, like olives, charcuterie, popcorn and potato chips. Substituting hard cider here is a no-brainer and makes for a wildly refreshing experience. To most closely mimic a classic Aperol Spritz, choose a cider that's very dry and crisp with no adjunct flavors, perhaps made with wine yeast, like Golden State Cider Brut, Alpenfire Traditional Cuvée or Minneapolis Cider Brut.
Cider Aperol Spritz
Makes 2 cocktails
Ingredients
6 ounces hard cider, chilled
3 ounces Aperol
Soda water or seltzer
Two orange slices, for garnish
Method
Fill 2 wine glasses with ice. To each glass, add 3 ounces of cider and 1.5 ounces of Aperol. Stir.
Top with about 1 ounce of soda water or seltzer, stir again, and garnish with an orange slice.
French 75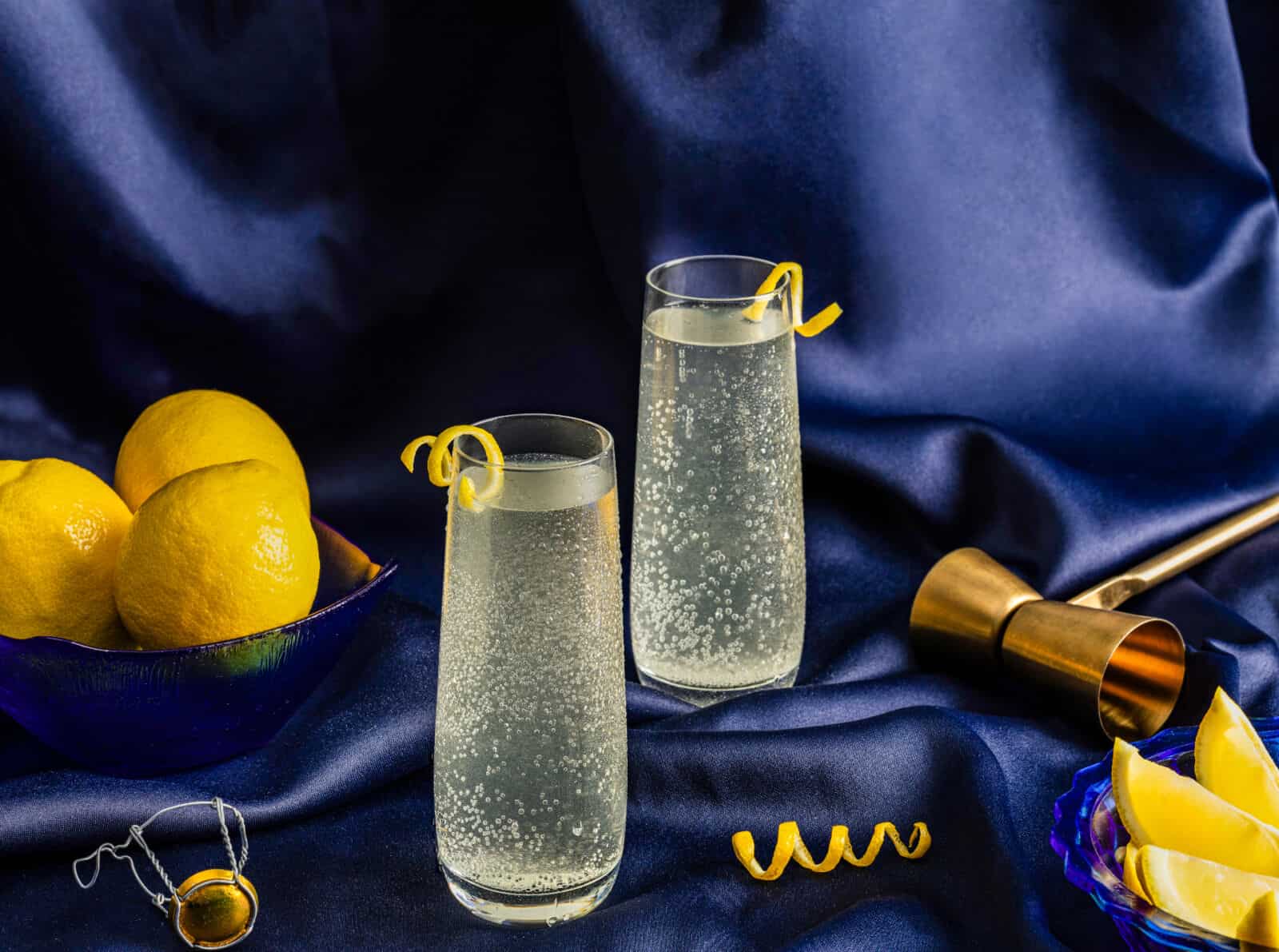 The French 75 is a true classic — its roots can be traced all the way back to 1915 (to Paris, of course). Usually, this elegant cocktail is made with a combination of gin, lemon juice, sparkling wine and simple syrup. Use a lemon or sour cider instead for a bold, tangy, palate-cleansing cocktail! Try Dressler Estate Cider Dolores, Wild Cider Lemon Basil, Under the Bridge Cider Lemon Crush or Brooklyn Cider House Half-Sour.
Cider French 75
Makes 2 cocktails
Ingredients
6 ounces hard cider, chilled
2 ounces gin
1 ounce lemon juice
1 ounce simple syrup
Lemon peel, for garnish
Method
Add all ingredients except cider into a cocktail shaker filled with ice. Shake hard, and strain evenly into 2 champagne flutes.
Top each glass with 3 ounces of hard cider. Garnish with a lemon peel.
Kir Royale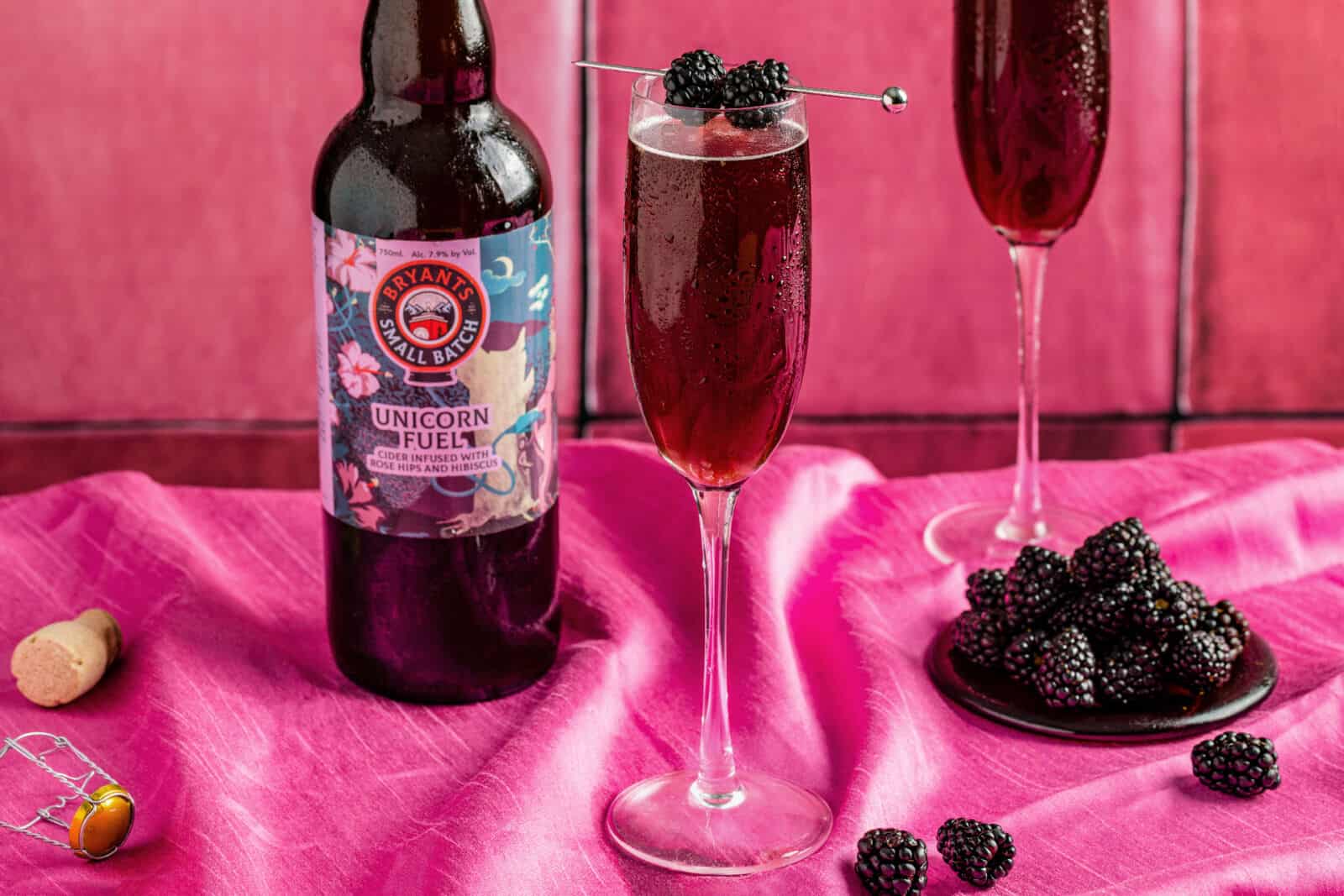 The Kir Royale is another French cocktail (they sure know how to party in style, eh?), often enjoyed as an aperitif before a meal. It's just two ingredients: champagne and crème de cassis, a black currant liqueur. To make a cider-ified version, leave out the champers, and instead use either a dry cider, or, if you prefer an extra dash of fruity sweetness, a rosé cider! You probably already have your favorite rosé cider on lock, but if you want to try something new, use Bryant Cider's Unicorn Fuel, Eden Cider Brut Rosé or ANXO Rosé. Or, dial up the black currant flavors with Meriweather Cider Black Currant Crush or Finn River Farm & Cider Black Currant Cider!
Cider Kir Royale
Makes 2 cocktails
Ingredients
10 ounces hard cider, chilled
1 ounce crème de cassis
Fresh berries, for garnish
Method
Pour 0.5 ounce crème de cassis into the bottom of 2 champagne flutes.
Slowly pour 5 ounces of the cider into each glass. Garnish with a fresh blackberries or raspberries.
Party Punch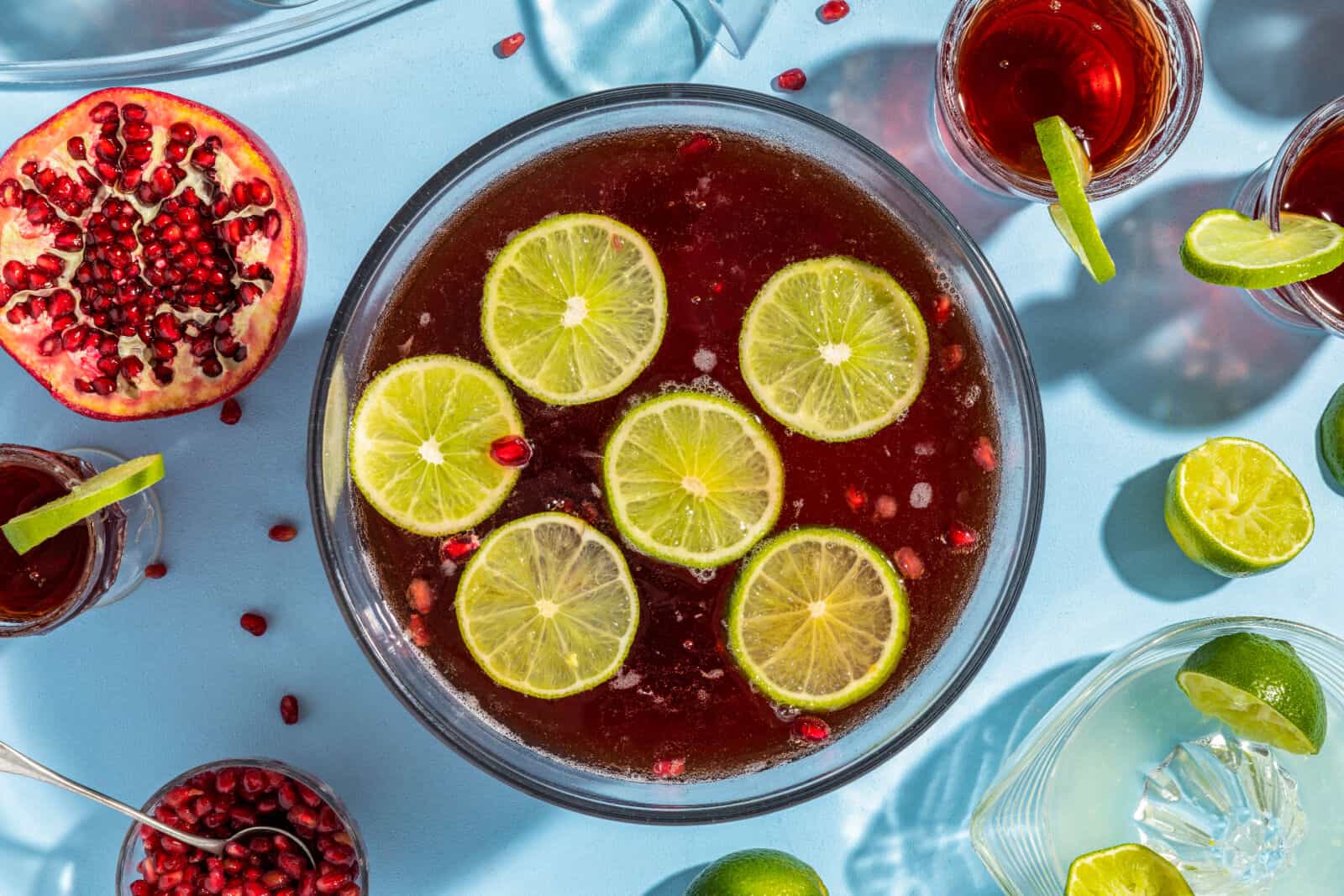 Who doesn't love a big glass bowl full of fruity, fizzy punch at the center of a party spread? Our only complaint is that sometimes, they're too cloyingly sweet, or too sneakily boozy. Lots of punch recipes call for sparkling wine and a spirit and sometimes even a sugary soda. Using cider in place of sparkling wine takes care of all of those potential issues: it brings a natural, juicy sweetness; it has lower ABV than wine; and it totally eliminates the needs for any kind of soda. To maximize the punchiness factor, if you will, crack open a few cans of your favorite luscious, fruity cider, like Big Hill Ciderworks Farmhouse Cherry, La Familia Jamaica Hibiscus Cider, Swift Cider Pomegranate or Blake's Hard Cider Triple Jam.
Cider Party Punch
Serves lots of your friends
Ingredients
40 ounces of your choice hard cider, chilled (about 3.5 12-oz. cans or 1.5 750-ml bottles)
4 cups pomegranate juice, chilled
1 cup vodka, gin or white rum, chilled
1/2 cup lime juice, chilled
1/2 cup pomegranate arils (seeds) and 1 lime, sliced into wheels, for garnish
Method
In a large bowl, combine all of the ingredients, except garnish, and stir thoroughly. Taste and adjust to your liking.
Add the pomegranate arils and lime slices as garnish and serve. On a hot day, you may need to add some ice cubes to keep the punch cold!
What are your favorite cider champagne cocktails? Let us know!