All across the United States, regional foodways and craft cider intersect in a myriad of delicious ways. For us, as cider fans, this provides many opportunities to experience something truly special: an agricultural conversation that happens not so much in words, but in flavors and expressions of terroir.
With your own dining room table or local bar as the stage, an interwoven dance of tradition, innovation, farming and cooking takes place — that's simply not something that's feasible if you're eating and drinking things that have been shipped halfway across the world.
One place where this culinary exchange is happening is North Carolina. There's a long history of farming in North Carolina, and thanks to its wildly varied geography, there are so many things that grow or are raised there, including sweet potatoes, strawberries, peaches, tomatoes, soybeans, cattle, hogs, turkeys and trout.
And, don't forget about apples! The relatively cool temperatures and prime soil conditions, especially in the mountainous western part of the state, make for mighty fine apple growing conditions. In Henderson, Wilkes, Alexander, Cleveland, Lincoln and Haywood counties, you'll find orchards heavy with culinary apples, especially Red Delicious, Golden Delicious, Rome Beauty and Stayman, as well as some heirlooms, like Arkansas Black, Jonathan and Grimes.
There's a thriving community of craft cider makers in North Carolina, including bigger brands like Bold Rock plus smaller operations like Botanist & Barrel, Noble Cider, James Creek Cider House and Bull City Ciderworks. So how are local chefs in North Carolina considering local cider and incorporating it into their menus and approaches to cooking with local ingredients? To dig further into this, we picked the brains of two Asheville-based chefs, Glenn Osterberg, chef de cuisine at Rhubarb, and Steven Goff, an established chef-around-town who's currently working on reopening the Tastee Diner.
Glenn Osterberg
Born and raised in Connecticut, with many years spent cheffing in New York City plus stints in the Caribbean and Vermont, chef Glenn Osterberg is not a born-and-raised Southerner. But, Asheville, North Carolina, is where he's been hanging his hat for the past four years, a place where he says he feels quite at home.
"My wife is from here and I love it," he says. "In major cities, everyone's trying to push the envelope, but here it doesn't need to be that way. There are all of these microclimates for growing food and all of these micro food hubs."
Osterberg explains that the South is similar to Europe, with relatively geographically close areas expressing their cuisines in remarkably different ways.
"North Carolina, Alabama, Georgia — each state has its own niche cuisine, which mostly stays in those borders," he says. "North Carolina actually has a few niches within the state, because it ranges from ocean-flat to mountain."
In the middle of the state is where you'll find that famous barbecue, he notes, while on the waterfront, in places like Calabash, it's all about seafood and hot butter sauce.
"In the mountains — and the reason I love living here — it's Appalachian cuisine," Osterberg says. "There's a lot of foraging, and a lot of small farmers. I also moved here because I love cider so much and I was trying to get closer to Hendersonville, a huge apple-producing region."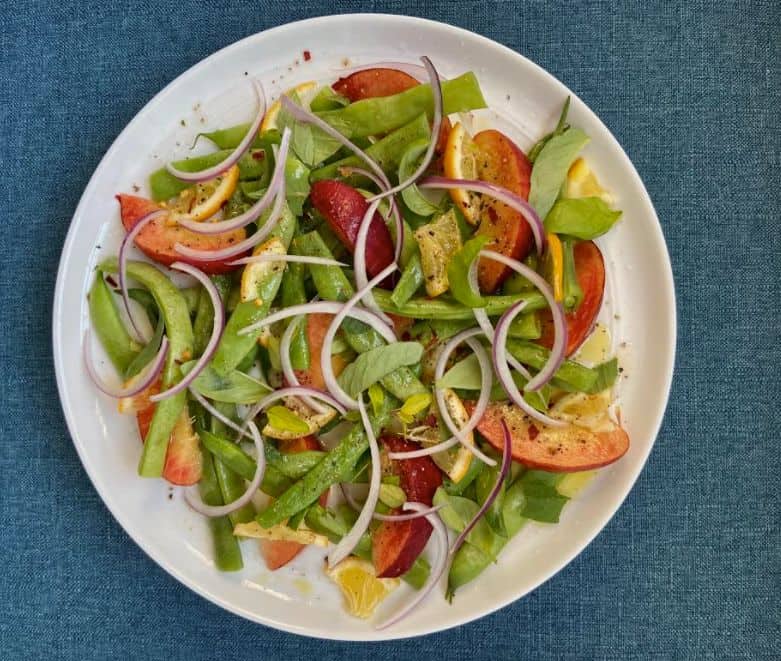 A lot of North Carolina cuisine, as Osterberg points out, is spicy, fried and fatty, which are flavors and textures that tend to work really well with cider.
"Cider is also good with foraged things. I love pairing it with foraged mushroom ragu!" he notes.
In addition to enjoying cider's fresh, bright characteristics with bold Southern food, Osterberg appreciates cider as an ingredient in the kitchen, often as a substitute for wine in recipes.
"Cider just has a better flavor, more of an acidic punch when it's cooked down, and I think it helps build dishes better than wine does," he explains. "Deglazing roast pork with cider is one of my favorite things, and cider braised Brussels sprouts are, too."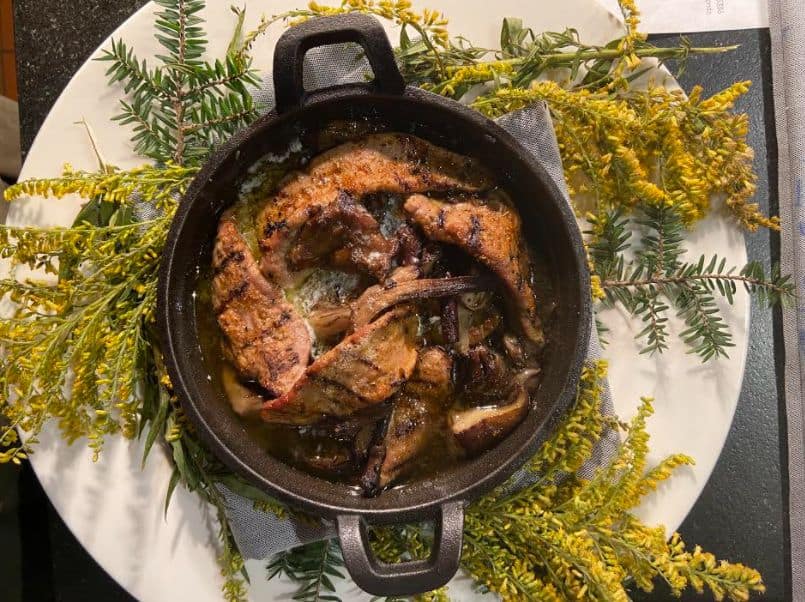 At Rhubarb, where Osterberg cooks, sourcing locally is a huge part of the ethos and practice. That means working closely with farmers, beverage producers and even ceramicists for their plates. Over the years, Osterberg has developed a close relationship with Lyndon Smith of Botanist & Barrel. Last year, they went apple picking together, and Smith gave him some much-needed pointers on how to step up his home cidermaking game.
"He taught me some of the ins and outs of cidermaking, because I was trying it at home and failing miserably! This year I did better; I finally have a solid cider I feel good about," he says.
Steven Goff
Chef Steven Goff first discovered cider traveling through the United Kingdom in his 20s. Sipping on dry, tannic ciders in local pubs, he was determined to seek out something similar back in the states. He's loved how living in North Carolina has allowed him to discover more and more incredible local ciders that can pair with his food.
"My cuisine is a summation of all of my life experiences, and that's why cider is so involved, because it was such a big thing to me after that trip. Every time I've found it here — it's been so amazing!" he says.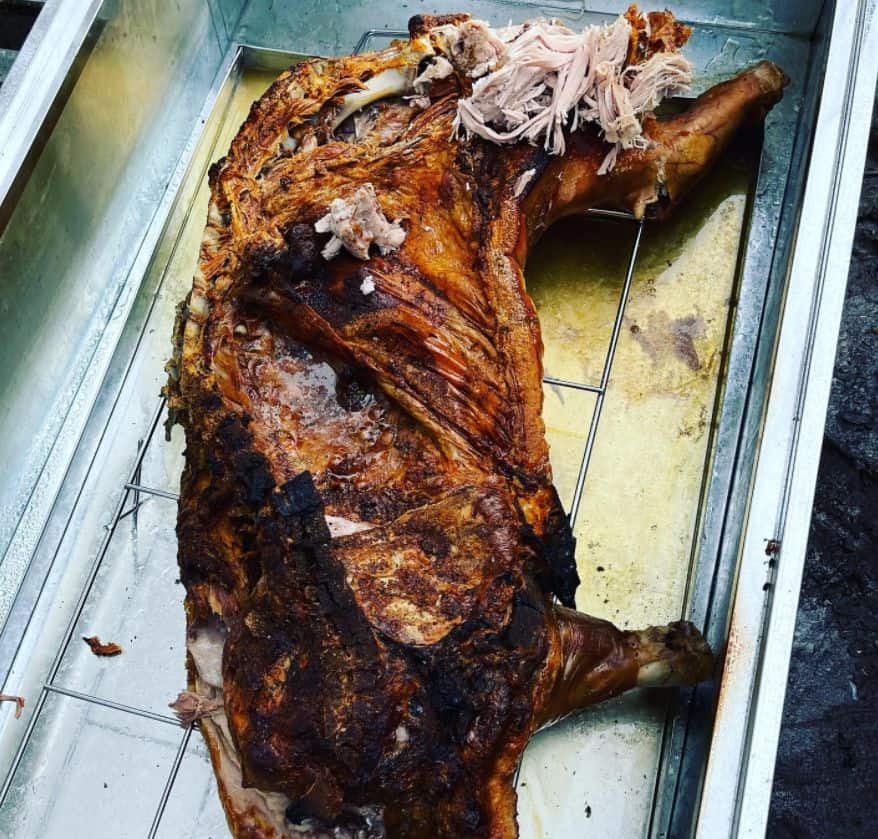 Goff (who is originally from California but moved to the South in fifth grade) calls his cuisine, "very non-traditional southern food," like smoked brisket with congee using North Carolina-grown rice, vegetables and dairy, and Nashville hot chicken sandwiches on honey bun buns with cucumber raita and apple slaw. He also is hyper-focused on low-waste cooking, using things like cider lees and spent grains to make pickles.
"I'm extremely low waste; in one service we make one small can of trash a day, and I'm super proud of that," he says. "I'm always eyeing how to make things out of what would be trash."
Earlier in his career, Goff resisted cooking Southern food, since unlike many of his colleagues, he didn't grow up learning traditional cooking techniques at his grandmother's knee. But at some point, he said, he let go of that hang-up and dove in head first.
"I was like, how can I work in this region and not pay any tribune to the history of this place? Now it's like a weird obsession. I read history books on the South instead of cookbooks and get my info from there," he notes.
No matter what he makes, Goff appreciates how well his dishes tend to work in tandem with local North Carolina cider.
"What I cook can be heavy, smoky, fatty — in a good way! I love cider because a really good, crisp, clean cider can cut right through that," he notes.
Goff says that it's fun to disrupt people's assumptions that all ciders are "sugar bombs just made for a college campus," and to show them the complex, luxurious side of cider.
"When I sell cider at the restaurant, I sell it like a white wine, almost. I think it's a great addition to a restaurant wine list!" he says.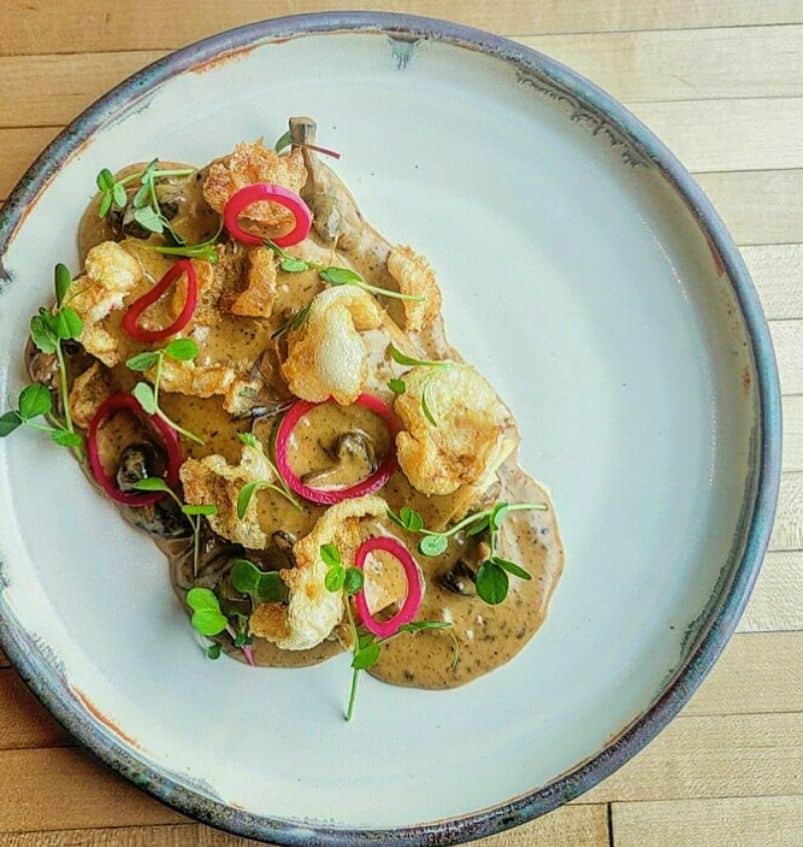 In early 2022, Goff purchased a circa-1946 diner, the Tastee Diner. He's working on reopening it now, and says that he has tons of plans for its cider program. He imagines serving piquette cider along with pulled pork plates, and hosting porrone pop-ups with Basque ciders flowing.
"I think cider belongs in the culinary bag in general, and any restaurant would benefit from having these high quality ciders on their lists!" he says.
For more on North Carolina cider, check out our travel guides to Hendersonville, Asheville, Charlotte and hiking the Pisgah National Forest. To keep up with what's currently happening within the North Carolina cider community, follow the NC Cider Association on Facebook!
Feature and salad photos: Glenn Osterberg
Roast pork and braised beef cheek photos: Steven Goff