A brand new conference is coming to New York State: The Northeastern Cider Conference. It will be held from March 23 to 25, 2021 in Albany, New York, and will bring together producers and cider makers from across the region for a series of workshops and the chance to build networks and share knowledge. The stated intent of the inaugural NCC is that it "will allow for problem-solving, priority setting and market development for makers operating at all levels of scale, and enhance the cider culture in the Northeast."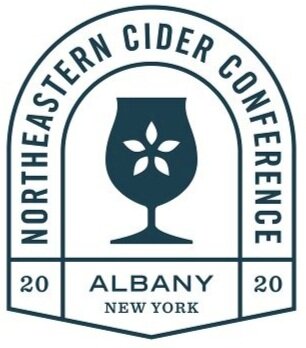 Megan Larmer, the Director of Regional Food at Glynwood, a center for regional food and farming in Cold Spring, New York, is one of the main organizers of the conference. One of Glynwood's big projects over the past decade has been with the state's hard cider makers and apple growers. As real estate interests put the Hudson Valley's apple orchards under threat, the Center started a cider maker cultural exchange with Normandy, France. Ultimately, that helped the project to form the New York Cider Association, which launched in 2015.
"The makers came back from France with a clear vision and passion to build a cider culture in New York that would be closely tied to orchardists and the legacy of orchards in the Hudson Valley," Larmer says. "That evolved into Cider Week NYC and now Cider Week in other parts of the state. It became clear that there was a need for an organization that could engage with our legislators and be a big tent for all the cider makers in the state to build out this industry."
As the NY Cider Association has embarked on various projects, like researching native apple varieties, developing a dryness scale, and producing Cider Weeks, it became clear to its members that there are needs specific to growers and producers in the entire Northeastern region.
"There is a need for our community to come together and discuss those specific needs and interest, and the enabling work of CiderCon provided a framework for some of that, but [it] wasn't serving the more fine-grained needs of the makers here," Larmer says. "So, as a compliment to that larger national gathering, we recognize the opportunity and need for it here."
The inaugural NCC will be industry-focused, from grower to final end-user. Workshops and panels will focus on topics like pollinator biodiversity in orchards, best fermentation and aging vessels, tasting room optimization, and many more topics. Presenters and panelists will include a number of leaders from the local cider community, like Autumn Stoscheck of Eve's Cidery, Ryan Burk of Angry Orchard, and Ria Windcaller of the Cider Chat Podcast. There will be an awesome cider share, too!
In addition to helping to continue to raise the professionalism of the industry and provide a focus on practical learning, Larmer says there are simpler, more straightforward outcomes in mind, specifically, creating a space for people to get to gather and to get to know each other.
"I've seen nothing like it, the amount of collaboration and support for each other that exists in the New York cider community," she says. "We hope this helps elevate the collaborative work between cider makers across the Northeast."
To register for the Northeastern Cider Conference, head here. Sign up for the early-bird rate before January 17, 2020, and look for the conference code for a discounted rate at the Hilton Albany. For more info, check out the NCC's website.
The Northeastern Cider Conference will be held at the Hilton Albany, at 40 Lodge St. in Albany, New York.