The New Year is as good a time as any to get out of your routines (read: ruts) and explore more of what the world has to offer. Even if you're not the resolutions type, we'll bet you're feeling, at least, a tiny itch for something new. Why not shake up your cider preferences and try a new producer, a new style, or just something fun and unexpected to help keep you cozy through the first whole month of winter?
Here are six ciders to drink right now:
Minneapolis Cider Co. Brut
The American Cider Association (the recently renamed United States Association of Cider Makers) has a brand-new campaign called Dry Cider January to promote its members' ciders containing zero grams of sugar.
"The brain has a hard time distinguishing fruity from sweet. Many ciders with absolutely no sugar in them can still be fruit-forward," explains the association's executive director, Michelle McGrath. "You'll find there are a multitude of dry ciders available when you start seeking them."
You can check the ACA's website for a frequently-updated list of no-sugar ciders, and follow along on social media with the hashtags #dryciderjanuary and #pickdrycider. One dry cider that we're excited about is Minneapolis Cider Co.'s Brut, bone-dry with Champagne vibes and notes of pear and melon. Look for it on draft and in 4-packs, or head to the cider's tasting room for a round or two and a rousing match of pickleball (yes, really). 701 SE 9th St., Minneapolis, MO; (612) 886-1357
Threadbare Cider Phil's Burrow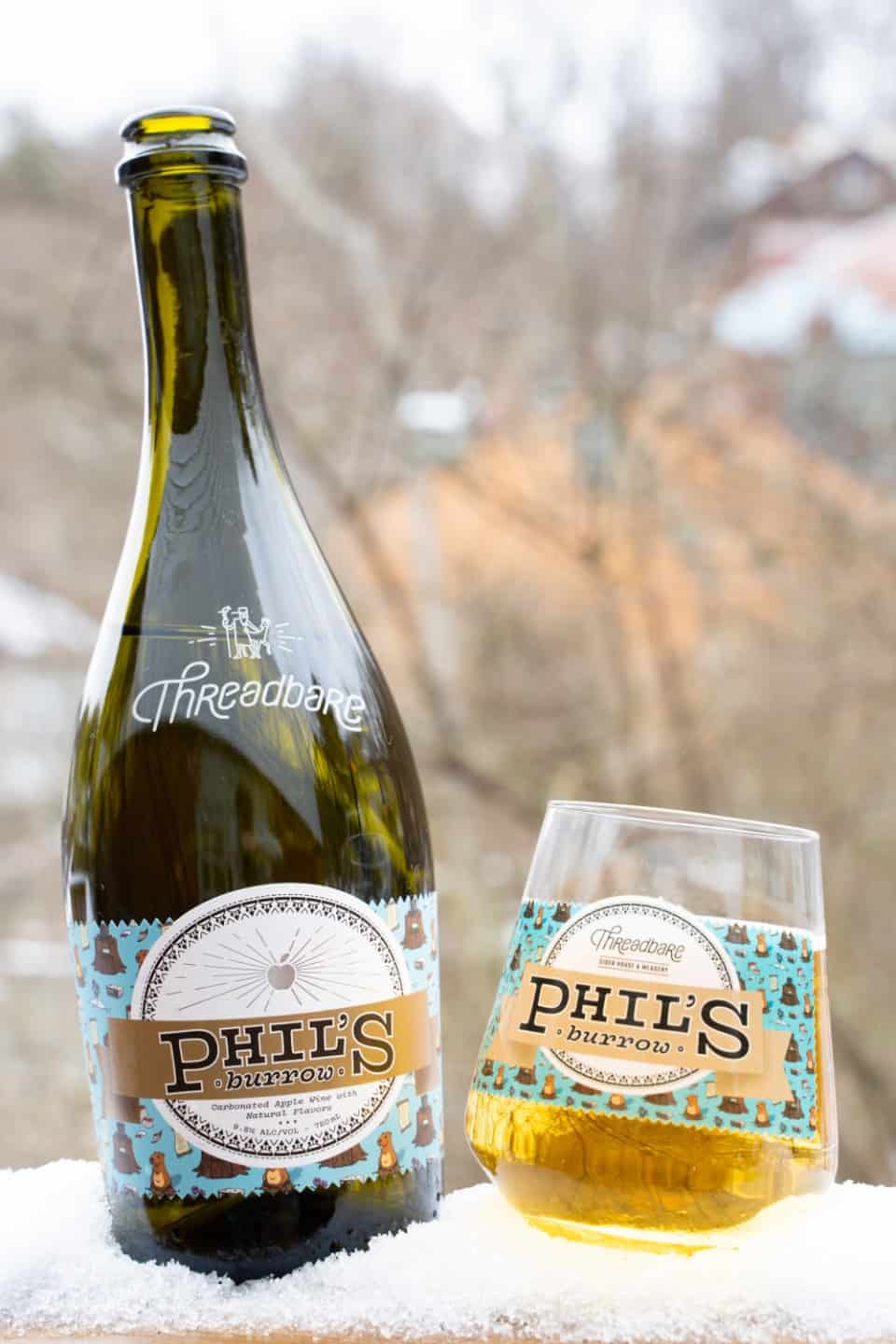 Pittsburgh's Threadbare Cider is all set to celebrate one of Pennsylvania's highest-profile annual events: Groundhog Day. This Feb. 2 holiday, which takes place in Punxsutawney, PA (about 85 miles northeast of Pittsburgh) is lauded by the cidery with Phil's Burrow, a modern spin on a Rum Raisin cider. Threadbare starts with Jonagold, Rome, Golden Delicious and Macintosh apples which are fermented with a Sauvignon Blanc yeast culture after pressing. The cider is then transferred to small cask rum barrels from Wigle Whiskey, aged for a month, and then macerated for three days with 60 pounds of chopped raisins and three pounds of ground cinnamon. The cider is then bottled and carbonated, and the result is a semi-sweet 9.8% ABV cider with notes of vanilla, rum, marzipan, nutmeg and orange zest. The cider is officially released on Saturday, January 18, but you can pre-order on Threadbare's website. 1291 Spring Garden Ave., Pittsburgh, PA; (412) 322-5100
Virtue Cider Salut
Virtue Cider's first small-batch release of the new year is Salut, a collaboration with Cider Summit, a series of cider festivals that take place in US cities. For the team at Virtue, this is where they "meet with cider friends, old and new, and toast to each other." To capture that spirit, Salut is dry, crisp and effervescent with a hint of French oak, coming in at⁠ 6.7% ABV. Even though New Year's Eve has passed, we're sure you still have plenty of things to toast, and Salut, as its name implies, is the perfect thing for your toasting glass! It's available in Virtue's Bottle Shop, and is hitting a wider market in January 2020. 2170 62nd St., Fennville, MI; (269) 722-3232
Anxo Cider Rojo
Anxo Cider's Fall 2019 new release, Rojo, feels just as fresh in 2020. This beautiful dry cider is made with a blend of red-fleshed apples from Snowdrift Cider Co.'s Red Love Breeding Program in a town called Wenatchee in Washington state. The juice was fermented in stainless with Rhone Valley rosé wine yeast, for a 6.9% sipper that's hazy and tart with kickin' acid. We love how the can art is a super-close-up of a photograph taken by apple photographer William Mullan, AKA @PommeQueen. This was a limited-release cider, but it's still around! 300 Florida Ave. NW, Washington, DC; (202) 986-3795; 711 Kennedy St. NW, Washington, DC; (202) 722-2696.
Molley Chomper Mountain Maelstrom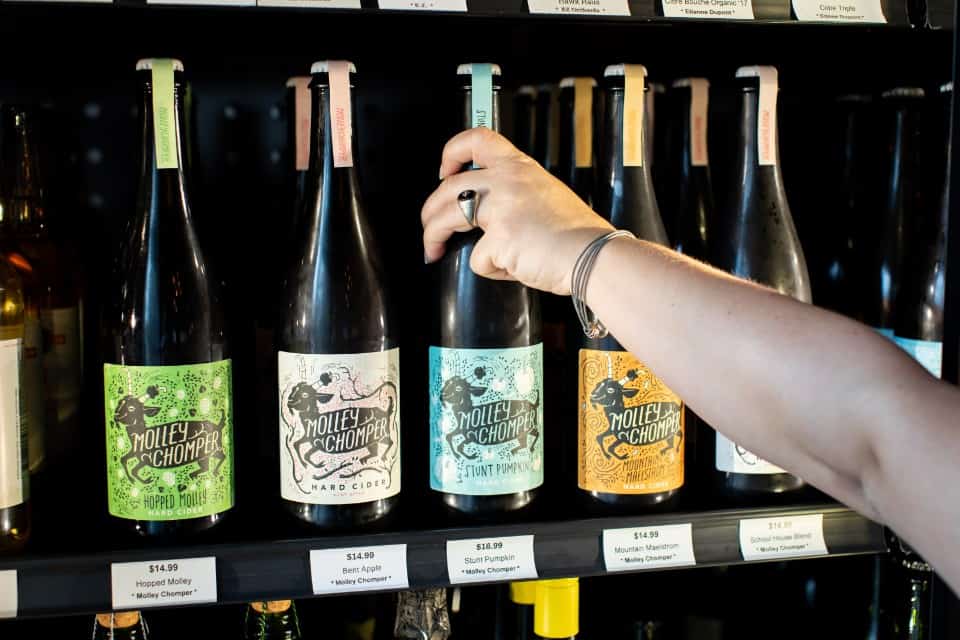 Molley Chomper, based out of Lansing, North Carolina, makes a range of fresh, fun hard ciders from heirloom dessert and heritage apples sourced from small orchards in the high country of North Carolina and Virginia. Mountain Maelstrom (which sounds like a scenario one might encounter this winter) is a blend of 30 varieties of late-season apples, including Golden Delicious, Virginia Beauty, Rome Beauty, Limberwigs and wild crab apples from small orchards in Ashe and Watauga counties in North Carolina. The 6.6% ABV cider is straw-colored cider with balanced sweetness, lovely acidity and a little tannic bite. Find Molley Chomper ciders at a number of locations in North Carolina, or shop online. 165 Piney Creek Rd., Lansing, NC; (336) 488-0809
Artifact Cider Project Feels Like Home
Let's face it: January is a pretty homebound month. Make the most of staying in with Feels Like Home from Artifact Cider Project — there's a pretty good chance the buffalo-checked cans match with the flannel shirt you're wearing right now! Unfiltered with plenty of fruit character, a blend of Cortland, Golden Delicious, Crispin and McIntosh apples are fermented on rum-soaked oak chips and blended with fresh juice, for a balanced and smooth 5.4% ABV cider that Artifact suggests pairing with late-night bonfires. We think a good book and a nice candle would do the trick nicely, too! Find it at Artifact's taproom or at a number of retailers across New England. 34 N. Maple St., Suite 15, Florence, MA; (617) 544-3494.
Molley Chomper photo: Richard Ashenfelder for Cider Culture