Feeling a little stir crazy? Every winter brings with it a housebound lifestyle, especially in northern locales. But this winter, with the COVID-19 pandemic still raging, hibernation mode kinda feels like it won't ever end. The urge for a change of scenery can be strong, even if the weather isn't especially accommodating to spending time outdoors!
If every weekend brings an intense longing for cider adventures, you're in luck: Craft cider goes hand-in-hand with outdoorsy lifestyles, and plenty of cideries have been hard at work creating safe outdoor spaces to keep guests comfy, even in the depths of winter. Before you head out, make sure you've thoroughly read through the cidery's guidelines/rules, and don't forget your mask and a blanket!
Here are six rad outdoor cidery spaces to visit while we wait for warmer temps to come:
*Just a quick note to say that if you don't feel comfortable going out, even to outdoor spaces, or if you have accessibility issues that make outdoor hangs uncomfortable or impossible, there are still plenty of ways to support your favorite cideries! Consider buying cider online or joining your local cidery's cider club!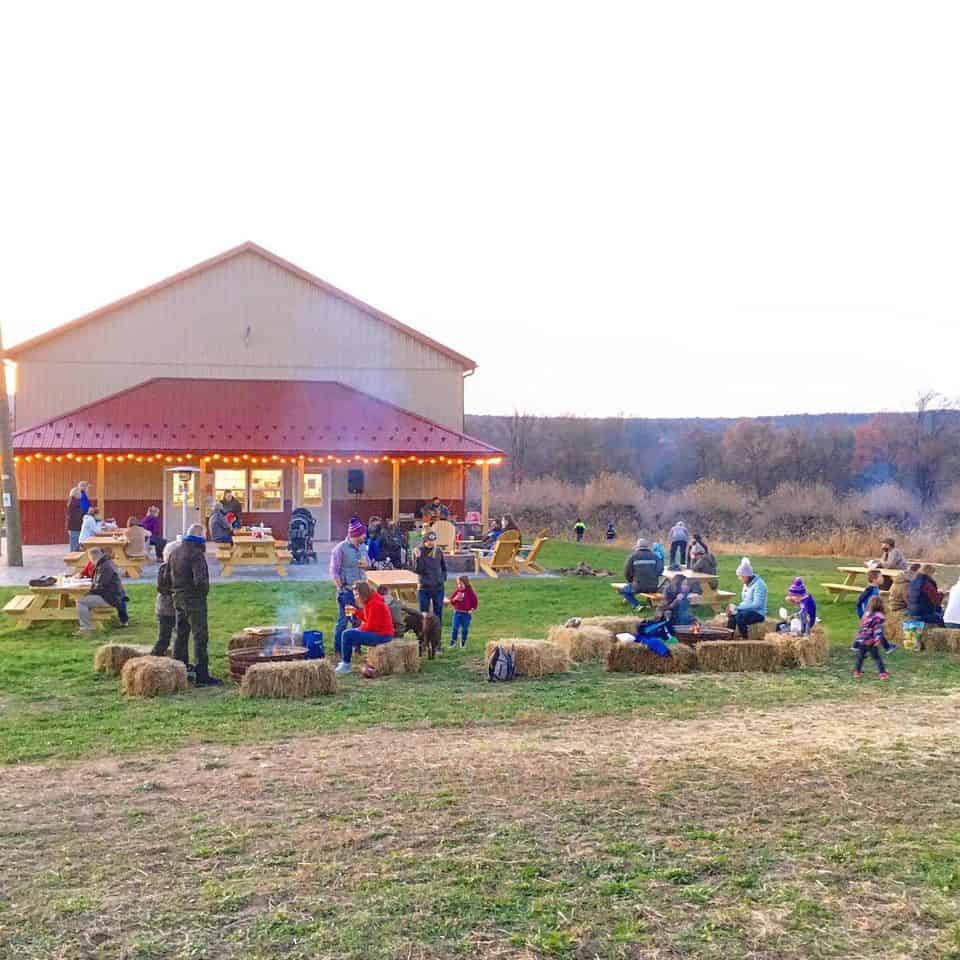 Smack in the middle of Pennsylvania's beautiful apple country, find Big Hill Ciderworks Taphouse. This space opened during COVID, so plenty of consideration was given to the unique challenges of the current moment. The rustic farm environment is complete with incredible views, cozy firepits and plenty of Big Hill's cider on draft. There are limited tent spaces, and guests are encouraged to bring their own chairs and blankets for increased comfort. You can even bring your own telescope for stargazing after dark! An outdoor screen projects sports games and movies, and on specific weekends, local food trucks and live music enhance the festive atmosphere. Current hours are Saturday, noon to 10 p.m., and Sunday, noon to 5 p.m. 338 Georgetown Rd., Gardners, PA.
Please note that in 2022, Ironbound's Cider Garden will be closed until March.
Ironbound Hard Cider's Outdoor Cider Garden provides multiple "zones" for socially distanced outdoor socializing. There are a number of firepits, surrounded by custom-made Adirondack chairs or tree stumps, which can accommodate up to eight guests. The Woodshed is a covered pavilion that allows guests to watch Ironbound's chefs work around the Mother Fire, 30-foot Argentinian-inspired open-fire grills!
Reservations are strongly suggested for the firepits, the Woodshed is only available to walk-ups on a first come, first serve basis. The Cider Garden menu includes plentiful cider, of course, as well as cocktails, wine, warm drinks and non-alcoholic drinks. The food is snacky, with handheld options like hot dogs and tacos. Current hours are Friday through Sunday, with seatings from from noon to 5 p.m. While you're there, don't forget to shop at the Ironbound Farm Market! 360 County Road 579, Asbury, NJ; (908) 940-4115.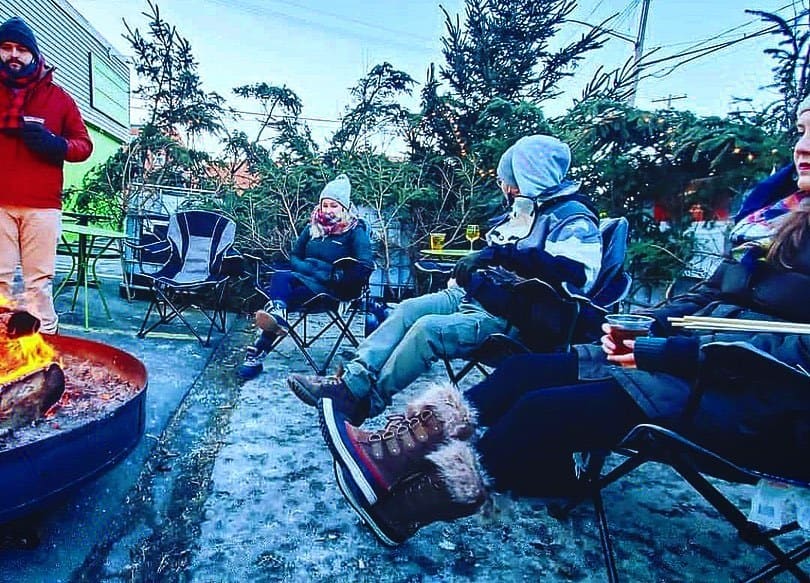 Upstate New Yorkers are no strangers to making the best of long, cold winters. The Nine Pin Cider Tasting Room rewards those willing to brave the cold with epic firepit hangs. Make a reservation for a private campfire, which includes tasty ciders, locally sourced sourdough pizzas, and an expertly built wood campfire that's all yours for two whole hours! You can even buy s'mores kits and extra firewood, if you're really feeling the fireside vibes. This fun option is available all winter long, Thursday through Sunday. 929 Broadway, Albany, NY; (518) 449-9999.
Sociable Cider Werks is embracing winter to its fullest with its excellently appointed outdoor patio. Yes, there is an actual outdoor ice skating rink on site at the cidery, so after you enjoy some hot cider, food truck grub and s'mores around the firepits, strap on some skates for an open skate session, or a pick-up game of curling! Bring a blanket or folding chair and get ready for a rad cider experience, Midwest-style! Note: Outdoor patio and ice rink hours may close due to inclement weather. Current hours are Monday through Thursday, 2 to 11 p.m., Friday, 2 to midnight, Saturday, noon to midnight and Sunday, noon to 8 p.m. 1500 Fillmore St NE, Minneapolis, MN; (612) 758-0105.
You can hang with your pod in a literal pod in the intimate igloos at the Two K Farms tasting room! Each geodesic dome-shaped structure includes comfy seating and twinkly lights for magical feels during nighttime hours. Reservations are suggested for the igloos! There are also firepits available on a patio overlooking West Grand Traverse Bay, as well as the opportunity to snowshoe throughout the breathtaking property, including rows of grape vines and apple trees. 3872 SW Bay Shore Dr., Suttons Bay, MI; (231) 866-4265.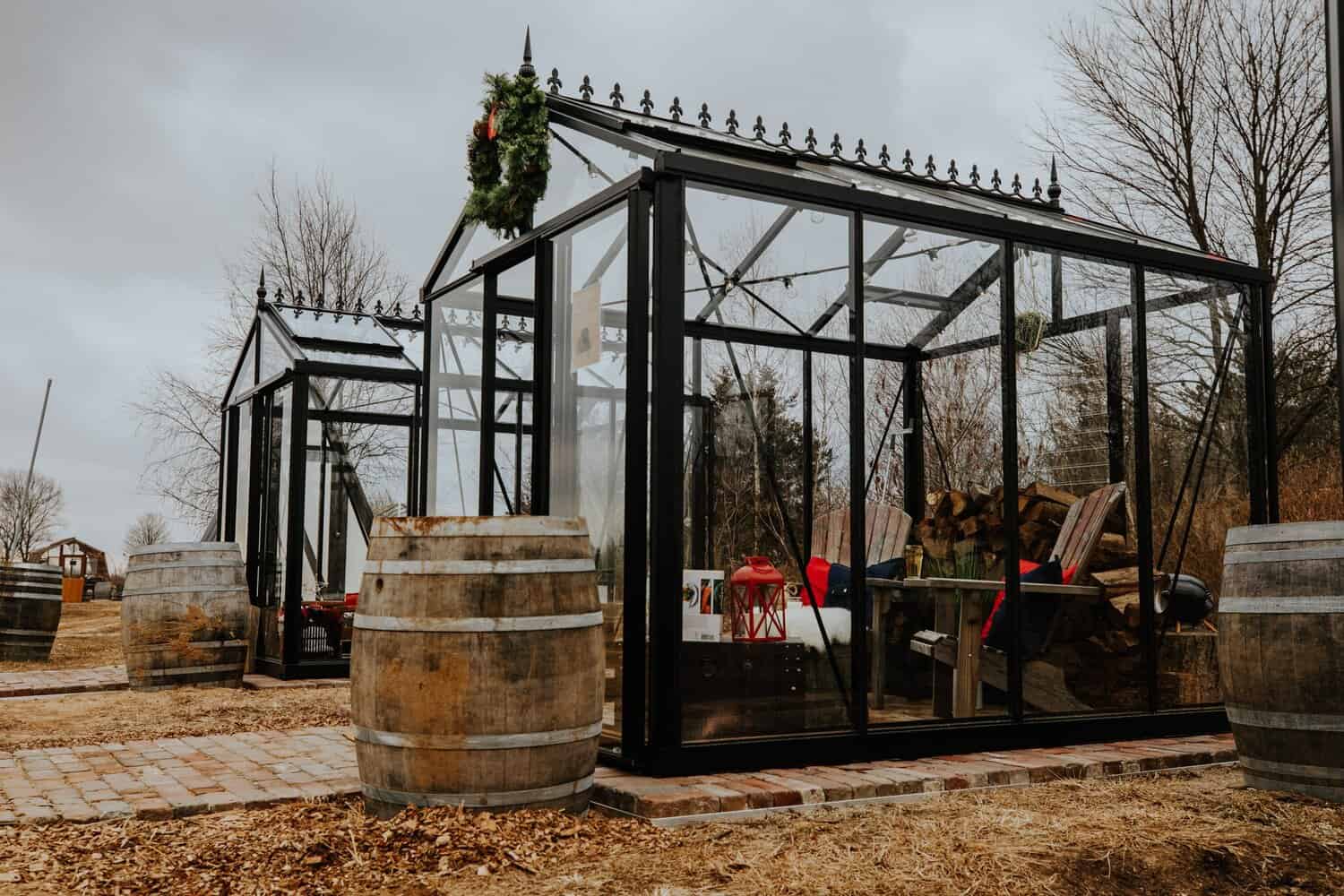 Winter is "snow problem" at Virtue Cider, where there are a few really unique ways to enjoy the season. The first way is comprised of the gorgeous Greenhouse spaces that are available for reservation on Virtue's farm. These were built in December 2020, as a way to provide cozy places for folks to enjoy Virtue's cider. For $50, guests can enjoy 90 minutes in the greenhouses and a complimentary round of 10-ounce ciders. The entire menu, including small-batch bottles and food, is also available in the greenhouses.
You can also sign up for a guided 45-minute snow shoe tour of the trails through Virtue's property. The tour is $20 per guest, including snowshoe rental and spiced hot cider around a fire after your trek ($15 for guests bringing their own snowshoes). Tours last 45 minutes. Kids' snowshoes are available, $12 per child, which includes a non-alcoholic cider. 2170 62nd St., Fennville, MI; (269) 722-3232.
Where have you been enjoying cozy, social-distanced cidery visits this winter? Let us know in the comments!
Big Hill photo: Big Hill Ciderworks
Nine Pin fire pit photo: Nine Pin Cider