You know how bands with family members singing together always make the sweetest harmonies (we're looking at you, HAIM and Waxahatchee!)? There's something about voices that are very similar but also a tiny bit different that just meld together in such a dreamy way. Well, the same principle holds true in cider. Yes, we love the pop and sizzle of contrasting fruits and flavors with apples, like grapefruit, say, or ginger. But when cidermakers keep it in the family — the subtribe Malinae of the family Rosaceae, botanically speaking — the results can be glorious.
Apples, pears and quince are all considered pome fruits, and we wanted to take a closer look at ciders made with quince, either blended with apples or all on its own. Quince is cultivated all over the world but does best in temperate climates which also have a cool season. Like apples, they are propagated by grafting on rootstock, not from seed.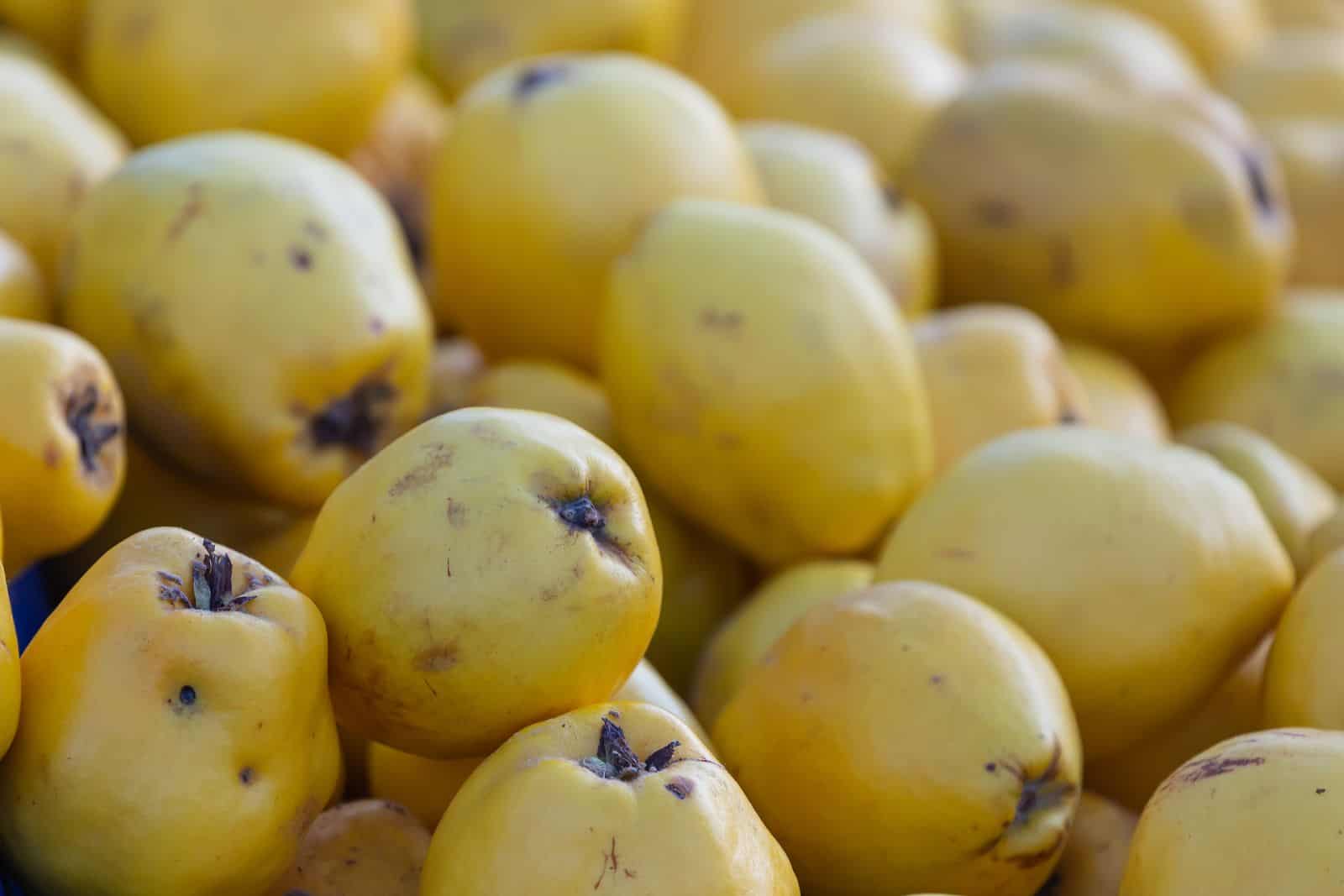 Quince looks a bit like the cross between an apple and a yellow-skinned pear, and has a complex, floral, spicy flavor that's reminiscent of apples. The raw fruit is super tart to the point of astringent and the flesh is tough. In culinary applications, it's usually cooked to enhance its sweetness and aromatics, and when it's fermented, those same qualities shine as well. In cider form, quince tends to be floral and rich, an incredible drinking experience whether it's blended with apples or standing alone.
"Quince is an extraordinary and rather strange fruit. It works amazingly in hard cider, but you also have to ride a bit of a wave with it as it does emit a rather garbage-y aroma for quite some time during fermentation," notes Chris Jackson, Head Cidermaker at Treasury Cider, located in New York's Hudson Valley. "When I first starting working with it, that was a bit off putting (obviously!), but then I came to appreciate that it just needs to go through that phase and will land in a beautiful place eventually."
Intrigued? Here are 7 quince ciders to try: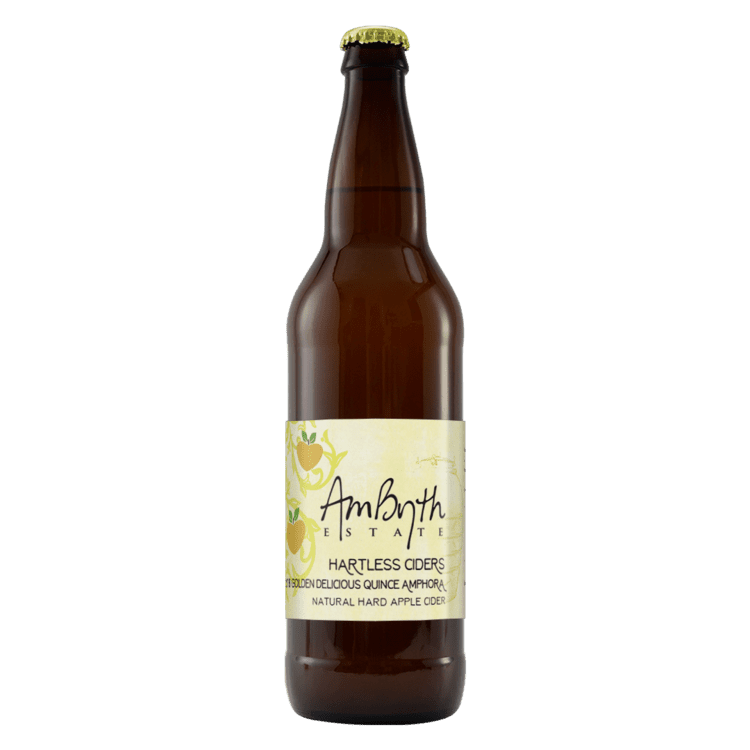 This biodynamic vineyard and natural winery in San Luis Obispo County, California, also makes a dope line up of ciders. Part of its Hartless Cider line is a golden delicious quince creation that is 25% quince. To push it further into experimental territory, the cider is aged for fourteen months in Italian terracotta amphora (a large clay vessel) that's spritzed with fresh apple juice before bottling to give it a touch of natural carbonation. Like all of its wines, ciders and piquettes, this AmByth Estate cider is  fermented with native yeasts, unfined, unfiltered and bottle conditioned. Shop online or visit the winery IRL.
 

 

View this post on Instagram

 
Oregon-based Art + Science also apply natural winemaking philosophy to its ciders and perries; that means minimal additives, native yeast and quality fruit. So in its 100% Quince Cider, you can be sure that nothing is standing in the way of the pure expression of terroir and the fruit's essence. This fragrant, floral cider is made with quince foraged from old farmsteads in the Willamette Valley of Oregon, which are barrel fermented with native yeasts, then aged for 10 months. To learn more about Art + Science, check out our IG Live with owners Kim Hamblin and Dan Rinke. Shop online or visit the tasting room!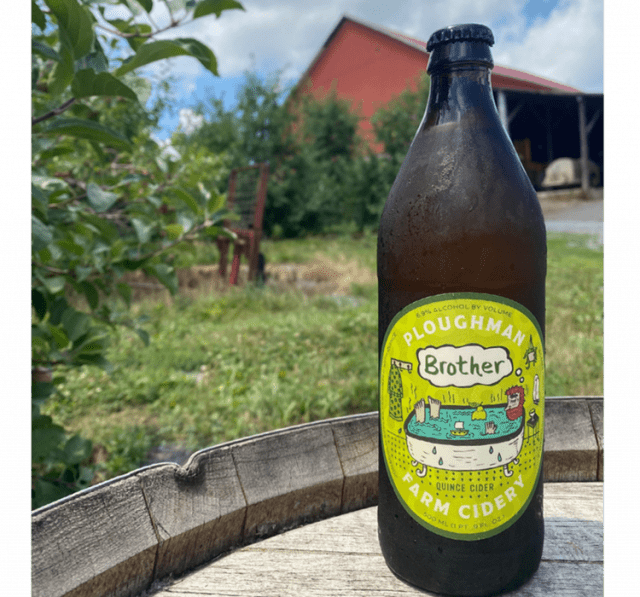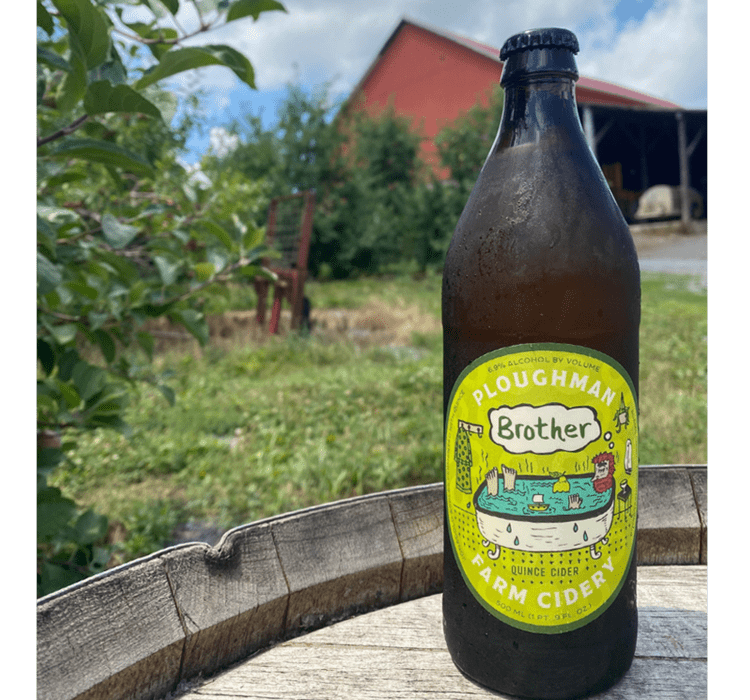 This special seasonal release from Ploughman (who are from the heart of apple country in Adams County, PA) showcase the wonderful familial ties between apples and quinces in Brother. This cider blends the bold, bright acidity of quince with estate-grown Jonagold apples. Brother is currently sold out for the season; keep an eye on Ploughman's online shop for its return.
 

 

View this post on Instagram

 
This Port Townsend, Washington-based make of artisan wine, cider and mead dabbles in a number of quince ciders. There's a complex, savory and slightly sweet 100% quince cider; a crisp and refreshing cranberry quince cider; and the one we're most captivated with: lavender quince and pear cider. This fragrant, mellow cider harnesses the springtime fairy queen aromas of this floral herb with the soft, perfume-y aromatics of pear and quince for a truly unique cider expression. Shop online or visit the tasting room.
 

 

View this post on Instagram

 
We first tried Peak Light's quince cider when it was featured in a Northwest Cider Club box, and what a dry, delicate and beautiful treat it was. It's made with a blend of several varieties of quince and late maturing apples, and the result is floral and botanical. Peak Light's tasting notes for it are: wild rose, honeycomb, and green banana with a crisp apple finish. Shop online or use Peak Light's cider finder.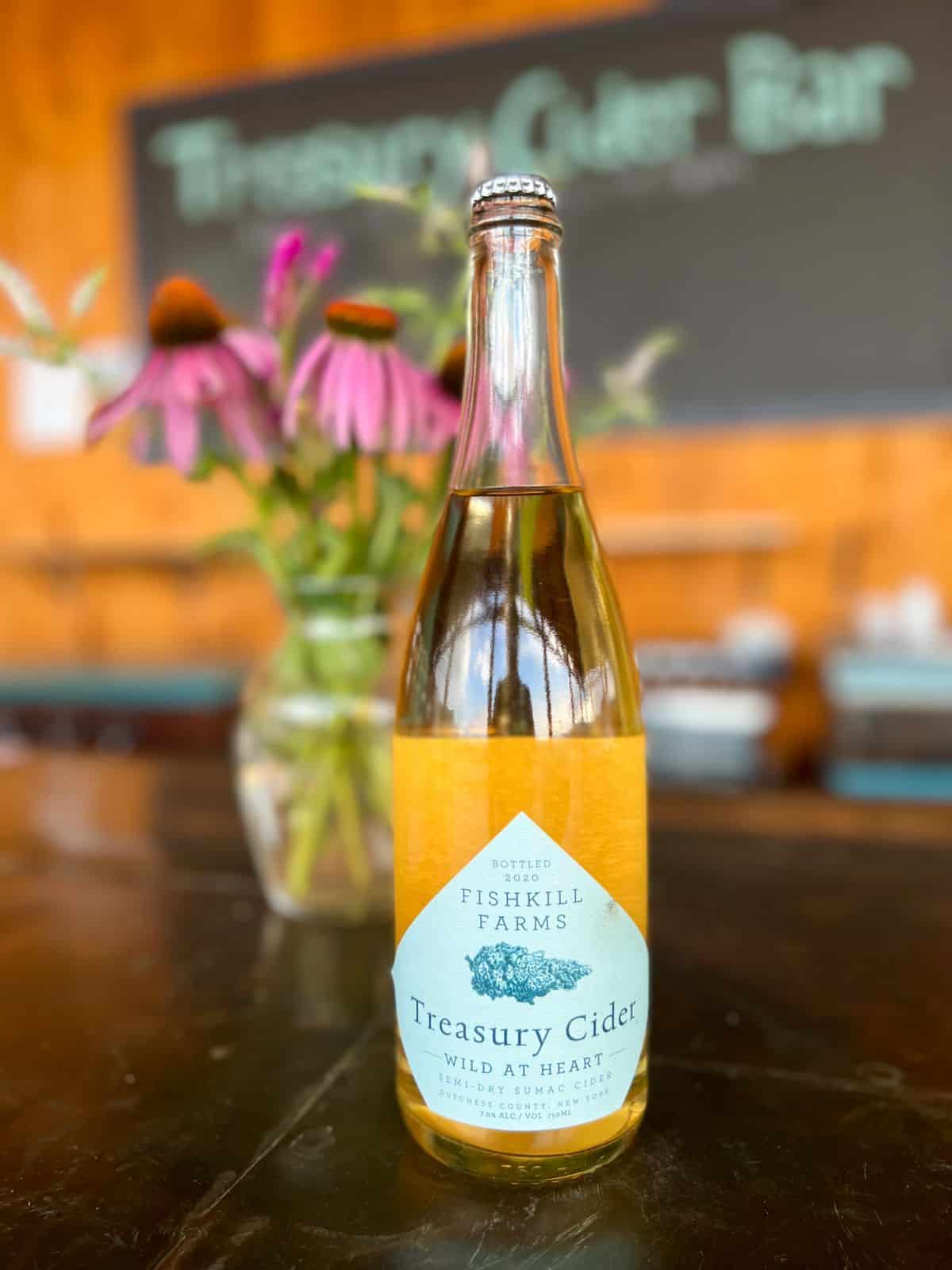 With one of the prettiest tasting rooms in the Hudson Valley, New York (which is saying A LOT), the views alone are enough to warrant a visit to Treasury Cider. But its ciders are a worthy attraction, as well, including the juicy, fruity Wild at Heart, a semi-dry cider made with quince and many kinds of heirloom apples, wild-fermented and steeped with foraged staghorn sumac. It's official tasting notes include: a confectionery quality of candy apples as well as cedar and pine on the nose; medium-full-bodied, ever so slightly sweet and lightly sparkling with just a bit of astringency on the finish. Find more info on visiting the tasting room here.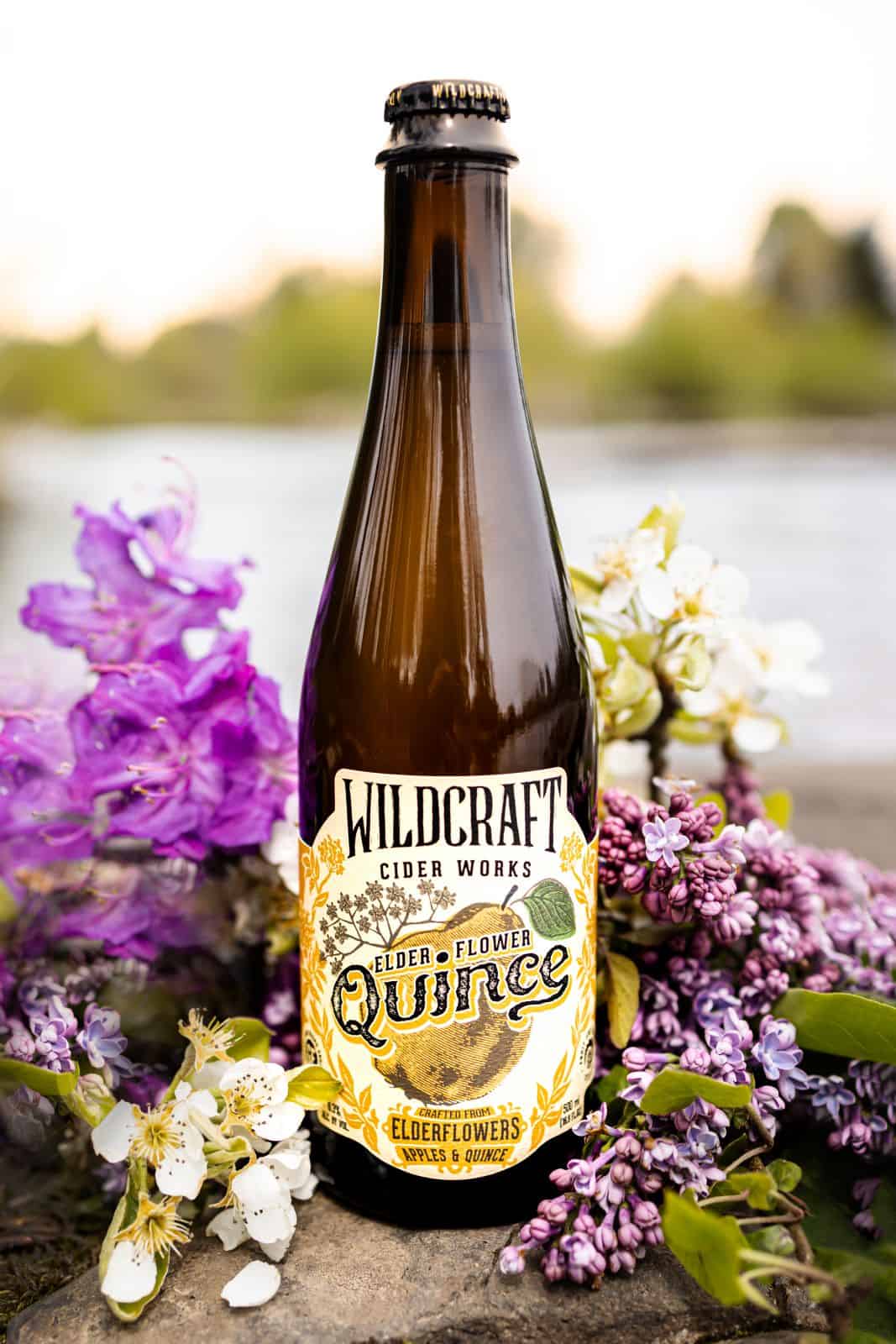 WildCraft Cider Works, located in Eugene, OR, is no stranger to obscure fruits and experimental flavors. In this pretty cider, this lesser known pome fruit is the star; the cider includes three quince varieties, all planted, grown and harvested at the biodynamic WildCraft Orchard at Meadowview Farm. The quince were shredded and lightly fermented on the skins for two weeks prior to pressing then aged for six months. Then, this fruit wine was blended with Jonagold apple cider and then cold-conditioned with elderflowers. Shop online or visit WildCraft's tasting room.
Have you tried quince cider? What are your impressions? Let us know!