It's all too easy to think of beer and cider in their own separate worlds, with nary an interaction between them. But, things are rarely so tidy, and in the past few years there have been a number of crossover beverages made, including ciders made with beer yeast, beer/cider hybrids, and we've seen breweries dipping their toes into the world of cider making.
The rule-breaking and boundary-crossing continues, and we're loving it! We've just learned that Cooperstown, NY-based Brewery Ommegang is launching Project Cider, a new exploration of the intersection of European and American cider traditions. This esteemed brewery will kick things off with two canned modern ciders: Dry and Rosé.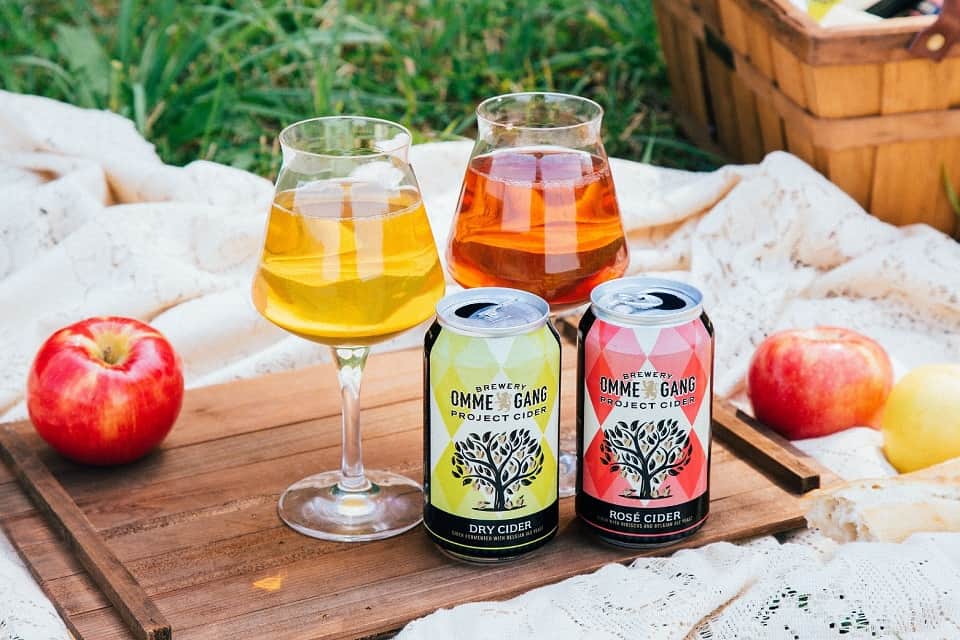 Both ciders use a fresh-pressed blend of New York State culinary apples, including McIntosh, Gala, Red Delicious and Pazazz, which are fermented with Ommegang's Belgian house yeast, then clarified and carbonated. The Dry offers aromas of orange peel, grapefruit and honey and flavors of ripe melon, pear and citrus zest, while the Rosé combines hints of raspberry with the tartness of hibiscus. Both are medium-bodied and dry, and weigh in at 6.5% ABV and 150 calories. Food pairing suggestions include soft, creamy cheeses, like brie, and spicy Thai food.
"For 22 years, Brewery Ommegang has put a distinctly American twist on classic Belgian brewing styles," said Ommegang president Doug Campbell. "But a few years ago, during a trip through Belgium and France, we were blown away by some of the incredibly complex, dry, and drinkable ciders we found there. Because New York state produces some of the best apples in America and has a long, storied tradition of cider making, we started experimenting. Project Cider is the delicious result."
Project Cider goes live in September 2019, and both ciders will be offered year-round on draft and in 4-packs of 12-ounce cans. Not sure where to find Ommegang's products? Check out its handy beer (and in this case, cider) finder! These ciders will be available in all of Ommegang's national markets, or can be enjoyed at Brewery Ommegang's tasting room. Keep tabs on Project Cider by following along on Ommegang's Instagram and Facebook pages.
Find Brewery Ommegang at 656 County Highway 33 in Cooperstown, New York; phone: (607) 544-1800.