Nope, we're not gonna do it — we're not going to give in to either side of the Valentine's Day debate this year. We're not going to say that "love sucks" because, in fact, we love love and think that the world could use a whole lot more of it. But we're also not going to lean too far into the over-the-top romance, because there are infinite types of love beyond the soulmate kind of love, and because if you are in love, it's probably something you should celebrate way more often than just on February 14.
That said, Valentine's Day is a holiday that can be really fun, sometimes in conventional ways, like with a fancy dinner or with chocolates and roses (wait … does anyone actually do that?), and sometimes in more modern ways, like a Galentine's brunch, or a cozy night mixing up cocktails and eating pizza and too much candy with a sibling. Whatever type of vibe feels right for you, there is a cider that's just right for the occasion.
Here are 13 ciders you should be cracking open this Valentine's Day, no matter how you celebrate:
Look at these little cuties from Austin Eastciders! This Texas-based brand always keeps it fun and casual, which is what staying in on Valentine's Day is all about. Austin Eastciders' Dry Rosé and Sangria ciders both are on the dry side, and at 5% ABV, you can sip them all the way through Kill Bill (or whatever your Valentine's Day movie of choice is), no problem. The rosé has tasting notes of crisp apple, rose petals, black currant and hibiscus, and it would make a great pairing with takeout sushi. The Sangria offers berry, apple and sweet cherry notes, and would be killer with nachos or a cheese plate.
If you and your date are staying in, set the mood with a can of Plush or Nude cider from Lake City, Georgia's North 2 South Cider Works. Disclaimer: We're pretty sure this is only a good idea if you and your boo have similar senses of humor! Nude is this cidery's straightforward all-apple cider, and Plush is its smooth, dry rosé, with hibiscus and lime. Both are fermented dry, with plenty of local-fruit flavor.
Instead of a bouquet of flowers (which are totally out of season in most parts of the country right now anyway) try a floral, herbal cider! One of the best-selling offerings from City Orchard, also from Texas, is its Lavender Royale, made with a blend of culinary apples, steeped with lavender from the Texas Hill Country and balanced with local honey. Though it is fresh and botanical, you won't have that unfortunate "Am I drinking body wash?" experience that sometimes happens with other floral beverages. Find City Orchard's products at its tasting room in Houston or shop online.
Planning to destroy a box of chocolates with your BFF? Pair all of those super-rich bon-bons with a fresh, fruity cider, like Stem Cider's Raspberry Cider. This dry cider is a juicy, balanced sipper with enough tartness to stand up to dark chocolate, milk chocolate and caramel, alike.
Ciders made from red-fleshed apples are practically meant for this narrow color-schemed holiday. Snowdrift Cider Co.'s Red Cider, which comes in a cute 500-ml. bottle channels the loving feelings with a beautiful hue and complex profile of bright acidity and juicy fruit flavors. Tasting notes include: cranberries, watermelon, rhubarb and strawberries (all the red things!), with soft toffee tones on the finish.
If you can get your hands on anything from Fable Farm Fermentory, we highly suggest you do! The quiet elegance and complex flavors of its ciders and wines are perfect for a special occasion. If you have a few to choose from, try Fluxion, a sparkling apple wine made from the merging of multiple vintages of cider aged in an assortment of wood barrels. This dry, refreshing cider was made in the traditional method, with maple syrup used to start a secondary fermentation in bottle. According to Fable Farm, "Fluxion is defined as 'the act of flowing; the matter that flows.'" Isn't that what we're all hoping for when it comes to love? Shop online, head to its tasting room in Barnard, Vermont, or peruse one of Fable Farm's stockists, which are mostly in Vermont, but a few other places, as well.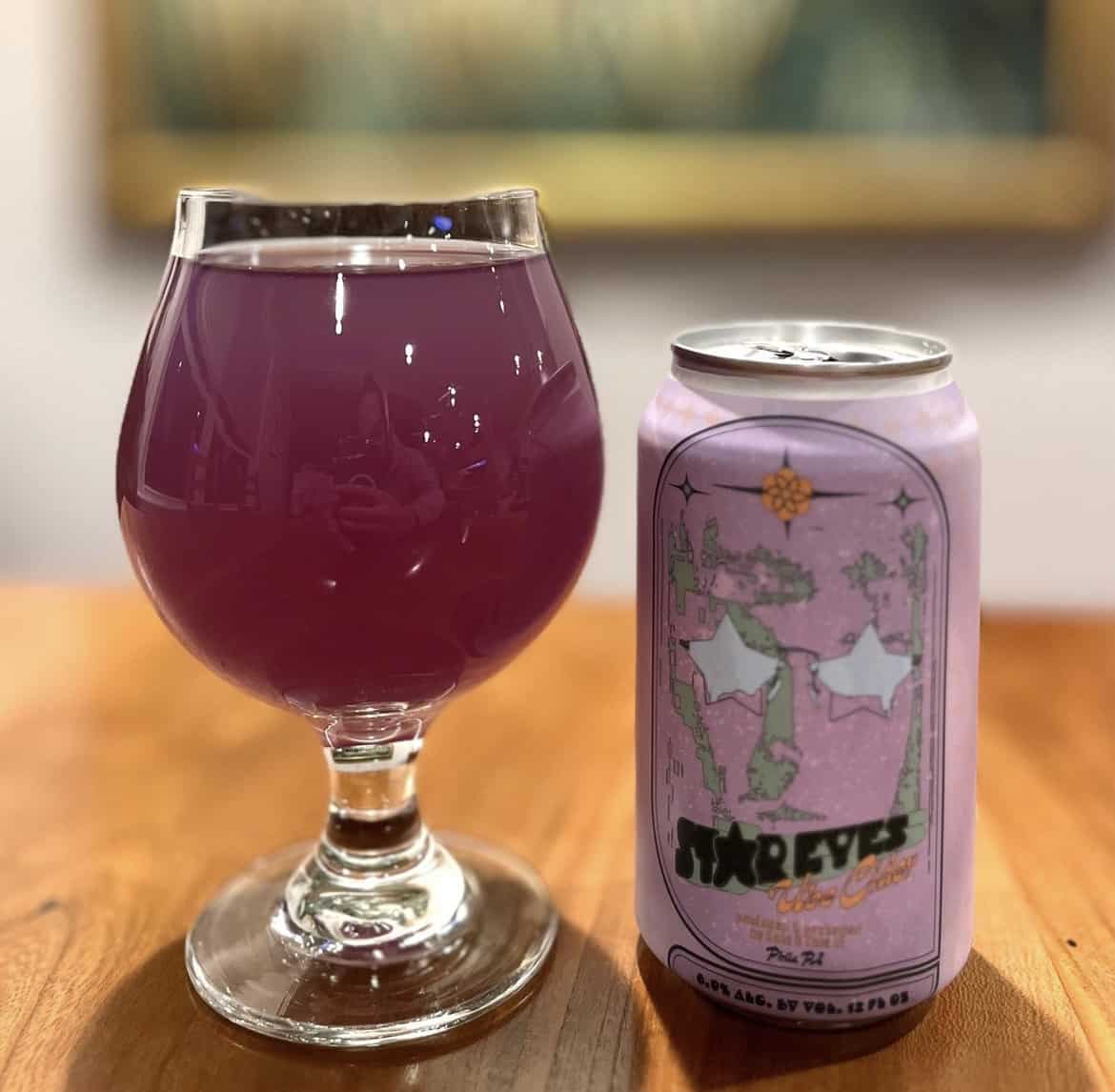 Stareyes is a fun, collaborative release from Philly's Hale & True Cider Co. along with Forin Cafe and Paratodo Co., a local clothing brand. This co-fermentation of apples and ube with raspberry blossom honey and butterfly pea powder, has Galentine's written all over it. The charming purple color, plus the retro-inspired can makes this is the one to crack for living room dance parties, preferably with a very Robyn-heavy playlist cued up.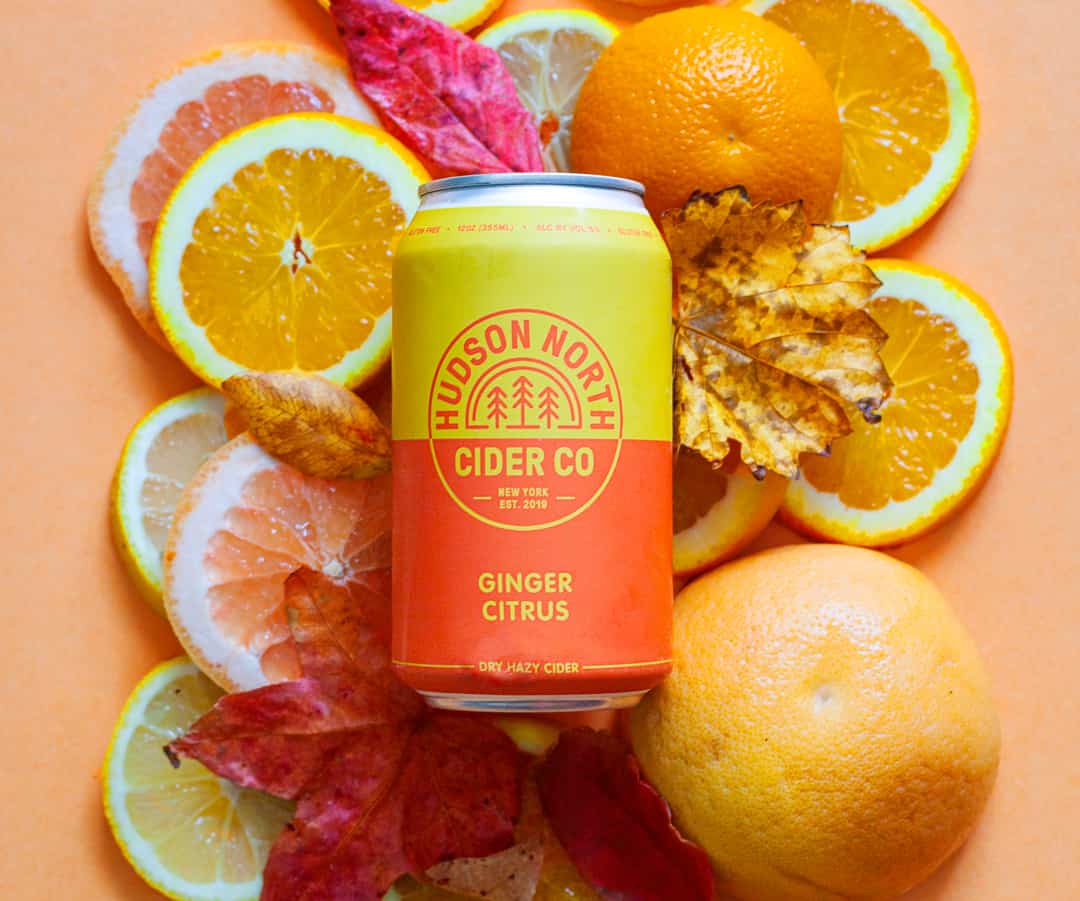 Hoping to spice things up? Ginger ciders bring a real sassy kick to the party and make incredible pairings with some of our favorite takeout options, like Thai and Vietnamese food. Ginger and apples are also cozy companions, as apple's sweet-tart nature and ginger's cool heat create a good kind of tension — know what we mean? Hudson North Cider Ginger Citrus is an special extra-spicy ginger cider with notes of orange and grapefruit that's a real winner for a casual date night.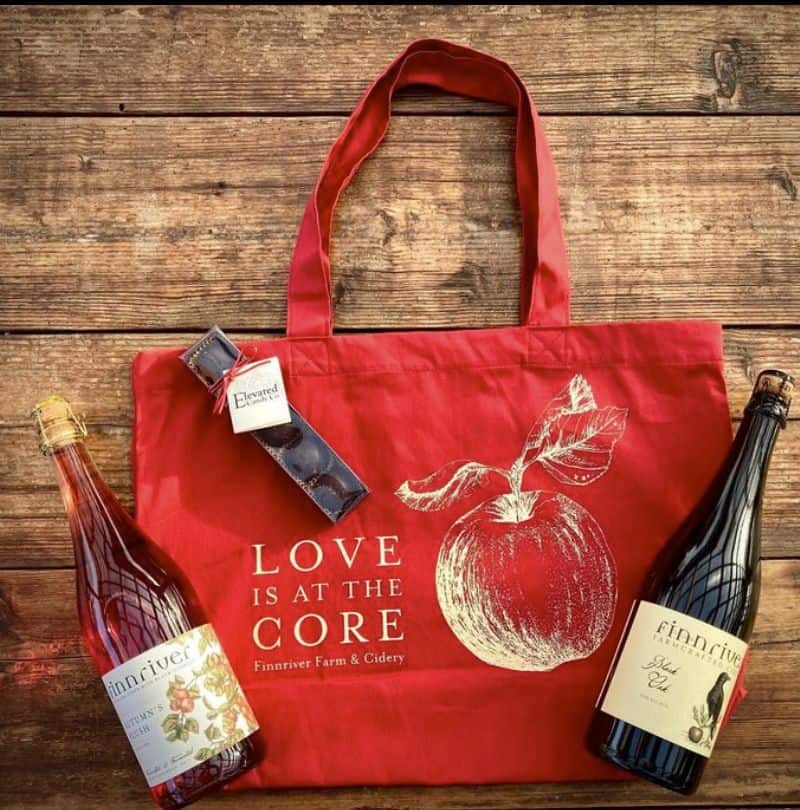 Valentine's Day doesn't have to be all pinks and reds — but sometimes it's fun to just lean all the way into it. The special Love is at the Core gift set from Finnriver Farm & Cidery, is a love letter to the land, the magic of fermentation and the community surrounding Finnriver! Meant to uplift love and spark joy, this fun collection includes a box of chocolate truffles from Elevated Candy, a bottle of Finnriver's blackcurrant-infused Autumn's Blush cider and a bottle of Black Oak, part of the cidery's Orchard Series, featuring homegrown cider apples. Bonus: Everything comes in a charming red themed tote bag!
If it is pink cider that you're after, and you want a large-format bottle for your cozy dinner in or out, one of the best of the bunch is Scarlett from Ethic Ciders. This seasonal cider release is a blend of dry farmed heirloom apples (57% Gravenstein, 38% Johnathan and 5% Northern Spy) from its orchard in Sebastopol, CA, with local, organic blackberries and raspberries picked at peak ripeness. The name is a tribute to the cider makers' young niece, Scarlett, who they say is, "beautiful, playful and wildly charismatic." Effervescent and dry, with a lush berry finish, it's a really pretty, really delicious cider. Shop online or use Ethic's cider finder to locate a shop near you that carries its ciders (California only).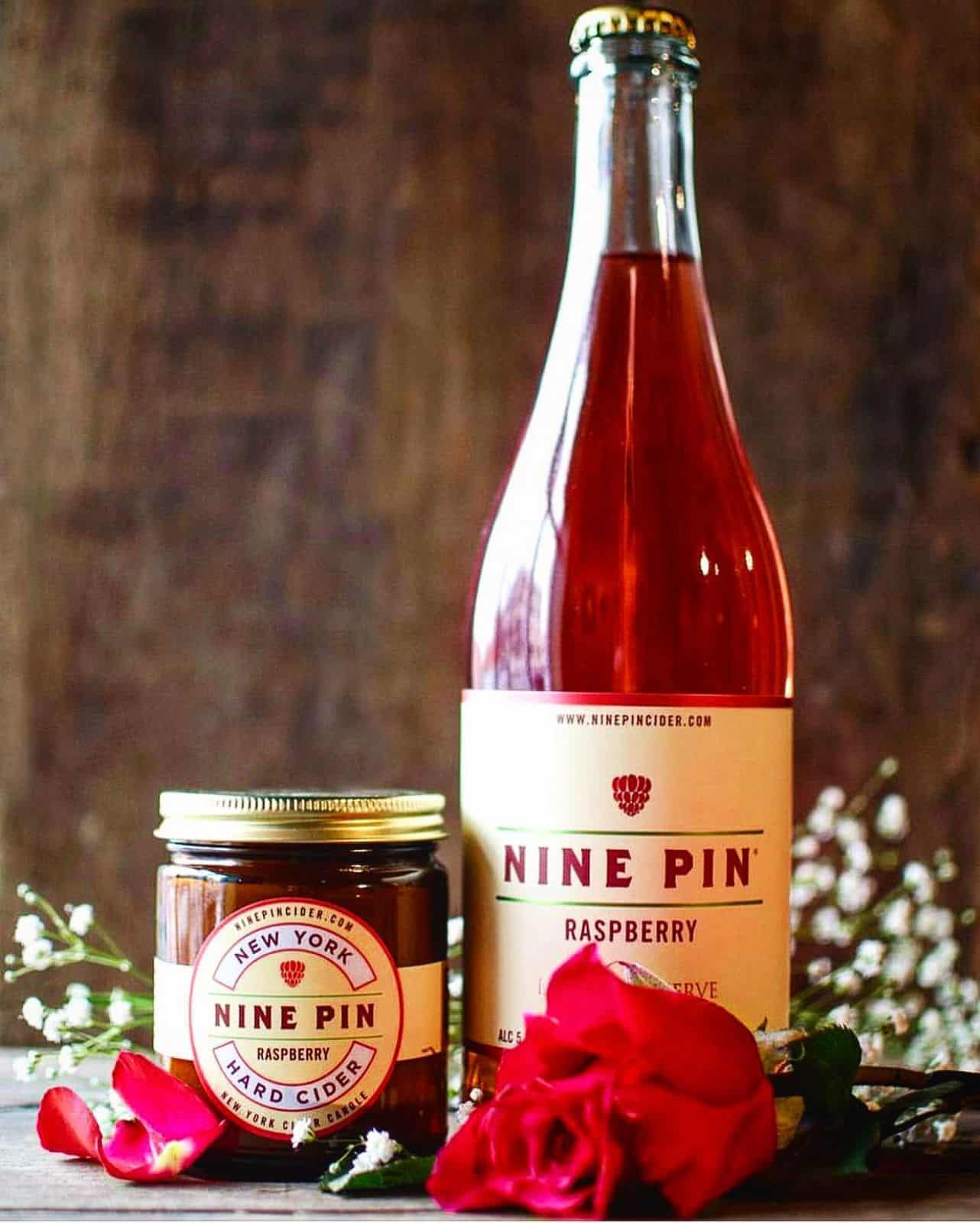 In most parts of the US, February really isn't berry season. Skip the sad, pale grocery store berries and sip a raspberry cider instead! Nine Pin Cider's Raspberry is a co- ferment made from a blend of early apple varieties and late season raspberries. It's tart, balanced and the most charming pink color (break out the coupe glasses for the full effect). For bonus romance points, pick up a Raspberry Hard Cider candle, a collaboration between Nine Pin and Collar City Candles.
Are you anti-Valentine's Day, or all about it, or ambivalent? Either way, let us know what you'll be cracking open this year on February 14! Tell us in the comments here, or on the Cider Culture Facebook page.
Hereford Gold photo: Anxo Cider