Nope, we're not gonna do it — we're not going to give in to either side of the Valentine's Day debate this year. We're not going to say that "love sucks" because, in fact, we love love and think that the world could use a whole lot more of it. But we're also not going to lean too far into the over-the-top romance, because there are infinite types of love beyond the soulmate kind of love, and because if you are in love, it's probably something you should celebrate way more often than just on February 14.
That said, Valentine's Day is a holiday that can be really fun, sometimes in conventional ways, like with reservations to a fancy dinner or with chocolates and roses (wait … does anyone actually do that?), and sometimes in more modern ways, like a Galentine's night out or a cozy night shaking up cocktails and eating pizza and too much candy with a sibling. Whatever type of vibe feels right for you, there is a cider that's just right for the occasion.
Here are 11 ciders you should be cracking open this Valentine's Day, no matter how you celebrate:
Ciders for Staying In
Look at these little cuties from Austin Eastciders! This Texas-based brand always keeps it fun and casual, which is what staying in on Valentine's Day is all about. Its Dry Rosé and Sangria ciders both are on the dry side, and at 5% ABV, you can sip them all the way through Kill Bill (or whatever your Valentine's Day movie of choice is), no problem. The rosé has tasting notes of crisp apple, rose petals, black currant and hibiscus, and would make a great pairing with takeout sushi. The Sangria offers berry, apple and sweet cherry notes, and would be killer with nachos or a cheese plate.
If you and your date are staying in, set the mood with a can of Plush or Nude cider from Lake City, Georgia's North 2 South Cider Works. Disclaimer: We're pretty sure this is only a good idea if you and your boo have similar senses of humor! Nude is this cidery's straightforward all-apple cider, and Plush is its smooth, dry rosé, with hibiscus and lime. Both are fermented dry, with plenty of local-fruit flavor.
Instead of a bouquet of flowers, which are totally out of season anyway, try a floral, herbal cider! Diner Brew Co., one of the rare breweries that also makes very good cider, makes Herbalist's Cider. Infused with local lavender and coriander, which keep the aromatics in balance with juicy New York State apples (so good, it won a silver medal at GLINTCAP in 2019), you won't have that unfortunate "Am I drinking body wash?" experience that sometimes happens with floral beverages. Find Diner Brew Co.'s products at its tasting room in New Rochelle, New York, or at retailers in the surrounding area.
Planning to destroy a box of chocolates with your BFF? Pair all of those super-rich bon-bons with a fresh, fruity cider, like Stem Cider's Raspberry Cider. Made with real raspberry puree, it's tart, refreshing and a pretty pale pink, with a light tannic structure that can stand up to dark chocolate, milk chocolate and caramel alike.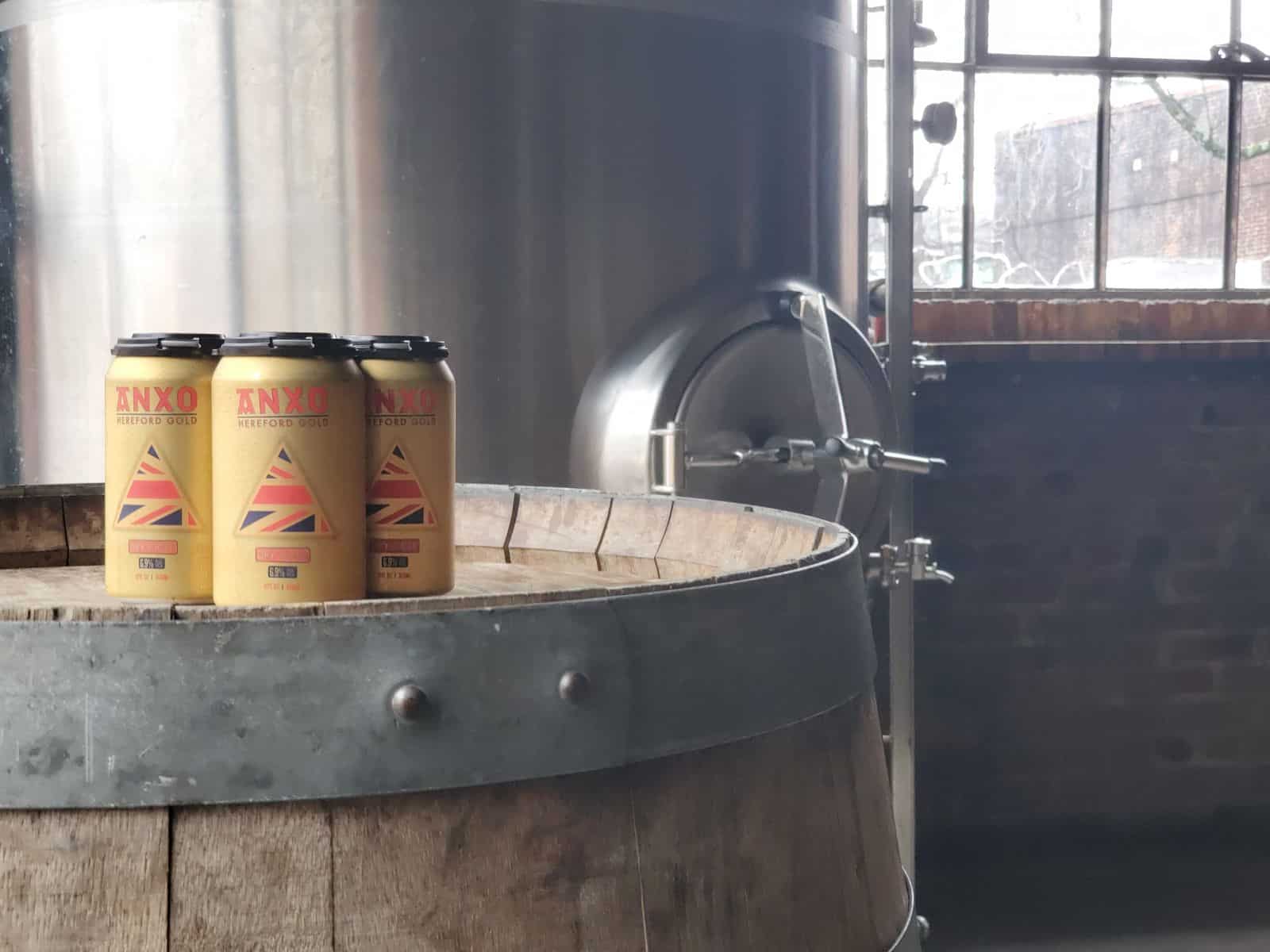 We love the new glitzy gold cans on Anxo Cider's Hereford Gold cider (formerly called Intercontinental), a collaboration with the legendary English cider maker Tom Oliver of Oliver's Cider & Perry. Inside this glam can, you'll find a quintessential tannic English West Country cider, which begins as juice from English bittersweet and bitter-sharp varietals, fermented in the UK by Oliver. The juice is then shipped to Anxo in Washington, DC, where it's blended with Goldrush apples sourced from Peter's Orchard in Adams County, Pennsylvania. This is a union we can get behind!
Ciders for Going Out
If you can get your hands on anything from Fable Farm Fermentory, we highly suggest it. The quiet elegance and complex flavors of its ciders and wines are perfect for a special occasion. If you have a few to choose from, try Fluxion, a sparkling apple wine made from the merging of multiple vintages of cider aged in an assortment of wood barrels. This dry, refreshing cider was made in the traditional method, with maple syrup used to start a secondary fermentation in bottle. According to Fable Farm, "Fluxion is defined as 'the act of flowing; the matter that flows.'" Isn't that what we're all hoping for when it comes to love? Shop online, head to its tasting room in Barnard, Vermont, or peruse one of Fable Farm's stockists, which are mostly in Vermont, but a few other places, as well.
For something a little unexpected, turn to cider's demure cousin, perry, for a delicious BYO-beverage option. Independent Cider Co., based in Dryden, Washington, makes only perry; pick up a bottle of its Sno Gem Perry, an approachable, dry, slightly tangy sipper with notes of citrus.​ Sno Gem was the name originally used in the 1950s to market and promote pears from Independent Cider's orchard, making this perry an homage to the brand's history and heritage. This bottle would make an excellent pairing at any farm-to-table restaurant!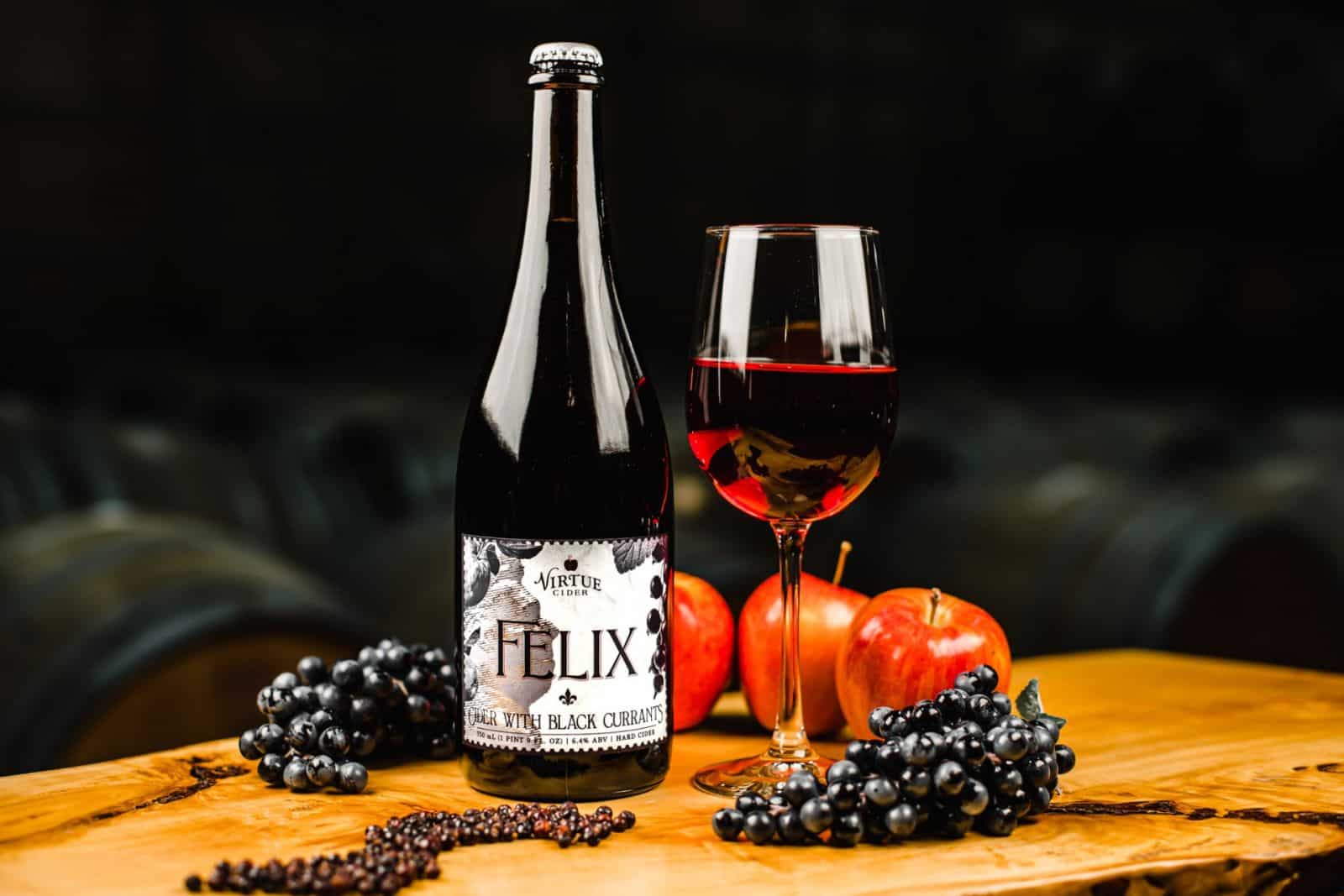 Valentine's Day doesn't have to be all pinks and reds — rich crimsons and purples can speak a bit more accurately to the pleasures and pain of intimacy. Felix, one of Virtue Cider's newest releases, is a cider made with black currants, named after Félix Kir, the inventor of the Kir Royale cocktail (crème de cassis and white wine or sparkling wine). This cider is a gorgeous deep-red color, made with Michigan apples and black currants, aged in French oak barrels. Look for notes of currant and blackberry jam, a medium body and a dry finish. For now, Felix is only available at Virtue's tasting room in Fennville, Michigan, and to its cider club members.
If it is pink cider that you're after, and you want a large-format bottle for your cozy dinner out, one of the best of the bunch is Scarlett from Ethic Ciders. This seasonal cider release is a blend of dry farmed heirloom apples (57% Gravenstein, 38% Johnathan and 5% Northern Spy) from its orchard in Sebastopol, CA, with local, organic blackberries and raspberries picked at peak ripeness. The name is a tribute to the cider makers' young niece, Scarlett, who they say is, "beautiful, playful and wildly charismatic." Effervescent and dry, with a lush berry finish, it's a really pretty, really delicious cider. Shop online or use Ethic's cider finder to locate a shop near you that carries its ciders (California only).
Are you anti-Valentine's Day, all about it, or ambivalent? Either way, let us know, and share in the comments here, or on the Cider Culture Facebook page, what you'll be cracking open this year on February 14!
Hereford Gold photo: Anxo Cider