It's been a sweltering summer so far y'all, and at the end of each humid, sticky day, we're more than ready for a glass or two of crisp, bright cider. When you're ready to cool off and kick it after a day of sun-drenched activities — or, you know, just working from home — why not reach for a unique, local gem?
There are so many cideries across that US now that, no matter where you live, you can find lovely and interesting craft ciders made by your neighbors! Don't worry, we added online shopping links when relevant, so if you fall in love with a cider that's not local to you, you can still order it.
Buckle up, because we've rounded up 30 badass ciders to enjoy this summer:
New England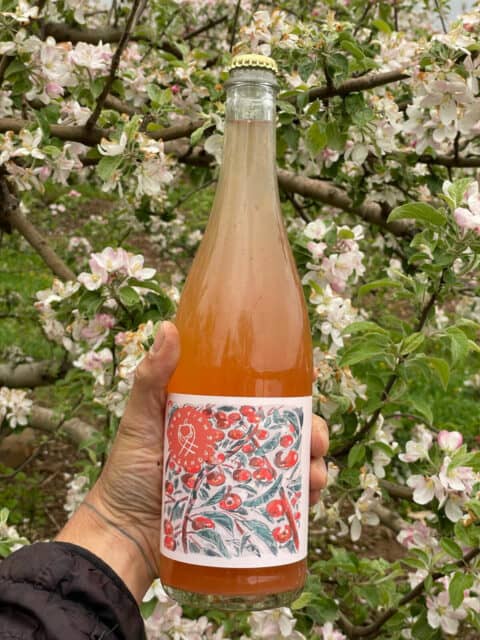 Connecticut: The tart and dry co-fermented fruited ciders from Long View Ciderhouse have summer written all over them. Using apples sourced from their eighth-generation family farm, and ripe cherries, peaches and blueberries, these bottle-conditioned, low-sulfite ciders are a real treat. Head here to shop online.
 

 

View this post on Instagram

 
Maine: Crafted on a gorgeous farm in Maine using old-world techniques, Absolem Cider brings a sense of exploration to its line of ciders. There are plenty of rad cider/wine hybrids among them, like White Lotus (cider with Vidal Blanc grapes) and Dayglow (skin contact cider with L'Acadie grapes), but we've got our eye on Alpine Summer, a rosé-ish cider co-fermented with Chambourcin and Riesling. Check the website for more info on visiting and stockists.
Vermont: The ciders at Wildbranch Cider start with foraged wild apples (the team seeks out and catalogs wild apple trees across VT's Northeast Kingdom), which are then made like natural wine: slowly fermented with native yeasts, unfiltered and bottle-conditioned. For a mellow, crisp nightcap, try its new Bitter-Sweet cider, made with Dabinett and Binet Rouge apples. Check Wildbranch's website for stockist info.
NY/NJ/PA
 

 

View this post on Instagram

 
New York: Nika Carlson of Greenpoint Cidery draws from the land surrounding her cidermaking facility in Hudson, NY, for her creative, expressive ciders. Case in point: the 2022 release of Days of Heaven, a still dandelion cider made with wild fermented apples from northern New York, and foraged dandelions. The liquid is acid-drive and floral, with a bitter green edge. The handcrafted nature extends to the bottles, which are individually painted and wax-dipped. Shop online here.
New Jersey: At Burnt Mills Cider Co.'s tasting room in Bedminster, NJ, you'll find 10 ciders on draft, mostly modern ciders made with familiar adjunct ingredients like Montmorency cherries, strawberries and hibiscus. Less expected are the cucumber and basil in its Jersey Summer cider, an unusual combo that is evocative of digging in the garden. Head to its website for more info, including tasting room hours.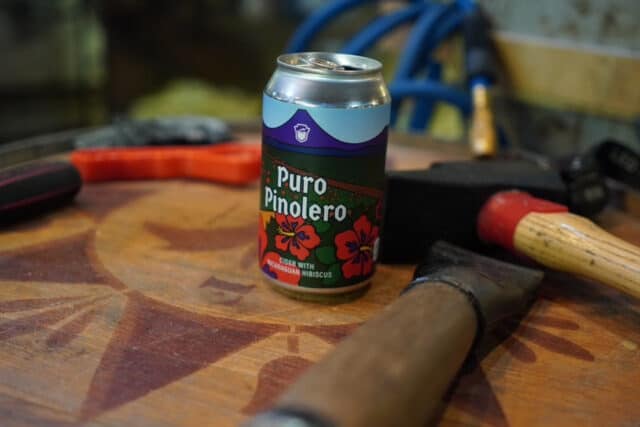 Pennsylvania: Puro Pinolero is a new, limited release from Ploughman Cider, a cider made with Nicaraguan hibiscus flowers, which lend a rich red color and wine-ish flavor notes. A portion of the sales will benefit Project Gettysburg-Leon, a nonprofit sister city organization between Gettysburg and Leon, Nicaragua. Shop online here.
Maryland/DC/Virginia
Maryland: The selection of Euro-inspired ciders at Two Story Chimney Ciderworks are rounded out with session-friendly options, like Sweet-Tart and Ruby Red Hopped Cider. But, come peak summer, we're reaching for whatever's newest in its Foraged & Farmed Series, a limited, seasonal run of ciders accented with foraged berries, like wild mulberries! Check its website for more info on visiting (including axe- throwing on the weekends!).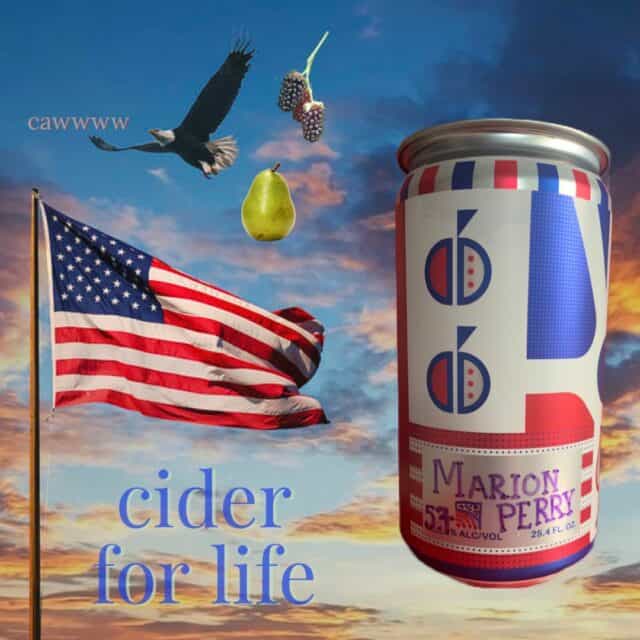 DC: We've seen lots of fruits other than apples make their way into cider; one of the more obscure ones out there is marionberry. And when you do find marionberries, they're usually in ciders from the Pacific Northwest. So, we were stoked to see this fruit make an appearance in Capitol Cider House's new small-batch seasonal release, Marion Perry, a blend of pears and a marionberry reduction, finished with green tea. It's only available at Capitol Cider's DC taproom (also through takeout).
 

 

View this post on Instagram

 
Virginia: Wake up your palate with the bracing acidity of crab apples in the newest release from Albemarle CiderWorks, Crab Medley. It's a big crabby blend of Hewes Crab, Wickson Crab, Dolgo Crab, Hyslop Crab, Geneva Crab, Red Siberian Crab and Nelson County Crab⁠! On the nose, find aromas of stone fruit, with tart acidity on the palate and pleasant tannic-driven structure. The pun-inspired among you may even want to serve this at a crab boil? Shop online.
Southeastern States
 

 

View this post on Instagram

 
Tennessee: Yes, everyone has their own favorite rosé cider, but you might have to find room in your heart for one more: Diskin Cider's Babe Magnet, a summer seasonal cider (not out til August 11), made with strawberries and lime. Hello, poolside refreshment! Shop online.
Kentucky: There's something so special about single-orchard ciders; if you're searching for a taste of terroir, it's the way to go. The Commonwealth Series from Wise Bird Cider Co. was created to showcase Kentucky orchards and apples, like its Browning Orchard cider, made from York Imperial, Kind David, Winesap and Redfield apples grown at Browning Orchard in Fleming County, Kentucky. Shop online.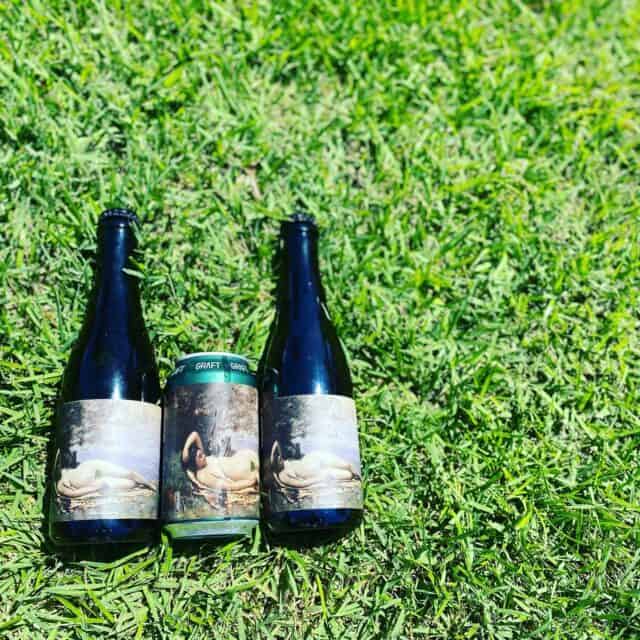 North Carolina: If you're every in the mood for offbeat, experimental ciders, Botanist & Barrel will always have you covered. Take, for example, it's brand new release, The Whole Bush is a Blueberry Bush. This collaboration with Graft Cider started with the two companies swapping cider cultures and each creating a blueberry cider blend, infused with the essence of blueberry wood, leaves, and Botanist & Barrel's own organic dry farmed blueberries. Shop online here.
Georgia: You know those nights where it's too hot to eat anything but olives, tomatoes and crusty bread? Pair that tapas-esque dinner with a Basque-style cider, Sidra Urbano, from Urban Tree Cidery. It's super-dry and pleasantly funky with a tart, dry, tannic palate. Don't forget to try the long pour! Available at the cidery or via local delivery.
Midwest
 

 

View this post on Instagram

 
Ohio: Have you ever had a paw paw? These fruits, which are indigenous to the eastern PA and some parts of the Midwest, look a little like mangoes, and have a tropical flavor somewhere in the realm of cantaloupes, bananas and mangoes with a custard-y texture. We rarely see paw paws in cider and get excited when we do, like on the menu at West End Ciderhouse & Distillery in downtown Athens. Try a draft pour, or grab a few 12-oz. cans to-go.
 

 

View this post on Instagram

 
Illinois: Floral ciders never go out of style, but we especially love them in summer, when everything is buzzing and blooming. Right Bee Cider's Blossom, a limited release, incorporates two unique botanicals: cherry blossoms and lemon myrtle, an herb native to Australia with citrus aromas, a whiff of menthol essence and a robust lemon flavor. This semi-dry cider balances both essences with a touch of honey for smooth sweetness. Find it in the taproom or buy online for local pick-up.
Michigan: Bløm Meadworks makes a lot of rad mead, but they don't slack on the cider side of things! We love the idea of cracking a can of its funky, delicately fruity Perry Saison (made with Bosc pears and saison yeast) during a game of bocce ball or a few rounds of Sushi Go in the AC. Buy online.
 

 

View this post on Instagram

 
Wisconsin: Apple nerds, get stoked about The Cider Farm's limited release cider, Tremlette's. Made from a blend of the unusual Geneva Tremlett's Bitter apple (pictured above), a bittersharp cider apple that brings fabulous tannins to the party, and sweet, aromatic Priscilla apples. The cider is both fruity and floral, with aromas of apple skin, lemon and honeysuckle, balanced acidity and notes of green grape, apricot and subtle minerality. Shop online.
Southwest
 

 

View this post on Instagram

 
Colorado: Waldschänke Ciders is named for the Swiss-German word, waldschänke, which translates to "forest tavern" (isn't that the loveliest phrase?). This Denver-based cidery and coffeeshop is inspired by Swiss cidermaking traditions, and offers a compelling line of unfiltered ciders in a number of flavors. In summertime, a pour of Watermelon High, a limited release made with fresh-squeezed watermelon juice, seems like the right move. Check the website for info local delivery, cidery hours and more.
Arizona: Our love of cider margaritas is well-documented; for those evenings when you don't feel like playing mixologist, a cider rested in spent tequila barrels is just the thing. Stoic Cider's Tequila Barrel cider, in perfect little 375-ml bottles, is made from tiny crabapples for a tingly tart flavor, tamed gently by the caramel character of the barrels. Birria tacos not required, but always a good idea. Shop online.
 

 

View this post on Instagram

 
Texas: Blow your beer bro friends' minds with a pour of Hey, Bud. Sabro!, the newest release from Texas Keeper Cider. This dry-hopped cider (Sabro and Cashmere, for when your friends ask), is unfiltered and unfined for incredible texture, and aged for nine months. With no residual sugar, 7.5% ABV and notes of stone fruit and cut grass with just a hint of hoppy dankness, this baby is a perfect swap for an IPA. Shop online.
California
 

 

View this post on Instagram

 
You might think of chai as a wintery beverage, but Newtopia Cyder's Chai Me a River, goes down easy any time of year. Think of it like an iced chai latte, but cider-ified. A blend of culinary apples (Fuji, Gala, Honey Crisp, Red Delicious and Granny Smith) is hit with a nice blend of spices that drinks surprisingly light and crisp. An off-dry character is enhanced with chamomile and fresh chrysanthemum aromas. Shop online.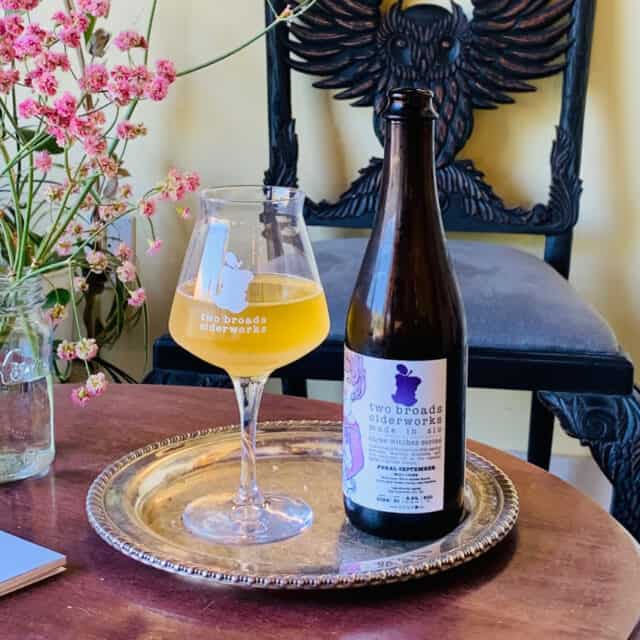 You can always count on Two Broads Ciderworks in SLO for apple-driven ciders with immaculate vibes (they have a cider called WAP, okay?). Feral September is the new cider in their Three Witches collection, a wild ferment from a single orchard. A whole seasons' worth of apples (Gala, Granny Smith, Braeburn, Rhode Island Greening and others), were pressed then fermented in a shared barrel throughout last year's harvest. Open soon for notes of lemongrass with a velvety mouthfeel and dry finish, or cellar for a year or two to see where it goes.
The Oh, Shandy! cider from Posterity Ciderworks answers the question: What if you made a citrus cider with the care and expertise usually reserved for more "serious" ciders? Estate-grown pink grapefruits (yes, you read that right!) are fresh-squeezed and blended with apples. The cider is made méthod ancestrale, with a little local Meyer lemon added after disgorging. Try this elegant sparkling cider for a knockout at brunch. Shop online.
Northwest
 

 

View this post on Instagram

 
Oregon: Three cheers for zero-proof ciders! It seems like more are hitting the market all the time. One newcomer is Happy Hour, the alcohol-removed cider from Reverend Nat's, which is on tap now at its PDX taproom. The first iteration in what will be a whole series of n/a ciders includes pineapple, orange, watermelon and hibiscus today. It's not packaged yet, but will be in the future!
Oregon: For a long time, Son of Man made just one cider, Sagardo, its Oregon-based ode to Basque ciders. It's been cool to watch their offerings expand, including Txiki, a spontaneously fermented 50/50 blend of Columbia Crabapple and Muscadet de Dieppe, aged 6 months in stainless. Txiki, which means "little" in Euskara (the Basque language) is decidedly not little on flavor, with bold tartness and complexity. The easily packable cans are great for hikes and other outdoor adventures. Shop online.
 

 

View this post on Instagram

 
Washington: Island Elixir No. 1 from Greenbank Cidery does not have the tropical ingredients you may be expecting from its name. Instead, it features ingredients sourced from the local ecosystem of Whidbey Island, a beautiful island in the Puget Sound, north of Seattle. Deep forest turkey tail mushrooms, local lavender and fireweed tea (considered natural anti-inflammatory and anti-antioxidant rich) are added to a refreshing cider made with heirloom apples. Shop online.
Idaho: Hard seltzers and cider seltzers are still going strong on the trend front, but there are other ways to enjoy a crushable bevvie with zero grams of sugar. For example: Zero Brix from Cedar Draw Cider, a completely dry cider made with fresh-pressed apples, with plenty of apple aromas and pineapple notes. Shop online.
 

 

View this post on Instagram

 
Montana: Western Cider's got the cider mimosa combo down with VIVEZA! Grapefruit and Kumquat Mimosa. It's made with hand-squished kumquats, grapefruit juice and zest, for a slightly hazy and dry cider! Buy online.
Hawaii & Alaska
 

 

View this post on Instagram

 
Hawaii: At Hawaii's first cidery, Paradise Ciders, many of the fruited ciders (mango, pineapple, dragon fruit) are inspired by the abundance of the islands. One of the more specialized flavors is Calamansi, a tart citrus fruit sometimes called "Philippine lime." If you find yourself in actual paradise, sipping one of these, consider us very jealous. See here for more info, including taproom hours.
 

 

View this post on Instagram

 
Alaska: Fresh-pressed rhubarb and zippy herbs come together in Crimson & Mint hyper-refreshing cider from Alaska's first micro-cidery, Double Shovel Cider Co. It's such a vivid, delightful color that really glows in the glass and pops on the palate with summer flavors. Shop online for local pick-up.
 Cheers to an amazing summer! Follow Cider Culture on Instagram and Facebook for more fresh craft cider content.