More and more these days, businesses are stepping up to the plate to help do their part to tackle the issues facing our society and our planet. Craft cider makers are among these conscientious companies, often throwing their weight behind initiatives and nonprofits, and giving back to the community in ways, big and small, like Blake Hard Cider's Kinder Cider series, Portland Cider's Oregon Wild Cider and Mountain West Cider's stewardship efforts of the Southern Utah Wilderness Alliance.
Woodchuck has supported causes in the past, like the release of its Private Reserve Pink cider, which honored the mission Dragonheart Vermont, a breast cancer survivor and support organization. This June, Woodchuck is back with another amazing project: a partnership with the Appalachian Trail Conservancy. Woodchuck has called Vermont home since its beginning in 1991, and protecting the state's beautiful landscape is super-important to the Woodchuck team.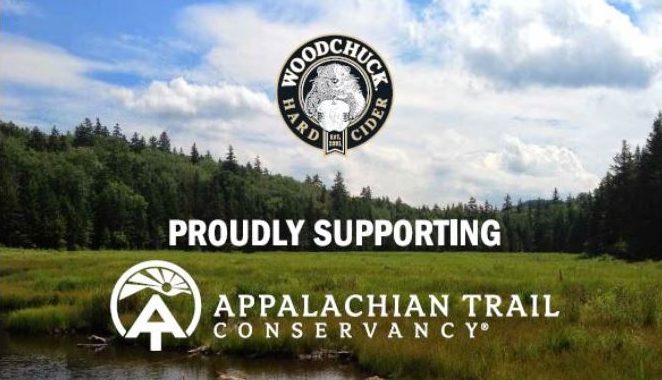 So, during the month of June, Woodchuck is donating $1 for every post on Facebook, Instagram or Twitter using the hashtag #ChuckLovesATC. The goal is to raise between $10,000 and $15,000, with the funds going directly to helping preserve open areas along the Vermont portion of the Appalachian Trail. Woodchuck staffers will also spend a day to help maintain an open area with ATC staff members and Trail management partners from the Green Mountain Club.
"Our fans and employees are outdoors people who enjoy the trail," said Woodchuck Brand Director Megan Skinner. "So partnering with the Appalachian Trail Conservancy felt so natural. We can't wait to see the photos and posts we receive in support of the program."
"This gracious contribution provided by Woodchuck Hard Cider will assist the Appalachian Trail Conservancy in its mission to preserve the last remaining contiguous open space in the eastern United States for generations to come," said Hawk Metheny, regional director for the Conservancy. "We are proud to partner with an organization that values America's irreplaceable landscapes and encourages it fans to join the cause and help protect national treasures like the Appalachian Trail."
So, whether you're cracking cans of Bubbly Rosé at brunch, or 802 Kinda Cloudy after a hike, snap a pic and use the hashtag #ChuckLovesATC to get in on this great fundraiser for an amazing cause! Follow along on Woodchuck's social channels for more details and updates!