Spring is in the air! And wow, are we ready for it. While, at first, we were grateful for winter's chill and the many excuses it gave us to stay inside and make comfort food snacks (hello, pretzels with cider cheese sauce) and sip warm winter ciders, now we crave sunshine! Short sleeves! Berries by the barrel-full!
Happily, there are ciders for every season, and we've gathered seven ciders that feel just right for the blossoming of glorious spring:
The newest installment of Graft Cider's ongoing Book of Nomad series seems to have read our desires for bright fruity flavors. Although it's called Ice Piercer, this cider, with a wild yeast co-ferment of Gewurztraminer grape skins and New York apples, fermented a second time with apricot provides a brain-awakening punch of flavor to clear away the lingering frost. Like all of Grafts' stuff, Ice Piercer is unfiltered, sour and funky. Find some near you with the Graft finder tool.
Just as our lawns start to grow back and bring some much-needed green to the color palette of the world, Washington State-based Incline Cider's The Legend Lemongrass Cider offers a dose of freshness and life. We love how citrus and apples play together, and lemongrass offers a slightly more earthy, herbal experience than straight-up lemons, kind of like putting your face to a patch of sunshine-warmed grass and taking a sniff. This refreshing, cider offers big notes of lemon and grapefruit on the nose with a tart, balanced finish.
Give us ALL of the strawberries! This semi-dry seasonal from Locust Cider blends Washington apples with strawberries and real hibiscus flowers for a sort of rosé situation, with a tart, fruit-forward nose and a floral finish. Look for it, for a limited time only (just like strawberry season), at any of Locust Cider's locations in Texas and Washington State.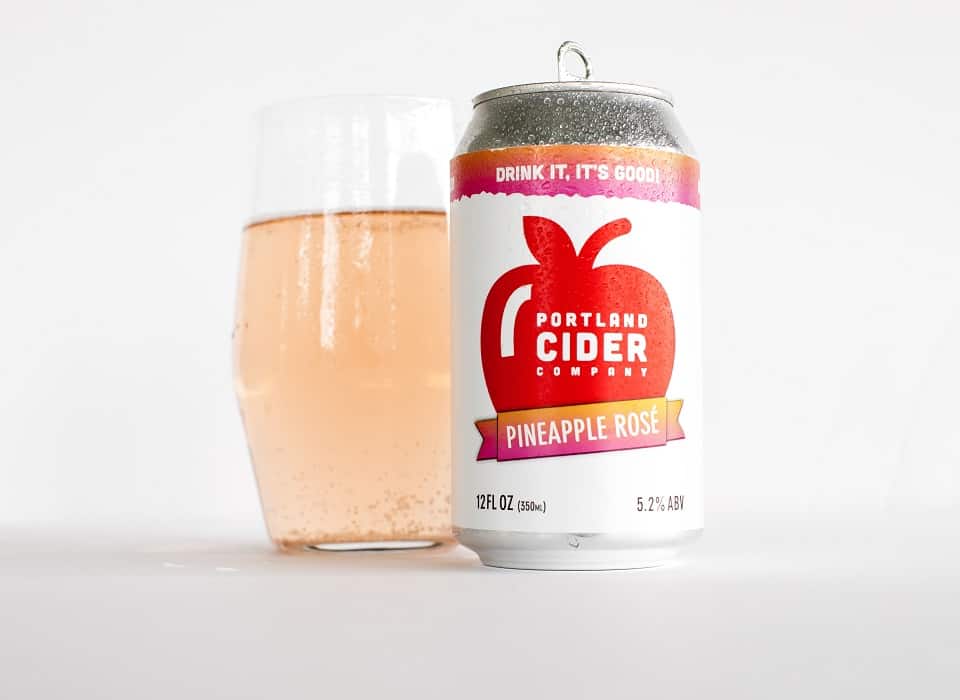 No matter your opinion on them, rosé ciders are here to stay, and we expect we'll be seeing even more varieties and spin-offs from cider makers as we progress through spring and summer. Case in point: the seasonal cider, Pineapple Rosé, from Portland Cider Co. Suggested food pairings for this tropical quaff include spicy Thai peanut sauce, pork quesadillas, chicken salad with pecans and grapes, or a brie and apple panini. Pineapple Rosé will debut on draft and in 12-ounce can six-packs on Friday, March 15, at a release party at the Portland Cider House at 3638 SE Hawthorne Blvd. in Portland. In the following weeks, you'll be able to find it at retailers across Portland Cider's distribution territory. Come April, look for brand-new, 19.2-ounce seasonal cans (tall boys!) of Pineapple Rosé, AKA your new poolside drink of choice.
We love the subtle elegance of plums and wonder, quite frankly, why we don't see more ciders made with them. Wildcraft Cider Works blends this stone fruit's best qualities with Jonathan and Gravenstein apples for a special cider that feels very spring-appropriate. Using biodynamically grown Mirabelle plums — a specialty plum from the Lorraine region of France — from Oregon's Lorane valley, Wildcraft fermented them whole, and then pressed and aged the liquid to make plum wine. The finished cider is a blend of the apples and Mirabelle plum wine, resulting in a nuanced, sophisticated sipper.
Wyndridge Farm Avant Grove Cherry New England Cider
Central Pennsylvania's Wyndridge Cider recently launched a new limited-edition series called Avant Grove, using different fruits and blends to make creative, unexpected ciders. The newest in the series is Cherry New England Cider, fermented with over 12 different varieties of apples, honey and raisins, and then aged on whole cherries in oak. The warming dark fruits and complex apple character make this a perfect choice for those drizzly, cold spring days when it feels like winter never left.
Not all spring ciders must be redolent of blooming gardens and berry brambles — sometimes you just want something zesty, aromatic and dry. Our pick for that is Wayside Cider's Dry Town, an artfully crafted, food-friendly still cider, made from a blend of New York State wild apples and crab apples. This is also a good cider to impress your natural-wine-loving friends! Find Wayside Cider at better bottle shops and restaurants throughout New York City and state, or at its dreamy tap room in a restored barn in the Catskills.