Over the past few years, we've started noticing the emergence of "Cider Nouveau": super-fresh bottlings of ciders made with apples picked from the same year's harvest. You might be familiar with this concept from wine world; Beajuolais Nouveau, from the region in the French appellation of Burgundy, is the most famous example of this. This is a very young Gamay, a vin de primeur, which means it is the first wine released from the harvest of that same year. Each year, winemakers and wine fans celebrate the end of a long, labor-intensive harvest with this fruity, easy-drinking red that's fermented just a short time between harvest and its release on Beaujolais Nouveau Day, the third Thursday of November.
As cider also follows the rhythms of the harvest season, it only makes sense that some makers would want to capture the first essence of the vintage with a similar product.
Susanna Forbes, co-founder of Little Pomona Cider in the UK (and a cider book author!) started releasing a cider nouveau bottling under the name Disco Nouveau in 2020. She and her partner James were directly inspired by the French Beaujolais Nouveau tradition.
"James thought, why not try this with an early-ripening apple variety?" Forbes remembers. "Hence, he picked the Discovery apple, a dessert apple with the much revered Worcester Pearmaine in its heritage."
Taking another lesson from the French, the Forbes used the technique of carbonic maceration to ensure as much color as possible was gently extracted from the apple skins. Then, the cider was fermented with wild yeasts and bottled as a pét-nat.
In 2021, they decided to make Disco Nouveau again, and teamed up with Helen Anne Smith and Rachel Hendry of Burum Collective (a community blog for the beverage industry), who help with both harvest and milling/pressing.
Forbes says she sees cider noveau as a growing trend.
"In 2020, there was literally only a few other Nouveaux released in the UK, but in 2021, we were delighted to see a number of other cideries joining in," she notes. "We particularly enjoyed the one put out by Sam Nightingale."
Some other UK-based cider noveau we've come across include In the UK, Ross on Wye Beauty of Bath Cidre Nouveau and Halfpenny Green Cidre Nouveau 2020. US cidermakers are also getting in on the action, and we love to see it!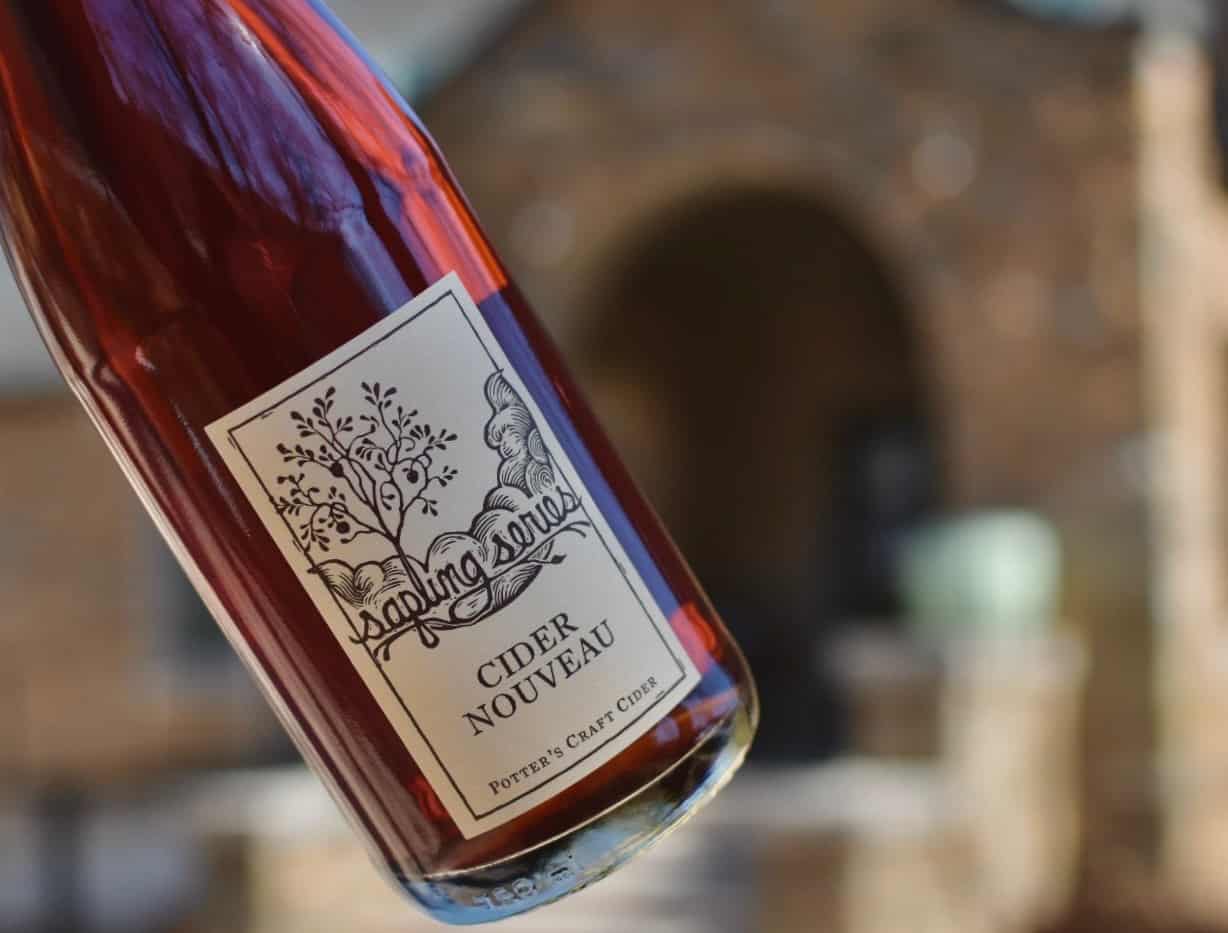 Potter's Craft Cider Nouveau is a rosé-style cider/wine hybrid cider fermented on Petit Verdot and Merlot grape skins from King Family Vineyards in Crozet, Virginia. It's then aged in French oak barrels, which encourages the separate components to meld together harmoniously. The grape skins lend a vivid ruby-red color as well as complex tannins and a light fruitiness to the dry, crisp cider.
According to Autumn Stoscheck of Eve's Cider, their 2021 Cider Nouveau is a "pomme version of a vin de primeur (wine released in the season it was picked)." Young and fresh, this was Eve's first cider of the 2021 harvest, made from Ellis Bitter apples from its Albee Hill orchard in Van Etten, New York. It was pressed on September 15, 2021 and bottled just two months later.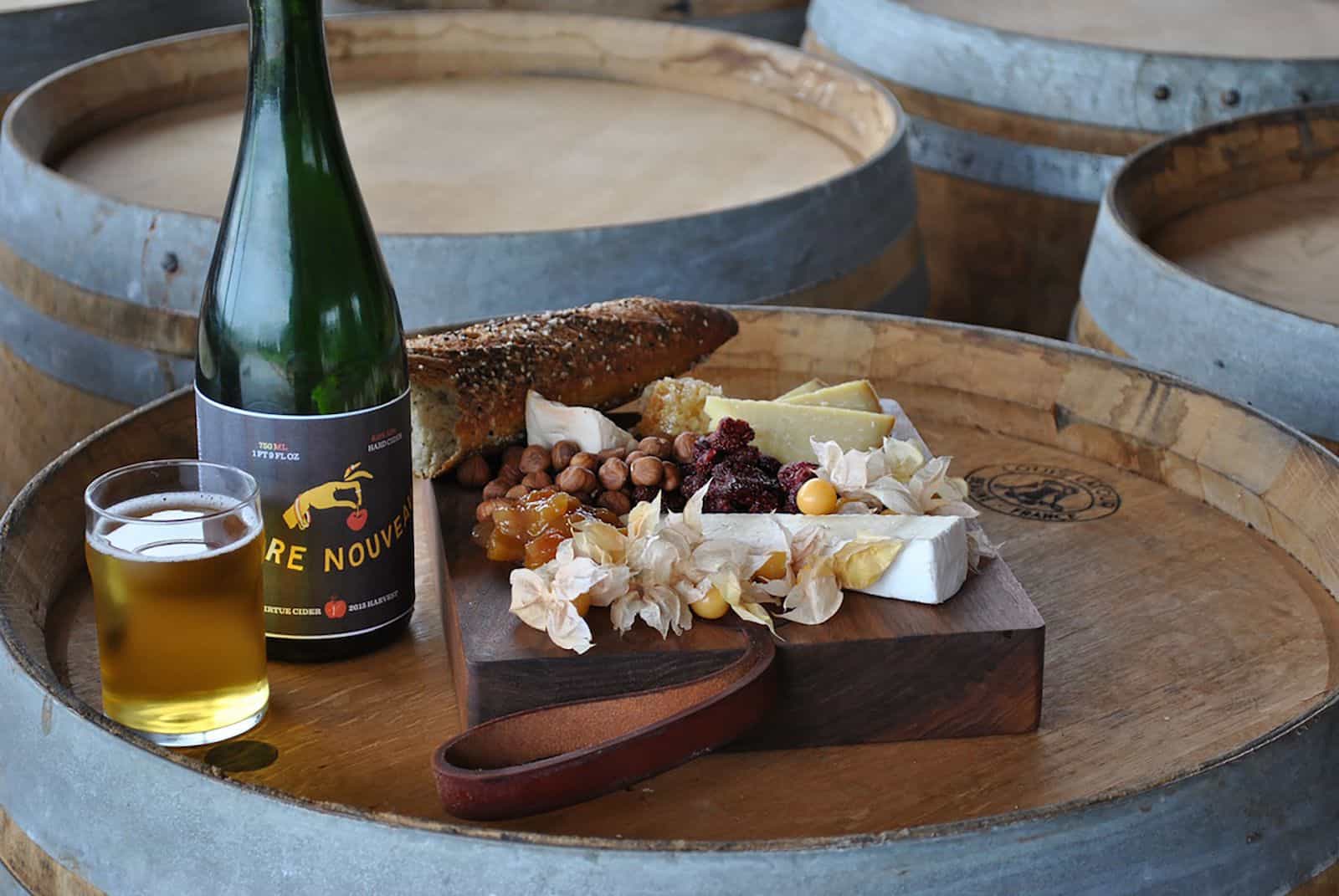 Virtue Cider released its Cidre Nouveau in 2013, 2014 and 2015 to celebrate "the sensations of fall and the promise of an autumn harvest ready to be fulfilled," according to the brand's PR Manager, Morgan James. This dry, vibrant, sparkling cider made with some of the first fruit of the season was released in November, just in time for the holiday season. Though Virtue hasn't released a Cidre Nouveau in a few years, according to James, "It's always been a favorite, so it might be back again soon!"
West County Cider in Shelburne Falls, MA has also dabbled in cider nouveau. In 202o, it released Redfield Nouveau 2020; after bottling their first batch of Redfield cider, and putting most of it aside to age, they pulled out a few cases for the holidays in the spirit of Beaujolais Nouveau. Opened young, the cider proved to be juicy, light and fresh, with a pale pink that's the telltale hue of Redfield apples.
Hoch Orchard in Le Crescent, MN puts out a seasonal Cidre Nouveau release, that's a dry, British-style hard cider made with traditional bittersweet cider varieties (Bulmer's Norman, Ellis Bitter, and Nehou European) and a few other early sweet aromatic apples. Another Minnesota-based cidery, Turisimo Winery & Fermentations also releases a Cidre Nouveau, made in a British style with high flavored summer apples, including Bulmer's Norman. Angry Orchard has released a few as well, including 2019 and 2020 vintages that you may occasionally find pouring in its Cider House in Walden, NY.
In fitting with their special release nature, many cider nouveau come and go, with just a handful of cases released into the world each fall. As we enter into the harvest season of 2022, keep your eyes open for more cider nouveau releases, hopefully including some from your favorite cideries! If and when you do find these baby ciders in the wild, be sure to scoop up a few bottles, as they surely won't last far into 2023. And, don't forget to tag us on Instagram so we can see what you've discovered!
Other photos: Little Pomona Cider, Virtue Cider