Welcome to the next installment of craft cider roundups from Meredith of Along Came a Cider. For more, check out her other articles for Cider Culture about ciders pushing the envelope, still ciders, autumnal ciders and perries.
No matter what fabulous experiments creative cider makers come up with, apples are the heart of cider. I want to round up a few recent reviews of exceptional ciders that show four different directions ciders can take using only apples. The key is that each of these four ciders uses very different apples.
I've included one cider made from dessert apples, one from traditional cider apple varieties, a single varietal cider made from the heritage Kingston Black apple, and one cider made with a significant percentage of crab apples. All of these ciders were more fully reviewed in my blog Along Came a Cider, so feel free to check out their full reviews there for more in-depth introductions and tasting notes.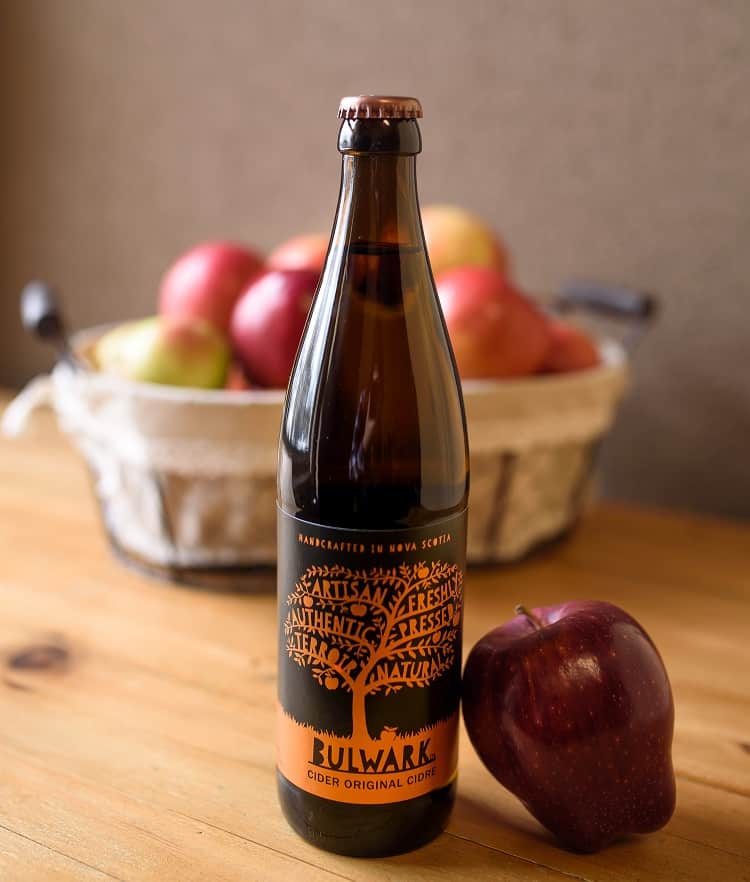 Bulwark Ciders produces cider in Nova Scotia. Its Traditional Craft Cider is made with a "Five Signature Apple Blend" including, Macintosh, Cortland, Russet, Honeycrisp and Northern Spy. These eating and baking apple varieties are modern and heritage dessert apples, in cider making lingo. The Traditional Craft Cider offers up aromas including ripe apples, plums and red grapes. The taste experience manages to be floral and spicy at the same time. This semi-sweet cider reminds me of caramel with high acidity and an unusual concentration of flavor. I love its richness.
Pairs with: Cauliflower risotto or kale-parmesan topped baked potatoes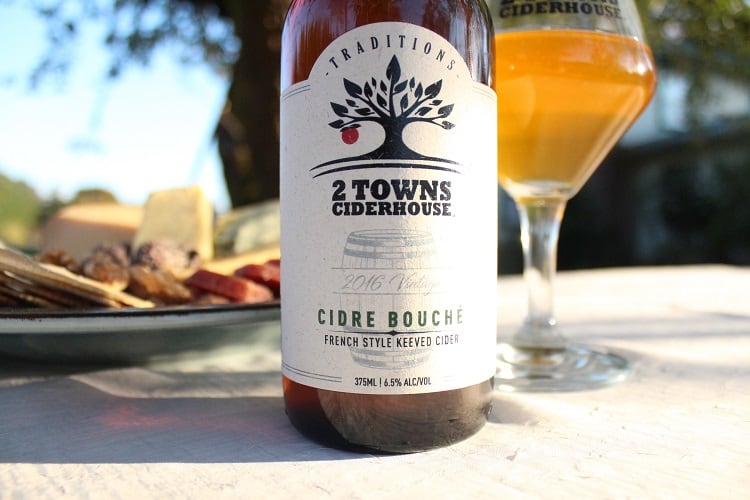 2 Towns Ciderhouse is a cidery based in Oregon, originally started by Lee Larsen and Aaron Sarnoff-Wood. They've been producing ciders since 2010. The Cidre Bouché is made with 100% traditional cider varieties like Kingston Black, Michelin, Reine des Pommes, Dabinett and Muscat de Lense. The term "cider apples" means apples that are only good for making cider; these varieties are much less common in the United States than dessert apples. I can smell overripe apples, leather and hay when my nose is anywhere near the aromatic Cidre Bouché. Like many ciders made from cider apples, it has high tannins, and this element brings a velvety mouthfeel to the cider. At the same time, this cider stays true to its French inspiration with medium-low acidity; the acid remains balanced, even at this lower than usual level, partly because of its simultaneous sweetness and gentle bitterness. This semi-sweet cider also makes a big impression with how very freshly bubbly it feels on the tongue.

Pairs with: Butternut squash topped crepes or vegetable stew garnished with green onions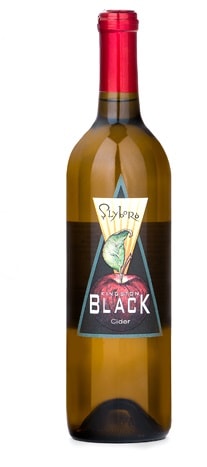 Slyboro Ciderhouse grew out of the Hicks family orchard in Granville, New York, near the Vermont border. The farm has been a public U-pick destination since 1905. Cider maker Dan has been adding bittersweet and bittersharp varietals from England and France since he took over the operation. For many cider afficionados, either cider drinkers or makers, a cider made from one variety of apple rather than a blend is a nearly mythological goal. Most apple varieties cannot make a palatable cider on their own, but one of the few that can is the Kingston Black. This cider smells like tropical fruit, green twigs and overripe apples. The Kingston Black tastes oaky and green, but at the same time still fruity. I was surprised by its delicate flirting with the funky side of cider. I like that, but even more so, I appreciate its lingering tannins and long finish. The Kingston Black's acidity is light and zingy, making it distinctly American and modern in style. The tartness is necessary for balance, in my mind. Flavor notes include: under-ripe bananas, clean brine, pineapple, and again, those overripe apples.
Pairs with: Takoyaki with sweet corn, cream cheese, scallions or roasted chipotle sweet potatoes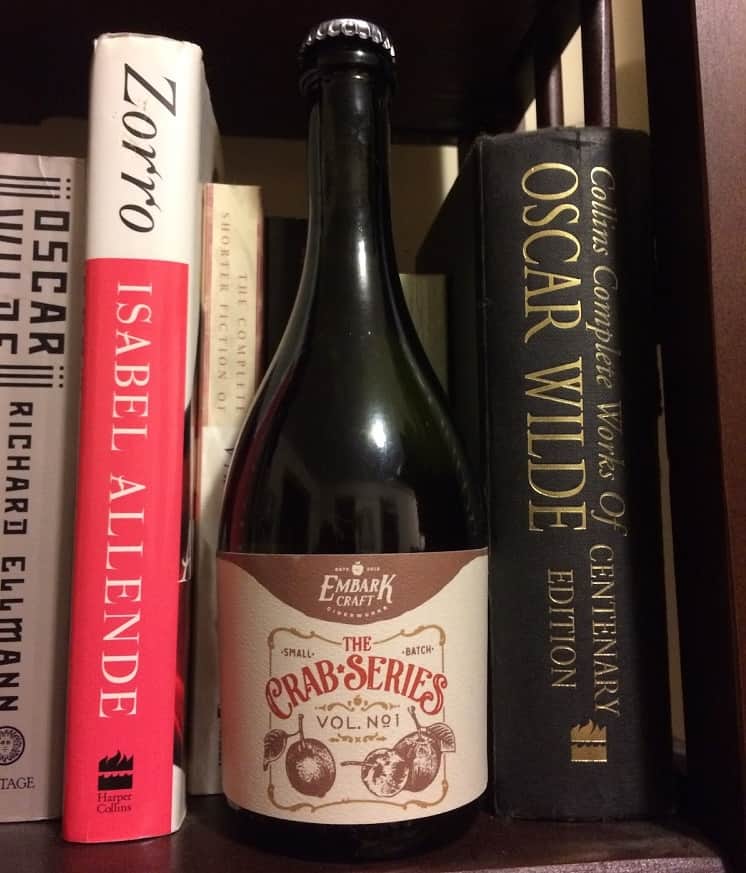 Lagoner Farms, now in its 5th generation, is a cider-producing family farm located not far outside of Rochester, New York. It makes a wide variety of ciders under the name Embark Craft Ciderworks and this first volume of its Crab Series combines three different crab apple varieties, plus Tolman Sweet and Rome Beauty dessert apples. To find out what folks are doing with their crab apple explorations, you'll have to talk to each cider maker. But to me, these experiments often realize the beauty of high wild acidity and alternative to cider apples as a source of tannins. I tend to like these inclusions when they are handled sensitively. The Crab Series smells honeyed but also like red currants and ripe apples. In terms of dryness, I'd call this cider off-dry. And I wasn't wrong about acidity; it powers through the drinking experience as ongoing sharp zesty acidity and some tannic presence. The tannins and acidity combine to create great mouthfeel and plentiful tropical fruit notes like pineapple.
Pairs with: red pepper borek or some other savory pastry or a white bean soup
Want to learn more about apples? Check out our handy guide to different types of apples here.
2 Towns Ciderhouse photo: 2 Towns Ciderhouse
Slyboro Cider House photo: Slyboro Cider House
Embark bottle photo: Meredith Collins