This is the fourth installment of craft cider roundups from Meredith of Along Came a Cider. For more, check out her first article for Cider Culture about ciders pushing the envelope, her second article about still ciders and her third article about autumnal ciders.

One of my 2016 New Year's resolutions was to start to understand perry. Perry, for those who might not know, is to pears what cider is to apples. This is the beverage of fermented pear juices, and it is known worldwide for its amazing variety. A perry can be as delicate and ethereal as a fine perfume or as tireless and forceful as a one-ton draft horse. To get me closer to my goal, I focused all of my reviews on perry for the month of May, and I tripled the coverage by making each week a roundup of three perries.

Now that a few months have passed, I feel ready to return to those notes and talk about the 4 perries that stood out the most to me of the 15 I reviewed during Very Perry May. If you're also curious about perry, this grouping would be a fun way to get started on this complex and delightful beverage.

AeppelTreow's (pronounced "apple true") semisweet perry hails from Wisconsin, where the McGonegals grow stone fruit, ferment ciders and perries and distill a few stronger fruit libations. I've been a fan for years. Feel free to look it up to find out when you can visit its tasting room. This champagne-style perry balances its sweetness with medium acidity and an abundance of bubbles. Flavor notes include melon, pear, caramel, banana and other tropical fruits. This perry is very much about its amazing texture in addition to its appealing flavors.
Pairs with: sweet potato waffles drizzled with a cream cheese sauce or a savory sweet Japanese vegetable curry



E.Z. Orchards represents the Pacific Northwest in terms of fruit and location, but its style is far more influenced by French traditions of cidre and poire. This perry is a blend of three pears: Comice, Forelle and Bosc. The French inspiration is immediately apparent in the farmy-yet-fruity aromas that waft from this semi-dry poire. The flavors surprised me by being more cold and clean than the aromas suggested. This is another very bubbly perry with notes of cooked fruit, leather and fallen leaves. It offers medium-high tannins and medium-low acidity. When it comes to food pairing, the key is not to compete with the sweet gentleness of the cider, but instead to either contrast it or complement it.
Pairs with: blue cheese, Marcona almonds and nibbly crudité or a torte Espagne with egg and potato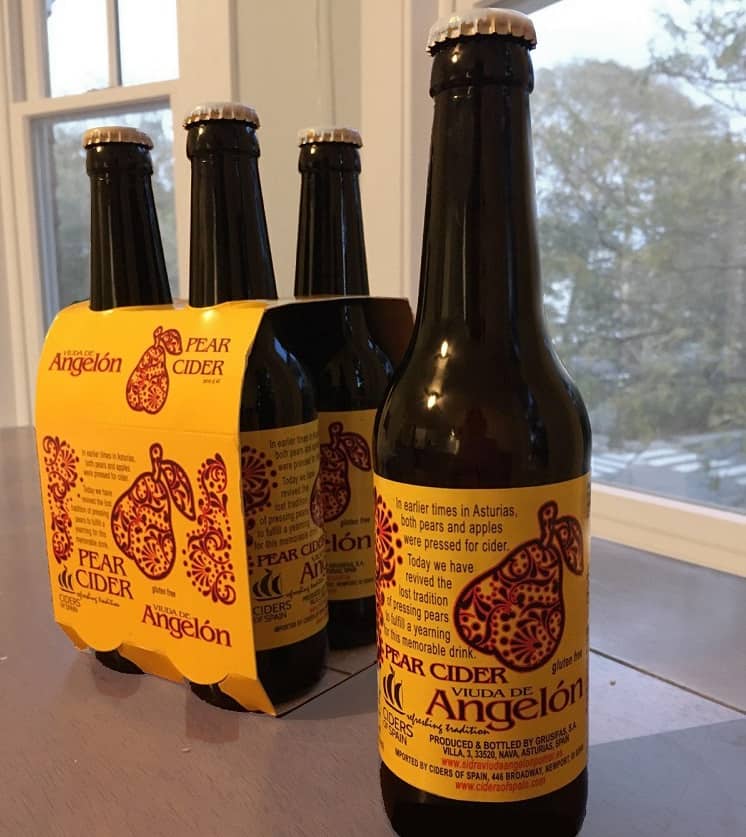 Viuda De Angelon Sidra de Pera is the only Spanish perry I've ever tried. Many Spanish ciders are famous for high levels of acidity and how well they complement the regional Asturian cuisine. The perry smells like berries, fresh ripe pears and a bit of that classic tartness. This is another bubbly one with some sweetness, but the floral notes are as distinct as they are unusual. I was surprised by the mildness of this Sidra de Pera, but its balance between floral notes, a zippy body and tropical fruits was very pleasant.
Pairs with: a summery salad with heirloom tomatoes and fresh sweet corn or green salad topped with delicata squash and roasted kohlrabi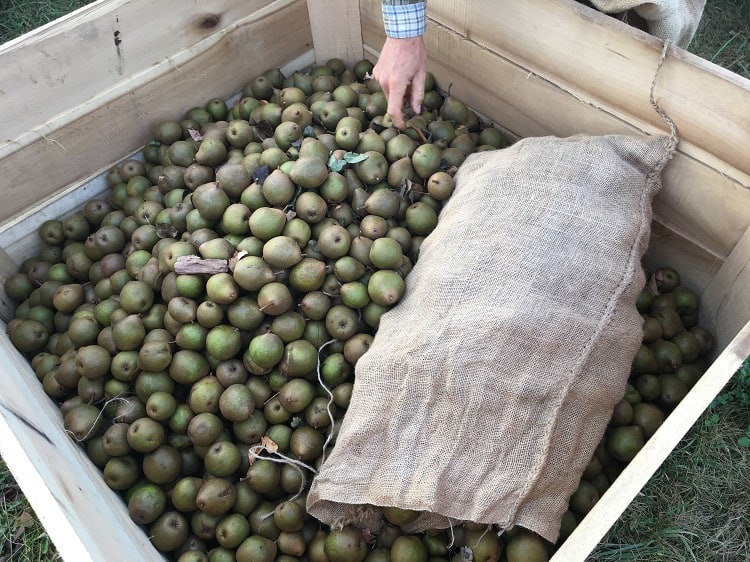 This is the only perry I had while out in a restaurant. Though Eve's Cidery is local to me, sometimes it sells out of its products so fast that I have to track them down in the wild. Eve's focuses on fermenting the fruit that it grows, so its orchard ciders and perries sometimes only appear in limited quantities. I enjoyed a brunch at Murray's Cheese Bar in NYC with a glass of Eve's Cidery's Perry Pear, which brought bushels of aromas including clean barn wood, honey and fermenting fruit. When tasting it, this perry broke my pattern of usually enjoying my perries on the sweeter and extremely bubbly side. In sharp contrast, this perry is just barely off-dry and more about wild acid and tannins than fruit flavors.
Pairs with: whipped goat cheese and honey (that's how I had it at Murray's, and I can honestly imagine nothing better) 

Want to read more about perry? Check out this essay by Gabe Cook, aka The Ciderologist. Have you tried perry? If so, which have made impressions on you? Let us know in the comments!
Viuda De Angelon Sidra de Pera: James Asbel of Ciders of Spain
E.Z. Orchards bottle: courtesy of E.Z. Orchards
AeppelTreow perry bottle: AeppelTreow Winery