We are so excited to announce a new collaboration with Half Time Beverage, an epic craft beverage shop with two locations in New York state. Half Time is known for its wide selection of beer, but its cider selection is also super-impressive. We've worked with the Half Time Beverage team to curate a set of exciting, fun, delicious ciders: It's the Cider Culture 2022 12-Pack!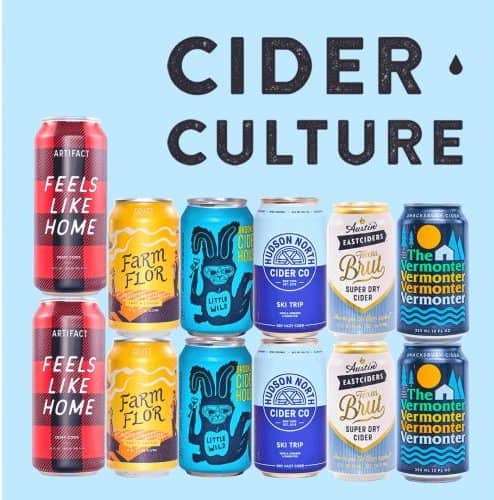 Before we dive deep into our 12-pack, allow us to clarify that, Half Time does ship outside of New York. In fact, they can ship orders to 34 states! For full info, head here.
Back to the ciders: We are blessed to try a lot of ciders, and it's impossible to play favorites. Thus, the Cider Culture 12-pack, which we co-curated with Jennie Dorsey of the American Cider Association, is really about offering a selection that shows off the wide range of styles and flavors that cider can have. They are all from American cider producers from different regions, and because the Cider Culture 2022 12-pack is two cans each of six ciders, it's great for sharing with friends. The Cider Culture 2022 12-pack makes an amazing introduction to the category for newer cider drinkers, so if you have some pals who you've been trying to woo to the cider side, here is your chance!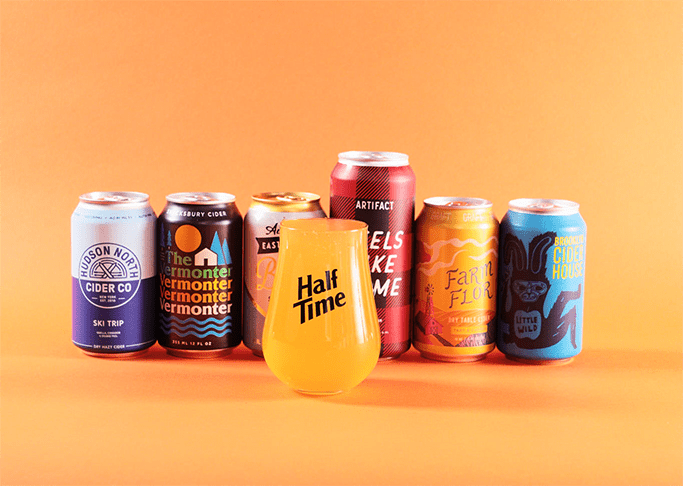 Here is more info about the six ciders included:
Fruity and unfiltered, aged on rum-soaked oak with a little bit of sweetness and acidity. Pairs well with late-night bonfires. 5.4% ABV.
This rustic dry and tart oak-aged farmhouse cider is an outlier, more akin to Spanish-style cider. 6.9% ABV.

A dry, gin botanical homegrown but refined cider made by slowly fermenting apples and adding juniper berries. A taste of Alpine meadows, spring wildflowers, and the Green Mountains themselves. 6% ABV.
A light cider with the refreshing sensory experience of a dry champagne boasting flavors of tart apple, with citrus notes and aroma of crisp apple with orange peel. Pairs well with manchego cheese, smoked salmon, crepes with fruit and orange juice for a light mimosa. 4.2% ABV.
This wild-fermented cider is aged on the lees for between 6 and 8 months, then it's blended with fresh-pressed cider for a semi-sweet, carbonated cider that's tart, earthy and bursting with fresh apple, citrus and honey aromas. Varietals include Dabinett, Manchurian Crab, Northern Spy, Rhode Island Greening, Empire and Mcintosh. 5% ABV.
Zesty orange notes are followed by warming flavors of mulled cider, vanilla bean, cinnamon and apple pie. HNC is on a mission! 10 cents of every gallon sold, in addition to the funds raised at their Taps for Trails pint night, are donated to their trail partners who work to maintain, preserve and educate people about the beautiful lands around us. 5% ABV.
Want this badass box of cider shipped right to your front door? Head to Half Time's website for more info and to shop the Cider Culture 2022 12-pack!
All other photos: Half Time Beverage