The cold-weather months are all about getting comfy and cozy, connecting with friends and family, and making time to celebrate! Harsh weather can put a damper on our social lives, but thankfully there are plenty of holidays to inspire festive get-togethers.
For cider fans, an interesting, fun selection of ciders is always a bonus at parties, and they don't always have to be winter-spiced to match the occasion. In fact, the wine-inspired ciders from Woodchuck — Sangria, Bubbly Pearsecco and Bubbly Rosé — may hint of carefree summer vibes, but they are really perfect for winter gatherings, too.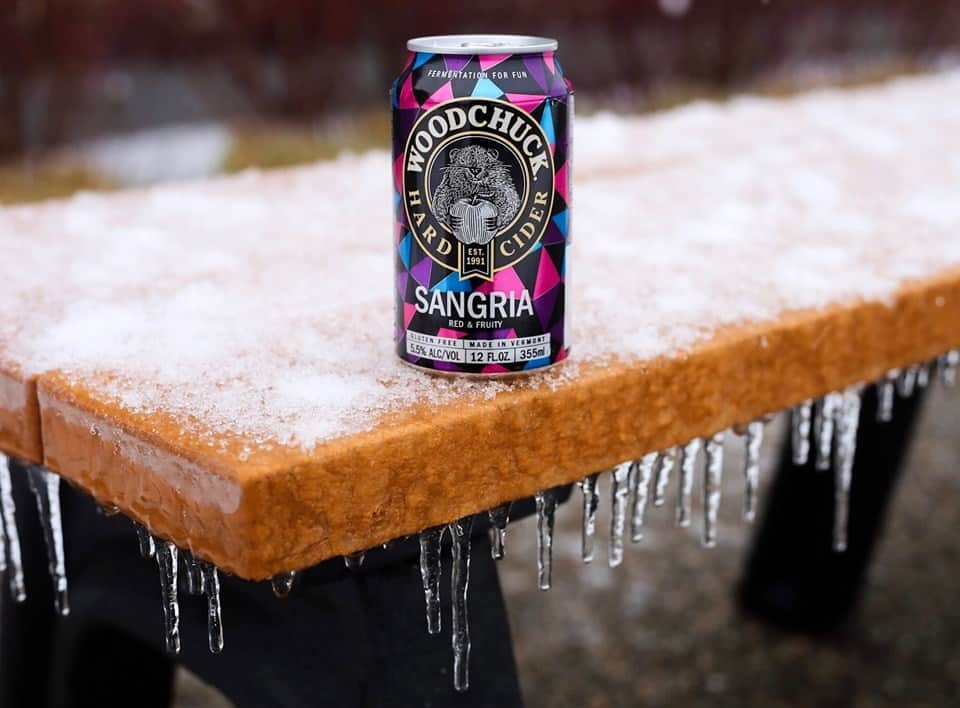 Woodchuck, a true OG of the American cider industry, has always strived to stay at the forefront of innovation. Its team is constantly doing research and development, not only to reach new markets, but to explore all of cider's exciting possibilities. Terry Hopper, Woodchuck's Vice President of Sales says that the impetus for creating the brand's new additions to its line of core ciders was wanting to make something convivial for Woodchuck's millennial fans.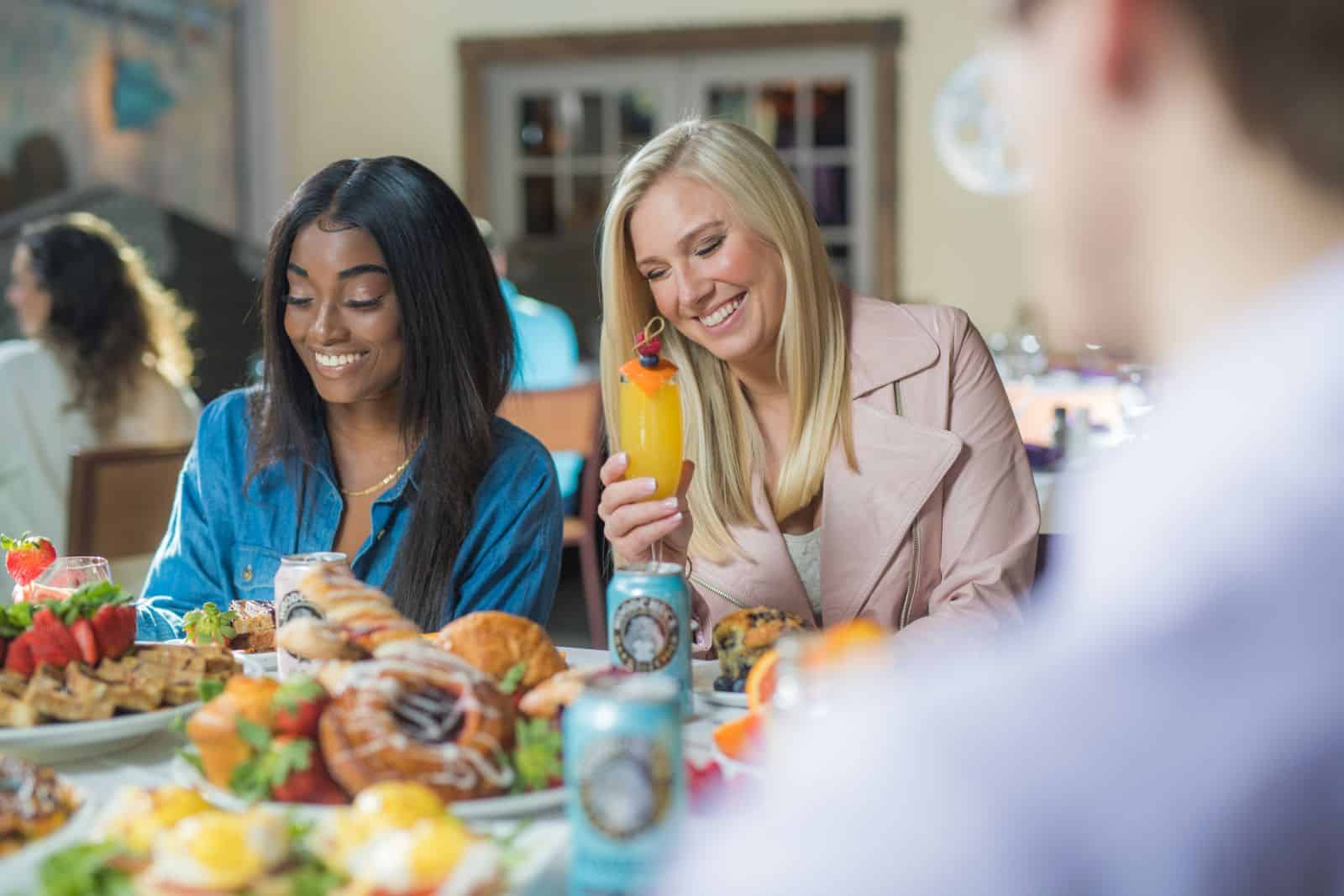 "We wanted to make ciders for brunch and Sunday Funday," he says. "I truly believe that cider is the bridge between beer, wine and spirits, and we wanted to offer something fresh for people who aren't interested in the boundaries between beverage categories and who want to try new things." 
The process of making new products at Woodchuck usually starts with conversation and brainstorming between its marketing, sales and production teams. The customer-facing divisions have a sense of what's trending among different consumer demographics, and the production team has the knowledge and skills to turn the different ideas into physical products. 
Sometimes there are a number of rounds of tweaking and editing recipes, but when it came to developing Woodchuck's Sangria and Bubbly Rosé and Pearsecco, it was pretty straightforward.
"Our cider maker, John Matson, totally nailed it," Hopper says.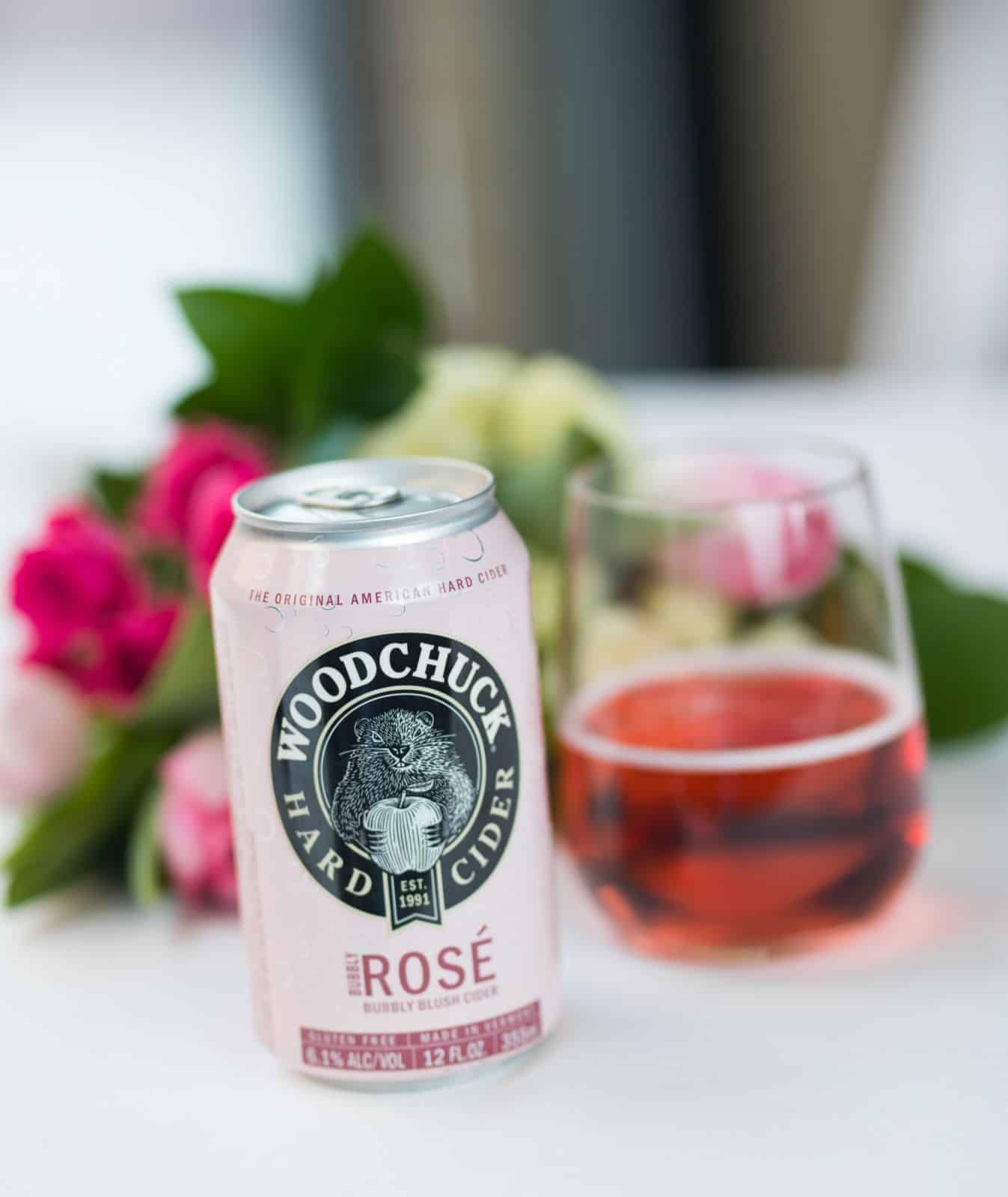 Woodchuck Sangria, a semi-sweet cider, redolent with aromas of fruit and earth, offers juicy berry and citrus notes and pours a beautiful red wine color in the glass. It's a clever, spot-on homage to the Spanish red wine punch often served at parties, cookouts and brunches. Hopper notes that making good sangria is trickier than it seems — and, as anyone who's had a saccharine-sweet or out-of-balance glass of the stuff (most likely made with bad wine) can attest, this is too true. To make real sangria properly, it requires a number of ingredients and a long time prepping fruit. 
"Our Sangria cider takes all of those flavors, and makes it so much easier for you to enjoy them!" Hopper notes.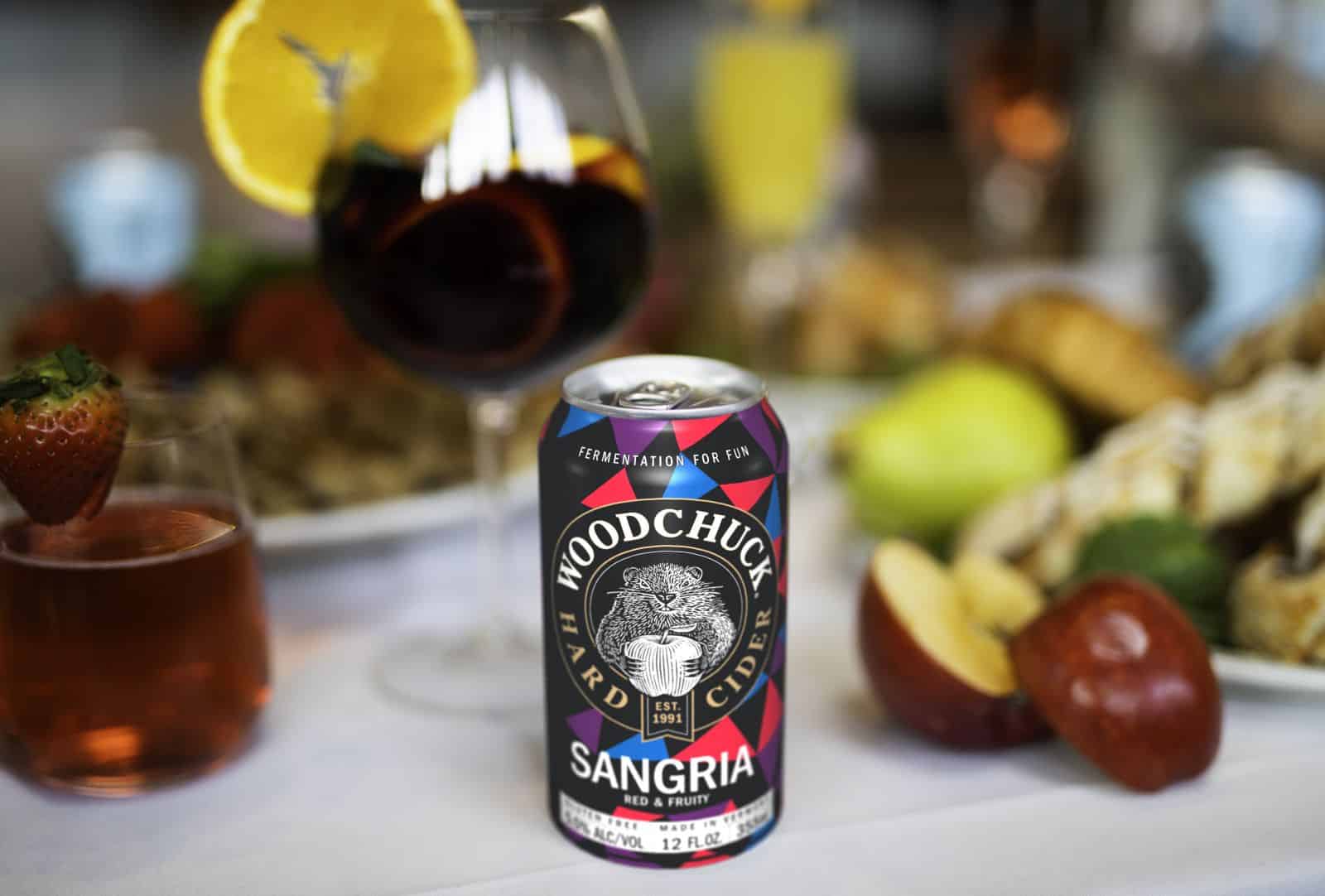 There is so much to do and plan when you're hosting a soiree  — you shouldn't be stuck in the kitchen chopping fruit when you could be finalizing your playlist or making sure there's enough kindling for the fireplace! Plus, the bold geometric artwork on the can stands out in a cool way, and the lower alcohol content (just 5.5% ABV compared with sangria punch's 10 to 13% ABV) means your guests can enjoy a round or two without getting too tired or tipsy.  
If you do like playing mixologist, Woodchuck Sangria also makes an amazing cocktail ingredient. JC Dugan, part of Woodchuck's Cider House team, a former chef who also spent time working in a Vermont-based distillery, knows how to make a mean cocktail. He loves using Woodchuck Sangria's ripe berry flavors to play off the strong flavors of spirits. He says when he develops cider cocktail recipes, he has a particular method. 
"My first step is always tasting a little sip of the cider I'm using, followed by different spirits, to see how well they pair together," he says. "After that, it's a combination of digging into my own mental bank of cocktails I've made in the past, as well as looking up traditional cocktails that are usually made without cider, and seeing how I can use those."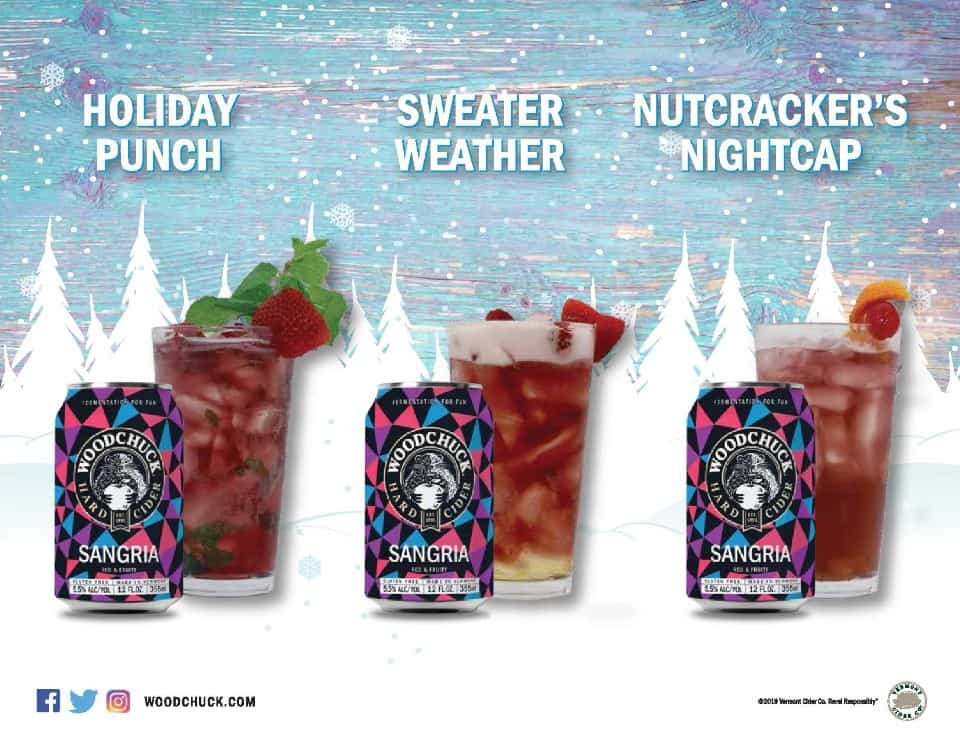 That process led Dugan to the creation of three winter-ready cocktails made with Woodchuck Sangria. Each one would be a hit at any gathering, or even just an at-home happy hour for you and a friend. For a holiday brunch, try the Sweater Weather, a glass of prosecco wine topped with a few dashes of lemon bitters and topped with Woodchuck Sangria. Nutcracker's Nightcap is the perfect end to a long day, an Old Fashioned-inspired cocktail of a muddled orange peel, bourbon and Woodchuck Sangria, garnished with a cherry and orange. Or, for anytime you require a bit of festive flair, there's the Holiday Punch, a riff on a mojito, with rum, muddled mint leaves, lime juice and Sangria cider.  
"Seasonal drinking is less prevalent now than it used to be, with people moving away from the idea that you have to drink certain things certain times of year," Dugan observes. "But I did want to design winter cider cocktails, that even though they're cold, have flavors that can still warm you from the inside."
Alisa Bunin, Woodchuck's Marketing Manager, says she loves how the Nutcracker's Nightcap reminds her of "getting nice and toasty in front of a fireplace." She also says that the Holiday Punch has a transportive element to it that she appreciates.
"We're in the middle of Vermont, and even though we love the snow and winter, there are times you want to be swept away to a more tropical place!" Bunin says.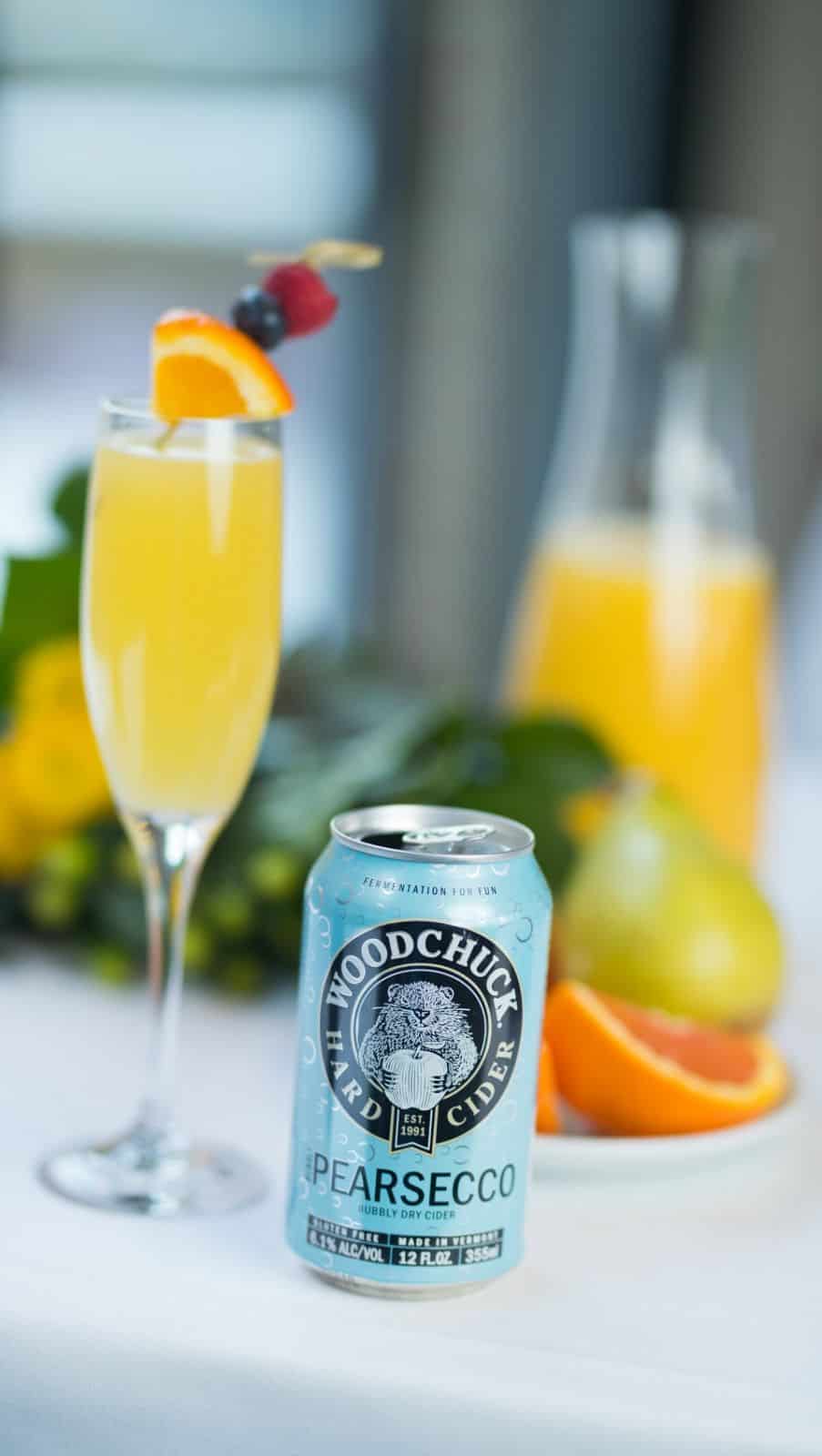 For all of your cozy day-drinking vibes, Bubbly Rosé and Pearsecco are ideal. They're both spritzy and crisp, so whether you're at a rocking brunch or chipping away at a 1,000-piece puzzle, their easy-drinking, lively flavors are lovely for sipping. During dinner parties or late-night bashes, skip the expensive sparkling wine and fill your flutes with these bubbly ciders instead! They're great for a formal toast or for just feeling fancy for kicks.   
However you're celebrating the winter holidays (or just making up excuses to have people over or to get out of the house despite the freezing temps), stock the fridge with Woodchuck Sangria, Bubbly Rosé and Pearsecco to always have something festive and fun to say cheers with!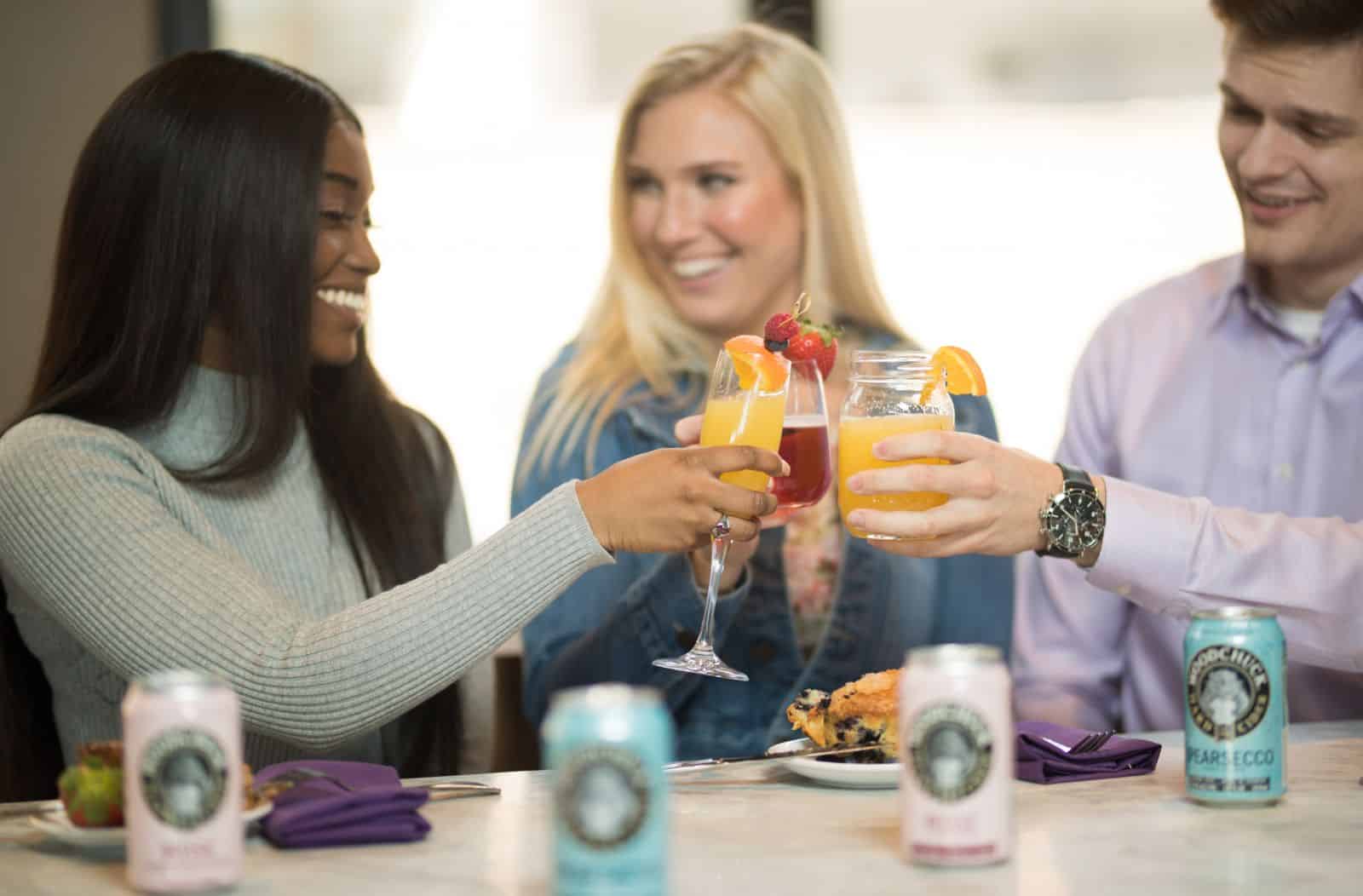 For more info on Woodchuck's history and products, check out its website, and follow along on Facebook and Instagram. (You never know what awesome new ciders they're going to come up with next!)
The Woodchuck Cider House is located at 1321 Exchange St. in Middlebury, Vermont; phone: (802) 385-3656.