Cider, at its most pure, is apples and yeast. For a lot of cidermakers, this is the zone where they want to play, dialing in a wild myriad of flavors by adjusting the blend of apples, or focusing on a single varietal and selecting different types of yeast, or letting wild yeasts and bacteria do their thing. It is understood that this is the best way to shine a light on the fruit and the terroir — the taste of place of where the fruit was grown. It truly never ceases to amaze us, the infinite sensory experiences that can be derived from fermented apple juice.
But that's not the only function of cider. As we've previously covered, cidermakers also use apples as a canvas to paint with other colors, using fruits, botanicals, tea and more to create exciting, curiosity-inspiring flavors. There are certain flavors, like cherries, hops, pineapple, grapefruit and peaches that work so well with apples, that lots of cideries include those adjuncts in their core lines of products.
But then, there are some cider flavors that are just out there. Whether that's due to the addition of an obscure kind of fruit, or just a wild ingredient that no one else has thought to try yet, some cidermakers love to venture way off the beaten path. And while we love apples-only ciders, sometimes it's fun to let ciders take us into unknown flavor territories.
Here are nine offbeat, off-the-wall and just plain weird ciders to try: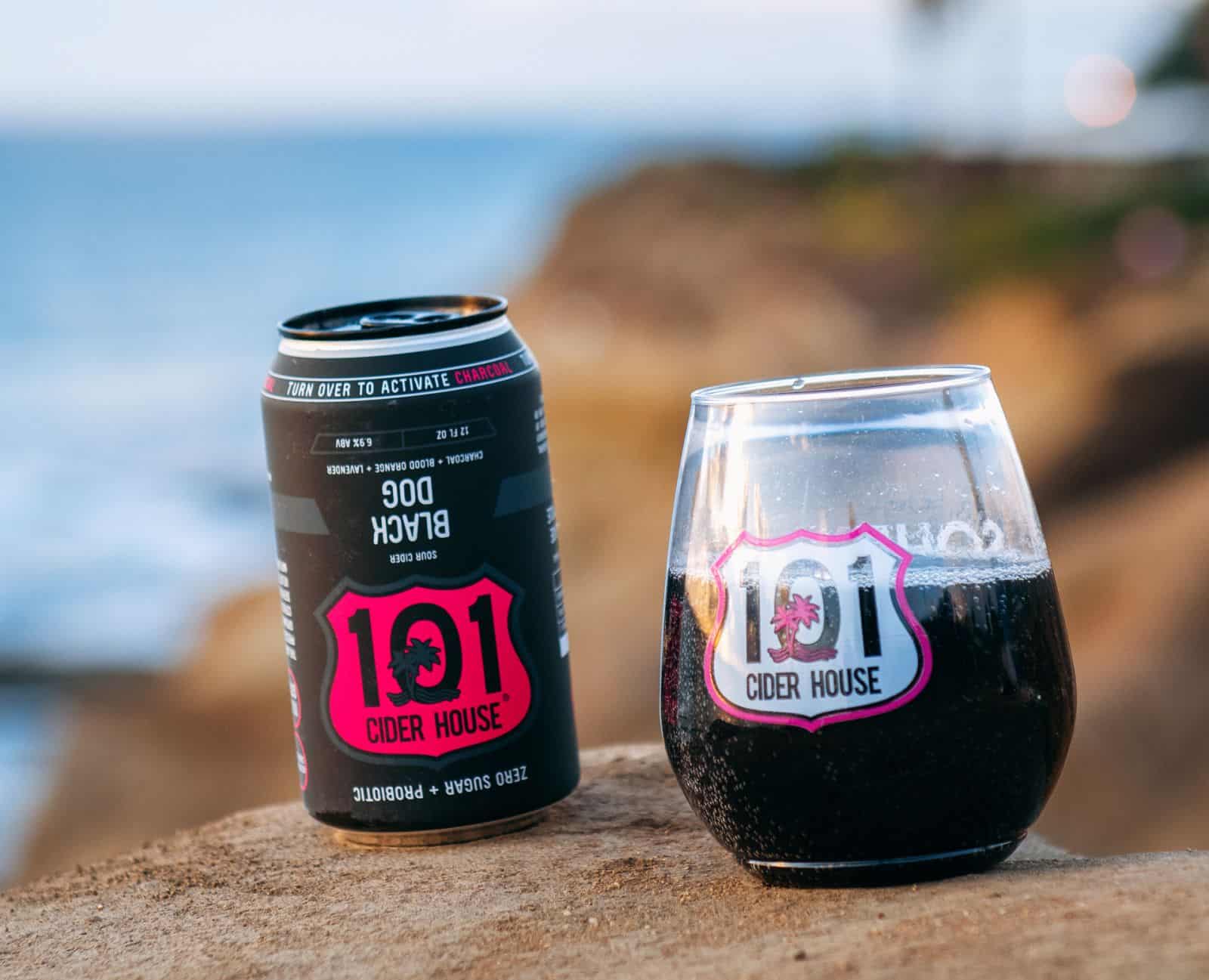 101 Cider House Black Dog: Activated charcoal cider made a big splash on the wellness scene five or so years ago. We've mostly seen this detoxifying agent mixed into lemonade or fresh pressed juices, or featured in the occasional goth-themed cocktail. But never have we seen it paired with cider until 101 Cider House released Black Dog, which it claims is "the world's first black cider." Weighing in at 6.9% ABV, this refreshing sour cider is made with a base of apples which is blended with blood oranges, a cold infusion of fresh lavender, and activated charcoal derived from tropical coconuts. Shop online when it is released in the fall, or use 101's store locator to find a retailer near you. 1700 Naud St, Los Angeles, CA   
The Accomplice Ciderworks: This West Palm Beach-based cidery fears no flavor. Past releases have included maple bacon cider, cider aged for two years on gummy slices, and vanilla fig pear cider. But perhaps nothing takes the cake — er, cookies? — more than Need More Pseudo, an experimental cider made with cookie dough. This 6% limited-release was offered on draft canned as a VIP exclusive, and Accomplice described the flavor as "Chips Ahoy meets cider doughnuts." Would you dare? Stop into Accomplice's tasting room where something interesting is always on tap. 1027 N. Florida Mango Rd., Ste. 3, West Palm Beach, FL; (561) 568-7242
Avid Cider Co. Apple Stardust: Tropical flavors, like guava, mango and passionfruit are sometimes found in hard cider, which can make for a really nice, beachy vibe. Avid Cider Co.'s Apple Stardust is one of the few that we've seen to incorporate starfruit (AKA carambola), the crunchy and sweet-tart fruit that is indeed shaped like a little star. The flavor is reminiscent of green pears and green grapes, which nicely compliments this cidery's Northwest-sourced apple cider. Find it at Avid's taproom and at select retailers in the Pacific Northwest. 550 SW Industrial Way, Bend, OR
Bishop Cider Co. Pecan Pie: Surely, you've had cider with pie, but what about pie in your cider? Bishop Cider's special fall release pays homage to a classic autumnal treat: pecan pie. This semi-sweet cider is made with Texas-grown pecans for a smooth, nutty flavor. Find it, when seasonally appropriate, at Bishops tasting room or Cidercade locations. 509 N Bishop Ave., Ste C, Dallas, TX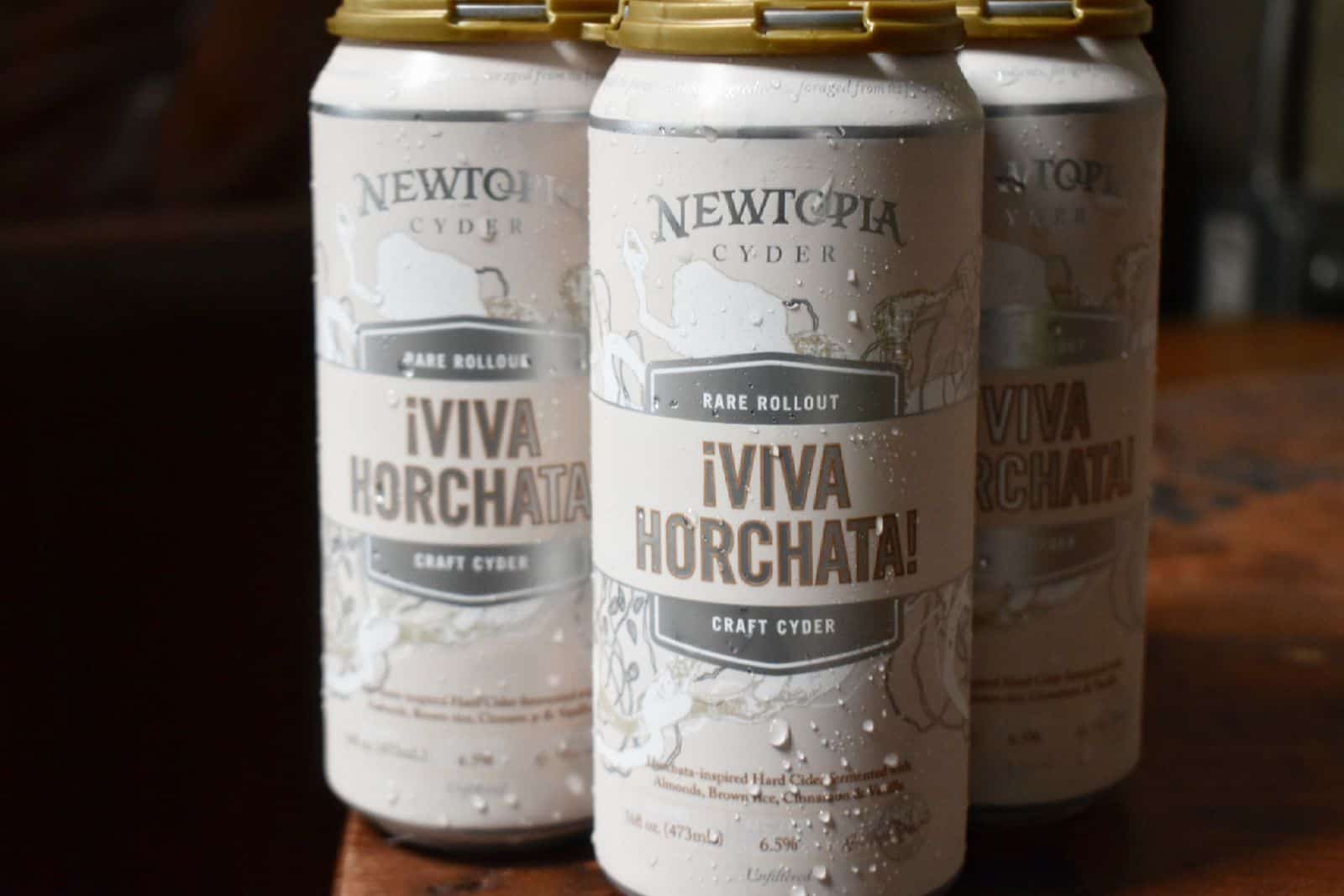 Newtopia Cyder Viva Horchata: Horchata is a such a delight: this cozy Mexican beverage combines white rice, almonds, cinnamon and milk for a creamy, dreamy sipper. Newtopia Cyder blends this experience with cider in its Viva Horchata! This translucent white Cyder, which is made with a base of Fuji, Gala, Honey Crisp, Red Delicious and Granny Smith apples, using brown rice, almonds, Madagascar vanilla, Vietnamese cinnamon for a lactose-free, vegan-friendly (and of course gluten-free) treat. Mix it with an ounce of dark rum on the rocks with a cinnamon stick garnish for an easy West Coast Chatas cocktail! Shop online or find it in Newtopia Cyder's SoCal tasting rooms. 10045 Carroll Canyon Road, Suite A, San Diego, CA; (858) 926-4305; 250 North City Dr. #10, San Marcos, CA; (858) 926-4305
Stowe Cider Brain Waves PB & J: We have a feeling this one might be divisive, but Stowe's PB & J cider certainly deserves a spot on a list of crazy cider flavors! No extracts or chemical flavors here: real peanut flour and Concord grape pureé are what give the cider the authentic flavors of your favorite elementary school bag lunch sandwich. Shop online for nationwide shipping, or grab a four-pack from its taproom. 17 Town Farm Ln., Stowe, VT; (802) 253-2065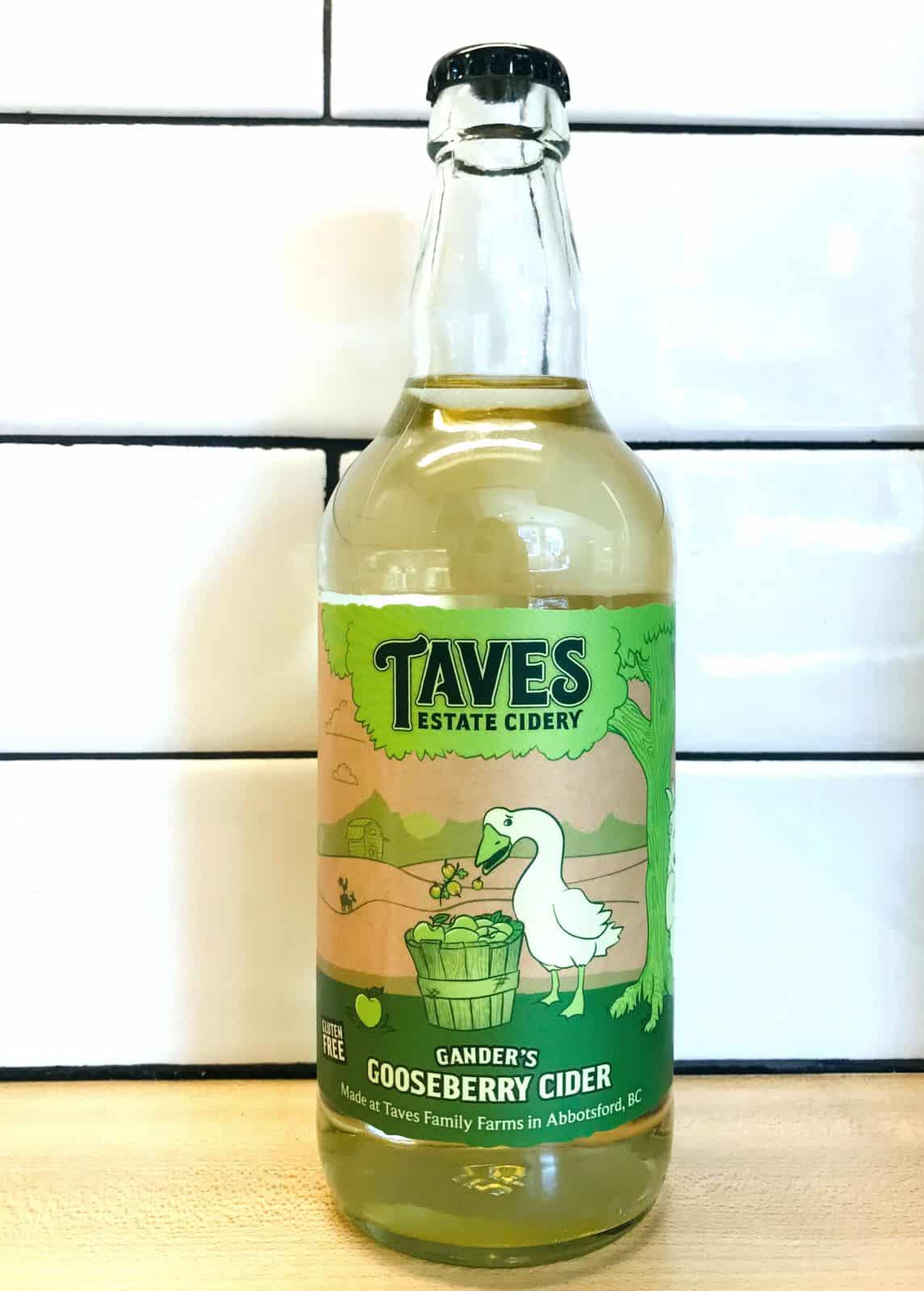 Tave's Estate Cidery Gander Gooseberry: What is a gooseberry? It's a member of the currant family native to many parts of Europe and Asian and now cultivated all over the world. Its edible fruit looks a little bit like orbital green grapes and feature a lemon-tart and winey flavor that blends sublimely with apples. Tave's Gander Gooseberry, with off-dry flavors of mango, peach, green apple and gooseberry, is part of its Barnyard series of fruited ciders. Shop online or find it at Tave's Tasting Barn. 333 Gladwin Rd., Abbotsford, BC; (877) 268-2907
St. Vrain Dry Chokeberry: This cider also features a lesser-known fruit: the chokeberry AKA aronia berry. This wee purple fruit, which somewhat resembles a wild blueberry, grows freely in marshy woodlands and swampy areas and are very tannic and astringent when eaten raw (thus, the "choke" in the name). When cooked or processed the flavor of these antioxidant berries mellows into a jammy, earthy quality. St. Vrain spotlights this fruit's unique flavor in its Chokeberry cider, a dry delight with piquant berry and cherry aromas and a clean, dry, baked apple and tannic berry flavor profile. Shop online, use its cider finder tool or visit St. Vrain's taproom. 350 Terry St., Ste. 130, Longmont, CO
Treasury Cider Wild at Heart: We love cider that walks on the wild side, and Wild at Heart from Treasury Cider does just that. This semi-dry traditional method orchard cider is made with wild-fermented quince and heirloom McIntosh, Jonamac, Empire, Golden Delicious and Macoun apples. It's then steeped with foraged staghorn sumac, a native shrub with clusters of fuzzy, vermilion-hued fruits that are dense, heavy and oily with a robust citrus flavor. In the cider, the sumac lends a rosy color, an earthy flavor, and a slightly astringent finish. Wild at Heart is lightly sweetened with ice cider before filtration, carbonation and bottling, for lovely bubbles that are redolent of juicy fruit, cedar and pine. Check out Treasury's stockist list (mostly in upstate New York), or visit its Cider Bar in the gorgeous Catskill Mountains.
Okay, now it's your turn to one-up us. What's the weirdest, kookiest cider flavor you've ever tried? Let us know in the comments!